Abstract
Two-photon calcium imaging provides an optical readout of neuronal activity in populations of neurons with subcellular resolution. However, conventional two-photon imaging systems are limited in their field of view to ∼1 mm2, precluding the visualization of multiple cortical areas simultaneously. Here, we demonstrate a two-photon microscope with an expanded field of view (>9.5 mm2) for rapidly reconfigurable simultaneous scanning of widely separated populations of neurons. We custom designed and assembled an optimized scan engine, objective, and two independently positionable, temporally multiplexed excitation pathways. We used this new microscope to measure activity correlations between two cortical visual areas in mice during visual processing.
Relevant articles
Open Access articles citing this article.
Jianian Lin

,

Zongyue Cheng

…

Meng Cui

Nature Communications Open Access 02 November 2022

Shivesh Chaudhary

,

Sihoon Moon

&

Hang Lu

Nature Communications Open Access 02 September 2022

Yiyang Gong

,

Yuqi Tian

&

Casey Baker

Scientific Reports Open Access 08 April 2022
Access options
Subscribe to this journal
Receive 12 print issues and online access
$209.00 per year
only $17.42 per issue
Rent or buy this article
Get just this article for as long as you need it
$39.95
Prices may be subject to local taxes which are calculated during checkout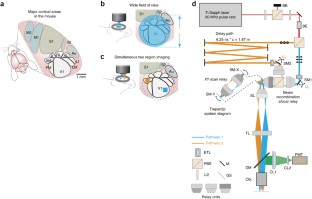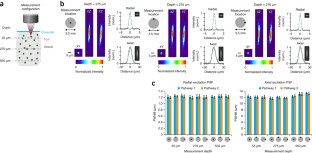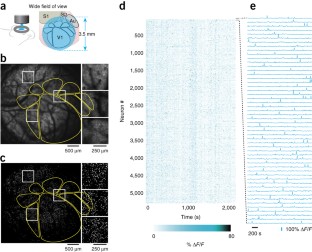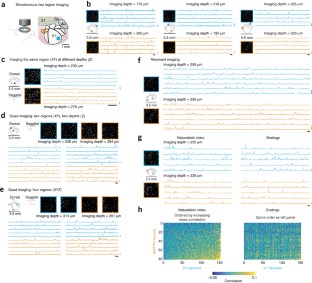 References
Denk, W., Strickler, J.H. & Webb, W.W. Two-photon laser scanning fluorescence microscopy. Science 248, 73–76 (1990).

Stosiek, C., Garaschuk, O., Holthoff, K. & Konnerth, A. In vivo two-photon calcium imaging of neuronal networks. Proc. Natl. Acad. Sci. USA 100, 7319–7324 (2003).

Chen, T.W. et al. Ultrasensitive fluorescent proteins for imaging neuronal activity. Nature 499, 295–300 (2013).

Theer, P. & Denk, W. On the fundamental imaging-depth limit in two-photon microscopy. J. Opt. Soc. Am. A Opt. Image Sci. Vis. 23, 3139–3149 (2006).

Ohki, K., Chung, S., Ch'ng, Y.H., Kara, P. & Reid, R.C. Functional imaging with cellular resolution reveals precise micro-architecture in visual cortex. Nature 433, 597–603 (2005).

Smith, S.L. & Häusser, M. Parallel processing of visual space by neighboring neurons in mouse visual cortex. Nat. Neurosci. 13, 1144–1149 (2010).

Komiyama, T. et al. Learning-related fine-scale specificity imaged in motor cortex circuits of behaving mice. Nature 464, 1182–1186 (2010).

Dombeck, D.A., Khabbaz, A.N., Collman, F., Adelman, T.L. & Tank, D.W. Imaging large-scale neural activity with cellular resolution in awake, mobile mice. Neuron 56, 43–57 (2007).

Fuster, J.M. The cognit: a network model of cortical representation. Int. J. Psychophysiol. 60, 125–132 (2006).

Wang, Q. & Burkhalter, A. Area map of mouse visual cortex. J. Comp. Neurol. 502, 339–357 (2007).

Cheng, A., Gonçalves, J.T., Golshani, P., Arisaka, K. & Portera-Cailliau, C. Simultaneous two-photon calcium imaging at different depths with spatiotemporal multiplexing. Nat. Methods 8, 139–142 (2011).

Amir, W. et al. Simultaneous imaging of multiple focal planes using a two-photon scanning microscope. Opt. Lett. 32, 1731–1733 (2007).

Voigt, F.F., Chen, J.L., Krueppel, R. & Helmchen, F. A modular two-photon microscope for simultaneous imaging of distant cortical areas in vivo. Proc. SPIE. 9329, 2C (2015).

Grewe, B.F., Voigt, F.F., van 't Hoff, M. & Helmchen, F. Fast two-layer two-photon imaging of neuronal cell populations using an electrically tunable lens. Biomed. Opt. Express 2, 2035–2046 (2011).

Tsai, P.S. et al. Ultra-large field-of-view two-photon microscopy. Opt. Express 23, 13833–13847 (2015).

Lecoq, J. et al. Visualizing mammalian brain area interactions by dual-axis two-photon calcium imaging. Nat. Neurosci. 17, 1825–1829 (2014).

Kalatsky, V.A. & Stryker, M.P. New paradigm for optical imaging: temporally encoded maps of intrinsic signal. Neuron 38, 529–545 (2003).

Göbel, W., Kampa, B.M. & Helmchen, F. Imaging cellular network dynamics in three dimensions using fast 3D laser scanning. Nat. Methods 4, 73–79 (2007).

Cotton, R.J., Froudarakis, E., Storer, P., Saggau, P. & Tolias, A.S. Three-dimensional mapping of microcircuit correlation structure. Front. Neural Circuits 7, 151 (2013).

Vogelstein, J.T. et al. Fast nonnegative deconvolution for spike train inference from population calcium imaging. J. Neurophysiol. 104, 3691–3704 (2010).

Nelson, J.D., Youngworth, R.N. & Aikens, D.M. The cost of tolerancing. Proc. SPIE 7433. Optical System Alignment, Tolerancing, and Verification III, 7433 OE (2009).

Madisen, L. et al. Transgenic mice for intersectional targeting of neural sensors and effectors with high specificity and performance. Neuron 85, 942–958 (2015).

Judkewitz, B., Rizzi, M., Kitamura, K. & Häusser, M. Targeted single-cell electroporation of mammalian neurons in vivo. Nat. Protoc. 4, 862–869 (2009).

Brainard, D.H. The Psychophysics Toolbox. Spat. Vis. 10, 433–436 (1997).

Pelli, D.G. The VideoToolbox software for visual psychophysics: transforming numbers into movies. Spat. Vis. 10, 437–442 (1997).

Marshel, J.H., Garrett, M.E., Nauhaus, I. & Callaway, E.M. Functional specialization of seven mouse visual cortical areas. Neuron 72, 1040–1054 (2011).

Hopt, A. & Neher, E. Highly nonlinear photodamage in two-photon fluorescence microscopy. Biophys. J. 80, 2029–2036 (2001).

Vogelstein, J.T. et al. Spike inference from calcium imaging using sequential Monte Carlo methods. Biophys. J. 97, 636–655 (2009).

Zipfel, W.R., Williams, R.M. & Webb, W.W. Nonlinear magic: multiphoton microscopy in the biosciences. Nat. Biotechnol. 21, 1369–1377 (2003).

Visser, T.D. & Oud, J.L. Volume measurements in three-dimensional microscopy. Scanning 16, 198–200 (1994).

Zinter, J.P. & Levene, M.J. Maximizing fluorescence collection efficiency in multiphoton microscopy. Opt. Express 19, 15348–15362 (2011).

Driscoll, J.D. et al. Photon counting, censor corrections, and lifetime imaging for improved detection in two-photon microscopy. J. Neurophysiol. 105, 3106–3113 (2011).

Moon, S. & Kim, D.Y. Analog single-photon counter for high-speed scanning microscopy. Opt. Express 16, 13990–14003 (2008).

Tian, X., Xu, L., Li, X., Shang, G. & Yao, J. Geometric distortion correction for sinusoidally scanned atomic force microscopic images. in IEEE International Conference on Imaging Systems and Techniques 398–402 (IEEE, Thessaloniki, 2010).
Acknowledgements
We are grateful to Hongkui Zeng (Allen Institute) for kindly providing transgenic mice, Kei Eto (UNC-CH) for providing mice for imaging in pilot experiments, Janet Berrios (UNC-CH) for providing the YFP labeled brain section, Sally Kim and Ben Philpot (UNC-CH) for providing the Thy1-GFP O-line mouse, and Zemax LLC for providing upgraded software. This work was supported by the following: the National Institute of Child Health and Human Development (T32-HD40127) and Burroughs Wellcome Fund Career Award at the Scientific Interface (J.N.S.); a Helen Lyng White Fellowship (I.T.S.); a Career Development Award from the Human Frontier Science Program (00063/2012), and grants from the National Science Foundation (1450824), the Whitehall Foundation, the McKnight Foundation, the Klingenstein Foundation, the Simons Foundation (SCGB 325407SS), and the NIH (R01NS091335, R01EY024294) (S.L.S.). Custom-made image acquisition software (adapted by J.N.S.) is from code kindly provided by David Ferster, formerly of Northwestern University.
Ethics declarations
Competing interests
UNC-Chapel Hill has filed a patent on portions of this instrumentation. The patent is not licensed. S.L.S. has a consulting relationship with two companies that have expressed interest in the technology described in this paper.
Integrated supplementary information
Supplementary information
About this article
Cite this article
Stirman, J., Smith, I., Kudenov, M. et al. Wide field-of-view, multi-region, two-photon imaging of neuronal activity in the mammalian brain. Nat Biotechnol 34, 857–862 (2016). https://doi.org/10.1038/nbt.3594
Received:

Accepted:

Published:

Issue Date:

DOI: https://doi.org/10.1038/nbt.3594