Abstract
Refined cancer models are needed to bridge the gaps between cell line, animal and clinical research. Here we describe the engineering of an organotypic colon cancer model by recellularization of a native human matrix that contains cell-populated mucosa and an intact muscularis mucosa layer. This ex vivo system recapitulates the pathophysiological progression from APC-mutant neoplasia to submucosal invasive tumor. We used it to perform a Sleeping Beauty transposon mutagenesis screen to identify genes that cooperate with mutant APC in driving invasive neoplasia. We identified 38 candidate invasion-driver genes, 17 of which, including TCF7L2, TWIST2, MSH2, DCC, EPHB1 and EPHB2 have been previously implicated in colorectal cancer progression. Six invasion-driver genes that have not, to our knowledge, been previously described were validated in vitro using cell proliferation, migration and invasion assays and ex vivo using recellularized human colon. These results demonstrate the utility of our organoid model for studying cancer biology.
Relevant articles
Open Access articles citing this article.
Kuo-Sheng Hsu

,

James M. Dunleavey

…

Brad St. Croix

Nature Communications Open Access 18 November 2022

Xiao Ma

,

Su Yang

…

Zhen Xiang

Journal of Translational Medicine Open Access 26 August 2021

Charlotte R. Feddersen

,

Lexy S. Wadsworth

…

Adam J. Dupuy

BMC Genomics Open Access 17 June 2019
Access options
Subscribe to this journal
Receive 12 print issues and online access
$209.00 per year
only $17.42 per issue
Rent or buy this article
Get just this article for as long as you need it
$39.95
Prices may be subject to local taxes which are calculated during checkout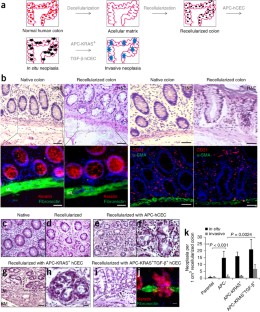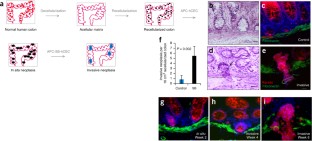 Accession codes
Primary accessions
Sequence Read Archive
References
Arrowsmith, J. Trial watch: Phase II failures: 2008–2010. Nat. Rev. Drug Discov. 10, 328–329 (2011).

Gout, S. & Huot, J. Role of cancer microenvironment in metastasis: focus on colon cancer. Cancer Microenviron. 1, 69–83 (2008).

Bozic, I. et al. Accumulation of driver and passenger mutations during tumor progression. Proc. Natl. Acad. Sci. USA 107, 18545–18550 (2010).

Jones, S. et al. Comparative lesion sequencing provides insights into tumor evolution. Proc. Natl. Acad. Sci. USA 105, 4283–4288 (2008).

The Cancer Genome Atlas Network. Comprehensive molecular characterization of human colon and rectal cancer. Nature 487, 330–337 (2012).

Copeland, N.G. & Jenkins, N.A. Deciphering the genetic landscape of cancer—from genes to pathways. Trends Genet. 25, 455–462 (2009).

Li, X. et al. Oncogenic transformation of diverse gastrointestinal tissues in primary organoid culture. Nat. Med. 20, 769–777 (2014).

Matano, M. et al. Modeling colorectal cancer using CRISPR-Cas9–mediated engineering of human intestinal organoids. Nat. Med. 21, 256–262 (2015).

Jung, P. et al. Isolation and in vitro expansion of human colonic stem cells. Nat. Med. 17, 1225–1227 (2011).

Gilbert, T.W., Sellaro, T.L. & Badylak, S.F. Decellularization of tissues and organs. Biomaterials 27, 3675–3683 (2006).

Ott, H.C. et al. Regeneration and orthotopic transplantation of a bioartificial lung. Nat. Med. 16, 927–933 (2010).

Ott, H.C. et al. Perfusion-decellularized matrix: using nature's platform to engineer a bioartificial heart. Nat. Med. 14, 213–221 (2008).

Ridky, T.W., Chow, J.M., Wong, D.J. & Khavari, P.A. Invasive three-dimensional organotypic neoplasia from multiple normal human epithelia. Nat. Med. 16, 1450–1455 (2010).

Tuveson, D.A. et al. Endogenous oncogenic KrasG12D stimulates proliferation and widespread neoplastic and developmental defects. Cancer Cell 5, 375–387 (2004).

Biswas, S. et al. Transforming growth factor-β receptor type II inactivation promotes the establishment and progression of colon cancer. Cancer Res. 64, 4687–4692 (2004).

Trobridge, P. et al. TGF-β receptor inactivation and mutant Kras induce intestinal neoplasms in mice via a β-catenin-independent pathway. Gastroenterology 136, 1680–1688.e7 (2009).

Lohi, J. et al. Laminins, tenascin and type VII collagen in colorectal mucosa. Histochem. J. 28, 431–440 (1996).

Vermeulen, L. et al. Single-cell cloning of colon cancer stem cells reveals a multi-lineage differentiation capacity. Proc. Natl. Acad. Sci. USA 105, 13427–13432 (2008).

Liotta, L.A. Tumor invasion and metastases: role of the basement membrane. Warner-Lambert Parke-Davis Award lecture. Am. J. Pathol. 117, 339–348 (1984).

Lau, W., Barker, N. & Clevers, H. WNT signaling in the normal intestine and colorectal cancer. Front. Biosci. 12, 471–491 (2007).

Fearon, E.R. & Vogelstein, B. A genetic model for colorectal tumorigenesis. Cell 61, 759–767 (1990).

Wood, L.D. et al. The genomic landscapes of human breast and colorectal cancers. Science 318, 1108–1113 (2007).

Oshima, H. et al. Suppressing TGFβ signaling in regenerating epithelia in an inflammatory microenvironment is sufficient to cause invasive intestinal cancer. Cancer Res. 75, 766–776 (2015).

Copeland, N.G. & Jenkins, N.A. Harnessing transposons for cancer gene discovery. Nat. Rev. Cancer 10, 696–706 (2010).

Dupuy, A.J., Akagi, K., Largaespada, D.A., Copeland, N.G. & Jenkins, N.A. Mammalian mutagenesis using a highly mobile somatic Sleeping Beauty transposon system. Nature 436, 221–226 (2005).

March, H.N. et al. Insertional mutagenesis identifies multiple networks of cooperating genes driving intestinal tumorigenesis. Nat. Genet. 43, 1202–1209 (2011).

Takeda, H. et al. Transposon mutagenesis identifies genes and evolutionary forces driving gastrointestinal tract tumor progression. Nat. Genet. 47, 142–150 (2015).

Grabundzija, I. et al. Comparative analysis of transposable element vector systems in human cells. Mol. Ther. 18, 1200–1209 (2010).

Brett, B.T. et al. Novel molecular and computational methods improve the accuracy of insertion site analysis in Sleeping Beauty-induced tumors. PLoS One 6, e24668 (2011).

Angus-Hill, M.L., Elbert, K.M., Hidalgo, J. & Capecchi, M.R. T-cell factor 4 functions as a tumor suppressor whose disruption modulates colon cell proliferation and tumorigenesis. Proc. Natl. Acad. Sci. USA 108, 4914–4919 (2011).

Behrens, J. et al. Functional interaction of an axin homolog, conductin, with β-catenin, APC, and GSK3β. Science 280, 596–599 (1998).

Yu, H. et al. Twist2 is a valuable prognostic biomarker for colorectal cancer. World J. Gastroenterol. 19, 2404–2411 (2013).

Xiong, H. et al. Inhibition of JAK1, 2/STAT3 signaling induces apoptosis, cell cycle arrest, and reduces tumor cell invasion in colorectal cancer cells. Neoplasia 10, 287–297 (2008).

Forcet, C. et al. The dependence receptor DCC (deleted in colorectal cancer) defines an alternative mechanism for caspase activation. Proc. Natl. Acad. Sci. USA 98, 3416–3421 (2001).

Aylon, Y. et al. A positive feedback loop between the p53 and Lats2 tumor suppressors prevents tetraploidization. Genes Dev. 20, 2687–2700 (2006).

Yabuta, N. et al. Structure, expression, and chromosome mapping of LATS2, a mammalian homologue of the Drosophila tumor suppressor gene lats/warts. Genomics 63, 263–270 (2000).

Funato, K., Yamazumi, Y., Oda, T. & Akiyama, T. Tyrosine phosphatase PTPRD suppresses colon cancer cell migration in coordination with CD44. Exp. Ther. Med. 2, 457–463 (2011).

Chen, H.J. et al. Comprehensive models of human primary and metastatic colorectal tumors in immunodeficient and immunocompetent mice by chemokine targeting. Nat. Biotechnol. 33, 656–660 (2015).

Katoh, M. Functional and cancer genomics of ASXL family members. Br. J. Cancer 109, 299–306 (2013).

Williams, D.S. et al. Nonsense mediated decay resistant mutations are a source of expressed mutant proteins in colon cancer cell lines with microsatellite instability. PLoS One 5, e16012 (2010).

Henrich, K.O. et al. CAMTA1, a 1p36 tumor suppressor candidate, inhibits growth and activates differentiation programs in neuroblastoma cells. Cancer Res. 71, 3142–3151 (2011).

Kim, M.Y. et al. Recurrent genomic alterations with impact on survival in colorectal cancer identified by genome-wide array comparative genomic hybridization. Gastroenterology 131, 1913–1924 (2006).

Roig, A.I. et al. Immortalized epithelial cells derived from human colon biopsies express stem cell markers and differentiate in vitro. Gastroenterology 138, 1012–1021 (2010).

Gomes, C.C. et al. Assessment of TP53 mutations in benign and malignant salivary gland neoplasms. PLoS One 7, e41261 (2012).

Groden, J. et al. Identification and characterization of the familial adenomatous polyposis coli gene. Cell 66, 589–600 (1991).

Lièvre, A. et al. KRAS mutation status is predictive of response to cetuximab therapy in colorectal cancer. Cancer Res. 66, 3992–3995 (2006).

Ruiz-Ponte, C., Vega, A., Carracedo, A. & Barros, F. Mutation analysis of the adenomatous polyposis coli (APC) gene in northwest Spanish patients with familial adenomatous polyposis (FAP) and sporadic colorectal cancer. Hum. Mutat. 18, 355 (2001).

Maston, G.A., Evans, S.K. & Green, M.R. Transcriptional regulatory elements in the human genome. Annu. Rev. Genomics Hum. Genet. 7, 29–59 (2006).

Chen, H.J. et al. Chemokine 25-induced signaling suppresses colon cancer invasion and metastasis. J. Clin. Invest. 122, 3184–3196 (2012).
Acknowledgements
We thank the members of M.L.S.'s laboratory and N.A.J. and N.G.C.'s laboratory. We also thank H.E. Varmus for providing laboratory resources and helpful discussions. This work was supported by a US National Cancer Institute Physical Sciences-Oncology Center (NCI-PSOC) Young Investigator trans-network grant to H.J.C. and Z.W., US National Institutes of Health (NIH) grant UH2TR000516 to M.L.S., US National Science Foundation (NSF) grants NSF-1106153 to M.L.S. and NSF GRFP-2011131053 to H.J.C., NIH grant R01GM095990 to X.S., an Arnold O. Beckman Postdoctoral fellowship to H.J.C., a Welch Foundation grant C-0627 at Rice University to Y.M. and the Cancer Prevention Research Institute of Texas (CPRIT) (N.G.C. and N.A.J.).
Ethics declarations
Competing interests
The authors declare no competing financial interests.
Integrated supplementary information
Supplementary information
About this article
Cite this article
Chen, H., Wei, Z., Sun, J. et al. A recellularized human colon model identifies cancer driver genes. Nat Biotechnol 34, 845–851 (2016). https://doi.org/10.1038/nbt.3586
Received:

Accepted:

Published:

Issue Date:

DOI: https://doi.org/10.1038/nbt.3586