Abstract
Widespread application of gene therapy will depend on the development of simple methods to regulate the expression of therapeutic genes. Here we harness an endogenous signaling pathway to regulate therapeutic gene expression through diet. The GCN2-eIF2α signaling pathway is specifically activated by deficiencies in any essential amino acid (EAA); EAA deficiency leads to rapid expression of genes regulated by ATF4-binding cis elements. We found that therapeutic genes under the control of optimized amino acid response elements (AAREs) had low basal expression and high induced expression. We applied our system to regulate the expression of TNFSF10 (TRAIL) in the context of glioma therapy and found that intermittent activation of this gene by EEA-deficient meals retained its therapeutic efficacy while abrogating its toxic effects on normal tissue. The GCN2-eIF2α pathway is expressed in many tissues, including the brain, and is highly specific to EAA deficiency. Our system may be particularly well suited for intermittent regulation of therapeutic transgenes over short or long time periods.
Relevant articles
Open Access articles citing this article.
Yuying Liu

,

Xiaoyu Liang

…

Bo Huang

Nature Communications Open Access 10 May 2017
Access options
Subscribe to this journal
Receive 12 print issues and online access
$209.00 per year
only $17.42 per issue
Rent or buy this article
Prices vary by article type
from$1.95
to$39.95
Prices may be subject to local taxes which are calculated during checkout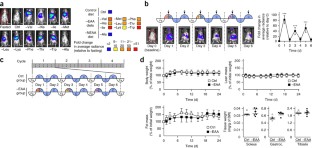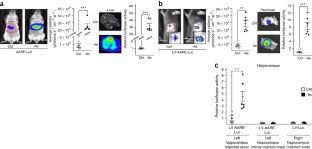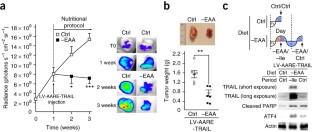 References
Kaufmann, K.B., Büning, H., Galy, A., Schambach, A. & Grez, M. Gene therapy on the move. EMBO Mol. Med. 5, 1642–1661 (2013).

Benítez, J.A., Domínguez-Monzón, G. & Segovia, J. Conventional and gene therapy strategies for the treatment of brain tumors. Curr. Med. Chem. 15, 729–742 (2008).

Sheridan, C. Gene therapy finds its niche. Nat. Biotechnol. 29, 121–128 (2011).

Misra, S. Human gene therapy: a brief overview of the genetic revolution. J. Assoc. Physicians India 61, 127–133 (2013).

Maurin, A.C. et al. The GCN2 kinase biases feeding behavior to maintain amino acid homeostasis in omnivores. Cell Metab. 1, 273–277 (2005).

Chaveroux, C. et al. Molecular mechanisms involved in the adaptation to amino acid limitation in mammals. Biochimie 92, 736–745 (2010).

Kilberg, M.S., Balasubramanian, M., Fu, L. & Shan, J. The transcription factor network associated with the amino acid response in mammalian cells. Adv. Nutr. 3, 295–306 (2012).

Dever, T.E. et al. Phosphorylation of initiation factor 2 alpha by protein kinase GCN2 mediates gene-specific translational control of GCN4 in yeast. Cell 68, 585–596 (1992).

Lu, P.D., Harding, H.P. & Ron, D. Translation reinitiation at alternative open reading frames regulates gene expression in an integrated stress response. J. Cell Biol. 167, 27–33 (2004).

Vattem, K.M. & Wek, R.C. Reinitiation involving upstream ORFs regulates ATF4 mRNA translation in mammalian cells. Proc. Natl. Acad. Sci. USA 101, 11269–11274 (2004).

Bruhat, A. et al. Amino acids control mammalian gene transcription: activating transcription factor 2 is essential for the amino acid responsiveness of the CHOP promoter. Mol. Cell. Biol. 20, 7192–7204 (2000).

Harding, H.P. et al. An integrated stress response regulates amino acid metabolism and resistance to oxidative stress. Mol. Cell 11, 619–633 (2003).

Carraro, V. et al. Amino acid availability controls TRB3 transcription in liver through the GCN2/eIF2α/ATF4 pathway. PLoS One 5, e15716 (2010).

Donnelly, N., Gorman, A.M., Gupta, S. & Samali, A. The eIF2α kinases: their structures and functions. Cell. Mol. Life Sci. 70, 3493–3511 (2013).

Crosby, J.S., Lee, K., London, I.M. & Chen, J.J. Erythroid expression of the heme-regulated eIF-2 alpha kinase. Mol. Cell. Biol. 14, 3906–3914 (1994).

Chaveroux, C. et al. In vivo imaging of the spatiotemporal activity of the eIF2α-ATF4 signaling pathway: Insights into stress and related disorders. Sci. Signal. 8, rs5 (2015).

Ezzine, S. et al. RILES, a novel method for temporal analysis of the in vivo regulation of miRNA expression. Nucleic Acids Res. 41, e192 (2013).

Keller, T.L. et al. Halofuginone and other febrifugine derivatives inhibit prolyl-tRNA synthetase. Nat. Chem. Biol. 8, 311–317 (2012).

Pines, M. & Spector, I. Halofuginone - the multifaceted molecule. Molecules 20, 573–594 (2015).

Seol, J.Y. et al. Adenovirus-TRAIL can overcome TRAIL resistance and induce a bystander effect. Cancer Gene Ther. 10, 540–548 (2003).

Griffith, T.S. et al. TRAIL gene therapy: from preclinical development to clinical application. Curr. Gene Ther. 9, 9–19 (2009).

Bellail, A.C., Qi, L., Mulligan, P., Chhabra, V. & Hao, C. TRAIL agonists on clinical trials for cancer therapy: the promises and the challenges. Rev. Recent Clin. Trials 4, 34–41 (2009).

Kim, C.Y. et al. Preclinical studies for pharmacokinetics and biodistribution of Ad-stTRAIL, an adenovirus delivering secretable trimeric TRAIL for gene therapy. Exp. Mol. Med. 43, 580–586 (2011).

Nagane, M., Cavenee, W.K. & Shiokawa, Y. Synergistic cytotoxicity through the activation of multiple apoptosis pathways in human glioma cells induced by combined treatment with ionizing radiation and tumor necrosis factor-related apoptosis-inducing ligand. J. Neurosurg. 106, 407–416 (2007).

Walczak, H. et al. Tumoricidal activity of tumor necrosis factor-related apoptosis-inducing ligand in vivo. Nat. Med. 5, 157–163 (1999).

Nitsch, R. et al. Human brain-cell death induced by tumour-necrosis-factor-related apoptosis-inducing ligand (TRAIL). Lancet 356, 827–828 (2000).

Nesterov, A., Ivashchenko, Y. & Kraft, A.S. Tumor necrosis factor-related apoptosis-inducing ligand (TRAIL) triggers apoptosis in normal prostate epithelial cells. Oncogene 21, 1135–1140 (2002).

Volkmann, X. et al. Increased hepatotoxicity of tumor necrosis factor-related apoptosis-inducing ligand in diseased human liver. Hepatology 46, 1498–1508 (2007).

Hingtgen, S. et al. Targeting multiple pathways in gliomas with stem cell and viral delivered S-TRAIL and Temozolomide. Mol. Cancer Ther. 7, 3575–3585 (2008).

Agha-Mohammadi, S. & Lotze, M.T. Regulatable systems: applications in gene therapy and replicating viruses. J. Clin. Invest. 105, 1177–1183 (2000).

Mortimore, G.E. & Pösö, A.R. Intracellular protein catabolism and its control during nutrient deprivation and supply. Annu. Rev. Nutr. 7, 539–568 (1987).

Goverdhana, S. et al. Regulatable gene expression systems for gene therapy applications: progress and future challenges. Mol. Ther. 12, 189–211 (2005).

Naidoo, J. & Young, D. Gene regulation systems for gene therapy applications in the central nervous system. Neurol. Res. Int. 2012, 595410 (2012).

Bartus, R.T., Weinberg, M.S. & Samulski, R.J. Parkinson's disease gene therapy: success by design meets failure by efficacy. Mol. Ther. 22, 487–497 (2014).

Di Stasi, A. et al. Inducible apoptosis as a safety switch for adoptive cell therapy. N. Engl. J. Med. 365, 1673–1683 (2011).

Ron, D. & Walter, P. Signal integration in the endoplasmic reticulum unfolded protein response. Nat. Rev. Mol. Cell Biol. 8, 519–529 (2007).

O'Connor, T. et al. Phosphorylation of the translation initiation factor eIF2alpha increases BACE1 levels and promotes amyloidogenesis. Neuron 60, 988–1009 (2008).

Hoozemans, J.J. et al. Activation of the unfolded protein response in Parkinson's disease. Biochem. Biophys. Res. Commun. 354, 707–711 (2007).

Shah, K., Tang, Y., Breakefield, X. & Weissleder, R. Real-time imaging of TRAIL-induced apoptosis of glioma tumors in vivo. Oncogene 22, 6865–6872 (2003).

Harding, H.P., Zhang, Y., Bertolotti, A., Zeng, H. & Ron, D. Perk is essential for translational regulation and cell survival during the unfolded protein response. Mol. Cell 5, 897–904 (2000).

Harding, H.P. et al. Regulated translation initiation controls stress-induced gene expression in mammalian cells. Mol. Cell 6, 1099–1108 (2000).

Abraham, N. et al. Characterization of transgenic mice with targeted disruption of the catalytic domain of the double-stranded RNA-dependent protein kinase, PKR. J. Biol. Chem. 274, 5953–5962 (1999).

Maurin, A.C. et al. Hypothalamic eIF2α signaling regulates food intake. Cell Rep. 6, 438–444 (2014).
Acknowledgements
We thank K. Shah (Harvard Medical School) for Gli36-Luc cells, D. Ron and H. Harding (Institute of Metabolic Science, Cambridge, UK) for GCN2−/− and PERK−/− MEFs, J.C. Bell (Ottawa health research institute, Canada) for PKR−/− MEFs, M. Petera for statistical analysis assistance, and A. Terrisse and A Teygnié for animal care and technical assistance. This study was supported by 'Programmes Emergence' (ANR-12-EMMA-0024) and (ANR-12-BSV2-0025-03) of 'Agence Nationale de la Recherche'.
Ethics declarations
Competing interests
P.F., A.B., C.J., A.-C.M. and J.A. are authors of patent application WO/2013/068096 (also US14357160A1 and EP2776568), "Inducible Expression Cassette, And Uses Thereof."
Integrated supplementary information
Supplementary information
Supplementary Figures 1–8 (PDF 1470 kb)
Composition of the experimental diets (PDF 159 kb)
About this article
Cite this article
Chaveroux, C., Bruhat, A., Carraro, V. et al. Regulating the expression of therapeutic transgenes by controlled intake of dietary essential amino acids. Nat Biotechnol 34, 746–751 (2016). https://doi.org/10.1038/nbt.3582
Received:

Accepted:

Published:

Issue Date:

DOI: https://doi.org/10.1038/nbt.3582
This article is cited by
Yuying Liu
Xiaoyu Liang
Bo Huang

Nature Communications (2017)

Xavier M Anguela
Katherine A High

Nature Biotechnology (2016)