Abstract
Orange-red fluorescent proteins (FPs) are widely used in biomedical research for multiplexed epifluorescence microscopy with GFP-based probes, but their different excitation requirements make multiplexing with new advanced microscopy methods difficult. Separately, orange-red FPs are useful for deep-tissue imaging in mammals owing to the relative tissue transmissibility of orange-red light, but their dependence on illumination limits their sensitivity as reporters in deep tissues. Here we describe CyOFP1, a bright, engineered, orange-red FP that is excitable by cyan light. We show that CyOFP1 enables single-excitation multiplexed imaging with GFP-based probes in single-photon and two-photon microscopy, including time-lapse imaging in light-sheet systems. CyOFP1 also serves as an efficient acceptor for resonance energy transfer from the highly catalytic blue-emitting luciferase NanoLuc. An optimized fusion of CyOFP1 and NanoLuc, called Antares, functions as a highly sensitive bioluminescent reporter in vivo, producing substantially brighter signals from deep tissues than firefly luciferase and other bioluminescent proteins.
Relevant articles
Open Access articles citing this article.
Liang Wang

,

Chunling Wu

…

Jun Chu

Nature Communications Open Access 12 September 2022

Xiaodong Tian

,

Yiyu Zhang

…

Hui-Wang Ai

Nature Communications Open Access 08 July 2022

Stavrini Papadaki

,

Xinyue Wang

…

Kiryl D. Piatkevich

Scientific Reports Open Access 17 June 2022
Access options
Subscribe to this journal
Receive 12 print issues and online access
$209.00 per year
only $17.42 per issue
Rent or buy this article
Get just this article for as long as you need it
$39.95
Prices may be subject to local taxes which are calculated during checkout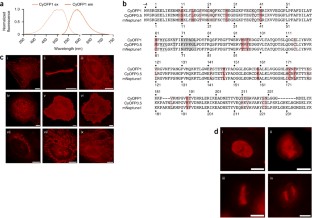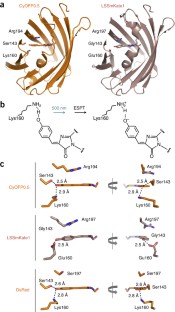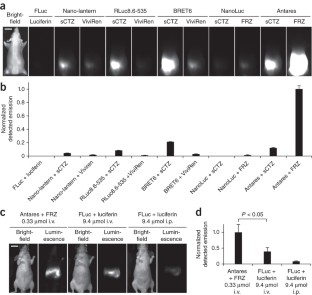 References
Newman, R.H., Fosbrink, M.D. & Zhang, J. Genetically encodable fluorescent biosensors for tracking signaling dynamics in living cells. Chem. Rev. 111, 3614–3666 (2011).

Depry, C., Mehta, S. & Zhang, J. Multiplexed visualization of dynamic signaling networks using genetically encoded fluorescent protein-based biosensors. Pflugers Arch. 465, 373–381 (2013).

Kawano, H., Kogure, T., Abe, Y., Mizuno, H. & Miyawaki, A. Two-photon dual-color imaging using fluorescent proteins. Nat. Methods 5, 373–374 (2008).

Yang, J. et al. mBeRFP, an improved large stokes shift red fluorescent protein. PLoS One 8, e64849 (2013).

Shao, L., Kner, P., Rego, E.H. & Gustafsson, M.G. Super-resolution 3D microscopy of live whole cells using structured illumination. Nat. Methods 8, 1044–1046 (2011).

Li, D. et al. ADVANCED IMAGING. Extended-resolution structured illumination imaging of endocytic and cytoskeletal dynamics. Science 349, aab3500 (2015).

Liu, Y. et al. Optical focusing deep inside dynamic scattering media with near-infrared time-reversed ultrasonically encoded (TRUE) light. Nat. Commun. 6, 5904 (2015).

Si, K., Fiolka, R. & Cui, M. Fluorescence imaging beyond the ballistic regime by ultrasound pulse guided digital phase conjugation. Nat. Photonics 6, 657–661 (2012).

Ji, N., Milkie, D.E. & Betzig, E. Adaptive optics via pupil segmentation for high-resolution imaging in biological tissues. Nat. Methods 7, 141–147 (2010).

Katona, G. et al. Fast two-photon in vivo imaging with three-dimensional random-access scanning in large tissue volumes. Nat. Methods 9, 201–208 (2012).

Planchon, T.A. et al. Rapid three-dimensional isotropic imaging of living cells using Bessel beam plane illumination. Nat. Methods 8, 417–423 (2011).

Gao, L. et al. Noninvasive imaging beyond the diffraction limit of 3D dynamics in thickly fluorescent specimens. Cell 151, 1370–1385 (2012).

Welf, E.S. et al. Quantitative multiscale cell imaging in controlled 3D microenvironments. Dev. Cell 36, 462–475 (2016).

Chen, B.C. et al. Lattice light-sheet microscopy: imaging molecules to embryos at high spatiotemporal resolution. Science 346, 1257998 (2014).

Dean, K.M., Roudot, P., Welf, E.S., Danuser, G. & Fiolka, R. Deconvolution-free subcellular imaging with axially swept light sheet microscopy. Biophys. J. 108, 2807–2815 (2015).

Dean, K.M. & Fiolka, R. Uniform and scalable light-sheets generated by extended focusing. Opt. Express 22, 26141–26152 (2014).

Close, D.M., Xu, T., Sayler, G.S. & Ripp, S. In vivo bioluminescent imaging (BLI): noninvasive visualization and interrogation of biological processes in living animals. Sensors (Basel) 11, 180–206 (2011).

Zhao, H. et al. Emission spectra of bioluminescent reporters and interaction with mammalian tissue determine the sensitivity of detection in vivo. J. Biomed. Opt. 10, 41210 (2005).

Contag, C.H. et al. Visualizing gene expression in living mammals using a bioluminescent reporter. Photochem. Photobiol. 66, 523–531 (1997).

Ando, Y., Niwa, K., Yamada, N., Enomoto, T. & Irie, T. Firefly bioluminescence quantum yield and colour change by pH-sensitive green emission. Nat. Photonics 2, 44–47 (2007).

Branchini, B.R., Magyar, R.A., Murtiashaw, M.H., Anderson, S.M. & Zimmer, M. Site-directed mutagenesis of histidine 245 in firefly luciferase: a proposed model of the active site. Biochemistry 37, 15311–15319 (1998).

Liang, Y., Walczak, P. & Bulte, J.W. Comparison of red-shifted firefly luciferase Ppy RE9 and conventional Luc2 as bioluminescence imaging reporter genes for in vivo imaging of stem cells. J. Biomed. Opt. 17, 016004 (2012).

Mazo-Vargas, A., Park, H., Aydin, M. & Buchler, N.E. Measuring fast gene dynamics in single cells with time-lapse luminescence microscopy. Mol. Biol. Cell 25, 3699–3708 (2014).

Mezzanotte, L. et al. Evaluating reporter genes of different luciferases for optimized in vivo bioluminescence imaging of transplanted neural stem cells in the brain. Contrast Media Mol. Imaging 8, 505–513 (2013).

Matthews, J.C., Hori, K. & Cormier, M.J. Purification and properties of Renilla reniformis luciferase. Biochemistry 16, 85–91 (1977).

Shimomura, O., Johnson, F.H. & Masugi, T. Cypridina bioluminescence: light-emitting oxyluciferin-luciferase complex. Science 164, 1299–1300 (1969).

Loening, A.M., Dragulescu-Andrasi, A. & Gambhir, S.S. A red-shifted Renilla luciferase for transient reporter-gene expression. Nat. Methods 7, 5–6 (2010).

Shimomura, O., Masugi, T., Johnson, F.H. & Haneda, Y. Properties and reaction mechanism of the bioluminescence system of the deep-sea shrimp Oplophorus gracilorostris. Biochemistry 17, 994–998 (1978).

Hall, M.P. et al. Engineered luciferase reporter from a deep sea shrimp utilizing a novel imidazopyrazinone substrate. ACS Chem. Biol. 7, 1848–1857 (2012).

Ward, W.W. & Cormier, M.J. Energy transfer via protein-protein interaction in renilla bioluminescence. Photochem. Photobiol. 27, 389–396 (1978).

Dragulescu-Andrasi, A., Chan, C.T., De, A., Massoud, T.F. & Gambhir, S.S. Bioluminescence resonance energy transfer (BRET) imaging of protein-protein interactions within deep tissues of living subjects. Proc. Natl. Acad. Sci. USA 108, 12060–12065 (2011).

Saito, K. et al. Luminescent proteins for high-speed single-cell and whole-body imaging. Nat. Commun. 3, 1262 (2012).

Chu, J. et al. Non-invasive intravital imaging of cellular differentiation with a bright red-excitable fluorescent protein. Nat. Methods 11, 572–578 (2014).

Bruno, T.J. & Svoronos, P.D.N. CRC Handbook of Fundamental Spectroscopic Correlation Charts (CRC Press, Boca Raton, Florida, USA, 2006).

Chu, J., Xing, Y. & Lin, M.Z. in The Fluorescent Protein Revolution (eds. Day, R. & Davidson, M.) 153–167 (CRC Press, Boca Raton, Florida, USA, 2014).

Baird, G.S., Zacharias, D.A. & Tsien, R.Y. Biochemistry, mutagenesis, and oligomerization of DsRed, a red fluorescent protein from coral. Proc. Natl. Acad. Sci. USA 97, 11984–11989 (2000).

Lounis, B. & Moerner, W.E. Single photons on demand from a single molecule at room temperature. Nature 407, 491–493 (2000).

Lam, A.J. et al. Improving FRET dynamic range with bright green and red fluorescent proteins. Nat. Methods 9, 1005–1012 (2012).

Miyawaki, A., Shcherbakova, D.M. & Verkhusha, V.V. Red fluorescent proteins: chromophore formation and cellular applications. Curr. Opin. Struct. Biol. 22, 679–688 (2012).

Olsson, M.H., Søndergaard, C.R., Rostkowski, M. & Jensen, J.H. PROPKA3: consistent treatment of internal and surface residues in empirical pKa predictions. J. Chem. Theory Comput. 7, 525–537 (2011).

Piatkevich, K.D., Malashkevich, V.N., Almo, S.C. & Verkhusha, V.V. Engineering ESPT pathways based on structural analysis of LSSmKate red fluorescent proteins with large Stokes shift. J. Am. Chem. Soc. 132, 10762–10770 (2010).

Akerboom, J. et al. Optimization of a GCaMP calcium indicator for neural activity imaging. J. Neurosci. 32, 13819–13840 (2012).

Chen, T.W. et al. Ultrasensitive fluorescent proteins for imaging neuronal activity. Nature 499, 295–300 (2013).

Dana, H. et al. Thy1-GCaMP6 transgenic mice for neuronal population imaging in vivo. PLoS One 9, e108697 (2014).

Morse, D. & Tannous, B.A. A water-soluble coelenterazine for sensitive in vivo imaging of coelenterate luciferases. Mol. Ther. 20, 692–693 (2012).

Otto-Duessel, M. et al. In vivo testing of Renilla luciferase substrate analogs in an orthotopic murine model of human glioblastoma. Mol. Imaging 5, 57–64 (2006).

Horton, N.G. et al. In vivo three-photon microscopy of subcortical structures within an intact mouse brain. Nat. Photonics 7, 205–209 (2013).

Sinefeld, D., Paudel, H.P., Ouzounov, D.G., Bifano, T.G. & Xu, C. Adaptive optics in multiphoton microscopy: comparison of two, three and four photon fluorescence. Opt. Express 23, 31472–31483 (2015).

Shcherbakova, D.M., Hink, M.A., Joosen, L., Gadella, T.W. & Verkhusha, V.V. An orange fluorescent protein with a large Stokes shift for single-excitation multicolor FCCS and FRET imaging. J. Am. Chem. Soc. 134, 7913–7923 (2012).

Kogure, T. et al. A fluorescent variant of a protein from the stony coral Montipora facilitates dual-color single-laser fluorescence cross-correlation spectroscopy. Nat. Biotechnol. 24, 577–581 (2006).

Chalfie, M. & Kain, S.R. Green Fluorescent Protein: Properties, Applications, and Protocols (Wiley-Liss, 1998).

Yasuda, R. Imaging spatiotemporal dynamics of neuronal signaling using fluorescence resonance energy transfer and fluorescence lifetime imaging microscopy. Curr. Opin. Neurobiol. 16, 551–561 (2006).

Yasuda, R. et al. Supersensitive Ras activation in dendrites and spines revealed by two-photon fluorescence lifetime imaging. Nat. Neurosci. 9, 283–291 (2006).

McCoy, A.J. et al. Phaser crystallographic software. J. Appl. Crystallogr. 40, 658–674 (2007).

Winn, M.D. et al. Overview of the CCP4 suite and current developments. Acta Crystallogr. D Biol. Crystallogr. 67, 235–242 (2011).

Emsley, P. & Cowtan, K. Coot: model-building tools for molecular graphics. Acta Crystallogr. D Biol. Crystallogr. 60, 2126–2132 (2004).

Murshudov, G.N., Vagin, A.A. & Dodson, E.J. Refinement of macromolecular structures by the maximum-likelihood method. Acta Crystallogr. D Biol. Crystallogr. 53, 240–255 (1997).

Chen, V.B. et al. MolProbity: all-atom structure validation for macromolecular crystallography. Acta Crystallogr. D Biol. Crystallogr. 66, 12–21 (2010).

Laskowski, R.A., Moss, D.S. & Thornton, J.M. Main-chain bond lengths and bond angles in protein structures. J. Mol. Biol. 231, 1049–1067 (1993).

Pologruto, T.A., Sabatini, B.L. & Svoboda, K. ScanImage: flexible software for operating laser scanning microscopes. Biomed. Eng. Online 2, 13 (2003).

Brainard, D.H. The Psychophysics Toolbox. Spat. Vis. 10, 433–436 (1997).

Faul, F., Erdfelder, E., Lang, A.G. & Buchner, A. G*Power 3: a flexible statistical power analysis program for the social, behavioral, and biomedical sciences. Behav. Res. Methods 39, 175–191 (2007).
Acknowledgements
We thank T. Doyle (Stanford University) for assistance with bioluminescence imaging, J. Chen (Shenzhen Institutes of Advanced Technology) for analysis of light-sheet microscopy data, S. Classen (ALS SIBYLS) for help with synchrotron X-ray data collection, P. Meisenheimer and T. Kirkland (Promega) for furimazine, and members of the Lin laboratory for general assistance and advice. The MV3 cells were a gift of P. Friedl, University of Texas MD Anderson Cancer Center. The Advanced Light Source (ALS), a national user facility operated by Lawrence Berkeley National Laboratory on behalf of the Department of Energy Office of Basic Energy Sciences, through the Integrated Diffraction Analysis Technologies (IDAT) program, is supported by the DOE Office of Biological and Environmental Research and National Institute of Health project MINOS (R01GM105404). This work was supported by the University of Hawaii at Manoa Undergraduate Research Opportunities Program (M.H. and C.T.T.), a long-term fellowship from the Human Frontier Science Program (T.L.), NIH grants R01HL064274 (M.K.), R01MH080047 (R.Y.), 1U01NS090600 (M.Z.L.), and P50GM107615 (M.Z.L.), Shenzhen Basic Research Foundation grant JCYJ20150521144320987 (J.C.), the Hundred Talents Program award (Y64401) from the Chinese Academy of Sciences (J.C.), a Burroughs Wellcome Foundation Career Award for Medical Scientists (M.Z.L.), and a Rita Allen Foundation Scholar Award (M.Z.L.).
Ethics declarations
Competing interests
J.C. and M.Z.L. have filed a patent application for CyOFP and Antares.
Integrated supplementary information
Supplementary information
About this article
Cite this article
Chu, J., Oh, Y., Sens, A. et al. A bright cyan-excitable orange fluorescent protein facilitates dual-emission microscopy and enhances bioluminescence imaging in vivo. Nat Biotechnol 34, 760–767 (2016). https://doi.org/10.1038/nbt.3550
Received:

Accepted:

Published:

Issue Date:

DOI: https://doi.org/10.1038/nbt.3550