Abstract
Anabolic metabolism can produce an array of small molecules, but yields and productivities are low owing to carbon and energy inefficiencies and slow kinetics1,2. Catabolic and fermentative pathways, on the other hand, are carbon and energy efficient but support only a limited product range3,4. We used carbon- and energy-efficient non-decarboxylative Claisen condensation reactions and subsequent β-reduction reactions, which can accept a variety of functionalized primers and functionalized extender units and operate in an iterative manner, to synthesize functionalized small molecules. Using different ω- and ω-1-functionalized primers and α-functionalized extender units in combination with various termination pathways, we demonstrate the synthesis of 18 products from 10 classes, including ω-phenylalkanoic, α,ω-dicarboxylic, ω-hydroxy, ω-1-oxo, ω-1-methyl, 2-methyl, 2-methyl-2-enolic and 2,3-dihydroxy acids, β-hydroxy-ω-lactones, and ω-1-methyl alcohols.
Relevant articles
Open Access articles citing this article.
Sang-Hyun Pyo

,

Mahmoud Sayed

…

Rajni Hatti-Kaul

Microbial Cell Factories Open Access 28 October 2022

Bastian Vögeli

,

Luca Schulz

…

Michael C. Jewett

Nature Communications Open Access 01 June 2022

Jae Ho Shin

,

Aaron John Christian Andersen

…

Lisbeth Olsson

Microbial Cell Factories Open Access 04 August 2021
Access options
Subscribe to this journal
Receive 12 print issues and online access
$209.00 per year
only $17.42 per issue
Rent or buy this article
Prices vary by article type
from$1.95
to$39.95
Prices may be subject to local taxes which are calculated during checkout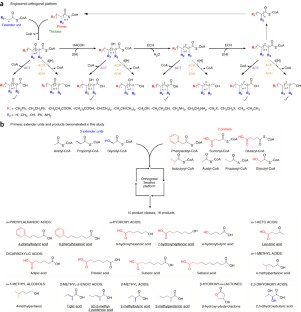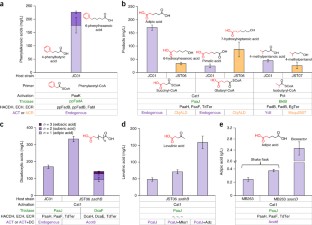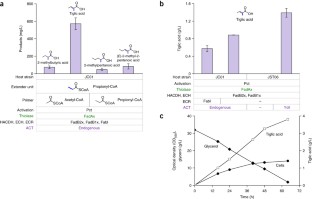 References
Haslam, E. Secondary metabolism—fact and fiction. Nat. Prod. Rep. 3, 217–249 (1986).

Wenzel, S.C. & Müller, R. Formation of novel secondary metabolites by bacterial multimodular assembly lines: deviations from textbook biosynthetic logic. Curr. Opin. Chem. Biol. 9, 447–458 (2005).

Sawers, R.G. & Clark, D.P. Fermentative pyruvate and acetyl-coenzyme A metabolism. Ecosal Plus 1, http://dx.doi.org/10.1128/ecosalplus.3.5.3 (2004).

Jones, D.T. & Woods, D.R. Acetone-butanol fermentation revisited. Microbiol. Rev. 50, 484–524 (1986).

Sun, X. et al. Synthesis of chemicals by metabolic engineering of microbes. Chem. Soc. Rev. 44, 3760–3785 (2015).

Dellomonaco, C., Clomburg, J.M., Miller, E.N. & Gonzalez, R. Engineered reversal of the β-oxidation cycle for the synthesis of fuels and chemicals. Nature 476, 355–359 (2011).

Olivera, E.R. et al. Two different pathways are involved in the β-oxidation of n-alkanoic and n-phenylalkanoic acids in Pseudomonas putida U: genetic studies and biotechnological applications. Mol. Microbiol. 39, 863–874 (2001).

Vick, J.E. et al. Escherichia coli enoyl-acyl carrier protein reductase (FabI) supports efficient operation of a functional reversal of β-oxidation cycle. Appl. Environ. Microbiol. 81, 1406–1416 (2015).

Teufel, R. et al. Bacterial phenylalanine and phenylacetate catabolic pathway revealed. Proc. Natl. Acad. Sci. USA 107, 14390–14395 (2010).

Söhling, B. & Gottschalk, G. Molecular analysis of the anaerobic succinate degradation pathway in Clostridium kluyveri. J. Bacteriol. 178, 871–880 (1996).

Tucci, S. & Martin, W. A novel prokaryotic trans-2-enoyl-CoA reductase from the spirochete Treponema denticola. FEBS Lett. 581, 1561–1566 (2007).

Toth, J., Ismaiel, A.A. & Chen, J.-S. The ald gene, encoding a coenzyme A-acylating aldehyde dehydrogenase, distinguishes Clostridium beijerinckii and two other solvent-producing clostridia from Clostridium acetobutylicum. Appl. Environ. Microbiol. 65, 4973–4980 (1999).

Taguchi, S. et al. A microbial factory for lactate-based polyesters using a lactate-polymerizing enzyme. Proc. Natl. Acad. Sci. USA 105, 17323–17327 (2008).

Slater, S. et al. Multiple β-ketothiolases mediate poly(β-hydroxyalkanoate) copolymer synthesis in Ralstonia eutropha. J. Bacteriol. 180, 1979–1987 (1998).

Hoffmeister, M., Piotrowski, M., Nowitzki, U. & Martin, W. Mitochondrial trans-2-enoyl-CoA reductase of wax ester fermentation from Euglena gracilis defines a new family of enzymes involved in lipid synthesis. J. Biol. Chem. 280, 4329–4338 (2005).

Clomburg, J.M., Vick, J.E., Blankschien, M.D., Rodríguez-Moyá, M. & Gonzalez, R. A synthetic biology approach to engineer a functional reversal of the β-oxidation cycle. ACS Synth. Biol. 1, 541–554 (2012).

Lenneman, E.M., Ohlert, J.M., Palani, N.P. & Barney, B.M. Fatty alcohols for wax esters in Marinobacter aquaeolei VT8: two optional routes in the wax biosynthesis pathway. Appl. Environ. Microbiol. 79, 7055–7062 (2013).

Westin, M.A.K., Hunt, M.C. & Alexson, S.E.H. The identification of a succinyl-CoA thioesterase suggests a novel pathway for succinate production in peroxisomes. J. Biol. Chem. 280, 38125–38132 (2005).

Parke, D., Garcia, M.A. & Ornston, L.N. Cloning and genetic characterization of dca genes required for beta-oxidation of straight-chain dicarboxylic acids in Acinetobacter sp. strain ADP1. Appl. Environ. Microbiol. 67, 4817–4827 (2001).

Parales, R.E. & Harwood, C.S. Characterization of the genes encoding beta-ketoadipate: succinyl-coenzyme A transferase in Pseudomonas putida. J. Bacteriol. 174, 4657–4666 (1992).

Choi, S., Song, C.W., Shin, J.H. & Lee, S.Y. Biorefineries for the production of top building block chemicals and their derivatives. Metab. Eng. 28, 223–239 (2015).

Yu, G. et al. Enzymatic functions of wild tomato methylketone synthases 1 and 2. Plant Physiol. 154, 67–77 (2010).

Petersen, D.J. & Bennett, G.N. Purification of acetoacetate decarboxylase from Clostridium acetobutylicum ATCC 824 and cloning of the acetoacetate decarboxylase gene in Escherichia coli. Appl. Environ. Microbiol. 56, 3491–3498 (1990).

Polen, T., Spelberg, M. & Bott, M. Toward biotechnological production of adipic acid and precursors from biorenewables. J. Biotechnol. 167, 75–84 (2013).

Jullesson, D., David, F., Pfleger, B. & Nielsen, J. Impact of synthetic biology and metabolic engineering on industrial production of fine chemicals. Biotechnol. Adv. 33, 1395–1402 (2015).

Kandasamy, V. et al. Engineering Escherichia coli with acrylate pathway genes for propionic acid synthesis and its impact on mixed-acid fermentation. Appl. Microbiol. Biotechnol. 97, 1191–1200 (2013).

Koma, D., Yamanaka, H., Moriyoshi, K., Ohmoto, T. & Sakai, K. Production of aromatic compounds by metabolically engineered Escherichia coli with an expanded shikimate pathway. Appl. Environ. Microbiol. 78, 6203–6216 (2012).

Koivistoinen, O.M. et al. Glycolic acid production in the engineered yeasts Saccharomyces cerevisiae and Kluyveromyces lactis. Microb. Cell Fact. 12, 82 (2013).

Rodriguez, G.M., Tashiro, Y. & Atsumi, S. Expanding ester biosynthesis in Escherichia coli. Nat. Chem. Biol. 10, 259–265 (2014).

Park, S.J. et al. Metabolic engineering of Escherichia coli for the production of 5-aminovalerate and glutarate as C5 platform chemicals. Metab. Eng. 16, 42–47 (2013).

Kang, Y. et al. Systematic mutagenesis of the Escherichia coli genome. J. Bacteriol. 186, 4921–4930 (2004).

Shams Yazdani, S. & Gonzalez, R. Engineering Escherichia coli for the efficient conversion of glycerol to ethanol and co-products. Metab. Eng. 10, 340–351 (2008).

Baba, T. et al. Construction of Escherichia coli K-12 in-frame, single-gene knockout mutants: the Keio collection. Mol. Syst. Biol. 2, 0008 (2006).

Neidhardt, F.C., Bloch, P.L. & Smith, D.F. Culture medium for enterobacteria. J. Bacteriol. 119, 736–747 (1974).

Clomburg, J.M. et al. Integrated engineering of β-oxidation reversal and ω-oxidation pathways for the synthesis of medium chain ω-functionalized carboxylic acids. Metab. Eng. 28, 202–212 (2015).

Kim, S., Clomburg, J.M. & Gonzalez, R. Synthesis of medium-chain length (C6-C10) fuels and chemicals via β-oxidation reversal in Escherichia coli. J. Ind. Microbiol. Biotechnol. 42, 465–475 (2015).
Acknowledgements
We thank J.E. Vick, M.D. Blankschien and S. Kim for assistance with constructs; G.N. Bennett (Rice University) for gDNA of Clostridium beijerinckii; and P.G. Bodager, B. Wilson, and S.P.T. Matsuda for assistance with GC–MS techniques. This work was supported by grants from the US National Science Foundation (EEC-0813570, CBET-1134541, and CBET-1067565).
Ethics declarations
Competing interests
The authors declare no competing financial interests.
Integrated supplementary information
Supplementary information
About this article
Cite this article
Cheong, S., Clomburg, J. & Gonzalez, R. Energy- and carbon-efficient synthesis of functionalized small molecules in bacteria using non-decarboxylative Claisen condensation reactions. Nat Biotechnol 34, 556–561 (2016). https://doi.org/10.1038/nbt.3505
Received:

Accepted:

Published:

Issue Date:

DOI: https://doi.org/10.1038/nbt.3505