Abstract
Targeted genomic manipulation by Cas9 can efficiently generate knockout cells and organisms via error-prone nonhomologous end joining (NHEJ), but the efficiency of precise sequence replacement by homology-directed repair (HDR) is substantially lower1,2. Here we investigate the interaction of Cas9 with target DNA and use our findings to improve HDR efficiency. We show that dissociation of Cas9 from double-stranded DNA (dsDNA) substrates is slow (lifetime ∼6 h) but that, before complete dissociation, Cas9 asymmetrically releases the 3′ end of the cleaved DNA strand that is not complementary to the sgRNA (nontarget strand). By rationally designing single-stranded DNA (ssDNA) donors of the optimal length complementary to the strand that is released first, we increase the rate of HDR in human cells when using Cas9 or nickase variants to up to 60%. We also demonstrate HDR rates of up to 0.7% using a catalytically inactive Cas9 mutant (dCas9), which binds DNA without cleaving it.
Relevant articles
Open Access articles citing this article.
Kwangjun Lee

&

Choogon Lee

Scientific Reports Open Access 19 May 2023

Georgi K. Marinov

,

Samuel H. Kim

…

William J. Greenleaf

Genome Biology Open Access 21 April 2023

Zhen-Hua Li

,

Jun Wang

…

Xiao Yang

Military Medical Research Open Access 10 March 2023
Access options
Subscribe to this journal
Receive 12 print issues and online access
$209.00 per year
only $17.42 per issue
Rent or buy this article
Get just this article for as long as you need it
$39.95
Prices may be subject to local taxes which are calculated during checkout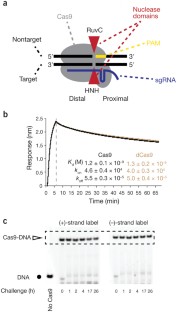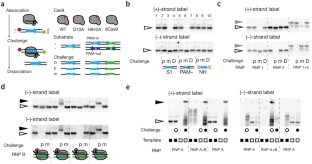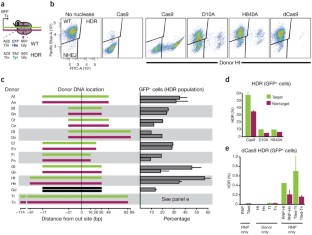 References
Doudna, J.A. & Charpentier, E. Genome editing. The new frontier of genome engineering with CRISPR-Cas9. Science 346, 1258096 (2014).

Jiang, W. & Marraffini, L.A. CRISPR-Cas: new tools for genetic manipulations from bacterial immunity systems. Annu. Rev. Microbiol. 69, 209–228 (2015).

Anders, C., Niewoehner, O., Duerst, A. & Jinek, M. Structural basis of PAM-dependent target DNA recognition by the Cas9 endonuclease. Nature 513, 569–573 (2014).

Nishimasu, H. et al. Crystal structure of Cas9 in complex with guide RNA and target DNA. Cell 156, 935–949 (2014).

Jinek, M. et al. A programmable dual-RNA-guided DNA endonuclease in adaptive bacterial immunity. Science 337, 816–821 (2012).

Carroll, D. Genome engineering with zinc-finger nucleases. Genetics 188, 773–782 (2011).

Gaj, T., Gersbach, C.A. & Barbas, C.F., III. ZFN, TALEN, and CRISPR/Cas-based methods for genome engineering. Trends Biotechnol. 31, 397–405 (2013).

Sternberg, S.H., Redding, S., Jinek, M., Greene, E.C. & Doudna, J.A. DNA interrogation by the CRISPR RNA-guided endonuclease Cas9. Nature 507, 62–67 (2014).

Abdiche, Y., Malashock, D., Pinkerton, A. & Pons, J. Determining kinetics and affinities of protein interactions using a parallel real-time label-free biosensor, the Octet. Anal. Biochem. 377, 209–217 (2008).

Metzger, L. & Iliakis, G. Kinetics of DNA double-strand break repair throughout the cell cycle as assayed by pulsed field gel electrophoresis in CHO cells. Int. J. Radiat. Biol. 59, 1325–1339 (1991).

Kim, S., Kim, D., Cho, S.W., Kim, J. & Kim, J.-S. Highly efficient RNA-guided genome editing in human cells via delivery of purified Cas9 ribonucleoproteins. Genome Res. 24, 1012–1019 (2014).

Knight, S.C. et al. Dynamics of CRISPR-Cas9 genome interrogation in living cells. Science 350, 823–826 (2015).

Ran, F.A. et al. Double nicking by RNA-guided CRISPR Cas9 for enhanced genome editing specificity. Cell 154, 1380–1389 (2013).

Chu, V.T. et al. Increasing the efficiency of homology-directed repair for CRISPR-Cas9-induced precise gene editing in mammalian cells. Nat. Biotechnol. 33, 543–548 (2015).

Lin, S., Staahl, B.T., Alla, R.K. & Doudna, J.A. Enhanced homology-directed human genome engineering by controlled timing of CRISPR/Cas9 delivery. eLife 3, e04766 (2014).

Maruyama, T. et al. Increasing the efficiency of precise genome editing with CRISPR-Cas9 by inhibition of nonhomologous end joining. Nat. Biotechnol. 33, 538–542 (2015).

Yang, L. et al. Optimization of scarless human stem cell genome editing. Nucleic Acids Res. 41, 9049–9061 (2013).

Chen, F. et al. High-frequency genome editing using ssDNA oligonucleotides with zinc-finger nucleases. Nat. Methods 8, 753–755 (2011).

Mali, P. et al. CAS9 transcriptional activators for target specificity screening and paired nickases for cooperative genome engineering. Nat. Biotechnol. 31, 833–838 (2013).

Trevino, A.E. & Zhang, F. Genome editing using Cas9 nickases. Methods Enzymol. 546, 161–174 (2014).

Genovese, P. et al. Targeted genome editing in human repopulating haematopoietic stem cells. Nature 510, 235–240 (2014).

Yin, H. et al. Genome editing with Cas9 in adult mice corrects a disease mutation and phenotype. Nat. Biotechnol. 32, 551–553 (2014).

Heler, R. et al. Cas9 specifies functional viral targets during CRISPR-Cas adaptation. Nature 519, 199–202 (2015).

Bitinaite, J., Wah, D.A., Aggarwal, A.K. & Schildkraut, I. FokI dimerization is required for DNA cleavage. Proc. Natl. Acad. Sci. USA 95, 10570–10575 (1998).

Cathomen, T. & Söllü, C. In vitro assessment of zinc finger nuclease activity. Methods Mol. Biol. 649, 227–235 (2010).

Tsai, S.Q. et al. Dimeric CRISPR RNA-guided FokI nucleases for highly specific genome editing. Nat. Biotechnol. 32, 569–576 (2014).

Davis, L. & Maizels, N. Homology-directed repair of DNA nicks via pathways distinct from canonical double-strand break repair. Proc. Natl. Acad. Sci. USA 111, E924–E932 (2014).

Storici, F., Snipe, J.R., Chan, G.K., Gordenin, D.A. & Resnick, M.A. Conservative repair of a chromosomal double-strand break by single-strand DNA through two steps of annealing. Mol. Cell. Biol. 26, 7645–7657 (2006).

McVey, M. & Lee, S.E. MMEJ repair of double-strand breaks (director's cut): deleted sequences and alternative endings. Trends Genet. 24, 529–538 (2008).

Sfeir, A. & Symington, L.S. Microhomology-mediated end joining: a back-up survival mechanism or dedicated pathway? Trends Biochem. Sci. 40, 701–714 (2015).

Anders, C. & Jinek, M. In vitro enzymology of Cas9. Methods Enzymol. 546, 1–20 (2014).

DeWitt, M. & Wong, J. Cas9 RNP nucleofection for cell lines using Lonza 4D Nucleofector. protocols.io doi:10.17504/protocols.io.dm649d (13 August 2015).

Aparicio, O. et al. Chromatin immunoprecipitation for determining the association of proteins with specific genomic sequences in vivo. Curr. Protoc. Mol. Biol. 69, 21.3.1–21.3.33 (2005).
Acknowledgements
We thank J. Doudna, M. Botchan, and members of the Corn laboratory for critical reading of the manuscript. We thank the Doudna lab for the gift of wtCas9 expression plasmids and the Berkeley Macrolab for support with protein expression and purification. This work was supported by the Li Ka Shing Foundation. Reagents described in this work are available on Addgene (https://www.addgene.org/Jacob_Corn/), and detailed protocols are available on protocols.io (https://www.protocols.io/g/innovative-genomics-initiative).
Ethics declarations
Competing interests
C.D.R. and J.E.C. are inventors on US Patent Application No. 62/262,189 related to this work.
Integrated supplementary information
Supplementary information
About this article
Cite this article
Richardson, C., Ray, G., DeWitt, M. et al. Enhancing homology-directed genome editing by catalytically active and inactive CRISPR-Cas9 using asymmetric donor DNA. Nat Biotechnol 34, 339–344 (2016). https://doi.org/10.1038/nbt.3481
Received:

Accepted:

Published:

Issue Date:

DOI: https://doi.org/10.1038/nbt.3481