Abstract
Many genetic liver diseases in newborns cause repeated, often lethal, metabolic crises. Gene therapy using nonintegrating viruses such as adeno-associated virus (AAV) is not optimal in this setting because the nonintegrating genome is lost as developing hepatocytes proliferate1,2. We reasoned that newborn liver may be an ideal setting for AAV-mediated gene correction using CRISPR-Cas9. Here we intravenously infuse two AAVs, one expressing Cas9 and the other expressing a guide RNA and the donor DNA, into newborn mice with a partial deficiency in the urea cycle disorder enzyme, ornithine transcarbamylase (OTC). This resulted in reversion of the mutation in 10% (6.7–20.1%) of hepatocytes and increased survival in mice challenged with a high-protein diet, which exacerbates disease. Gene correction in adult OTC-deficient mice was lower and accompanied by larger deletions that ablated residual expression from the endogenous OTC gene, leading to diminished protein tolerance and lethal hyperammonemia on a chow diet.
Relevant articles
Open Access articles citing this article.
Amita Tiyaboonchai

,

Anne Vonada

…

Markus Grompe

Nature Communications Open Access 30 November 2022

Ruiting Li

,

Qin Wang

…

Yang Yang

Molecular Biomedicine Open Access 14 October 2022

Changchang Xin

,

Jianhang Yin

…

Jiazhi Hu

Nature Communications Open Access 24 September 2022
Access options
Subscribe to Journal
Get full journal access for 1 year
$99.00
only $8.25 per issue
All prices are NET prices.
VAT will be added later in the checkout.
Tax calculation will be finalised during checkout.
Buy article
Get time limited or full article access on ReadCube.
$32.00
All prices are NET prices.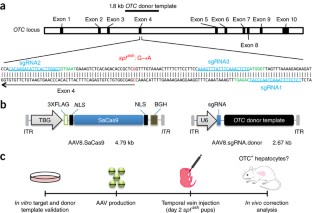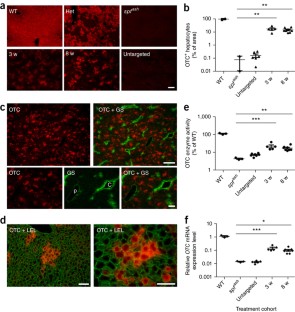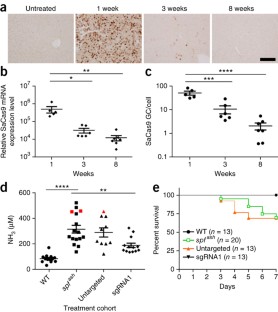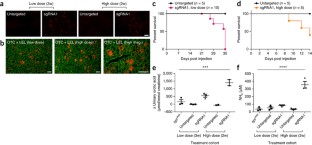 References
Cunningham, S.C., Dane, A.P., Spinoulas, A., Logan, G.J. & Alexander, I.E. Gene delivery to the juvenile mouse liver using AAV2/8 vectors. Mol. Ther. 16, 1081–1088 (2008).

Wang, L., Wang, H., Bell, P., McMenamin, D. & Wilson, J.M. Hepatic gene transfer in neonatal mice by adeno-associated virus serotype 8 vector. Hum. Gene Ther. 23, 533–539 (2012).

Batshaw, M.L., Tuchman, M., Summar, M., Seminara, J. & Members of the Urea Cycle Disorders Consortium. A longitudinal study of urea cycle disorders. Mol. Genet. Metab. 113, 127–130 (2014).

Lichter-Konecki, U., Caldovic, L., Morizono, H. & Simpson, K. Ornithine transcarbamylase deficiency (1993–2013). in GeneReviews (eds. Pagon, R.A. et al.) http://www.ncbi.nlm.nih.gov/books/NBK154378/ (29 August 2013).

Ah Mew, N., Krivitzky, L., McCarter, R., Batshaw, M., Tuchman, M. & Urea Cycle Disorders Consortium of the Rare Diseases Clinical Research Network. Clinical outcomes of neonatal onset proximal versus distal urea cycle disorders do not differ. J. Pediatr. 162, 324–9.e1 (2013).

Hodges, P.E. & Rosenberg, L.E. The spfash mouse: a missense mutation in the ornithine transcarbamylase gene also causes aberrant mRNA splicing. Proc. Natl. Acad. Sci. USA 86, 4142–4146 (1989).

Sharma, R. et al. In vivo genome editing of the albumin locus as a platform for protein replacement therapy. Blood 126, 1777–1784 (2015).

Yin, H. et al. Genome editing with Cas9 in adult mice corrects a disease mutation and phenotype. Nat. Biotechnol. 32, 551–553 (2014).

Anguela, X.M. et al. Robust ZFN-mediated genome editing in adult hemophilic mice. Blood 122, 3283–3287 (2013).

Barzel, A. et al. Promoterless gene targeting without nucleases ameliorates haemophilia B in mice. Nature 517, 360–364 (2015).

Ran, F.A. et al. In vivo genome editing using Staphylococcus aureus Cas9. Nature 520, 186–191 (2015).

Friedland, A.E. et al. Characterization of Staphylococcus aureus Cas9: a smaller Cas9 for all-in-one adeno-associated virus delivery and paired nickase applications. Genome Biol. 16, 257 (2015).

Kleinstiver, B.P. et al. Engineered CRISPR-Cas9 nucleases with altered PAM specificities. Nature 523, 481–485 (2015).

Hsu, P.D., Lander, E.S. & Zhang, F. Development and applications of CRISPR-Cas9 for genome engineering. Cell 157, 1262–1278 (2014).

Doudna, J.A. & Charpentier, E. Genome editing. The new frontier of genome engineering with CRISPR-Cas9. Science 346, 1258096 (2014).

Wang, D. et al. Adenovirus-mediated somatic genome editing of Pten by CRISPR/Cas9 in mouse liver in spite of Cas9-specific immune responses. Hum. Gene Ther. 26, 432–442 (2015).

Cheng, R. et al. Efficient gene editing in adult mouse livers via adenoviral delivery of CRISPR/Cas9. FEBS Lett. 588, 3954–3958 (2014).

Dingemanse, M.A. et al. Development of the ornithine cycle in rat liver: zonation of a metabolic pathway. Hepatology 24, 407–411 (1996).

Schmidt, F. & Grimm, D. CRISPR genome engineering and viral gene delivery: a case of mutual attraction. Biotechnol. J. 10, 258–272 (2015).

Vasileva, A. & Jessberger, R. Precise hit: adeno-associated virus in gene targeting. Nat. Rev. Microbiol. 3, 837–847 (2005).

Mahiny, A.J. et al. In vivo genome editing using nuclease-encoding mRNA corrects SP-B deficiency. Nat. Biotechnol. 33, 584–586 (2015).

Gao, G.P. et al. Novel adeno-associated viruses from rhesus monkeys as vectors for human gene therapy. Proc. Natl. Acad. Sci. USA 99, 11854–11859 (2002).

Wang, L. et al. AAV8-mediated hepatic gene transfer in infant rhesus monkeys (Macaca mulatta). Mol. Ther. 19, 2012–2020 (2011).

Yang, L. et al. Targeted and genome-wide sequencing reveal single nucleotide variations impacting specificity of Cas9 in human stem cells. Nat. Commun. 5, 5507 (2014).

Tsai, S.Q. et al. GUIDE-seq enables genome-wide profiling of off-target cleavage by CRISPR-Cas nucleases. Nat. Biotechnol. 33, 187–197 (2015).

Shi, Y., Falahati, R., Zhang, J., Flebbe-Rehwaldt, L. & Gaensler, K.M. Role of antigen-specific regulatory CD4+CD25+ T cells in tolerance induction after neonatal IP administration of AAV-hF.IX. Gene Ther. 20, 987–996 (2013).

Nivsarkar, M.S. et al. Evidence for contribution of CD4+ CD25+ regulatory T cells in maintaining immune tolerance to human factor IX following perinatal adenovirus vector delivery. J. Immunol. Res. 2015, 397879 (2015).

LoDuca, P.A., Hoffman, B.E. & Herzog, R.W. Hepatic gene transfer as a means of tolerance induction to transgene products. Curr. Gene Ther. 9, 104–114 (2009).

Hinderer, C. et al. Neonatal systemic AAV induces tolerance to CNS gene therapy in MPS I dogs and nonhuman primates. Mol. Ther. 23, 1298–1307 (2015).

Lock, M. et al. Rapid, simple, and versatile manufacturing of recombinant adeno-associated viral vectors at scale. Hum. Gene Ther. 21, 1259–1271 (2010).

Ran, F.A. et al. Genome engineering using the CRISPR-Cas9 system. Nat. Protoc. 8, 2281–2308 (2013).

Moscioni, D. et al. Long-term correction of ammonia metabolism and prolonged survival in ornithine transcarbamylase-deficient mice following liver-directed treatment with adeno-associated viral vectors. Mol. Ther. 14, 25–33 (2006).

Daly, T.M. AAV-mediated gene transfer to the liver. Methods Mol. Biol. 246, 195–199 (2004).

Augustin, L., Mavinakere, M., Morizono, H. & Tuchman, M. Expression of wild-type and mutant human ornithine transcarbamylase genes in Chinese hamster ovary cells and lack of dominant negative effect of R141Q and R40H mutants. Pediatr. Res. 48, 842–846 (2000).

Morizono, H. et al. Expression, purification and kinetic characterization of wild-type human ornithine transcarbamylase and a recurrent mutant that produces 'late onset' hyperammonaemia. Biochem. J. 322, 625–631 (1997).

Wang, L. et al. Sustained correction of OTC deficiency in spf(ash) mice using optimized self-complementary AAV2/8 vectors. Gene Ther. 19, 404–410 (2012).
Acknowledgements
We thank Penn Vector Core for supplying vectors, Penn Bioinformatics Core for assistance on deep sequencing data analysis, Y. Zhu and M. Nayalat for help on immunohistochemistry analysis, and L. Mays for assistance on manuscript preparation. This work was supported by National Institute of Child Health and Human Development P01-HD057247 (J.M.W.) and the Kettering Family Foundation (M.L.B.).
Ethics declarations
Competing interests
J.M. Wilson is an advisor to REGENXBIO, Dimension Therapeutics and Solid Gene Therapy, and is a founder of, holds equity in, and has a sponsored research agreement with REGENXBIO and Dimension Therapeutics; in addition, he is a consultant to several biopharmaceutical companies and is an inventor on patents licensed to various biopharmaceutical companies.
Integrated supplementary information
Supplementary information
Supplementary Figures 1–6 and Supplementary Tables 1 and 3–6 (PDF 916 kb)
About this article
Cite this article
Yang, Y., Wang, L., Bell, P. et al. A dual AAV system enables the Cas9-mediated correction of a metabolic liver disease in newborn mice. Nat Biotechnol 34, 334–338 (2016). https://doi.org/10.1038/nbt.3469
Received:

Accepted:

Published:

Issue Date:

DOI: https://doi.org/10.1038/nbt.3469