Abstract
Current combination antiretroviral therapies (cART) efficiently suppress HIV-1 reproduction in humans, but the virus persists as integrated proviral reservoirs in small numbers of cells. To generate an antiviral agent capable of eradicating the provirus from infected cells, we employed 145 cycles of substrate-linked directed evolution to evolve a recombinase (Brec1) that site-specifically recognizes a 34-bp sequence present in the long terminal repeats (LTRs) of the majority of the clinically relevant HIV-1 strains and subtypes. Brec1 efficiently, precisely and safely removes the integrated provirus from infected cells and is efficacious on clinical HIV-1 isolates in vitro and in vivo, including in mice humanized with patient-derived cells. Our data suggest that Brec1 has potential for clinical application as a curative HIV-1 therapy.
Relevant articles
Open Access articles citing this article.
Björn-Erik Ole Jensen

,

Elena Knops

…

Guido Kobbe

Nature Medicine Open Access 20 February 2023

Lukas Theo Schmitt

,

Maciej Paszkowski-Rogacz

…

Frank Buchholz

Nature Communications Open Access 27 December 2022

Felix Lansing

,

Liliya Mukhametzyanova

…

Frank Buchholz

Nature Communications Open Access 20 January 2022
Access options
Subscribe to this journal
Receive 12 print issues and online access
$209.00 per year
only $17.42 per issue
Rent or buy this article
Prices vary by article type
from$1.95
to$39.95
Prices may be subject to local taxes which are calculated during checkout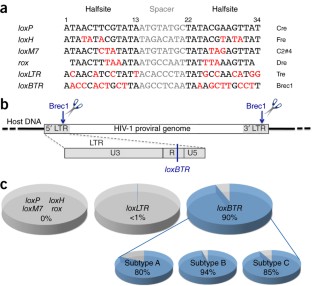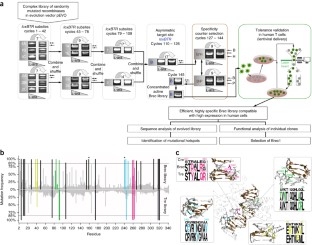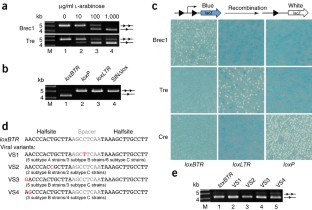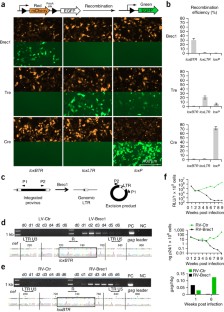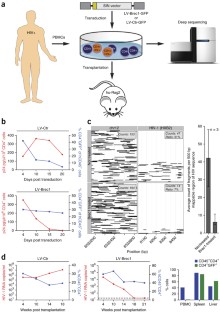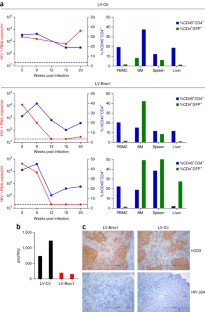 Accession codes
Primary accessions
BioProject
Referenced accessions
GenBank/EMBL/DDBJ
Protein Data Bank
References
Passaes, C.P. & Sáez-Cirión, A. HIV cure research: advances and prospects. Virology 454–455, 340–352 (2014).

Maartens, G., Celum, C. & Lewin, S.R. HIV infection: epidemiology, pathogenesis, treatment, and prevention. Lancet 384, 258–271 (2014).

Fauci, A.S., Marston, H.D. & Folkers, G.K. An HIV cure: feasibility, discovery, and implementation. J. Am. Med. Assoc. 312, 335–336 (2014).

Mbonye, U. & Karn, J. Transcriptional control of HIV latency: cellular signaling pathways, epigenetics, happenstance and the hope for a cure. Virology 454–455, 328–339 (2014).

Battistini, A. & Sgarbanti, M. HIV-1 latency: an update of molecular mechanisms and therapeutic strategies. Viruses 6, 1715–1758 (2014).

Chun, T.W., Davey, R.T. Jr., Engel, D., Lane, H.C. & Fauci, A.S. Re-emergence of HIV after stopping therapy. Nature 401, 874–875 (1999).

Akay, C. et al. Antiretroviral drugs induce oxidative stress and neuronal damage in the central nervous system. J. Neurovirol. 20, 39–53 (2014).

Richman, D.D. Antiviral drug resistance. Antiviral Res. 71, 117–121 (2006).

Pinoges, L. et al. Risk factors and mortality associated with resistance to first-line antiretroviral therapy: multicentric cross-sectional and longitudinal analyses. J. Acquir. Immune Defic. Syndr. 68, 527–535 (2015).

Petoumenos, K. et al. D:A:D Study Group. Predicting the short-term risk of diabetes in HIV-positive patients: the Data Collection on Adverse Events of Anti-HIV Drugs (D:A:D) study. J. Int. AIDS Soc. 15, 17426 (2012).

Nachega, J.B. et al. HIV treatment adherence, drug resistance, virologic failure: evolving concepts. Infect. Disord. Drug Targets 11, 167–174 (2011).

Rappold, M. et al. Treatment modification in HIV-Infected individuals starting antiretroviral therapy between 2011 and 2014. J. Int. AIDS Soc. 17 (suppl. 3), 19768 (2014).

Schackman, B.R. et al. The lifetime cost of current human immunodeficiency virus care in the United States. Med. Care 44, 990–997 (2006).

Beltrán, L.M. et al. Influence of immune activation and inflammatory response on cardiovascular risk associated with the human immunodeficiency virus. Vasc. Health Risk Manag. 11, 35–48 (2015).

Sarkar, I., Hauber, I., Hauber, J. & Buchholz, F. HIV-1 proviral DNA excision using an evolved recombinase. Science 316, 1912–1915 (2007).

Qu, X. et al. Zinc-finger-nucleases mediate specific and efficient excision of HIV-1 proviral DNA from infected and latently infected human T cells. Nucleic Acids Res. 41, 7771–7782 (2013).

Ebina, H., Misawa, N., Kanemura, Y. & Koyanagi, Y. Harnessing the CRISPR/Cas9 system to disrupt latent HIV-1 provirus. Sci. Rep. 3, 2510 (2013).

Hu, W. et al. RNA-directed gene editing specifically eradicates latent and prevents new HIV-1 infection. Proc. Natl. Acad. Sci. USA 111, 11461–11466 (2014).

Surendranath, V., Chusainow, J., Hauber, J., Buchholz, F. & Habermann, B.H. SeLOX--a locus of recombination site search tool for the detection and directed evolution of site-specific recombination systems. Nucleic Acids Res. 38, W293–W298 (2010).

Buchholz, F. & Stewart, A.F. Alteration of Cre recombinase site specificity by substrate-linked protein evolution. Nat. Biotechnol. 19, 1047–1052 (2001).

Santoro, S.W. & Schultz, P.G. Directed evolution of the site specificity of Cre recombinase. Proc. Natl. Acad. Sci. USA 99, 4185–4190 (2002).

Sauer, B. & McDermott, J. DNA recombination with a heterospecific Cre homolog identified from comparison of the pac-c1 regions of P1-related phages. Nucleic Acids Res. 32, 6086–6095 (2004).

Karimova, M. et al. Vika/vox, a novel efficient and specific Cre/loxP-like site-specific recombination system. Nucleic Acids Res. 41, e37 (2013).

Buchholz, F. & Hauber, J. In vitro evolution and analysis of HIV-1 LTR-specific recombinases. Methods 53, 102–109 (2011).

Abi-Ghanem, J. et al. Engineering of a target site-specific recombinase by a combined evolution- and structure-guided approach. Nucleic Acids Res. 41, 2394–2403 (2013).

Van Duyne, G.D. A structural view of cre-loxP site-specific recombination. Annu. Rev. Biophys. Biomol. Struct. 30, 87–104 (2001).

Ennifar, E., Meyer, J.E., Buchholz, F., Stewart, A.F. & Suck, D. Crystal structure of a wild-type Cre recombinase-loxP synapse reveals a novel spacer conformation suggesting an alternative mechanism for DNA cleavage activation. Nucleic Acids Res. 31, 5449–5460 (2003).

Suerth, J.D., Maetzig, T., Galla, M., Baum, C. & Schambach, A. Self-inactivating alpharetroviral vectors with a split-packaging design. J. Virol. 84, 6626–6635 (2010).

Hauber, I. et al. Highly significant antiviral activity of HIV-1 LTR-specific tre-recombinase in humanized mice. PLoS Pathog. 9, e1003587 (2013).

Perez, E.E. et al. Establishment of HIV-1 resistance in CD4+ T cells by genome editing using zinc-finger nucleases. Nat. Biotechnol. 26, 808–816 (2008).

Holt, N. et al. Human hematopoietic stem/progenitor cells modified by zinc-finger nucleases targeted to CCR5 control HIV-1 in vivo. Nat. Biotechnol. 28, 839–847 (2010).

Whitney, J.B. et al. Rapid seeding of the viral reservoir prior to SIV viraemia in rhesus monkeys. Nature 512, 74–77 (2014).

Taylor, B.S., Sobieszczyk, M.E., McCutchan, F.E. & Hammer, S.M. The challenge of HIV-1 subtype diversity. N. Engl. J. Med. 358, 1590–1602 (2008).

Crowell, T.A. et al. Hospitalization rates and reasons among HIV elite controllers and persons with medically controlled HIV infection. J. Infect. Dis. 211, 1692–1702 (2015).

Suzuki, E. & Nakayama, M. VCre/VloxP and SCre/SloxP: new site-specific recombination systems for genome engineering. Nucleic Acids Res. 39, e49 (2011).

Tebas, P. et al. Gene editing of CCR5 in autologous CD4 T cells of persons infected with HIV. N. Engl. J. Med. 370, 901–910 (2014).

Pattanayak, V., Ramirez, C.L., Joung, J.K. & Liu, D.R. Revealing off-target cleavage specificities of zinc-finger nucleases by in vitro selection. Nat. Methods 8, 765–770 (2011).

Gabriel, R. et al. An unbiased genome-wide analysis of zinc-finger nuclease specificity. Nat. Biotechnol. 29, 816–823 (2011).

Tsai, S.Q. et al. GUIDE-seq enables genome-wide profiling of off-target cleavage by CRISPR-Cas nucleases. Nat. Biotechnol. 33, 187–197 (2015).

Wang, X. et al. Unbiased detection of off-target cleavage by CRISPR-Cas9 and TALENs using integrase-defective lentiviral vectors. Nat. Biotechnol. 33, 175–178 (2015).

Kim, H. & Kim, J.S. A guide to genome engineering with programmable nucleases. Nat. Rev. Genet. 15, 321–334 (2014).

Josefsson, L. et al. Majority of CD4+ T cells from peripheral blood of HIV-1-infected individuals contain only one HIV DNA molecule. Proc. Natl. Acad. Sci. USA 108, 11199–11204 (2011).

Josefsson, L. et al. Single cell analysis of lymph node tissue from HIV-1 infected patients reveals that the majority of CD4+ T-cells contain one HIV-1 DNA molecule. PLoS Pathog. 9, e1003432 (2013).

Ringrose, L., Chabanis, S., Angrand, P.O., Woodroofe, C. & Stewart, A.F. Quantitative comparison of DNA looping in vitro and in vivo: chromatin increases effective DNA flexibility at short distances. EMBO J. 18, 6630–6641 (1999).

Santarosa, M. & Ashworth, A. Haploinsufficiency for tumour suppressor genes: when you don't need to go all the way. Biochim. Biophys. Acta 1654, 105–122 (2004).

Archin, N.M. et al. Administration of vorinostat disrupts HIV-1 latency in patients on antiretroviral therapy. Nature 487, 482–485 (2012).

Caskey, M. et al. Viraemia suppressed in HIV-1-infected humans by broadly neutralizing antibody 3BNC117. Nature 522, 487–491 (2015).

Blankson, J.N., Siliciano, J.D. & Siliciano, R.F. Finding a cure for human immunodeficiency virus-1 infection. Infect. Dis. Clin. North Am. 28, 633–650 (2014).

Scherer, L.J. & Rossi, J.J. Ex vivo gene therapy for HIV-1 treatment. Hum. Mol. Genet. 20, R100–R107 (2011).

Herrera-Carrillo, E. & Berkhout, B. Bone Marrow Gene Therapy for HIV/AIDS. Viruses 7, 3910–3936 (2015).

Deeks, S.G. HIV: Shock and kill. Nature 487, 439–440 (2012).

Katlama, C. et al. Barriers to a cure for HIV: new ways to target and eradicate HIV-1 reservoirs. Lancet 381, 2109–2117 (2013).

Münch, R.C. et al. Off-target-free gene delivery by affinity-purified receptor-targeted viral vectors. Nat. Commun. 6, 6246 (2015).

Chomont, N. et al. HIV reservoir size and persistence are driven by T cell survival and homeostatic proliferation. Nat. Med. 15, 893–900 (2009).

Anastassiadis, K. et al. Dre recombinase, like Cre, is a highly efficient site-specific recombinase in E. coli, mammalian cells and mice. Dis. Model. Mech. 2, 508–515 (2009).

Langmead, B. & Salzberg, S.L. Fast gapped-read alignment with Bowtie 2. Nat. Methods 9, 357–359 (2012).

Li, H. et al. 1000 Genome Project Data Processing Subgroup. The Sequence Alignment/Map format and SAMtools. Bioinformatics 25, 2078–2079 (2009).

Prüfer, K. et al. PatMaN: rapid alignment of short sequences to large databases. Bioinformatics 24, 1530–1531 (2008).

Waterhouse, A.M., Procter, J.B., Martin, D.M.A., Clamp, M. & Barton, G.J. Jalview Version 2--a multiple sequence alignment editor and analysis workbench. Bioinformatics 25, 1189–1191 (2009).
Acknowledgements
The authors are indebted to M. Karimova (TU Dresden; TUD) for providing reagents, R. Kuhnert (TUD) for help with mouse work, A. Käßner-Frensel (TUD) for SKY analyses, R. Naumann (Max Planck Institute for Molecular Cell Biology and Genetics; MPI-CBG) for the generation of transgenic mice, S. Winkler (MPI-CBG) and A. Dahl (DFG-Forschungszentrum für Regenerative Therapien Dresden) for DNA sequencing, D. Dubrau (Heinrich Pette Institute) for initial ASLV-vector construction, G. Pilnitz-Stolze, B. Weseloh and B. Abel (Heinrich Pette Institute) for technical assistance, and D. Indenbirken and M. Alawi (Heinrich Pette Institute) for next-generation sequencing of nrLAM-PCR products. This work was supported by the DFG (BU 1400/7-1), the BMBF (GO-Bio FKZ 0315090), the Else Kröner-Fresenius-Stiftung (2010_A82), and the "Viral Latency" program at the Heinrich Pette Institute–Leibniz Institute for Experimental Virology, Hamburg. The reporter plasmid pCAGGS-loxP-mCherry-loxP-EGFP, where a floxed mCherry gene was inserted between the CAG enhancer/promoter module and the EGFP gene, was a generous gift from E.M. Tanaka (DFG-Forschungszentrum für Regenerative Therapien Dresden). The mammalian expression vector pCAGGS-IRES-puro was a generous gift from K. Anastassiadis (TUD).
Ethics declarations
Competing interests
J.K., J.C., J.H. and F.B. are inventors on a patent application regarding Brec1 (EP 14183277).
Integrated supplementary information
Supplementary information
About this article
Cite this article
Karpinski, J., Hauber, I., Chemnitz, J. et al. Directed evolution of a recombinase that excises the provirus of most HIV-1 primary isolates with high specificity. Nat Biotechnol 34, 401–409 (2016). https://doi.org/10.1038/nbt.3467
Received:

Accepted:

Published:

Issue Date:

DOI: https://doi.org/10.1038/nbt.3467