Abstract
Serotonin neurons located in the raphe nucleus of the hindbrain have crucial roles in regulating brain functions and have been implicated in various psychiatric disorders. Yet functional human serotonin neurons are not available for in vitro studies. Through manipulation of the WNT pathway, we demonstrate efficient differentiation of human pluripotent stem cells (hPSCs) to cells resembling central serotonin neurons, primarily those located in the rhombomeric segments 2-3 of the rostral raphe, which participate in high-order brain functions. The serotonin neurons express a series of molecules essential for serotonergic development, including tryptophan hydroxylase 2, exhibit typical electrophysiological properties and release serotonin in an activity-dependent manner. When treated with the FDA-approved drugs tramadol and escitalopram oxalate, they release or uptake serotonin in a dose- and time-dependent manner, suggesting the utility of these cells for the evaluation of drug candidates.
Relevant articles
Open Access articles citing this article.
Julian Triebelhorn

,

Iseline Cardon

…

Christian H. Wetzel

Molecular Psychiatry Open Access 22 June 2022

Zhanna Alekseenko

,

José M. Dias

…

Johan Ericson

Nature Communications Open Access 01 June 2022

Laura M. Fiori

,

Massimiliano Orri

…

Gustavo Turecki

Translational Psychiatry Open Access 21 August 2021
Access options
Subscribe to Journal
Get full journal access for 1 year
$99.00
only $8.25 per issue
All prices are NET prices.
VAT will be added later in the checkout.
Tax calculation will be finalised during checkout.
Buy article
Get time limited or full article access on ReadCube.
$32.00
All prices are NET prices.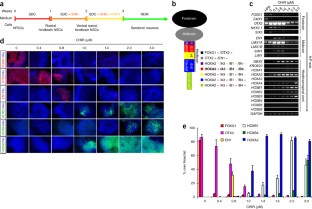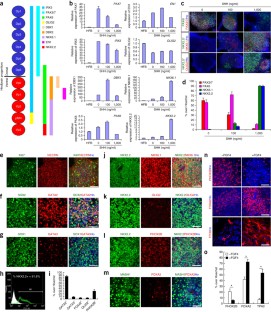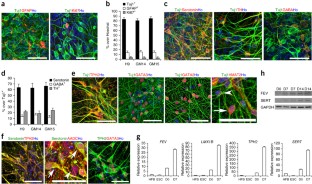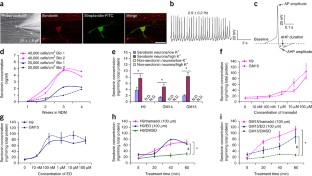 References
Deneris, E.S. & Wyler, S.C. Serotonergic transcriptional networks and potential importance to mental health. Nat. Neurosci. 15, 519–527 (2012).

Kiecker, C. & Niehrs, C. A morphogen gradient of Wnt/beta-catenin signalling regulates anteroposterior neural patterning in Xenopus. Development 128, 4189–4201 (2001).

Alonso, A. et al. Development of the serotonergic cells in murine raphe nuclei and their relations with rhombomeric domains. Brain Struct. Funct. 218, 1229–1277 (2013).

Bang, S.J., Jensen, P., Dymecki, S.M. & Commons, K.G. Projections and interconnections of genetically defined serotonin neurons in mice. Eur. J. Neurosci. 35, 85–96 (2012).

Goridis, C. & Rohrer, H. Specification of catecholaminergic and serotonergic neurons. Nat. Rev. Neurosci. 3, 531–541 (2002).

Jacobs, B.L. & Azmitia, E.C. Structure and function of the brain serotonin system. Physiol. Rev. 72, 165–229 (1992).

Chen, J. & Condron, B.G. Branch architecture of the fly larval abdominal serotonergic neurons. Dev. Biol. 320, 30–38 (2008).

Guthrie, S. Patterning and axon guidance of cranial motor neurons. Nat. Rev. Neurosci. 8, 859–871 (2007).

Kriks, S. et al. Dopamine neurons derived from human ES cells efficiently engraft in animal models of Parkinson's disease. Nature 480, 547–551 (2011).

Kirkeby, A. et al. Generation of regionally specified neural progenitors and functional neurons from human embryonic stem cells under defined conditions. Cell Reports 1, 703–714 (2012).

Lu, J. et al. Generation of integration-free and region-specific neural progenitors from primate fibroblasts. Cell Reports 3, 1580–1591 (2013).

Xi, J. et al. Specification of midbrain dopamine neurons from primate pluripotent stem cells. Stem Cells 30, 1655–1663 (2012).

Koch, P., Opitz, T., Steinbeck, J.A., Ladewig, J. & Brüstle, O. A rosette-type, self-renewing human ES cell-derived neural stem cell with potential for in vitro instruction and synaptic integration. Proc. Natl. Acad. Sci. USA 106, 3225–3230 (2009).

Smidt, M.P. & van Hooft, J.A. Subset specification of central serotonergic neurons. Front. Cell. Neurosci. 7, 200 (2013).

Alenina, N., Bashammakh, S. & Bader, M. Specification and differentiation of serotonergic neurons. Stem Cell Rev. 2, 5–10 (2006).

Ye, W., Shimamura, K., Rubenstein, J.L., Hynes, M.A. & Rosenthal, A. FGF and Shh signals control dopaminergic and serotonergic cell fate in the anterior neural plate. Cell 93, 755–766 (1998).

Scott, M.M. et al. A genetic approach to access serotonin neurons for in vivo and in vitro studies. Proc. Natl. Acad. Sci. USA 102, 16472–16477 (2005).

Calizo, L.H. et al. Raphe serotonin neurons are not homogenous: electrophysiological, morphological and neurochemical evidence. Neuropharmacology 61, 524–543 (2011).

Raffa, R.B. et al. Opioid and nonopioid components independently contribute to the mechanism of action of tramadol, an 'atypical' opioid analgesic. J. Pharmacol. Exp. Ther. 260, 275–285 (1992).

Driessen, B. & Reimann, W. Interaction of the central analgesic, tramadol, with the uptake and release of 5-hydroxytryptamine in the rat brain in vitro. Br. J. Pharmacol. 105, 147–151 (1992).

Kizilbash, A. & Ngô-Minh, C.T. Review of extended-release formulations of Tramadol for the management of chronic non-cancer pain: focus on marketed formulations. J. Pain Res. 7, 149–161 (2014).

Pastoor, D. & Gobburu, J. Clinical pharmacology review of escitalopram for the treatment of depression. Expert Opin. Drug Metab. Toxicol. 10, 121–128 (2014).

Barberi, T. et al. Neural subtype specification of fertilization and nuclear transfer embryonic stem cells and application in parkinsonian mice. Nat. Biotechnol. 21, 1200–1207 (2003).

Lee, S.H., Lumelsky, N., Studer, L., Auerbach, J.M. & McKay, R.D. Efficient generation of midbrain and hindbrain neurons from mouse embryonic stem cells. Nat. Biotechnol. 18, 675–679 (2000).

Kim, J.H. et al. Dopamine neurons derived from embryonic stem cells function in an animal model of Parkinson's disease. Nature 418, 50–56 (2002).

Salli, U. et al. Serotonin neurons derived from rhesus monkey embryonic stem cells: similarities to CNS serotonin neurons. Exp. Neurol. 188, 351–364 (2004).

Tokuyama, Y., Ingram, S.L., Woodward, J.S. & Bethea, C.L. Functional characterization of rhesus embryonic stem cell-derived serotonin neurons. Exp. Biol. Med. 235, 649–657 (2010).

Kumar, M., Kaushalya, S.K., Gressens, P., Maiti, S. & Mani, S. Optimized derivation and functional characterization of 5-HT neurons from human embryonic stem cells. Stem Cells Dev. 18, 615–627 (2009).

Maury, Y. et al. Combinatorial analysis of developmental cues efficiently converts human pluripotent stem cells into multiple neuronal subtypes. Nat. Biotechnol. 33, 89–96 (2015).

Li, X.J. et al. Specification of motoneurons from human embryonic stem cells. Nat. Biotechnol. 23, 215–221 (2005).

Chambers, S.M. et al. Highly efficient neural conversion of human ES and iPS cells by dual inhibition of SMAD signaling. Nat. Biotechnol. 27, 275–280 (2009).

Rhinn, M. & Brand, M. The midbrain–hindbrain boundary organizer. Curr. Opin. Neurobiol. 11, 34–42 (2001).

Gouti, M. et al. In vitro generation of neuromesodermal progenitors reveals distinct roles for wnt signalling in the specification of spinal cord and paraxial mesoderm identity. PLoS Biol. 12, e1001937 (2014).

Hu, B.Y., Du, Z.W., Li, X.J., Ayala, M. & Zhang, S.C. Human oligodendrocytes from embryonic stem cells: conserved SHH signaling networks and divergent FGF effects. Development 136, 1443–1452 (2009).

Baumann, M.H. et al. Effects of phentermine and fenfluramine on extracellular dopamine and serotonin in rat nucleus accumbens: therapeutic implications. Synapse 36, 102–113 (2000).

Pudovkina, O.L., Cremers, T.I. & Westerink, B.H. Regulation of the release of serotonin in the dorsal raphe nucleus by alpha1 and alpha2 adrenoceptors. Synapse 50, 77–82 (2003).

Rothman, R.B. & Baumann, M.H. Serotonin releasing agents. Neurochemical, therapeutic and adverse effects. Pharmacol. Biochem. Behav. 71, 825–836 (2002).

Hu, B.Y. et al. Neural differentiation of human induced pluripotent stem cells follows developmental principles but with variable potency. Proc. Natl. Acad. Sci. USA 107, 4335–4340 (2010).

Liu, H. et al. Spinal muscular atrophy patient-derived motor neurons exhibit hyperexcitability. Sci. Rep. 5, 12189 (2015).

Takahashi, K. et al. Induction of pluripotent stem cells from adult human fibroblasts by defined factors. Cell 131, 861–872 (2007).

Lu, J. et al. All-trans retinoic acid promotes neural lineage entry by pluripotent embryonic stem cells via multiple pathways. BMC Cell Biol. 10, 57 (2009).

Ma, L. et al. Human embryonic stem cell-derived GABA neurons correct locomotion deficits in quinolinic acid-lesioned mice. Cell Stem Cell 10, 455–464 (2012).
Acknowledgements
This work was partially supported by US National Institutes of Health (NIH) grants (NS045926, MH099587 and MH100031 to S.C.Z.; 1R01DK071801 to L.L.) and the National Institute of Child Health and Human Development (NICHD; P30 HD03352). The Q-Exactive Orbitrap mass spectrometer was purchased through the support of an NIH shared instrument grant (NIH–National Center for Research Resources (NCRR) S10RR029531 to L.L.). L.L. acknowledges an H.I. Romnes Faculty Research Fellowship. S.C.Z. acknowledges a Steenbock Professorship.
Ethics declarations
Competing interests
The authors declare no competing financial interests.
Integrated supplementary information
Supplementary information
About this article
Cite this article
Lu, J., Zhong, X., Liu, H. et al. Generation of serotonin neurons from human pluripotent stem cells. Nat Biotechnol 34, 89–94 (2016). https://doi.org/10.1038/nbt.3435
Received:

Accepted:

Published:

Issue Date:

DOI: https://doi.org/10.1038/nbt.3435