Abstract
High-fidelity intracranial electrode arrays for recording and stimulating brain activity have facilitated major advances in the treatment of neurological conditions over the past decade. Traditional arrays require direct implantation into the brain via open craniotomy, which can lead to inflammatory tissue responses, necessitating development of minimally invasive approaches that avoid brain trauma. Here we demonstrate the feasibility of chronically recording brain activity from within a vein using a passive stent-electrode recording array (stentrode). We achieved implantation into a superficial cortical vein overlying the motor cortex via catheter angiography and demonstrate neural recordings in freely moving sheep for up to 190 d. Spectral content and bandwidth of vascular electrocorticography were comparable to those of recordings from epidural surface arrays. Venous internal lumen patency was maintained for the duration of implantation. Stentrodes may have wide ranging applications as a neural interface for treatment of a range of neurological conditions.
Relevant articles
Open Access articles citing this article.
Yang Wang

,

Xinze Yang

…

Weihua Pei

Microsystems & Nanoengineering Open Access 05 January 2023

Mariska J. Vansteensel

,

Eran Klein

…

Theresa M. Vaughan

Journal of Neurology Open Access 30 November 2022
Access options
Subscribe to this journal
Receive 12 print issues and online access
$209.00 per year
only $17.42 per issue
Rent or buy this article
Prices vary by article type
from$1.95
to$39.95
Prices may be subject to local taxes which are calculated during checkout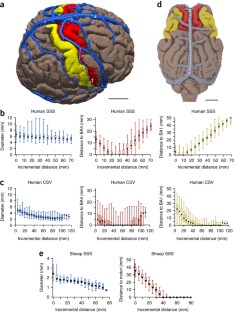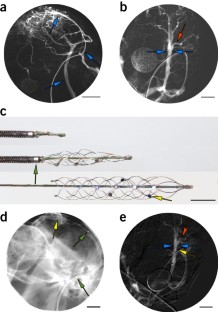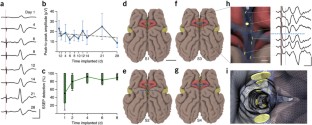 References
Deuschl, G. et al. A randomized trial of deep-brain stimulation for Parkinson's disease. N. Engl. J. Med. 355, 896–908 (2006).

Mallet, L. et al. Subthalamic nucleus stimulation in severe obsessive-compulsive disorder. N. Engl. J. Med. 359, 2121–2134 (2008).

Wilson, B.S. et al. Better speech recognition with cochlear implants. Nature 352, 236–238 (1991).

Weiland, J.D., Cho, A.K. & Humayun, M.S. Retinal prostheses: current clinical results and future needs. Ophthalmology 118, 2227–2237 (2011).

Hochberg, L.R. et al. Reach and grasp by people with tetraplegia using a neurally controlled robotic arm. Nature 485, 372–375 (2012).

Morrell, M.J. Responsive cortical stimulation for the treatment of medically intractable partial epilepsy. Neurology 77, 1295–1304 (2011).

Cook, M.J. et al. Prediction of seizure likelihood with a long-term, implanted seizure advisory system in patients with drug-resistant epilepsy: a first-in-man study. Lancet Neurol. 12, 563–571 (2013).

Hochberg, L.R. et al. Neuronal ensemble control of prosthetic devices by a human with tetraplegia. Nature 442, 164–171 (2006).

Yanagisawa, T. et al. Electrocorticographic control of a prosthetic arm in paralyzed patients. Ann. Neurol. 71, 353–361 (2012).

Wang, W. et al. An electrocorticographic brain interface in an individual with tetraplegia. PLoS One 8, e55344 (2013).

Polikov, V.S., Tresco, P.A. & Reichert, W.M. Response of brain tissue to chronically implanted neural electrodes. J. Neurosci. Methods 148, 1–18 (2005).

Karumbaiah, L. et al. Relationship between intracortical electrode design and chronic recording function. Biomaterials 34, 8061–8074 (2013).

Saxena, T. et al. The impact of chronic blood-brain barrier breach on intracortical electrode function. Biomaterials 34, 4703–4713 (2013).

Yanagisawa, T. et al. Neural decoding using gyral and intrasulcal electrocorticograms. Neuroimage 45, 1099–1106 (2009).

Driller, J. et al. Development and use of the POD catheter in the cerebral vascular system. Med. Res. Eng. 8, 11–16 (1969).

Penn, R.D., Hilal, S.K., Michelsen, W.J., Goldensohn, E.S. & Driller, J. Intravascular intracranial EEG recording. Technical note. J. Neurosurg. 38, 239–243 (1973).

Boniface, S.J. & Antoun, N. Endovascular electroencephalography: the technique and its application during carotid amytal assessment. J. Neurol. Neurosurg. Psychiatry 62, 193–195 (1997).

Bower, M.R. et al. Intravenous recording of intracranial, broadband EEG. J. Neurosci. Methods 214, 21–26 (2013).

Mikuni, N. et al. "Cavernous sinus EEG": a new method for the preoperative evaluation of temporal lobe epilepsy. Epilepsia 38, 472–482 (1997).

Watanabe, H., Takahashi, H., Nakao, M., Walton, K. & Llinás, R.R. Intravascular neural interface with nanowire electrode. Electron. Commun. Jpn. 92, 29–37 (2009).

Furman, S. & Schwedel, J.B. An intracardiac pacemaker for Stokes-Adams seizures. N. Engl. J. Med. 261, 943–948 (1959).

Mirowski, M. et al. Termination of malignant ventricular arrhythmias with an implanted automatic defibrillator in human beings. N. Engl. J. Med. 303, 322–324 (1980).

Chimowitz, M.I. et al. Stenting versus aggressive medical therapy for intracranial arterial stenosis. N. Engl. J. Med. 365, 993–1003 (2011).

Puffer, R.C., Mustafa, W. & Lanzino, G. Venous sinus stenting for idiopathic intracranial hypertension: a review of the literature. J. Neurointerv. Surg. 5, 483–486 (2013).

Berkhemer, O.A. et al. A randomized trial of intraarterial treatment for acute ischemic stroke. N. Engl. J. Med. 372, 11–20 (2015).

Campbell, B.C.V. et al. Endovascular therapy for ischemic stroke with perfusion-imaging selection. N. Engl. J. Med. 372, 1009–1018 (2015).

Hoffmann, A. et al. The ovine cerebral venous system: comparative anatomy, visualization, and implications for translational research. PLoS One 9, e92990 (2014).

Shao, Y., Sun, J.-L., Yang, Y., Cui, Q.-K. & Zhang, Q.-L. Endoscopic and microscopic anatomy of the superior sagittal sinus and torcular herophili. J. Clin. Neurosci. 16, 421–424 (2009).

Van Belle, E. et al. Stent endothelialization. Time course, impact of local catheter delivery, feasibility of recombinant protein administration, and response to cytokine expedition. Circulation 95, 438–448 (1997).

van der Giessen, W.J. et al. Coronary stenting with a new, radiopaque, balloon-expandable endoprosthesis in pigs. Circulation 83, 1788–1798 (1991).

Franks, W., Schenker, I., Schmutz, P. & Hierlemann, A. Impedance characterization and modeling of electrodes for biomedical applications. IEEE Trans. Biomed. Eng. 52, 1295–1302 (2005).

Henle, C. et al. First long term in vivo study on subdurally implanted micro-ECoG electrodes, manufactured with a novel laser technology. Biomed. Microdevices 13, 59–68 (2011).

Cedzich, C., Taniguchi, M., Schäfer, S. & Schramm, J. Somatosensory evoked potential phase reversal and direct motor cortex stimulation during surgery in and around the central region. Neurosurgery 38, 962–970 (1996).

Allison, T. et al. Human cortical potentials evoked by stimulation of the median nerve. I. Cytoarchitectonic areas generating short-latency activity. J. Neurophysiol. 62, 694–710 (1989).

Lukatch, H.S., Kiddoo, C.E. & Maciver, M.B. Anesthetic-induced burst suppression EEG activity requires glutamate-mediated excitatory synaptic transmission. Cereb. Cortex 15, 1322–1331 (2005).

Shimoda, K., Nagasaka, Y., Chao, Z.C. & Fujii, N. Decoding continuous three-dimensional hand trajectories from epidural electrocorticographic signals in Japanese macaques. J. Neural Eng. 9, 036015 (2012).

Bundy, D.T. et al. Characterization of the effects of the human dura on macro- and micro-electrocorticographic recordings. J. Neural Eng. 11, 016006 (2014).

Torres Valderrama, A., Oostenveld, R., Vansteensel, M.J., Huiskamp, G.M. & Ramsey, N.F. Gain of the human dura in vivo and its effects on invasive brain signal feature detection. J. Neurosci. Methods 187, 270–279 (2010).

Stoney, W.S. et al. The incidence of venous thrombosis following long-term transvenous pacing. Ann. Thorac. Surg. 22, 166–170 (1976).

Teplitzky, B.A., Connolly, A.T., Bajwa, J.A. & Johnson, M.D. Computational modeling of an endovascular approach to deep brain stimulation. J. Neural Eng. 11, 026011–026014 (2014).

Ahmed, R.M. et al. Transverse sinus stenting for idiopathic intracranial hypertension: a review of 52 patients and of model predictions. AJNR Am. J. Neuroradiol. 32, 1408–1414 (2011).

Fortescue, E.B. et al. Patient, procedural, and hardware factors associated with pacemaker lead failures in pediatrics and congenital heart disease. Heart Rhythm 1, 150–159 (2004).

Ho, J.S. et al. Wireless power transfer to deep-tissue microimplants. Proc. Natl. Acad. Sci. USA 111, 7974–7979 (2014).

Muller, R. et al. A miniaturized 64-channel 225μW wireless electrocorticographic neural sensor. 2014 IEEE International Solid-State Circuits Conference (ISSCC) 412–413 (IEEE, 2014).

Sun, J., Wang, J., Jie, L., Wang, H. & Gong, X. Visualization of the internal cerebral veins on MR phase-sensitive imaging: comparison with 3D gadolinium-enhanced MR venography and fast-spoiled gradient recalled imaging. AJNR Am. J. Neuroradiol. 32, E191–E193 (2011).

Fedorov, A. et al. 3D Slicer as an image computing platform for the Quantitative Imaging Network. Magn. Reson. Imaging 30, 1323–1341 (2012).

Dill, T. et al. Pulmonary vein diameter reduction after radiofrequency catheter ablation for paroxysmal atrial fibrillation evaluated by contrast-enhanced three-dimensional magnetic resonance imaging. Circulation 107, 845–850 (2003).

Dale, A.M., Fischl, B. & Sereno, M.I. Cortical surface-based analysis. I. Segmentation and surface reconstruction. Neuroimage 9, 179–194 (1999).

Fischl, B., Sereno, M.I. & Dale, A.M. Cortical surface-based analysis. II: Inflation, flattening, and a surface-based coordinate system. Neuroimage 9, 195–207 (1999).

Antiga, L. et al. An image-based modeling framework for patient-specific computational hemodynamics. Med. Biol. Eng. Comput. 46, 1097–1112 (2008).

Bagley, C. Cortical motor mechanism of the sheep brain. Arch. Neurol. Psychiatry 7, 417–453 (1922).

Simpson, S. & King, J.L. Localisation of the motor area in the sheep. Exp. Physiol. 4, 53–65 (1911).

Grovum, W.L. & Gonzalez, J.S. Electrical stimulation of the medial frontal lobe elicits a pattern of body movements in sheep. Brain Res. 851, 252–253 (1999).

Johnson, J.I., Rubel, E.W. & Hatton, G.I. Mechanosensory projections to cerebral cortex of sheep. J. Comp. Neurol. 158, 81–107 (1974).

Oostenveld, R., Fries, P., Maris, E. & Schoffelen, J.-M. FieldTrip: open source software for advanced analysis of MEG, EEG, and invasive electrophysiological data. Comput. Intell. Neurosci. 2011, 156869 (2011).

Metscher, B.D. MicroCT for comparative morphology: simple staining methods allow high-contrast 3D imaging of diverse non-mineralized animal tissues. BMC Physiol. 9, 11 (2009).

Stevenson, A.W. et al. First experiments on the Australian Synchrotron Imaging and Medical beamline, including investigations of the effective source size in respect of X-ray imaging. J. Synchrotron Radiat. 17, 75–80 (2010).

Morlacchi, S. et al. Hemodynamics and in-stent restenosis: micro-CT images, histology, and computer simulations. Ann. Biomed. Eng. 39, 2615–2626 (2011).

Nieman, K., Cademartiri, F., Raaijmakers, R., Pattynama, P. & de Feyter, P. Noninvasive angiographic evaluation of coronary stents with multi-slice spiral computed tomography. Herz 28, 136–142 (2003).

Williams, J.C., Hippensteel, J.A., Dilgen, J., Shain, W. & Kipke, D.R. Complex impedance spectroscopy for monitoring tissue responses to inserted neural implants. J. Neural Eng. 4, 410–423 (2007).

Ghoshal, N.G. & Getty, R. Innervation of the forearm and fin the ox (Bos taurus), sheep (Ovis aries) and goat (Capra hircus). Iowa State Univ. Vet. 29, 19–29 (1967).

Ogawa, T., Shingu, K., Shibata, M., Osawa, M. & Mori, K. The divergent actions of volatile anaesthetics on background neuronal activity and reactive capability in the central nervous system in cats. Can. J. Anaesth. 39, 862–872 (1992).

Villeneuve, M.Y. & Casanova, C. On the use of isoflurane versus halothane in the study of visual response properties of single cells in the primary visual cortex. J. Neurosci. Methods 129, 19–31 (2003).

Palahniuk, R.J., Shnider, S.M. & Eger, E.I. II. Pregnancy decreases the requirement for inhaled anesthetic agents. Anesthesiology 41, 82–83 (1974).

Chiappa, K.H. Evoked Potentials in Clinical Medicine (Lippincott Williams & Wilkins, 1997).

Rampil, I.J. A primer for EEG signal processing in anesthesia. Anesthesiology 89, 980–1002 (1998).

Thomson, D.J. Spectrum estimation and harmonic analysis. Proc. IEEE 70, 1055–1096 (1982).
Acknowledgements
The research was supported by US Defense Advanced Research Projects Agency (DARPA) Microsystems Technology Office contract N66001-12-1-4045; Office of Naval Research (ONR) Global N62909-14-1-N020; National Health and Medical Research Council of Australia (NHMRC) Project Grant APP1062532 and Development Grant APP1075117; Defence Health Foundation, Australia (Booster Grant); Defence Science Institute, Australia, grant; Brain Foundation, Australia, research gift; and the Victorian Government's Operational Infrastructure Support Program. T.J.O. acknowledges the support of the Royal Melbourne Hospital Neuroscience Foundation for the Warren Haynes Fellowship, as well as the Faculty of Medicine, University of Melbourne for the Leslie Eric Paddle Scholarship in Neurology. We thank Covidien (Medtronic) for provision of 30 Solitaire stentriever devices as a product research grant, K. Wilson and S. Cudennec for MRI data acquisition; C. Hall, A. Stevenson and A. Maksimenko for synchrotron acquisition; G. Sharma and S. Salinas for imaging analysis; H. Lau and T. Vale for surgical assistance; and L. Warne for anesthetic assistance. We acknowledge the facilities, and the scientific and technical assistance of the Australian National Imaging Facility at the Melbourne Brain Centre Imaging Unit, as well as the Imaging and Medical beamline at the Australian Synchrotron, Victoria, Australia.
Ethics declarations
Competing interests
T.J.O. and N.L.O. hold stock in SmartStent. Patent application US20140288667A1 filed by T.J.O. applies to the method described in the paper.
Integrated supplementary information
Supplementary information
Supplementary Figures 1–12 (PDF 1788 kb)
Supplementary Tables 1–6 and Supplementary Notes 1–6 (PDF 888 kb)
About this article
Cite this article
Oxley, T., Opie, N., John, S. et al. Minimally invasive endovascular stent-electrode array for high-fidelity, chronic recordings of cortical neural activity. Nat Biotechnol 34, 320–327 (2016). https://doi.org/10.1038/nbt.3428
Received:

Accepted:

Published:

Issue Date:

DOI: https://doi.org/10.1038/nbt.3428