Abstract
Nonsense-mediated mRNA decay (NMD) is a cellular quality-control mechanism that is thought to exacerbate the phenotype of certain pathogenic nonsense mutations by preventing the expression of semi-functional proteins. NMD also limits the efficacy of read-through compound (RTC)-based therapies. Here, we report a gene-specific method of NMD inhibition using antisense oligonucleotides (ASOs) and combine this approach with an RTC to effectively restore the expression of full-length protein from a nonsense-mutant allele.
Relevant articles
Open Access articles citing this article.
Young Jin Kim

,

Tomoki Nomakuchi

…

Adrian R. Krainer

Nature Communications Open Access 27 May 2022

Gonçalo Nogueira

,

Rafael Fernandes

…

Luísa Romão

Molecular Cancer Open Access 29 April 2021

Andrew Nickless

,

Julie M. Bailis

&

Zhongsheng You

Cell & Bioscience Open Access 19 May 2017
Access options
Subscribe to Journal
Get full journal access for 1 year
$99.00
only $8.25 per issue
All prices are NET prices.
VAT will be added later in the checkout.
Tax calculation will be finalised during checkout.
Buy article
Get time limited or full article access on ReadCube.
$32.00
All prices are NET prices.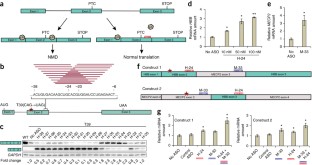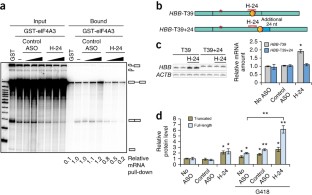 References
Goldmann, T. et al. EMBO Mol. Med. 4, 1186–1199 (2012).

Rigo, F., Hua, Y., Krainer, A.R. & Bennett, C.F. J. Cell Biol. 199, 21–25 (2012).

Popp, M.W.-L. & Maquat, L.E. Annu. Rev. Genet. 47, 139–165 (2013).

Keeling, K.M. et al. PLoS One 8, e60478 (2013).

Keeling, K.M. & Bedwell, D.M. Wiley Interdiscip. Rev. RNA 2, 837–852 (2011).

Bhuvanagiri, M. et al. EMBO Mol. Med. 6, 1593–1609 (2014).

Martin, L. et al. Cancer Res. 74, 3104–3113 (2014).

Ni, J.Z. et al. Genes Dev. 21, 708–718 (2007).

Karam, R. & Wilkinson, M. RNA Biol. 9, 22–26 (2012).

Jolly, L.A., Homan, C.C., Jacob, R., Barry, S. & Gecz, J. Hum. Mol. Genet. 22, 4673–4687 (2013).

Shibuya, T., Tange, T.O., Sonenberg, N. & Moore, M.J. Nat. Struct. Mol. Biol. 11, 346–351 (2004).

Kole, R., Krainer, A.R. & Altman, S. Nat. Rev. Drug Discov. 11, 125–140 (2012).

Giorgi, C. & Moore, M.J. Semin. Cell Dev. Biol. 18, 186–193 (2007).

Trecartin, R.F. et al. J. Clin. Invest. 68, 1012–1017 (1981).

Pan, Q. et al. Genes Dev. 20, 153–158 (2006).

Gardner, L.B. Mol. Cancer Res. 8, 295–308 (2010).

Winkler, J., Stessl, M., Amartey, J. & Noe, C.R. ChemMedChem 5, 1344–1352 (2010).

Zhang, Z. & Krainer, A.R. Proc. Natl. Acad. Sci. USA 104, 11574–11579 (2007).

Trcek, T., Sato, H., Singer, R.H. & Maquat, L.E. Genes Dev. 27, 541–551 (2013).

Keeling, K.M., Xue, X., Gunn, G. & Bedwell, D.M. Annu. Rev. Genomics Hum. Genet. 15, 371–394 (2014).

Loughran, G. et al. Nucleic Acids Res. 42, 8928–8938 (2014).

Baker, B.F. et al. J. Biol. Chem. 272, 11994–12000 (1997).

Jeong, J.-Y. et al. Appl. Environ. Microbiol. 78, 5440–5443 (2012).

Hossain, M. & Stillman, B. Genes Dev. 26, 1797–1810 (2012).

Mayeda, A. & Krainer, A.R. Methods Mol. Biol. 118, 315–321 (1999).

Mayeda, A. & Krainer, A.R. Methods Mol. Biol. 118, 309–314 (1999).

Zheng, W., Finkel, J.S., Landers, S.M., Long, R.M. & Culbertson, M.R. Genetics 180, 1391–1405 (2008).
Acknowledgements
We thank F. Bennett for helpful discussions. This work was supported by US National Institutes of Health (NIH) grants R21-NS081448 and R37-GM042699 and by a research grant from the University of Pennsylvania's Center for Orphan Disease Research and Therapy to A.R.K. T.T.N. was supported by NIH grants T32GM008444 and F31NS087747. We acknowledge assistance from Cold Spring Harbor Laboratory Shared Resources, funded in part by Cancer Center Support Grant 5P30CA045508.
Ethics declarations
Competing interests
T.T.N., I.A. and A.R.K. have filed a patent application (PCT/US2014/054151) on this technology; F.R. is an employee of and A.R.K. is a consultant and collaborator for Isis Pharmaceuticals.
Integrated supplementary information
Supplementary information
Supplementary Figures 1–11, Supplementary Tables 1 and 2 (PDF 1211 kb)
About this article
Cite this article
Nomakuchi, T., Rigo, F., Aznarez, I. et al. Antisense oligonucleotide–directed inhibition of nonsense-mediated mRNA decay. Nat Biotechnol 34, 164–166 (2016). https://doi.org/10.1038/nbt.3427
Received:

Accepted:

Published:

Issue Date:

DOI: https://doi.org/10.1038/nbt.3427