Cpf1 is one of a growing number of class II CRISPR-Cas effectors that expand both our understanding of bacterial immunity and our genome-editing toolset.
This is a preview of subscription content
Access options
Subscribe to Journal
Get full journal access for 1 year
$99.00
only $8.25 per issue
All prices are NET prices.
VAT will be added later in the checkout.
Tax calculation will be finalised during checkout.
Rent or Buy article
Get time limited or full article access on ReadCube.
from$8.99
All prices are NET prices.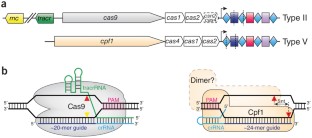 References
1

Zetsche, B. et al. Cell 163, 759–777 (2015).

2

Makarova, K.S. et al. Nat. Rev. Microbiol. 13, 722–736 (2015).

3

Sapranauskas, R. et al. Nucleic Acids Res. 39, 9275–9282 (2011).

4

Jinek, M. et al. Science 337, 816–821 (2012).

5

Gasiunas, G., Barrangou, R., Horvath, P. & Siksnys, V. Proc. Natl. Acad. Sci. USA 109, E2579–E2586 (2012).

6

Esvelt, K.M. et al. Nat. Methods 10, 1116–1121 (2013).

7

Shmakov, S. et al. Mol. Cell 60, 385–397 (2015).

8

Hendel, A. et al. Nat. Biotechnol. 33, 985–989 (2015).

9

Maresca, M., Lin, V.G., Guo, N. & Yang, Y. Genome Res. 23, 539–546 (2013).
Ethics declarations
Competing interests
The authors declare no competing financial interests.
About this article
Cite this article
Sontheimer, E., Wolfe, S. Cas9 gets a classmate. Nat Biotechnol 33, 1240–1241 (2015). https://doi.org/10.1038/nbt.3426
Further reading
Ajay Prakash Uniyal
Komal Mansotra
Vinay Kumar

3 Biotech (2019)