Abstract
Synthetic regulatory circuits encoded in RNA rather than DNA could provide a means to control cell behavior while avoiding potentially harmful genomic integration in therapeutic applications. We create post-transcriptional circuits using RNA-binding proteins, which can be wired in a plug-and-play fashion to create networks of higher complexity. We show that the circuits function in mammalian cells when encoded in modified mRNA or self-replicating RNA.
Relevant articles
Open Access articles citing this article.
Michael A. Crone

,

James T. MacDonald

…

Velia Siciliano

npj Systems Biology and Applications Open Access 16 September 2022

Breanna DiAndreth

,

Noreen Wauford

…

Ron Weiss

Nature Communications Open Access 11 May 2022

Yafeng Wang

,

Guiquan Zhang

…

Jianghuai Liu

Nature Communications Open Access 18 March 2022
Access options
Subscribe to Journal
Get full journal access for 1 year
$99.00
only $8.25 per issue
All prices are NET prices.
VAT will be added later in the checkout.
Tax calculation will be finalised during checkout.
Buy article
Get time limited or full article access on ReadCube.
$32.00
All prices are NET prices.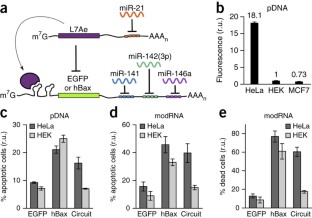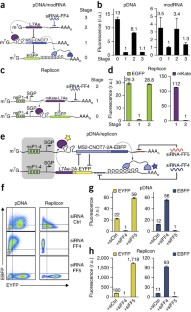 References
Tavernier, G. et al. J. Control. Release 150, 238–247 (2011).

Sahin, U., Karikó, K. & Türeci, Ö. Nat. Rev. Drug Discov. 13, 759–780 (2014).

Khalil, A.S. & Collins, J.J. Nat. Rev. Genet. 11, 367–379 (2010).

Aubel, D. & Fussenegger, M. BioEssays 32, 332–345 (2010).

An, C.I. RNA 12, 710–716 (2006).

Culler, S.J., Hoff, K.G. & Smolke, C.D. Science 330, 1251–1255 (2010).

Ausländer, S. et al. Nat. Methods 11, 1154–1160 (2014).

Rodrigo, G., Landrain, T.E. & Jaramillo, A. Proc. Natl. Acad. Sci. USA 109, 15271–15276 (2012).

Green, A.A., Silver, P.A., Collins, J.J. & Yin, P. Cell 159, 925–939 (2014).

Qian, L. & Winfree, E. Science 332, 1196–1201 (2011).

Saito, H. et al. Nat. Chem. Biol. 6, 71–78 (2010).

Ausländer, S., Ausländer, D., Müller, M., Wieland, M. & Fussenegger, M. Nature 487, 123–127 (2012).

Van Etten, J. et al. J. Biol. Chem. 287, 36370–36383 (2012).

Xie, Z., Wroblewska, L., Prochazka, L., Weiss, R. & Benenson, Y. Science 333, 1307–1311 (2011).

Strauss, J.H. & Strauss, E.G. Microbiol. Rev. 58, 491–562 (1994).

Gardner, T.S., Cantor, C.R. & Collins, J.J. Nature 403, 339–342 (2000).

Kramer, B.P. et al. Nat. Biotechnol. 22, 867–870 (2004).

Mortimer, I. et al. Gene Ther. 6, 403–411 (1999).

Azizgolshani, O., Garmann, R.F., Cadena-Nava, R., Knobler, C.M. & Gelbart, W.M. Virology 441, 12–17 (2013).

Lustig, S. et al. J. Virol. 62, 2329–2336 (1988).

Frolov, I. et al. J. Virol. 73, 3854–3865 (1999).

Beal, J. et al. ACS Synth. Biol. 4, 48–56 (2015).

Petrakova, O. et al. J. Virol. 79, 7597–7608 (2005).

Szymczak, A.L. et al. Nat. Biotechnol. 22, 589–594 (2004).

Stewart, S.A. et al. RNA 9, 493–501 (2003).

MATLAB and Statistics Toolbox Release 2013b, The MathWorks, Inc., Natick, Massachusetts, USA.
Acknowledgements
We thank K. Hayashi and N. Nishimura (Kyoto University) for supporting modified mRNA experiments. We also thank A.C. Goldstrohm and C. Weidmann (University of Michigan Medical School) for sharing Drosophila constructs containing MS2-fused repressors and the corresponding reporter, X. Zhang (MIT) and O. Andries (Ghent University) for assisting in VEE replicon construction, T.E. Wagner, D. Densmore (Boston University) and S. Payne (MIT) for communicating results before publication, W.M. Gelbart, C.M. Knobler, A. Berk, O. Azizgolshani and J.M. Parker (University of California, Los Angeles) for sharing replicon constructs and expertise, as well as A. Graziano (MIT) for supporting pDNA experiments and H. Chung (Harvard University) for designing the intronic mKate construct. This work was supported by Defense Advanced Research Projects Agency DARPA-BAA-11-23, US National Institutes of Health grants no. P50-GM098792, 5-R01-CA155320-03, National Science Foundation GRFP grant no. 1122374 (R.W.) and JSPS KAKENHI grant numbers 23681042, 24104002, and Research Center Network for Realization of Regenerative Medicine from the Japan Science and Technology Agency (H.S.).
Ethics declarations
Competing interests
H.S., K.E., R.W., L.W., T.K. and V.S. are co-inventors on patent applications covering the RNA circuits described here.
Supplementary information
Supplementary Figures 1–28, Supplementary Tables 1–6 and Supplementary Notes 1–3 (PDF 14585 kb)
RNA circuits model (TXT 22 kb)
About this article
Cite this article
Wroblewska, L., Kitada, T., Endo, K. et al. Mammalian synthetic circuits with RNA binding proteins for RNA-only delivery. Nat Biotechnol 33, 839–841 (2015). https://doi.org/10.1038/nbt.3301
Received:

Accepted:

Published:

Issue Date:

DOI: https://doi.org/10.1038/nbt.3301