Abstract
G-quadruplexes (G4s) are nucleic acid secondary structures that form within guanine-rich DNA or RNA sequences. G4 formation can affect chromatin architecture and gene regulation and has been associated with genomic instability, genetic diseases and cancer progression1,2,3,4. Here we present a high-resolution sequencing–based method to detect G4s in the human genome. We identified 716,310 distinct G4 structures, 451,646 of which were not predicted by computational methods5,6,7. These included previously uncharacterized noncanonical long loop and bulged structures8,9. We observed a high G4 density in functional regions, such as 5′ untranslated regions and splicing sites, as well as in genes previously not predicted to contain these structures (such as BRCA2). G4 formation was significantly associated with oncogenes, tumor suppressors and somatic copy number alterations related to cancer development10. The G4s identified in this study may therefore represent promising targets for cancer intervention.
Your institute does not have access to this article
Relevant articles
Open Access articles citing this article.
Keisuke Iida

,

Natsumi Suzuki

…

Takayoshi Arai

Scientific Reports Open Access 28 July 2022

Ilias Georgakopoulos-Soares

,

Candace S. Y. Chan

…

Martin Hemberg

Genome Biology Open Access 18 July 2022

H. Busra Cagirici

,

Hikmet Budak

&

Taner Z. Sen

BMC Bioinformatics Open Access 18 June 2022
Access options
Subscribe to Journal
Get full journal access for 1 year
$99.00
only $8.25 per issue
All prices are NET prices.
VAT will be added later in the checkout.
Tax calculation will be finalised during checkout.
Buy article
Get time limited or full article access on ReadCube.
$32.00
All prices are NET prices.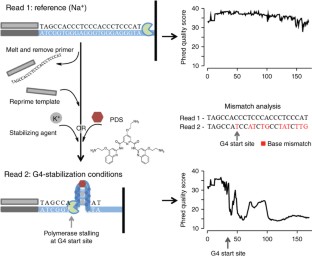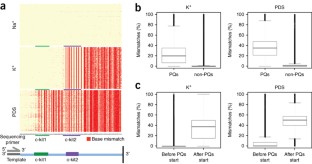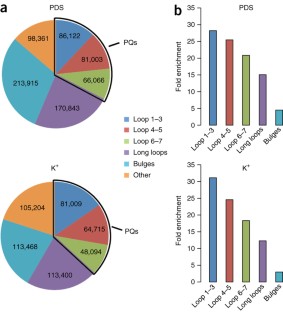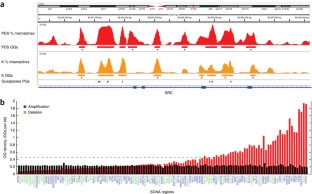 Accession codes
Primary accessions
Gene Expression Omnibus
References
Rodriguez, R. & Miller, K.M. Unravelling the genomic targets of small-molecules using high-throughput sequencing. Nat. Rev. Genet. 15, 783–796 (2014).

Wolfe, A.L. et al. RNA G-quadruplexes cause eIF4A-dependent oncogene translation in cancer. Nature 513, 65–70 (2014).

Maizels, N. Genomic stability: FANCJ-dependent G4 DNA repair. Curr. Biol. 18, R613–R614 (2008).

Haeusler, A.R. et al. C9orf72 nucleotide repeat structures initiate molecular cascades of disease. Nature 507, 195–200 (2014).

Huppert, J.L. & Balasubramanian, S. Prevalence of quadruplexes in the human genome. Nucleic Acids Res. 33, 2908–2916 (2005).

Eddy, J. & Maizels, N. Gene function correlates with potential for G4 DNA formation in the human genome. Nucleic Acids Res. 34, 3887–3896 (2006).

Kikin, O., D'Antonio, L. & Bagga, P.S. QGRS Mapper: a web-based server for predicting G-quadruplexes in nucleotide sequences. Nucleic Acids Res. 34, W676–W682 (2006).

Mukundan, V.T. & Phan, A.T. Bulges in G-quadruplexes: broadening the definition of G-quadruplex-forming sequences. J. Am. Chem. Soc. 135, 5017–5028 (2013).

Guédin, A., Gros, J., Alberti, P. & Mergny, J.L. How long is too long? Effects of loop size on G-quadruplex stability. Nucleic Acids Res. 38, 7858–7868 (2010).

Zack, T.I. et al. Pan-cancer patterns of somatic copy number alteration. Nat. Genet. 45, 1134–1140 (2013).

Bochman, M.L., Paeschke, K. & Zakian, V.A. DNA secondary structures: stability and function of G-quadruplex structures. Nat. Rev. Genet. 13, 770–780 (2012).

Cruz, J.A. & Westhof, E. The dynamic landscapes of RNA architecture. Cell 136, 604–609 (2009).

Davis, J.T. G-quartets 40 years later: from 5′-GMP to molecular biology and supramolecular chemistry. Angew. Chem. Int. Ed. Engl. 43, 668–698 (2004).

Biffi, G., Tannahill, D., McCafferty, J. & Balasubramanian, S. Quantitative visualization of DNA G-quadruplex structures in human cells. Nat. Chem. 5, 182–186 (2013).

Henderson, A. et al. Detection of G-quadruplex DNA in mammalian cells. Nucleic Acids Res. 42, 860–869 (2014).

Biffi, G., Tannahill, D., Miller, J., Howat, W.J. & Balasubramanian, S. Elevated levels of G-quadruplex formation in human stomach and liver cancer tissues. PLoS ONE 9, e102711 (2014).

Weitzmann, M.N., Woodford, K.J. & Usdin, K. The development and use of a DNA polymerase arrest assay for the evaluation of parameters affecting intrastrand tetraplex formation. J. Biol. Chem. 271, 20958–20964 (1996).

Bentley, D.R. et al. Accurate whole human genome sequencing using reversible terminator chemistry. Nature 456, 53–59 (2008).

Rodriguez, R. et al. A novel small molecule that alters shelterin integrity and triggers a DNA-damage response at telomeres. J. Am. Chem. Soc. 130, 15758–15759 (2008).

Hud, N.V., Smith, F.W., Anet, F.A.L. & Feigon, J. The selectivity for K+ versus Na+ in DNA quadruplexes is dominated by relative free energies of hydration: A thermodynamic analysis by H-1 NMR. Biochemistry 35, 15383–15390 (1996).

Ewing, B., Hillier, L., Wendl, M.C. & Green, P. Base-calling of automated sequencer traces using Phred. 1. Accuracy Assessment. Genome Res. 8, 175–185 (1998).

Rodriguez, R. et al. Small-molecule-induced DNA damage identifies alternative DNA structures in human genes. Nat. Chem. Biol. 8, 301–310 (2012).

Fernando, H. et al. A conserved quadruplex motif located in a transcription activation site of the human c-kit oncogene. Biochemistry 45, 7854–7860 (2006).

Rankin, S. et al. Putative DNA quadruplex formation within the human c-kit oncogene. J. Am. Chem. Soc. 127, 10584–10589 (2005).

Marchand, A. et al. Ligand-induced conformational changes with cation ejection upon binding to human telomeric DNA G-quadruplexes. J. Am. Chem. Soc. 137, 750–756 (2015).

De Cian, A., DeLemos, E., Mergny, J.-L., Teulade-Fichou, M.-P. & Monchaud, D. Highly efficient G-quadruplex recognition by bisquinolinium compounds. J. Am. Chem. Soc. 129, 1856–1857 (2007).

Palumbo, S.L., Ebbinghaus, S.W. & Hurley, L.H. Formation of a unique end-to-end stacked pair of G-quadruplexes in the hTERT core promoter with implications for inhibition of telomerase by G-quadruplex-interactive ligands. J. Am. Chem. Soc. 131, 10878–10891 (2009).

Bugaut, A. & Balasubramanian, S. A sequence-independent study of the influence of short loop lengths on the stability and topology of intramolecular DNA G-quadruplexes. Biochemistry 47, 689–697 (2008).

Siddiqui-Jain, A., Grand, C.L., Bearss, D.J. & Hurley, L.H. Direct evidence for a G-quadruplex in a promoter region and its targeting with a small molecule to repress c-MYC transcription. Proc. Natl. Acad. Sci. USA 99, 11593–11598 (2002).

Paeschke, K. et al. Pif1 family helicases suppress genome instability at G-quadruplex motifs. Nature 497, 458–462 (2013).

Cock, P.J., Fields, C.J., Goto, N., Heuer, M.L. & Rice, P.M. The Sanger FASTQ file format for sequences with quality scores, and the Solexa/Illumina FASTQ variants. Nucleic Acids Res. 38, 1767–1771 (2010).
Acknowledgements
We thank C. Lowe and D. Tannahill for critical reading of the manuscript and D. Beraldi for technical support. We thank P. McCauley (Illumina) who prepared the custom sequencing buffers. We are grateful to the Biotechnology and Biological Sciences Research Council (BBSRC) and Illumina for the studentship supporting V.S.C. (BB/I015477/1). The S.B. research group is supported by program funding from Cancer Research UK and the European Research Council and project funding from BBSRC.
Ethics declarations
Competing interests
The authors declare no competing financial interests.
Integrated supplementary information
Supplementary information
About this article
Cite this article
Chambers, V., Marsico, G., Boutell, J. et al. High-throughput sequencing of DNA G-quadruplex structures in the human genome. Nat Biotechnol 33, 877–881 (2015). https://doi.org/10.1038/nbt.3295
Received:

Accepted:

Published:

Issue Date:

DOI: https://doi.org/10.1038/nbt.3295