Access options
Subscribe to Journal
Get full journal access for 1 year
$59.00
only $4.92 per issue
All prices are NET prices.
VAT will be added later in the checkout.
Tax calculation will be finalised during checkout.
Rent or Buy article
Get time limited or full article access on ReadCube.
from$8.99
All prices are NET prices.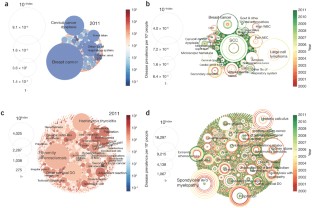 References
1

Merton, R.C. Bell J. Econ. 4, 141–183 (1973).

2

Black, F. & Scholes, M. J. Polit. Econ. 81, 637–654 (1973).

3

Gross, C.P., Anderson, G.F. & Powe, N.R. N. Engl. J. Med. 340, 1881–1887 (1999).

4

Gillum, L.A. et al. PLoS ONE 6, e16837 (2011).

5

Sampat, B.N., Buterbaugh, K. & Perl, M. Milbank Q. 91, 163–185 (2013).

6

Vanderelst, D. & Speybroeck, N. J. Informetrics 7, 240–247 (2013).

7

Evans, J.A., Shim, J.-M. & Ioannidis, J.P. PLoS ONE 9, e90147 (2014).

8

Murray, C. Bull. World Health Organ. 72, 429–445 (1994).

9

Reiss, J. & Kitcher, P. THEORIA 24, 263–282 (2010).

10

Kleinbaum, D., Kupper, L., Nizam, A. & Rosenberg, E. Applied regression analysis and other multivariable methods (Cengage Learning, 2013).

11

Vanderelst, D. & Speybroeck, N. PLoS Negl. Trop. Dis. 4, e576 (2010).
Acknowledgements
We are grateful to R. Kumar and H. Madsen for helpful comments on earlier versions of the manuscript. This work was supported by US National Institutes of Health grants 1P50MH094267 and U01HL108634-01 (A.R.), GlaxoSmithKline funds (L.Y., Y.L., S.G.) and the University of North Carolina at Charlotte Faculty Research Grant (L.Y.).
Ethics declarations
Competing interests
S.G. is an employee of GlaxoSmithKline.
Supplementary information
About this article
Cite this article
Yao, L., Li, Y., Ghosh, S. et al. Health ROI as a measure of misalignment of biomedical needs and resources. Nat Biotechnol 33, 807–811 (2015). https://doi.org/10.1038/nbt.3276