Abstract
CRISPR-Cas9 genome editing technology holds great promise for discovering therapeutic targets in cancer and other diseases. Current screening strategies target CRISPR-Cas9–induced mutations to the 5′ exons of candidate genes1,2,3,4,5, but this approach often produces in-frame variants that retain functionality, which can obscure even strong genetic dependencies. Here we overcome this limitation by targeting CRISPR-Cas9 mutagenesis to exons encoding functional protein domains. This generates a higher proportion of null mutations and substantially increases the potency of negative selection. We also show that the magnitude of negative selection can be used to infer the functional importance of individual protein domains of interest. A screen of 192 chromatin regulatory domains in murine acute myeloid leukemia cells identifies six known drug targets and 19 additional dependencies. A broader application of this approach may allow comprehensive identification of protein domains that sustain cancer cells and are suitable for drug targeting.
Relevant articles
Open Access articles citing this article.
Fadi J. Najm

,

Peter DeWeirdt

…

Bradley E. Bernstein

Nature Communications Open Access 27 January 2023

Peter C. DeWeirdt

,

Abby V. McGee

…

John G. Doench

Nature Communications Open Access 06 September 2022

Ruitong Li

,

Olaf Klingbeil

…

William R. Sellers

Nature Communications Open Access 05 May 2022
Access options
Subscribe to this journal
Receive 12 print issues and online access
$209.00 per year
only $17.42 per issue
Rent or buy this article
Get just this article for as long as you need it
$39.95
Prices may be subject to local taxes which are calculated during checkout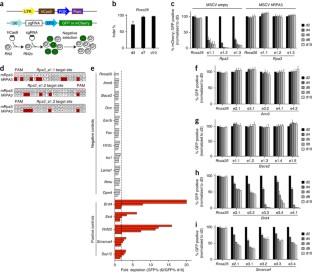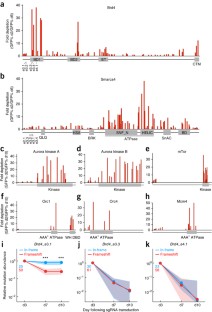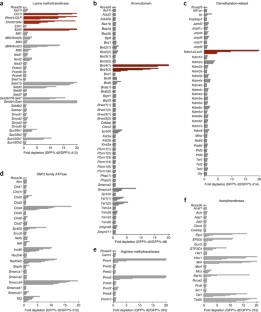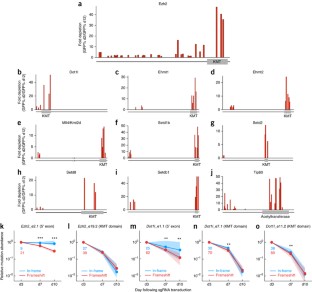 Accession codes
Primary accessions
Sequence Read Archive
References
Shalem, O. et al. Genome-scale CRISPR-Cas9 knockout screening in human cells. Science 343, 84–87 (2014).

Wang, T., Wei, J.J., Sabatini, D.M. & Lander, E.S. Genetic screens in human cells using the CRISPR-Cas9 system. Science 343, 80–84 (2014).

Koike-Yusa, H., Li, Y., Tan, E.P., Velasco-Herrera Mdel, C. & Yusa, K. Genome-wide recessive genetic screening in mammalian cells with a lentiviral CRISPR-guide RNA library. Nat. Biotechnol. 32, 267–273 (2014).

Zhou, Y. et al. High-throughput screening of a CRISPR/Cas9 library for functional genomics in human cells. Nature 509, 487–491 (2014).

Doench, J.G. et al. Rational design of highly active sgRNAs for CRISPR-Cas9-mediated gene inactivation. Nat. Biotechnol. 32, 1262–1267 (2014).

Hsu, P.D., Lander, E.S. & Zhang, F. Development and applications of CRISPR-Cas9 for genome engineering. Cell 157, 1262–1278 (2014).

Cong, L. et al. Multiplex genome engineering using CRISPR/Cas systems. Science 339, 819–823 (2013).

Mali, P. et al. RNA-guided human genome engineering via Cas9. Science 339, 823–826 (2013).

Jinek, M. et al. A programmable dual-RNA-guided DNA endonuclease in adaptive bacterial immunity. Science 337, 816–821 (2012).

Zuber, J. et al. RNAi screen identifies Brd4 as a therapeutic target in acute myeloid leukaemia. Nature 478, 524–528 (2011).

Zuber, J. et al. Toolkit for evaluating genes required for proliferation and survival using tetracycline-regulated RNAi. Nat. Biotechnol. 29, 79–83 (2011).

McJunkin, K. et al. Reversible suppression of an essential gene in adult mice using transgenic RNA interference. Proc. Natl. Acad. Sci. USA 108, 7113–7118 (2011).

Shi, J. et al. Role of SWI/SNF in acute leukemia maintenance and enhancer-mediated Myc regulation. Genes Dev. 27, 2648–2662 (2013).

Wang, E. et al. Histone H2B ubiquitin ligase RNF20 is required for MLL-rearranged leukemia. Proc. Natl. Acad. Sci. USA 110, 3901–3906 (2013).

Shi, J. et al. The Polycomb complex PRC2 supports aberrant self-renewal in a mouse model of MLL-AF9;Nras(G12D) acute myeloid leukemia. Oncogene 32, 930–938 (2013).

Mertz, J.A. et al. Targeting MYC dependence in cancer by inhibiting BET bromodomains. Proc. Natl. Acad. Sci. USA 108, 16669–16674 (2011).

Dawson, M.A. et al. Inhibition of BET recruitment to chromatin as an effective treatment for MLL-fusion leukaemia. Nature 478, 529–533 (2011).

Shi, J. & Vakoc, C.R. The mechanisms behind the therapeutic activity of BET bromodomain inhibition. Mol. Cell 54, 728–736 (2014).

Findlay, G.M., Boyle, E.A., Hause, R.J., Klein, J.C. & Shendure, J. Saturation editing of genomic regions by multiplex homology-directed repair. Nature 513, 120–123 (2014).

Xu, B. et al. Selective inhibition of EZH2 and EZH1 enzymatic activity by a small molecule suppresses MLL-rearranged leukemia. Blood 125, 346–357 (2015).

Daigle, S.R. et al. Selective killing of mixed lineage leukemia cells by a potent small-molecule DOT1L inhibitor. Cancer Cell 20, 53–65 (2011).

Harris, W.J. et al. The histone demethylase KDM1A sustains the oncogenic potential of MLL-AF9 leukemia stem cells. Cancer Cell 21, 473–487 (2012).

Lehnertz, B. et al. The methyltransferase G9a regulates HoxA9-dependent transcription in AML. Genes Dev. 28, 317–327 (2014).

Kim, W. et al. Targeted disruption of the EZH2-EED complex inhibits EZH2-dependent cancer. Nat. Chem. Biol. 9, 643–650 (2013).

Hsu, P.D. et al. DNA targeting specificity of RNA-guided Cas9 nucleases. Nat. Biotechnol. 31, 827–832 (2013).

Ran, F.A. et al. Genome engineering using the CRISPR-Cas9 system. Nat. Protoc. 8, 2281–2308 (2013).

Morita, S., Kojima, T. & Kitamura, T. Plat-E: an efficient and stable system for transient packaging of retroviruses. Gene Ther. 7, 1063–1066 (2000).
Acknowledgements
Y. Jin for assistance with pooled sgRNA screen analysis. C.R.V. is supported by National Institutes of Health NIH CA174793, Burroughs-Wellcome Fund Career Award for Medical Scientists, Alex's Lemonade Stand Foundation 'A' Award and the National Cancer Institute Cancer Center Support Grant Development Funds CA45508. J.B.K. is supported by the Simons Center for Quantitative Biology at Cold Spring Harbor Laboratory.
Ethics declarations
Competing interests
The authors declare no competing financial interests.
Integrated supplementary information
Supplementary information
Supplementary Figures 1–10, Supplementary Discussion (PDF 624 kb)
Supplementary Table 1 (XLSX 116 kb)
About this article
Cite this article
Shi, J., Wang, E., Milazzo, J. et al. Discovery of cancer drug targets by CRISPR-Cas9 screening of protein domains. Nat Biotechnol 33, 661–667 (2015). https://doi.org/10.1038/nbt.3235
Received:

Accepted:

Published:

Issue Date:

DOI: https://doi.org/10.1038/nbt.3235