Abstract
Transplantation of donor-derived islets into the liver is a successful cellular replacement therapy for individuals with diabetes. However, the hepatic vasculature is not an optimal transplant site for several reasons, including graft attrition and the inability to retrieve or image the islets. Here we describe islet transplantation into a prevascularized, subcutaneous site created by temporary placement of a medically approved vascular access catheter. In mice with streptozotocin (STZ)-induced diabetes, transplantation of ∼500 syngeneic islets into the resulting 'device-less' space reversed diabetes in 91% of mice and maintained normoglycemia for >100 days. The approach was also effective in mice with pre-existing diabetes, in another mouse strain that mounts a more vigorous inflammatory response, and across an allogeneic barrier. These results demonstrate that transient priming of a subcutaneous site supports diabetes-reversing islet transplantation in mouse models without the need for a permanent cell-encapsulation device.
Relevant articles
Open Access articles citing this article.
Antonio Citro

,

Alessia Neroni

…

Lorenzo Piemonti

Nature Communications Open Access 16 February 2023

Jesus Paez-Mayorga

,

Jocelyn Nikita Campa-Carranza

…

Alessandro Grattoni

Nature Communications Open Access 26 December 2022

Selina Wrublewsky

,

Andrea Weinzierl

…

Emmanuel Ampofo

npj Regenerative Medicine Open Access 04 November 2022
Access options
Subscribe to this journal
Receive 12 print issues and online access
$209.00 per year
only $17.42 per issue
Rent or buy this article
Get just this article for as long as you need it
$39.95
Prices may be subject to local taxes which are calculated during checkout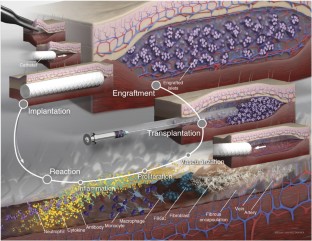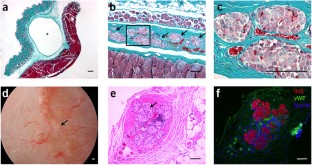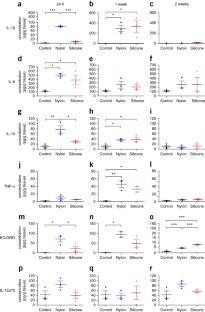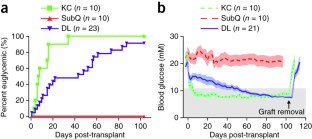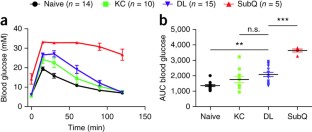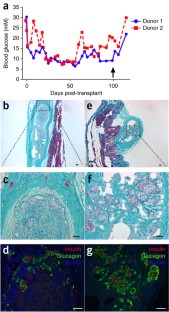 References
Shapiro, A.M. et al. Islet transplantation in seven patients with type 1 diabetes mellitus using a glucocorticoid-free immunosuppressive regimen. N. Engl. J. Med. 343, 230–238 (2000).

Ryan, E.A. et al. Five-year follow-up after clinical islet transplantation. Diabetes 54, 2060–2069 (2005).

Shapiro, A.M. & Ricordi, C. in Textbook of Organ Transplantation, vol. 1. (eds. Kirk, A.D. et al.) 1–1,904 (Wiley-Blackwell, 2014).

Harlan, D.M., Kenyon, N.S., Korsgren, O. & Roep, B.O. Current advances and travails in islet transplantation. Diabetes 58, 2175–2184 (2009).

Plesner, A. & Verchere, C.B. Advances and challenges in islet transplantation: islet procurement rates and lessons learned from suboptimal islet transplantation. J. Transplant. 2011, 979527 (2011).

Ricordi, C. & Strom, T.B. Clinical islet transplantation: advances and immunological challenges. Nat. Rev. Immunol. 4, 259–268 (2004).

Shapiro, A.M. in Islet transplantation and beta cell replacement therapy. (eds. Shapiro, A.M. & Shaw, J.A.) (Informa Healthcare, New York, London, 2007).

Brissova, M. & Powers, A.C. Revascularization of transplanted islets: can it be improved? Diabetes 57, 2269–2271 (2008).

Pepper, A.R., Gala-Lopez, B., Ziff, O. & Shapiro, A.M. Revascularization of transplanted pancreatic islets and role of the transplantation site. Clin. Dev. Immunol. 2013, 352315 (2013).

Merani, S., Toso, C., Emamaullee, J. & Shapiro, A.M. Optimal implantation site for pancreatic islet transplantation. Br. J. Surg. 95, 1449–1461 (2008).

Vériter, S., Gianello, P. & Dufrane, D. Bioengineered sites for islet cell transplantation. Curr. Diab. Rep. 13, 745–755 (2013).

Nishimura, R. et al. Assessment for revascularization of transplanted pancreatic islets at subcutaneous site in mice with a highly sensitive imaging system. Transplant. Proc. 43, 3239–3240 (2011).

Saito, T. et al. Reversal of diabetes by the creation of neo-islet tissues into a subcutaneous site using islet cell sheets. Transplantation 92, 1231–1236 (2011).

Sakata, N. et al. Strategy for clinical setting in intramuscular and subcutaneous islet transplantation. Diabetes Metab. Res. Rev. 30, 1–10 (2014).

Simeonovic, C.J., Dhall, D.P., Wilson, J.D. & Lafferty, K.J. A comparative study of transplant sites for endocrine tissue transplantation in the pig. Aust. J. Exp. Biol. Med. Sci. 64, 37–41 (1986).

Rajab, A. Islet transplantation: alternative sites. Curr. Diab. Rep. 10, 332–337 (2010).

Anderson, J.M., Rodriguez, A. & Chang, D.T. Foreign body reaction to biomaterials. Semin. Immunol. 20, 86–100 (2008).

Anderson, J.M. Biological response to materials. Annu. Rev. Mater. Res. 31, 81–110 (2001).

Ward, W.K. A review of the foreign-body response to subcutaneously-implanted devices: the role of macrophages and cytokines in biofouling and fibrosis. J. Diabetes Sci. Technol. 2, 768–777 (2008).

Fujiwara, N. & Kobayashi, K. Macrophages in inflammation. Curr. Drug Targets Inflamm. Allergy 4, 281–286 (2005).

van Amerongen, M.J., Molema, G., Plantinga, J., Moorlag, H. & van Luyn, M.J. Neovascularization and vascular markers in a foreign body reaction to subcutaneously implanted degradable biomaterial in mice. Angiogenesis 5, 173–180 (2002).

Grainger, D.W. All charged up about implanted biomaterials. Nat. Biotechnol. 31, 507–509 (2013).

Sharkawy, A.A., Klitzman, B., Truskey, G.A. & Reichert, W.M. Engineering the tissue which encapsulates subcutaneous implants. I. Diffusion properties. J. Biomed. Mater. Res. 37, 401–412 (1997).

Sharkawy, A.A., Klitzman, B., Truskey, G.A. & Reichert, W.M. Engineering the tissue which encapsulates subcutaneous implants. III. Effective tissue response times. J. Biomed. Mater. Res. 40, 598–605 (1998).

Sharkawy, A.A., Klitzman, B., Truskey, G.A. & Reichert, W.M. Engineering the tissue which encapsulates subcutaneous implants. II. Plasma-tissue exchange properties. J. Biomed. Mater. Res. 40, 586–597 (1998).

Pileggi, A. et al. Reversal of diabetes by pancreatic islet transplantation into a subcutaneous, neovascularized device. Transplantation 81, 1318–1324 (2006).

Zhang, L. et al. Zwitterionic hydrogels implanted in mice resist the foreign-body reaction. Nat. Biotechnol. 31, 553–556 (2013).

Olsson, R., Olerud, J., Pettersson, U. & Carlsson, P.O. Increased numbers of low-oxygenated pancreatic islets after intraportal islet transplantation. Diabetes 60, 2350–2353 (2011).

Hellerström, C., Andersson, A., Korsgren, O., Jansson, L. & Sandler, S. Aspects of pancreatic islet transplantation in diabetes mellitus. Baillieres Clin. Gastroenterol. 3, 851–863 (1989).

Korsgren, O. et al. Optimising islet engraftment is critical for successful clinical islet transplantation. Diabetologia 51, 227–232 (2008).

Pileggi, A., Ricordi, C., Alessiani, M. & Inverardi, L. Factors influencing Islet of Langerhans graft function and monitoring. Clin. Chim. Acta 310, 3–16 (2001).

Nyqvist, D., Kohler, M., Wahlstedt, H. & Berggren, P.O. Donor islet endothelial cells participate in formation of functional vessels within pancreatic islet grafts. Diabetes 54, 2287–2293 (2005).

Zhang, H.F., Maslov, K., Stoica, G. & Wang, L.V. Functional photoacoustic microscopy for high-resolution and noninvasive in vivo imaging. Nat. Biotechnol. 24, 848–851 (2006).

Costa, P.Z. & Soares, R. Neovascularization in diabetes and its complications. Unraveling the angiogenic paradox. Life Sci. 92, 1037–1045 (2013).

Tamarat, R. et al. Impairment in ischemia-induced neovascularization in diabetes: bone marrow mononuclear cell dysfunction and therapeutic potential of placenta growth factor treatment. Am. J. Pathol. 164, 457–466 (2004).

Brekken, R.A. et al. Selective inhibition of vascular endothelial growth factor (VEGF) receptor 2 (KDR/Flk-1) activity by a monoclonal anti-VEGF antibody blocks tumor growth in mice. Cancer Res. 60, 5117–5124 (2000).

Kin, T. et al. Risk factors for islet loss during culture prior to transplantation. Transpl. Int. 21, 1029–1035 (2008).

Ricordi, C., Lacy, P.E. & Scharp, D.W. Automated islet isolation from human pancreas. Diabetes 38 (suppl. 1), 140–142 (1989).
Acknowledgements
The authors thank H. Tanaka for Figure 1. We thank the Clinical Islet Laboratory and Alberta Health Services for providing human islet research preparations. This work was supported in part by the Diabetes Research Institute Foundation of Canada, Collaborative Research & Innovation Opportunities (CRIO)–Alberta Innovates Healthcare Solutions, and from University Hospital Foundation/C.F. "Curly" and Gladys B. MacLachlan Fund. All authors are members of the Alberta Diabetes Institute, and of the Canadian National Transplant Research Program. A.M.J.S. is supported through a Canada Research Chair in Transplantation Surgery and Regenerative Medicine, and through a Senior Clinical Scholarship from Alberta Innovates Healthcare Solutions.
Ethics declarations
Competing interests
The authors declare no competing financial interests.
Integrated supplementary information
Supplementary information
About this article
Cite this article
Pepper, A., Gala-Lopez, B., Pawlick, R. et al. A prevascularized subcutaneous device-less site for islet and cellular transplantation. Nat Biotechnol 33, 518–523 (2015). https://doi.org/10.1038/nbt.3211
Received:

Accepted:

Published:

Issue Date:

DOI: https://doi.org/10.1038/nbt.3211