A zwitterionic polymer hinders the foreign-body response that leads to fibrotic encapsulation of implants.
This is a preview of subscription content
Access options
Subscribe to Journal
Get full journal access for 1 year
$99.00
only $8.25 per issue
All prices are NET prices.
VAT will be added later in the checkout.
Tax calculation will be finalised during checkout.
Buy article
Get time limited or full article access on ReadCube.
$32.00
All prices are NET prices.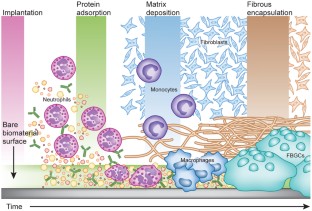 References
Anderson, J.M., Rodriguez, A. & Chang, D.T. Semin. Immunol. 20, 86–100 (2008).

Zhang, L., Cao, Z., Bai, T., Carr, L., Ella-Menye, J.-R., Irvin, C., Ratner, B.D. & Jiang, S. Nat. Biotechnol. 31, 553–556 (2013).

Tian, W. & Kyriakides, T.R. Biomed. Mater. 4, 015010 (2009).

Holt, D. & Grainger, D.W. Host-implant response. in An Introduction to Biomaterials, 2nd edn. (ed., Hollinger, J.O.) 63–95 (CRC Press, Boca Raton, FL, 2011).

Wu, P. & Grainger, D.W. Biomaterials 27, 2450–2467 (2006).

Ward, W.K., Wood, M.D., Casey, H.M., Quinn, M.J. & Federiuk, I.F. Diabetes Technol. Ther. 6, 137–145 (2004).

Ishihara, K. 2012. Phospholipid polymers. in Encyclopedia of Polymer Science and Technology (John Wiley & Sons, 2012).

Williams, D.F. Biomaterials 29, 2941–2953 (2008).

Zhang, Z. et al. J. Biomater. Sci. Polym. Ed. 20, 1845–1859 (2009).

Smith, R.S. et al. Sci. Transl. Med. 4, 153ra132 (2012)
Ethics declarations
Competing interests
The author declares no competing financial interests.
About this article
Cite this article
Grainger, D. All charged up about implanted biomaterials. Nat Biotechnol 31, 507–509 (2013). https://doi.org/10.1038/nbt.2600
Published:

Issue Date:

DOI: https://doi.org/10.1038/nbt.2600