Oligonucleotides with unnatural sugar backbones that can be replicated in vitro may open up new avenues for synthetic biology and beyond.
Access options
Subscribe to Journal
Get full journal access for 1 year
$250.00
only $20.83 per issue
All prices are NET prices.
VAT will be added later in the checkout.
Rent or Buy article
Get time limited or full article access on ReadCube.
from$8.99
All prices are NET prices.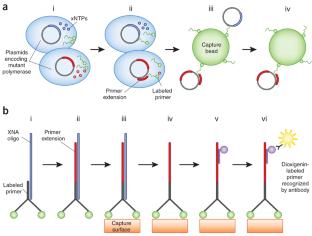 References
1

Pinheiro, V.B. et al. Science 336, 341–344 (2012).

2

White, H.B. III. J. Mol. Evol. 7, 101–104 (1976).

3

Grosjean, H. Nucleic acids are not boring long polymers of only four types of nucleotides: a guided tour. in DNA and RNA Modification Enzymes: Structure, Mechanism, Function and Evolution (ed. Grosjean, H.) 1–18 (Landes Bioscience, Austin, Texas, 2009).

4

Tuerk, C. & Gold, L. Science 249, 505–510 (1990).

5

Ellington, A.D. & Szostak, J.W. Nature 346, 818–822 (1990).

6

Gold, L. et al. PLoS ONE 5, e15004 (2010).

7

Lanford, R.E. et al. Science 327, 198–201 (2010).

8

Joyce, G.F. Science 336, 307–308 (2012).

9

Gould, S.J. Wonderful Life: the Burgess Shale and the Nature of History (W.W. Norton & Company, New York; 1989).

10

Levene, P. J. Biol. Chem. 40, 415–424 (1919).
Ethics declarations
Competing interests
F.S. and L.G. are employees and shareholders of SomaLogic.
About this article
Cite this article
Steele, F., Gold, L. The sweet allure of XNA. Nat Biotechnol 30, 624–625 (2012) doi:10.1038/nbt.2298