Abstract
Kidney toxicity accounts both for the failure of many drug candidates as well as considerable patient morbidity. Whereas histopathology remains the gold standard for nephrotoxicity in animal systems, serum creatinine (SCr) and blood urea nitrogen (BUN) are the primary options for monitoring kidney dysfunction in humans. The transmembrane tubular protein kidney injury molecule-1 (Kim-1) was previously reported to be markedly induced in response to renal injury. Owing to the poor sensitivity and specificity of SCr and BUN, we used rat toxicology studies to compare the diagnostic performance of urinary Kim-1 to BUN, SCr and urinary N-acetyl-β-D-glucosaminidase (NAG) as predictors of kidney tubular damage scored by histopathology. Kim-1 outperforms SCr, BUN and urinary NAG in multiple rat models of kidney injury. Urinary Kim-1 measurements may facilitate sensitive, specific and accurate prediction of human nephrotoxicity in preclinical drug screens. This should enable early identification and elimination of compounds that are potentially nephrotoxic.
Relevant articles
Open Access articles citing this article.
Aleksandra Milaszewska

,

Alice Defarges

…

Dorothee Bienzle

BMC Veterinary Research Open Access 04 November 2022

Jessica M. Vanslambrouck

,

Sean B. Wilson

…

Melissa H. Little

Nature Communications Open Access 08 October 2022

C. William Wester

,

Bryan E. Shepherd

…

Muktar H. Aliyu

BMC Infectious Diseases Open Access 04 July 2022
Access options
Subscribe to this journal
Receive 12 print issues and online access
$209.00 per year
only $17.42 per issue
Rent or buy this article
Prices vary by article type
from$1.95
to$39.95
Prices may be subject to local taxes which are calculated during checkout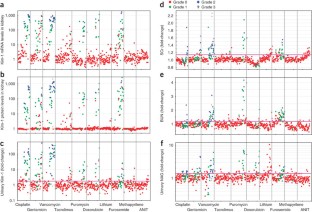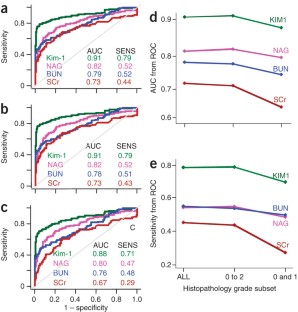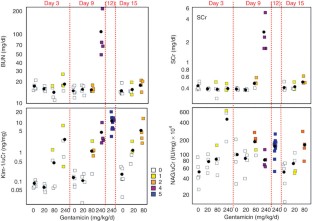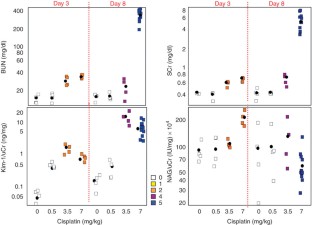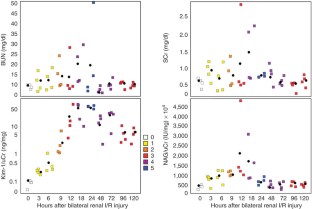 References
Chertow, G.M., Burdick, E., Honour, M., Bonventre, J.V. & Bates, D.W. Acute kidney injury, mortality, length of stay, and costs in hospitalized patients. J. Am. Soc. Nephrol. 16, 3365–3370 (2005).

Choudhury, D. & Ziauddin, A. Drug-associated renal dysfunction and injury. Nat. Clin. Pract. Nephrol. 2, 80–91 (2006).

Vaidya, V.S., Ramirez, V., Ichimura, T., Bobadilla, N.A. & Bonventre, J.V. Urinary kidney injury molecule-1: a sensitive quantitative biomarker for early detection of kidney tubular injury. Am. J. Physiol. Renal Physiol. 290, F517–F529 (2006).

Liangos, O. et al. Urinary N-acetyl-beta-(d)-glucosaminidase activity and kidney injury molecule-1 level are associated with adverse outcomes in acute renal failure. J. Am. Soc. Nephrol. 18, 904–912 (2007).

Vaidya, V.S. et al. Urinary biomarkers for sensitive and specific detection of acute kidney injury in humans. Clin. Transl. Sci. 1, 200–208 (2008).

Emeigh Hart, S.G. Assessment of renal injury in vivo. J. Pharmacol. Toxicol. Methods 52, 30–45 (2005).

Price, R.G. The role of NAG (N-acetyl-beta-D-glucosaminidase) in the diagnosis of kidney disease including the monitoring of nephrotoxicity. Clin. Nephrol. 38 Suppl 1, S14–S19 (1992).

Bonventre, J.V., Vaidya, V.S., Schmouder, R., Feig, P. & Dieterle, F. Next-generation biomarkers for detecting kidney toxicity. Nat. Biotechnol. 28, 436–440 (2010).

Ichimura, T. et al. Kidney injury molecule-1 (KIM-1), a putative epithelial cell adhesion molecule containing a novel immunoglobulin domain, is up-regulated in renal cells after injury. J. Biol. Chem. 273, 4135–4142 (1998).

Ichimura, T. et al. Kidney injury molecule-1 is a phosphatidylserine receptor that confers a phagocytic phenotype on epithelial cells. J. Clin. Invest. 118, 1657–1668 (2008).

Amin, R.P. et al. Identification of putative gene based markers of renal toxicity. Environ. Health Perspect. 112, 465–479 (2004).

Bailly, V. et al. Shedding of kidney injury molecule-1, a putative adhesion protein involved in renal regeneration. J. Biol. Chem. 277, 39739–39748 (2002).

Prozialeck, W.C. et al. Kidney injury molecule-1 is an early biomarker of cadmium nephrotoxicity. Kidney Int. 72, 985–993 (2007).

Zhou, Y. et al. Comparison of kidney injury molecule-1 and other nephrotoxicity biomarkers in urine and kidney following acute exposure to gentamicin, mercury, and chromium. Toxicol. Sci. 101, 159–170 (2008).

Han, W.K., Bailly, V., Abichandani, R., Thadhani, R. & Bonventre, J.V. Kidney Injury Molecule-1 (KIM-1): a novel biomarker for human renal proximal tubule injury. Kidney Int. 62, 237–244 (2002).

van Timmeren, M.M. et al. High urinary excretion of kidney injury molecule-1 is an independent predictor of graft loss in renal transplant recipients. Transplantation 84, 1625–1630 (2007).

Perez-Rojas, J. et al. Mineralocorticoid receptor blockade confers renoprotection in preexisting chronic cyclosporine nephrotoxicity. Am. J. Physiol. Renal Physiol. 292, F131–F139 (2007).

Ichimura, T., Hung, C.C., Yang, S.A., Stevens, J.L. & Bonventre, J.V. Kidney injury molecule-1: a tissue and urinary biomarker for nephrotoxicant-induced renal injury. Am. J. Physiol. Renal Physiol. 286, F552–F563 (2004).

van Timmeren, M.M. et al. Tubular kidney injury molecule-1 in protein-overload nephropathy. Am. J. Physiol. Renal Physiol. 291, F456–F464 (2006).

Carson, R.T. & Vignali, D.A. Simultaneous quantitation of 15 cytokines using a multiplexed flow cytometric assay. J. Immunol. Methods 227, 41–52 (1999).

Mattes, W.B. & Walker, E.G. Translational toxicology and the work of the predictive safety testing consortium. Clin. Pharmacol. Ther. 85, 327–330 (2009).

Sistare, F.D. et al. Towards consensus practices to qualify safety biomarkers for use in early drug development. Nat. Biotechnol. 28, 446–454 (2010).

Barker, E.A. & Smuckler, E.A. Nonhepatic thioacetamide injury. II. The morphologic features of proximal renal tubular injury. Am. J. Pathol. 74, 575–590 (1974).

Harrell, F.E. Regression Modeling Strategies, edn. 1. (Springer, New York; 2001).

Nagelkerke, N.J. A note on a general definition of the coefficient of determination. Biometrika 78, 691–692 (1991).

Pencina, M.J., D'Agostino, R.B. Sr., D'Agostino, R.B. Jr. & Vasan, R.S. Evaluating the added predictive ability of a new marker: from area under the ROC curve to reclassification and beyond. Stat. Med. 27, 157–172 (2008).

Zhang, P.L. et al. Kidney injury molecule-1 expression in transplant biopsies is a sensitive measure of cell injury. Kidney Int. 73, 608–614 (2008).

Vaidya, V.S. et al. A rapid urine test for early detection of kidney injury. Kidney Int. 76, 108–114 (2009).

Sing, T., Sander, O., Beerenwinkel, N. & Lengauer, T. ROCR: visualizing classifier performance in R. Bioinformatics 21, 3940–3941 (2005).

Hanley, J.A. & McNeil, B.J. A method of comparing the areas under receiver operating characteristic curves derived from the same cases. Radiology 148, 839–843 (1983).
Acknowledgements
Part of this work was presented at the American Society of Nephrology meeting in Philadelphia, November 7–11, 2005 and the Society of Toxicology meeting in Charlotte, North Carolina, March 4–9, 2007. This work was supported by National Institutes of Health grants ES016723 to V.S.V.; DK39773, DK72831 and DK74099 to J.V.B., and by research grants G34511M and CO1-40182A-1 from the Mexican Council of Science and Technology (CONACYT) and DGAPA IN208602-3 of National University of Mexico to N.A.B. We thank T.W. Forest, B. Sacre-Salem and T.E. Adams for providing histomorphologic readings for the Merck studies. The Novartis Biomarker CRADA team is acknowledged for contributing to the project, in particular D.R. Roth, A. Mahl, F. Staedtler, P. Verdes, D. Wahl, F. Legay, P. End and S.-D. Chibout. We thank P. Bernd for performing the protein homogenization. S. Leuillet and B. Palate from CIT are acknowledged for performing the Novartis in-life studies and the histopathology assessment. J. Mapes from Rules Based Medicine is acknowledged for the Kim-1 measurements of the Novartis studies. We thank D. Moor and P. Brodmann from Biolytix for the validation and measurements of the RT-PCR assays. We thank M. Topper, W. Bailey, G. Miller and P. Srinivasa for helpful comments on the manuscript. We thank K. Thompson from Center for Drug Evaluation and Research, US FDA for critically reviewing the manuscript.
Ethics declarations
Competing interests
J.V.B. is an inventor on KIM-1 patents, which have been licensed by Partners Healthcare to Johnson & Johnson, Genzyme and BiogenIdec. J.S.O., S.T., N.M., D.T., D.G., D.J.H. and F.D.S. are employed by Merck. F.D., E.M. E.P. A.C. J.V. and G.M.are employed by Novartis.
Supplementary information
Supplementary Tables 1–7, Supplementary Figs. 1–3, Supplementary Methods and Supplementary Data (PDF 15206 kb)
About this article
Cite this article
Vaidya, V., Ozer, J., Dieterle, F. et al. Kidney injury molecule-1 outperforms traditional biomarkers of kidney injury in preclinical biomarker qualification studies. Nat Biotechnol 28, 478–485 (2010). https://doi.org/10.1038/nbt.1623
Received:

Accepted:

Published:

Issue Date:

DOI: https://doi.org/10.1038/nbt.1623