Abstract
Nutrients, such as amino acids and glucose, signal through the Rag GTPases to activate mTORC1. The GATOR1 protein complex—comprising DEPDC5, NPRL2 and NPRL3—regulates the Rag GTPases as a GTPase-activating protein (GAP) for RAGA; loss of GATOR1 desensitizes mTORC1 signalling to nutrient starvation. GATOR1 components have no sequence homology to other proteins, so the function of GATOR1 at the molecular level is currently unknown. Here we used cryo-electron microscopy to solve structures of GATOR1 and GATOR1–Rag GTPases complexes. GATOR1 adopts an extended architecture with a cavity in the middle; NPRL2 links DEPDC5 and NPRL3, and DEPDC5 contacts the Rag GTPase heterodimer. Biochemical analyses reveal that our GATOR1–Rag GTPases structure is inhibitory, and that at least two binding modes must exist between the Rag GTPases and GATOR1. Direct interaction of DEPDC5 with RAGA inhibits GATOR1-mediated stimulation of GTP hydrolysis by RAGA, whereas weaker interactions between the NPRL2–NPRL3 heterodimer and RAGA execute GAP activity. These data reveal the structure of a component of the nutrient-sensing mTORC1 pathway and a non-canonical interaction between a GAP and its substrate GTPase.
Access options
Subscribe to Journal
Get full journal access for 1 year
$199.00
only $3.90 per issue
All prices are NET prices.
VAT will be added later in the checkout.
Rent or Buy article
Get time limited or full article access on ReadCube.
from$8.99
All prices are NET prices.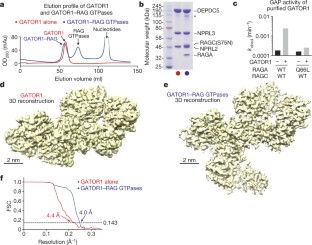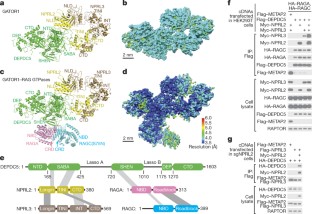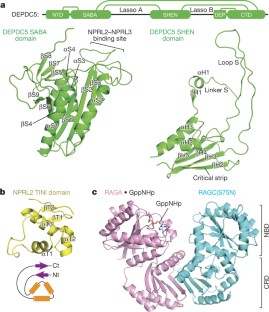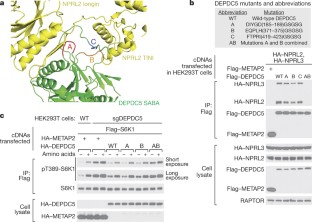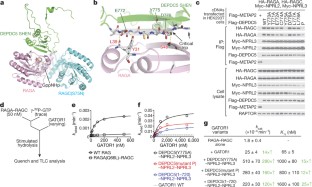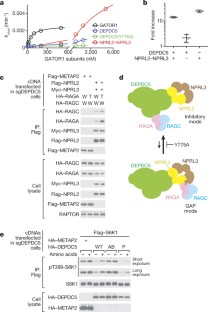 References
1

Efeyan, A., Comb, W. C. & Sabatini, D. M. Nutrient-sensing mechanisms and pathways. Nature 517, 302–310 (2015)

2

Shaw, R. J. & Cantley, L. C. Ras, PI(3)K and mTOR signalling controls tumour cell growth. Nature 441, 424–430 (2006)

3

Jewell, J. L., Russell, R. C. & Guan, K.-L. Amino acid signalling upstream of mTOR. Nat. Rev. Mol. Cell Biol. 14, 133–139 (2013)

4

González, A. & Hall, M. N. Nutrient sensing and TOR signaling in yeast and mammals. EMBO J. 36, 397–408 (2017)

5

Saxton, R. A. & Sabatini, D. M. mTOR signaling in growth, metabolism, and disease. Cell 168, 960–976 (2017)

6

Schürmann, A., Brauers, A., Massmann, S., Becker, W. & Joost, H. G. Cloning of a novel family of mammalian GTP-binding proteins (RagA, RagBs, RagB1) with remote similarity to the Ras-related GTPases. J. Biol. Chem. 270, 28982–28988 (1995)

7

Hirose, E., Nakashima, N., Sekiguchi, T. & Nishimoto, T. RagA is a functional homologue of S. cerevisiae Gtr1p involved in the Ran/Gsp1-GTPase pathway. J. Cell Sci. 111, 11–21 (1998)

8

Sekiguchi, T., Hirose, E., Nakashima, N., Ii, M. & Nishimoto, T. Novel G proteins, Rag C and Rag D, interact with GTP-binding proteins, Rag A and Rag B. J. Biol. Chem. 276, 7246–7257 (2001)

9

Nakashima, N., Noguchi, E. & Nishimoto, T. Saccharomyces cerevisiae putative G protein, Gtr1p, which forms complexes with itself and a novel protein designated as Gtr2p, negatively regulates the Ran/Gsp1p G protein cycle through Gtr2p. Genetics 152, 853–867 (1999)

10

Sancak, Y. et al. The Rag GTPases bind raptor and mediate amino acid signaling to mTORC1. Science 320, 1496–1501 (2008)

11

Inoki, K., Li, Y., Xu, T. & Guan, K.-L. Rheb GTPase is a direct target of TSC2 GAP activity and regulates mTOR signaling. Genes Dev. 17, 1829–1834 (2003)

12

Menon, S. et al. Spatial control of the TSC complex integrates insulin and nutrient regulation of mTORC1 at the lysosome. Cell 156, 771–785 (2014)

13

Li, Y., Inoki, K. & Guan, K. L. Biochemical and functional characterizations of small GTPase Rheb and TSC2 GAP activity. Mol. Cell. Biol. 24, 7965–7975 (2004)

14

Saito, K., Araki, Y., Kontani, K., Nishina, H. & Katada, T. Novel role of the small GTPase Rheb: its implication in endocytic pathway independent of the activation of mammalian target of rapamycin. J. Biochem. 137, 423–430 (2005)

15

Saucedo, L. J. et al. Rheb promotes cell growth as a component of the insulin/TOR signalling network. Nat. Cell Biol. 5, 566–571 (2003)

16

Stocker, H. et al. Rheb is an essential regulator of S6K in controlling cell growth in Drosophila. Nat. Cell Biol. 5, 559–566 (2003)

17

Shen, K., Choe, A. & Sabatini, D. M. Intersubunit crosstalk in the Rag GTPase heterodimer enables mTORC1 to respond rapidly to amino acid availability. Mol. Cell 68, 552–565.e8 (2017)

18

Panchaud, N., Péli-Gulli, M.-P. & De Virgilio, C. Amino acid deprivation inhibits TORC1 through a GTPase-activating protein complex for the Rag family GTPase Gtr1. Sci. Signal. 6, ra42 (2013)

19

Bar-Peled, L. et al. A tumor suppressor complex with GAP activity for the Rag GTPases that signal amino acid sufficiency to mTORC1. Science 340, 1100–1106 (2013)

20

Petit, C. S., Roczniak-Ferguson, A. & Ferguson, S. M. Recruitment of folliculin to lysosomes supports the amino acid-dependent activation of Rag GTPases. J. Cell Biol. 202, 1107–1122 (2013)

21

Tsun, Z.-Y. et al. The folliculin tumor suppressor is a GAP for the RagC/D GTPases that signal amino acid levels to mTORC1. Mol. Cell 52, 495–505 (2013)

22

Dibbens, L. M. et al. Mutations in DEPDC5 cause familial focal epilepsy with variable foci. Nat. Genet. 45, 546–551 (2013)

23

Ishida, S. et al. Mutations of DEPDC5 cause autosomal dominant focal epilepsies. Nat. Genet. 45, 552–555 (2013)

24

Wu, X. & Tu, B. P. Selective regulation of autophagy by the Iml1–Npr2–Npr3 complex in the absence of nitrogen starvation. Mol. Biol. Cell 22, 4124–4133 (2011)

25

Zhang, Y. I-TASSER server for protein 3D structure prediction. BMC Bioinformatics 9, 40 (2008)

26

Drozdetskiy, A., Cole, C., Procter, J. & Barton, G. J. JPred4: a protein secondary structure prediction server. Nucleic Acids Res. 43, W389–W394 (2015)

27

Levine, T. P. et al. Discovery of new Longin and Roadblock domains that form platforms for small GTPases in Ragulator and TRAPP-II. Small GTPases 4, 62–69 (2013)

28

Gong, R. et al. Crystal structure of the Gtr1p–Gtr2p complex reveals new insights into the amino acid-induced TORC1 activation. Genes Dev. 25, 1668–1673 (2011)

29

Jeong, J.-H. et al. Crystal structure of the Gtr1p(GTP)–Gtr2p(GDP) protein complex reveals large structural rearrangements triggered by GTP-to-GDP conversion. J. Biol. Chem. 287, 29648–29653 (2012)

30

Gibrat, J. F., Madej, T. & Bryant, S. H. Surprising similarities in structure comparison. Curr. Opin. Struct. Biol. 6, 377–385 (1996)

31

Shiozawa, K. et al. Structure of the N-terminal domain of PEX1 AAA-ATPase. Characterization of a putative adaptor-binding domain. J. Biol. Chem. 279, 50060–50068 (2004)

32

Ingelman, M., Bianchi, V. & Eklund, H. The three-dimensional structure of flavodoxin reductase from Escherichia coli at 1.7 Å resolution. J. Mol. Biol. 268, 147–157 (1997)

33

Qu, A. & Leahy, D. J. Crystal structure of the I-domain from the CD11a/CD18 (LFA-1, alpha L beta 2) integrin. Proc. Natl Acad. Sci. USA 92, 10277–10281 (1995)

34

Algret, R. et al. Molecular architecture and function of the SEA complex, a modulator of the TORC1 pathway. Mol. Cell. Proteomics 13, 2855–2870 (2014)

35

Kurzbauer, R. et al. Crystal structure of the p14/MP1 scaffolding complex: how a twin couple attaches mitogen-activated protein kinase signaling to late endosomes. Proc. Natl Acad. Sci. USA 101, 10984–10989 (2004)

36

Wolfson, R. L. et al. KICSTOR recruits GATOR1 to the lysosome and is necessary for nutrients to regulate mTORC1. Nature 543, 438–442 (2017)

37

Gu, X. et al. SAMTOR is an S-adenosylmethionine sensor for the mTORC1 pathway. Science 358, 813–818 (2017)

38

Scheffzek, K. et al. The Ras–RasGAP complex: structural basis for GTPase activation and its loss in oncogenic Ras mutants. Science 277, 333–338 (1997)

39

Daumke, O., Weyand, M., Chakrabarti, P. P., Vetter, I. R. & Wittinghofer, A. The GTPase-activating protein Rap1GAP uses a catalytic asparagine. Nature 429, 197–201 (2004)
Acknowledgements
We thank all members of the Sabatini laboratory and T. Schwartz for insights; P. Abeyrathne, N. Grigorieff, R. Grant and C. Drennan for technical support; R. Saxton, M. Pacold and S. Shan for critical reading of the manuscript. This work was supported by grants from the NIH (R01 CA103866, R01 CA129105 and R37 AI047389) and Department of Defense (W81XWH-15-1-0230) to D.M.S., fellowship support from NSF (2016197106) to K.J.C. and from the Life Sciences Research Foundation to K.S., where he is a Pfizer Fellow. R.K.H., C.H. and Z.Y. were supported by the Howard Hughes Medical Institute. D.M.S. is an investigator of the Howard Hughes Medical Institute.
Ethics declarations
Competing interests
The authors declare no competing financial interests.
Additional information
Reviewer Information Nature thanks D. Barford, K. Inoki and the other anonymous reviewer(s) for their contribution to the peer review of this work.
Publisher's note: Springer Nature remains neutral with regard to jurisdictional claims in published maps and institutional affiliations.
Extended data figures and tables
Supplementary information
About this article
Cite this article
Shen, K., Huang, R., Brignole, E. et al. Architecture of the human GATOR1 and GATOR1–Rag GTPases complexes. Nature 556, 64–69 (2018). https://doi.org/10.1038/nature26158
Received:

Accepted:

Published:

Issue Date:
Comments
By submitting a comment you agree to abide by our Terms and Community Guidelines. If you find something abusive or that does not comply with our terms or guidelines please flag it as inappropriate.