Abstract
The optimization of engineered metabolic pathways requires careful control over the levels and timing of metabolic enzyme expression1,2,3,4. Optogenetic tools are ideal for achieving such precise control, as light can be applied and removed instantly without complex media changes. Here we show that light-controlled transcription can be used to enhance the biosynthesis of valuable products in engineered Saccharomyces cerevisiae. We introduce new optogenetic circuits to shift cells from a light-induced growth phase to a darkness-induced production phase, which allows us to control fermentation with only light. Furthermore, optogenetic control of engineered pathways enables a new mode of bioreactor operation using periodic light pulses to tune enzyme expression during the production phase of fermentation to increase yields. Using these advances, we control the mitochondrial isobutanol pathway to produce up to 8.49 ± 0.31 g l−1 of isobutanol and 2.38 ± 0.06 g l−1 of 2-methyl-1-butanol micro-aerobically from glucose. These results make a compelling case for the application of optogenetics to metabolic engineering for the production of valuable products.
Relevant articles
Open Access articles citing this article.
William Benman

,

Saachi Datta

…

Lukasz J. Bugaj

Communications Biology Open Access 24 November 2023

Vojislav Gligorovski

,

Ahmad Sadeghi

&

Sahand Jamal Rahi

Nature Communications Open Access 27 June 2023

Sebastián Sosa-Carrillo

,

Henri Galez

…

Gregory Batt

Nature Communications Open Access 25 May 2023
Access options
Access Nature and 54 other Nature Portfolio journals
Get Nature+, our best-value online-access subscription
$29.99 / 30 days
cancel any time
Subscribe to this journal
Receive 51 print issues and online access
$199.00 per year
only $3.90 per issue
Rent or buy this article
Prices vary by article type
from$1.95
to$39.95
Prices may be subject to local taxes which are calculated during checkout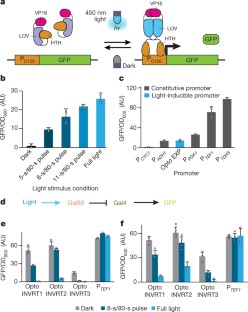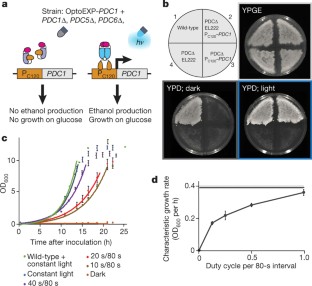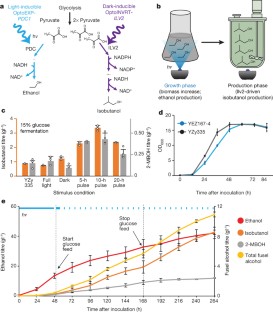 References
Woolston, B. M., Edgar, S. & Stephanopoulos, G. Metabolic engineering: past and future. Annu. Rev. Chem. Biomol. Eng. 4, 259–288 (2013)

Zhang, Y. et al. Using unnatural protein fusions to engineer resveratrol biosynthesis in yeast and Mammalian cells. J. Am. Chem. Soc. 128, 13030–13031 (2006)

Keasling, J. D. Manufacturing molecules through metabolic engineering. Science 330, 1355–1358 (2010)

Ajikumar, P. K. et al. Isoprenoid pathway optimization for Taxol precursor overproduction in Escherichia coli. Science 330, 70–74 (2010)

Tan, S. Z., Manchester, S. & Prather, K. L. J. Controlling central carbon metabolism for improved pathway yields in Saccharomyces cerevisiae. ACS Synth. Biol. 5, 116–124 (2015)

Ro, D. K. et al. Production of the antimalarial drug precursor artemisinic acid in engineered yeast. Nature 440, 940–943 (2006)

Gu, P., Su, T., Wang, Q., Liang, Q. & Qi, Q. Tunable switch mediated shikimate biosynthesis in an engineered non-auxotrophic Escherichia coli. Sci. Rep. 6, 29745 (2016)

Brockman, I. M. & Prather, K. L. J. Dynamic knockdown of E. coli central metabolism for redirecting fluxes of primary metabolites. Metab. Eng. 28, 104–113 (2015)

Toettcher, J. E., Voigt, C. A., Weiner, O. D. & Lim, W. A. The promise of optogenetics in cell biology: interrogating molecular circuits in space and time. Nat. Methods 8, 35–38 (2011)

Milias-Argeitis, A. et al. In silico feedback for in vivo regulation of a gene expression circuit. Nat. Biotechnol. 29, 1114–1116 (2011)

Kennedy, M. J. et al. Rapid blue-light-mediated induction of protein interactions in living cells. Nat. Methods 7, 973–975 (2010)

Motta-Mena, L. B. et al. An optogenetic gene expression system with rapid activation and deactivation kinetics. Nat. Chem. Biol. 10, 196–202 (2014)

Shimizu-Sato, S., Huq, E., Tepperman, J. M. & Quail, P. H. A light-switchable gene promoter system. Nat. Biotechnol. 20, 1041–1044 (2002)

Taslimi, A. et al. Optimized second-generation CRY2-CIB dimerizers and photoactivatable Cre recombinase. Nat. Chem. Biol. 12, 425–430 (2016)

Salinas, F., Rojas, V., Delgado, V., Agosin, E. & Larrondo, L. F. Optogenetic switches for light-controlled gene expression in yeast. Appl. Microbiol. Biotechnol. 101, 2629–2640 (2017)

Nash, A. I. et al. Structural basis of photosensitivity in a bacterial light-oxygen-voltage/helix-turn-helix (LOV-HTH) DNA-binding protein. Proc. Natl Acad. Sci. USA 108, 9449–9454 (2012)

Rivera-Cancel, G., Motta-Mena, L. B. & Gardner, K. H. Identification of natural and artificial DNA substrates for light-activated LOV-HTH transcription factor EL222. Biochemistry 51, 10024–10034 (2012)

Zoltowski, B. D., Motta-Mena, L. B. & Gardner, K. H. Blue light-induced dimerization of a bacterial LOV-HTH DNA-binding protein. Biochemistry 52, 6653–6661 (2013)

Reade, A. et al. TAEL: a zebrafish-optimized optogenetic gene expression system with fine spatial and temporal control. Development 144, 345–355 (2017)

Jayaraman, P. et al. Blue light-mediated transcriptional activation and repression of gene expression in bacteria. Nucleic Acids Res. 44, 6994–7005 (2016)

Da Silva, N. A. & Srikrishnan, S. Introduction and expression of genes for metabolic engineering applications in Saccharomyces cerevisiae. FEMS Yeast Res. 12, 197–214 (2012)

Usherenko, S. et al. Photo-sensitive degron variants for tuning protein stability by light. BMC Syst. Biol. 8, 128 (2014)

van Maris, A. J. A. et al. Directed evolution of pyruvate decarboxylase-negative Saccharomyces cerevisiae, yielding a C2-independent, glucose-tolerant, and pyruvate-hyperproducing yeast. Appl. Environ. Microbiol. 70, 159–166 (2004)

Klein, J. L. C., Olsson, L. & Nielsen, J. Glucose control in Saccharomyces cerevisiae: the role of MIG1 in metabolic functions. Microbiology 144, 13–24 (1998)

Avalos, J. L., Fink, G. R. & Stephanopoulos, G. Compartmentalization of metabolic pathways in yeast mitochondria improves the production of branched-chain alcohols. Nat. Biotechnol. 31, 335–341 (2013)

Hammer, S. K. & Avalos, J. L. Uncovering the role of branched-chain amino acid transaminases in Saccharomyces cerevisiae isobutanol biosynthesis. Metab. Eng. 44, 302–312 (2017)

Park, S. H., Kim, S. & Hahn, J. S. Improvement of isobutanol production in Saccharomyces cerevisiae by increasing mitochondrial import of pyruvate through mitochondrial pyruvate carrier. Appl. Microbiol. Biotechnol. 100, 7591–7598 (2016)

Deisseroth, K. Optogenetics. Nat. Methods 8, 26–29 (2011)

Gerhardt, K. P. et al. An open-hardware platform for optogenetics and photobiology. Sci. Rep. 6, 35363 (2016)

Milias-Argeitis, A., Rullan, M., Aoki, S. K., Buchmann, P. & Khammash, M. Automated optogenetic feedback control for precise and robust regulation of gene expression and cell growth. Nat. Commun. 7, 12546 (2016)

Milne, N., Wahl, S. A., van Maris, A. J. A., Pronk, J. T. & Daran, J. M. Excessive by-product formation: a key contributor to low isobutanol yields of engineered Saccharomyces cerevisiae strains. Metab. Eng. Commun. 3, 39–51 (2016)

Liu, X. et al. Structure-guided engineering of Lactococcus lactis alcohol dehydrogenase LlAdhA for improved conversion of isobutyraldehyde to isobutanol. J. Biotechnol. 164, 188–195

Lee, J. J., Crook, N., Sun, J. & Alper, H. S. Improvement of lactic acid production in Saccharomyces cerevisiae by a deletion of ssb1. J. Ind. Microbiol. Biotechnol. 43, 87–96 (2016)

Lee, J. Y., Kang, C. D., Lee, S. H., Park, Y. K. & Cho, K. M. Engineering cellular redox balance in Saccharomyces cerevisiae for improved production of L-lactic acid. Biotechnol. Bioeng. 112, 751–758 (2015)

Gibson, D. G. et al. Enzymatic assembly of DNA molecules up to several hundred kilobases. Nat. Methods 6, 343–345 (2009)

Youk, H. & Lim, W. A. Secreting and sensing the same molecule allows cells to achieve versatile social behaviors. Science 343, 1242782 (2014)

Chee, M. K. & Haase, S. B. New and redesigned pRS plasmid shuttle vectors for genetic manipulation of Saccharomyces cerevisiae. G3 (Bethesda) 2, 515–526 (2012)

Yuan, J. & Ching, C. B. Combinatorial assembly of large biochemical pathways into yeast chromosomes for improved production of value-added compounds. ACS Synth. Biol. 4, 23–31 (2015)

Goldstein, A. L. & McCusker, J. H. Three new dominant drug resistance cassettes for gene disruption in Saccharomyces cerevisiae. Yeast 15, 1541–1553 (1999)

Güldener, U., Heck, S., Fielder, T., Beinhauer, J. & Hegemann, J. H. A new efficient gene disruption cassette for repeated use in budding yeast. Nucleic Acids Res. 24, 2519–2524 (1996)

Gueldener, U., Heinisch, J., Koehler, G. J., Voss, D. & Hegemann, J. H. A second set of loxP marker cassettes for Cre-mediated multiple gene knockouts in budding yeast. Nucleic Acids Res. 30, e23 (2002)

Jones, E. W. & Fink, G. R. in The Molecular Biology of the Yeast Saccharomyces: Metabolism and Gene Expression (eds Strathern, J. N. et al.) 181–299 (Cold Spring Harbor, 1982)

Kern, S. E., Price-Whelan, A. & Newman, D. K. Extraction and measurement of NAD(P)+ and NAD(P)H. Methods Mol. Biol. 1149, 311–323 (2014)

Ziv, N., Brandt, N. J. & Gresham, D. The use of chemostats in microbial systems biology. J. Vis. Exp. 80, e50168 (2013)

Collart, M. A. & Oliviero, S. Preparation of yeast RNA. Curr. Protoc. Mol. Biol. Chapter 13, 12 (2001)
Acknowledgements
We thank K. Gardner and L. Motta-Mena for providing the plasmids and maps for the EL222 system (pVP16–EL222 and pC120-Fluc)12, D. Pincus for plasmid pNH603, J. J. Lee for plasmid pET28a Ldh, C. Taxis for plasmid pDS143, C. Nelson for sharing her qPCR equipment, S. Han for assistance in qPCR experiments and figure presentation, J. Rabinowitz and J. Storey for sharing their 500-ml Sixfors fermentation system for fed-batch fermentation experiments, S. Silverman for technical assistance on this equipment and C. DeCoste and the Princeton Molecular Biology Flow Cytometry Resource Center for assistance in flow cytometry experiments. This work was supported by the Alfred P. Sloan Foundation (to J.L.A.), The Pew Charitable Trusts (to J.L.A.), National Institutes of Health grant DP2EB024247 (to J.E.T.) and an Eric and Wendy Schmidt Transformative Technology Fund grant (to J.L.A. and J.E.T.).
Ethics declarations
Competing interests
The authors declare no competing financial interests.
Additional information
Reviewer Information Nature thanks L. Larrondo and the other anonymous reviewer(s) for their contribution to the peer review of this work.
Publisher's note: Springer Nature remains neutral with regard to jurisdictional claims in published maps and institutional affiliations.
Extended data figures and tables
Supplementary information
This file contains the Detailed Results, a Supplementary Discussion, Supplementary Gene Sequences, Supplementary Tables 1-7, a Supplementary Note and Supplementary References. (PDF 970 kb)
About this article
Cite this article
Zhao, E., Zhang, Y., Mehl, J. et al. Optogenetic regulation of engineered cellular metabolism for microbial chemical production. Nature 555, 683–687 (2018). https://doi.org/10.1038/nature26141
Received:

Accepted:

Published:

Issue Date:

DOI: https://doi.org/10.1038/nature26141
Comments
By submitting a comment you agree to abide by our Terms and Community Guidelines. If you find something abusive or that does not comply with our terms or guidelines please flag it as inappropriate.