Abstract
Histidine phosphorylation, the so-called hidden phosphoproteome, is a poorly characterized post-translational modification of proteins1,2. Here we describe a role of histidine phosphorylation in tumorigenesis. Proteomic analysis of 12 tumours from an mTOR-driven hepatocellular carcinoma mouse model revealed that NME1 and NME2, the only known mammalian histidine kinases, were upregulated. Conversely, expression of the putative histidine phosphatase LHPP was downregulated specifically in the tumours. We demonstrate that LHPP is indeed a protein histidine phosphatase. Consistent with these observations, global histidine phosphorylation was significantly upregulated in the liver tumours. Sustained, hepatic expression of LHPP in the hepatocellular carcinoma mouse model reduced tumour burden and prevented the loss of liver function. Finally, in patients with hepatocellular carcinoma, low expression of LHPP correlated with increased tumour severity and reduced overall survival. Thus, LHPP is a protein histidine phosphatase and tumour suppressor, suggesting that deregulated histidine phosphorylation is oncogenic.
Relevant articles
Open Access articles citing this article.
Hyunjoo Kim

,

Muhah Jeong

…

Yong-Keun Jung

Cell Death & Disease Open Access 18 May 2022

Jian-Xian Lin

,

Ning-Zi Lian

…

Chang-Ming Huang

Cell Death & Disease Open Access 14 May 2022

Bin Hou

,

Wenhan Li

…

Dongmin Chang

Cell Death Discovery Open Access 04 October 2021
Access options
Subscribe to Nature+
Get immediate online access to the entire Nature family of 50+ journals
Subscribe to Journal
Get full journal access for 1 year
$199.00
only $3.90 per issue
All prices are NET prices.
VAT will be added later in the checkout.
Tax calculation will be finalised during checkout.
Buy article
Get time limited or full article access on ReadCube.
$32.00
All prices are NET prices.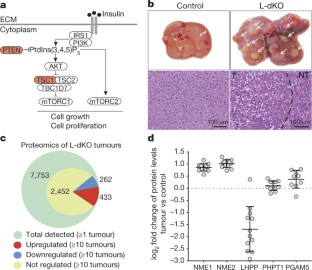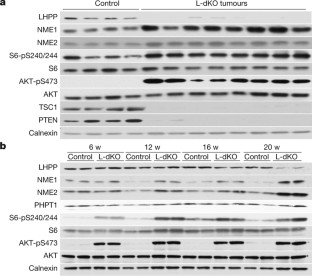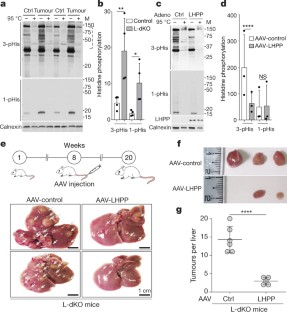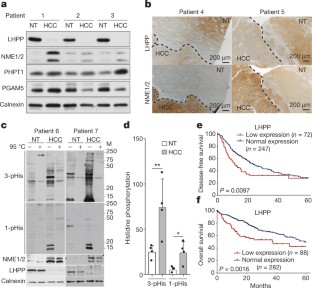 References
Kee, J.-M. & Muir, T. W. Chasing phosphohistidine, an elusive sibling in the phosphoamino acid family. ACS Chem. Biol. 7, 44–51 (2012)

Fuhs, S. R. et al. Monoclonal 1- and 3-phosphohistidine antibodies: new tools to study histidine phosphorylation. Cell 162, 198–210 (2015)

Llovet, J. M. et al. Hepatocellular carcinoma. Nat. Rev. Dis. Primers 2, 16018–16023 (2016)

Schulze, K. et al. Exome sequencing of hepatocellular carcinomas identifies new mutational signatures and potential therapeutic targets. Nat. Genet. 47, 505–511 (2015)

Kenerson, H. L. et al. Akt and mTORC1 have different roles during liver tumorigenesis in mice. Gastroenterology 144, 1055–1065 (2013)

Guri, Y. et al. mTORC2 promotes tumorigenesis via lipid synthesis. Cancer Cell 32, 807–823 (2017)

Yokoi, F., Hiraishi, H. & Izuhara, K. Molecular cloning of a cDNA for the human phospholysine phosphohistidine inorganic pyrophosphate phosphatase. J. Biochem. 133, 607–614 (2003)

Hiraishi, H., Yokoi, F. & Kumon, A. 3-phosphohistidine and 6-phospholysine are substrates of a 56-kDa inorganic pyrophosphatase from bovine liver. Arch. Biochem. Biophys. 349, 381–387 (1998)

Hiraishi, H., Ohmagari, T., Otsuka, Y., Yokoi, F. & Kumon, A. Purification and characterization of hepatic inorganic pyrophosphatase hydrolyzing imidodiphosphate. Arch. Biochem. Biophys. 341, 153–159 (1997)

Ek, P. et al. Identification and characterization of a mammalian 14-kDa phosphohistidine phosphatase. Eur. J. Biochem. 269, 5016–5023 (2002)

Klumpp, S. et al. Protein histidine phosphatase: a novel enzyme with potency for neuronal signaling. J. Cereb. Blood Flow Metab. 22, 1420–1424 (2002)

Panda, S. et al. Identification of PGAM5 as a mammalian protein histidine phosphatase that plays a central role to negatively regulate CD4+ T Cells. Mol. Cell 63, 457–469 (2016)

Cai, X., Srivastava, S., Surindran, S., Li, Z. & Skolnik, E. Y. Regulation of the epithelial Ca2+ channel TRPV5 by reversible histidine phosphorylation mediated by NDPK-B and PHPT1. Mol. Biol. Cell 25, 1244–1250 (2014)

Hartsough, M. T. et al. Nm23-H1 metastasis suppressor phosphorylation of kinase suppressor of Ras via a histidine protein kinase pathway. J. Biol. Chem. 277, 32389–32399 (2002)

Wagner, P. D. & Vu, N. D. Phosphorylation of ATP-citrate lyase by nucleoside diphosphate kinase. J. Biol. Chem. 270, 21758–21764 (1995)

Fuhs, S. R. & Hunter, T. pHisphorylation: the emergence of histidine phosphorylation as a reversible regulatory modification. Curr. Opin. Cell Biol. 45, 8–16 (2017)

Kee, J.-M., Villani, B., Carpenter, L. R. & Muir, T. W. Development of stable phosphohistidine analogues. J. Am. Chem. Soc. 132, 14327–14329 (2010)

Riley, N. M. & Coon, J. J. Phosphoproteomics in the age of rapid and deep proteome profiling. Anal. Chem. 88, 74–94 (2016)

Attwood, P. V., Piggott, M. J., Zu, X. L. & Besant, P. G. Focus on phosphohistidine. Amino Acids 32, 145–156 (2007)

Besant, P. G. & Attwood, P. V. Detection and analysis of protein histidine phosphorylation. Mol. Cell. Biochem. 329, 93–106 (2009)

Makowska, Z. et al. Gene expression analysis of biopsy samples reveals critical limitations of transcriptome-based molecular classifications of hepatocellular carcinoma. J. Pathol. Clin. Res. 2, 80–92 (2016)

Vogelstein, B. et al. Cancer genome landscapes. Science 339, 1546–1558 (2013)

Vijayakrishnan, J. et al. A genome-wide association study identifies risk loci for childhood acute lymphoblastic leukemia at 10q26.13 and 12q23.1. Leukemia 31, 573–579 (2017)

Lesseur, C. et al. Genome-wide association analyses identify new susceptibility loci for oral cavity and pharyngeal cancer. Nat. Genet. 48, 1544–1550 (2016)

Neff, C. D. et al. Evidence for HTR1A and LHPP as interacting genetic risk factors in major depression. Mol. Psychiatry 14, 621–630 (2009)

CONVERGE consortium. Sparse whole-genome sequencing identifies two loci for major depressive disorder. Nature 523, 588–591 (2015)

Park, I.-H., Bachmann, R., Shirazi, H. & Chen, J. Regulation of ribosomal S6 kinase 2 by mammalian target of rapamycin. J. Biol. Chem. 277, 31423–31429 (2002)

Chong, P. S. Y. et al. LEO1 is regulated by PRL-3 and mediates its oncogenic properties in acute myelogenous leukemia. Cancer Res. 74, 3043–3053 (2014)

Lo, Re, O. et al. Induction of cancer cell stemness by depletion of macrohistone H2A1 in hepatocellular carcinoma. Hepatology 67, https://doi.org/10.1002/hep.29519 (2018)

Chen, M. et al. High-Mobility Group Box 1 promotes hepatocellular carcinoma progression through miR-21-mediated matrix metalloproteinase activity. Cancer Res. 75, 1645–1656 (2015)

Kwiatkowski, D. J. et al. A mouse model of TSC1 reveals sex-dependent lethality from liver hemangiomas, and up-regulation of p70S6 kinase activity in Tsc1 null cells. Hum. Mol. Genet. 11, 525–534 (2002)

Horie, Y. et al. Hepatocyte-specific Pten deficiency results in steatohepatitis and hepatocellular carcinomas. J. Clin. Invest. 113, 1774–1783 (2004)

Postic, C. & Magnuson, M. A. DNA excision in liver by an albumin-Cre transgene occurs progressively with age. Genesis 26, 149–150 (2000)

Dephoure, N. & Gygi, S. P. A solid phase extraction-based platform for rapid phosphoproteomic analysis. Methods 54, 379–386 (2011)

Tyanova, S. et al. The Perseus computational platform for comprehensive analysis of (prote)omics data. Nat. Methods 13, 731–740 (2016)

Tusher, V. G., Tibshirani, R. & Chu, G. Significance analysis of microarrays applied to the ionizing radiation response. Proc. Natl Acad. Sci. USA 98, 5116–5121 (2001)

Cox, J. & Mann, M. MaxQuant enables high peptide identification rates, individualized p.p.b.-range mass accuracies and proteome-wide protein quantification. Nat. Biotechnol. 26, 1367–1372 (2008)

Gao, J. et al. Integrative analysis of complex cancer genomics and clinical profiles using the cBioPortal. Sci. Signal. 6, pl1 (2013)

Cerami, E. et al. The cBio cancer genomics portal: an open platform for exploring multidimensional cancer genomics data. Cancer Discov. 2, 401–404 (2012)

Lek, M. et al. Analysis of protein-coding genetic variation in 60,706 humans. Nature 536, 285–291 (2016)
Acknowledgements
M.N.H. acknowledges the Louis Jeantet Foundation, the Swiss National Science Foundation, SystemsX.ch, and the European Research Council (MERiC). T.H. acknowledges USPHS grants CA080100, CA082683 and CA194584 from the NCI. T.H. is an American Cancer Society Professor, and holds the Renato Dulbecco Chair in Cancer Research. S.P. acknowledges the Swiss National Science Foundation (Ambizione grant number PZ00P3_168165).
Ethics declarations
Competing interests
The authors declare no competing financial interests.
Additional information
Publisher's note: Springer Nature remains neutral with regard to jurisdictional claims in published maps and institutional affiliations.
Extended data figures and tables
Supplementary information
About this article
Cite this article
Hindupur, S., Colombi, M., Fuhs, S. et al. The protein histidine phosphatase LHPP is a tumour suppressor. Nature 555, 678–682 (2018). https://doi.org/10.1038/nature26140
Received:

Accepted:

Published:

Issue Date:

DOI: https://doi.org/10.1038/nature26140
Comments
By submitting a comment you agree to abide by our Terms and Community Guidelines. If you find something abusive or that does not comply with our terms or guidelines please flag it as inappropriate.