Abstract
Large-scale phenotyping efforts have demonstrated that approximately 25–30% of mouse gene knockouts cause intrauterine lethality. Analysis of these mutants has largely focused on the embryo and not the placenta, despite the crucial role of this extraembryonic organ for developmental progression. Here we screened 103 embryonic lethal and sub-viable mouse knockout lines from the Deciphering the Mechanisms of Developmental Disorders program for placental phenotypes. We found that 68% of knockout lines that are lethal at or after mid-gestation exhibited placental dysmorphologies. Early lethality (embryonic days 9.5–14.5) is almost always associated with severe placental malformations. Placental defects correlate strongly with abnormal brain, heart and vascular development. Analysis of mutant trophoblast stem cells and conditional knockouts suggests that a considerable number of factors that cause embryonic lethality when ablated have primary gene function in trophoblast cells. Our data highlight the hugely under-appreciated importance of placental defects in contributing to abnormal embryo development and suggest key molecular nodes that govern placenta formation.
Your institute does not have access to this article
Relevant articles
Open Access articles citing this article.
Chen Dong

,

Shuhua Fu

…

Thorold W. Theunissen

Nature Communications Open Access 10 May 2022

Rebekah R. Starks

,

Haninder Kaur

&

Geetu Tuteja

Scientific Reports Open Access 16 November 2021

Lucy LeBlanc

,

Nereida Ramirez

&

Jonghwan Kim

Cellular and Molecular Life Sciences Open Access 13 February 2021
Access options
Subscribe to Nature+
Get immediate online access to the entire Nature family of 50+ journals
Subscribe to Journal
Get full journal access for 1 year
$199.00
only $3.90 per issue
All prices are NET prices.
VAT will be added later in the checkout.
Tax calculation will be finalised during checkout.
Buy article
Get time limited or full article access on ReadCube.
$32.00
All prices are NET prices.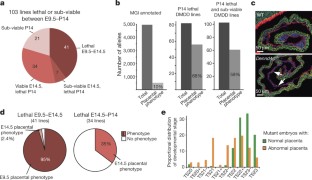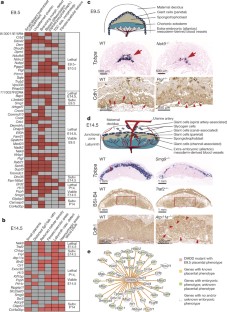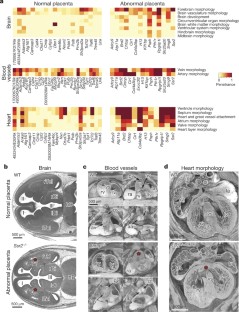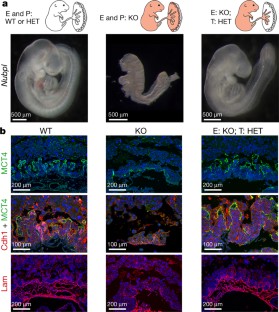 Accession codes
Primary accessions
European Nucleotide Archive
References
Ayadi, A. et al. Mouse large-scale phenotyping initiatives: overview of the European Mouse Disease Clinic (EUMODIC) and of the Wellcome Trust Sanger Institute Mouse Genetics Project. Mamm. Genome 23, 600–610 (2012)

de Angelis, M. H . et al. Analysis of mammalian gene function through broad-based phenotypic screens across a consortium of mouse clinics. Nat. Genet. 47, 969–978 (2015)

White, J. K . et al. Genome-wide generation and systematic phenotyping of knockout mice reveals new roles for many genes. Cell 154, 452–464 (2013)

Adams, D. et al. Bloomsbury report on mouse embryo phenotyping: recommendations from the IMPC workshop on embryonic lethal screening. Dis. Model. Mech. 6, 571–579 (2013)

Dickinson, M. E. et al. High-throughput discovery of novel developmental phenotypes. Nature 537, 508–514 (2016)

Rossant, J. & Cross, J. C. Placental development: lessons from mouse mutants. Nat. Rev. Genet. 2, 538–548 (2001)

Barker, D. J. The origins of the developmental origins theory. J. Intern. Med. 261, 412–417 (2007)

Barker, D. J., Bull, A. R., Osmond, C. & Simmonds, S. J. Fetal and placental size and risk of hypertension in adult life. Br. Med. J. 301, 259–262 (1990)

Rossant, J. Development of the extraembryonic lineages. Semin. Dev. Biol. 6, 237–247 (1995)

Guillemot, F., Nagy, A., Auerbach, A., Rossant, J. & Joyner, A. L. Essential role of Mash-2 in extraembryonic development. Nature 371, 333–336 (1994)

Luo, J. et al. Placental abnormalities in mouse embryos lacking the orphan nuclear receptor ERR-β. Nature 388, 778–782 (1997)

Yamamoto, H. et al. Defective trophoblast function in mice with a targeted mutation of Ets2. Genes Dev. 12, 1315–1326 (1998)

Wang, J., Mager, J ., Schnedier, E. & Magnuson, T. The mouse PcG gene eed is required for Hox gene repression and extraembryonic development. Mamm. Genome 13, 493–503 (2002)

Shi, W. et al. Choroideremia gene product affects trophoblast development and vascularization in mouse extra-embryonic tissues. Dev. Biol. 272, 53–65 (2004)

Schreiber, M. et al. Placental vascularisation requires the AP-1 component fra1. Development 127, 4937–4948 (2000)

Mohun, T. et al. Deciphering the Mechanisms of Developmental Disorders (DMDD): a new programme for phenotyping embryonic lethal mice. Dis. Model. Mech. 6, 562–566 (2013)

Geyer, S. H. et al. A staging system for correct phenotype interpretation of mouse embryos harvested on embryonic day 14 (E14.5). J. Anat. 230, 710–719 (2017)

Karp, N. A., Heller, R ., Yaacoby, S., White, J. K. & Benjamini, Y. Improving the identification of phenotypic abnormalities and sexual dimorphism in mice when studying rare event categorical characteristics. Genetics 205, 491–501 (2017)

Weninger, W. J. et al. Phenotyping structural abnormalities in mouse embryos using high-resolution episcopic microscopy. Dis. Model. Mech. 7, 1143–1152 (2014)

Tanaka, S., Kunath, T ., Hadjantonakis, A. K., Nagy, A. & Rossant, J. Promotion of trophoblast stem cell proliferation by FGF4. Science 282, 2072–2075 (1998)

Murray, A., Sienerth, A. R. & Hemberger, M. Plet1 is an epigenetically regulated cell surface protein that provides essential cues to direct trophoblast stem cell differentiation. Sci. Rep. 6, 25112 (2016)

Latos, P. A. et al. Elf5-centered transcription factor hub controls trophoblast stem cell self-renewal and differentiation through stoichiometry-sensitive shifts in target gene networks. Genes Dev. 29, 2435–2448 (2015)

Hayashi, S., Lewis, P ., Pevny, L. & McMahon, A. P. Efficient gene modulation in mouse epiblast using a Sox2Cre transgenic mouse strain. Mech. Dev. 119 (Suppl 1), S97–S101 (2002)

Xiao, Z. et al. Deficiency in Crumbs homolog 2 (Crb2) affects gastrulation and results in embryonic lethality in mice. Dev. Dyn. 240, 2646–2656 (2011)

Bradley, A. et al. The mammalian gene function resource: the International Knockout Mouse Consortium. Mamm. Genome 23, 580–586 (2012)

Lee, E. Y. et al. Mice deficient for Rb are nonviable and show defects in neurogenesis and haematopoiesis. Nature 359, 288–294 (1992)

Clarke, A. R. et al. Requirement for a functional Rb-1 gene in murine development. Nature 359, 328–330 (1992)

Davis, A. C., Wims, M., Spotts, G. D., Hann, S. R. & Bradley, A. A null c-myc mutation causes lethality before 10.5 days of gestation in homozygotes and reduced fertility in heterozygous female mice. Genes Dev. 7, 671–682 (1993)

Trumpp, A. et al. c-Myc regulates mammalian body size by controlling cell number but not cell size. Nature 414, 768–773 (2001)

Dubois, N. C. et al. Placental rescue reveals a sole requirement for c-Myc in embryonic erythroblast survival and hematopoietic stem cell function. Development 135, 2455–2465 (2008)

Wu, L. et al. Extra-embryonic function of Rb is essential for embryonic development and viability. Nature 421, 942–947 (2003)

Copp, A. J. Death before birth: clues from gene knockouts and mutations. Trends Genet. 11, 87–93 (1995)

Fu, J., Zhao, L., Wang, L. & Zhu, X. Expression of markers of endoplasmic reticulum stress-induced apoptosis in the placenta of women with early and late onset severe pre-eclampsia. Taiwan. J. Obstet. Gynecol. 54, 19–23 (2015)

Haider, S. & Knöfler, M. Human tumour necrosis factor: physiological and pathological roles in placenta and endometrium. Placenta 30, 111–123 (2009)

Acuna-Hidalgo, R. et al. Neu-Laxova syndrome is a heterogeneous metabolic disorder caused by defects in enzymes of the L-serine biosynthesis pathway. Am. J. Hum. Genet. 95, 285–293 (2014)

Srivastava, A. et al. De novo dominant ASXL3 mutations alter H2A deubiquitination and transcription in Bainbridge–Ropers syndrome. Hum. Mol. Genet. 25, 597–608 (2016)

Riley, P., Anson-Cartwright, L. & Cross, J. C. The Hand1 bHLH transcription factor is essential for placentation and cardiac morphogenesis. Nat. Genet. 18, 271–275 (1998)

Adams, R. H. et al. Essential role of p38α MAP kinase in placental but not embryonic cardiovascular development. Mol. Cell 6, 109–116 (2000)

Raffel, G. D. et al. Ott1 (Rbm15) is essential for placental vascular branching morphogenesis and embryonic development of the heart and spleen. Mol. Cell. Biol. 29, 333–341 (2009)

Maruyama, E. O. et al. Extraembryonic but not embryonic SUMO-specific protease 2 is required for heart development. Sci. Rep. 6, 20999 (2016)

Kozak, K. R., Abbott, B. & Hankinson, O. ARNT-deficient mice and placental differentiation. Dev. Biol. 191, 297–305 (1997)

Adelman, D. M., Gertsenstein, M., Nagy, A., Simon, M. C. & Maltepe, E. Placental cell fates are regulated in vivo by HIF-mediated hypoxia responses. Genes Dev. 14, 3191–3203 (2000)

Linask, K. K., Han, M. & Bravo-Valenzuela, N. J. Changes in vitelline and utero-placental hemodynamics: implications for cardiovascular development. Front. Physiol. 5, 390 (2014)

Matthiesen, N. B. et al. Congenital heart defects and indices of placental and fetal growth in a nationwide study of 924 422 liveborn infants. Circulation 134, 1546–1556 (2016)

Hemberger, M., Nozaki, T ., Masutani, M. & Cross, J. C. Differential expression of angiogenic and vasodilatory factors by invasive trophoblast giant cells depending on depth of invasion. Dev. Dyn. 227, 185–191 (2003)

Wilson, R., McGuire, C., Mohun, T. & Project, D. Deciphering the mechanisms of developmental disorders: phenotype analysis of embryos from mutant mouse lines. Nucleic Acids Res. 44 (D1), D855–D861 (2016)

Hartley, S. W. & Mullikin, J. C. QoRTs: a comprehensive toolset for quality control and data processing of RNA-seq experiments. BMC Bioinformatics 16, 224 (2015)

Love, M. I., Huber, W. & Anders, S. Moderated estimation of fold change and dispersion for RNA-seq data with DESeq2. Genome Biol. 15, 550 (2014)
Acknowledgements
We would like to thank N. Karp for expert advice on statistical analyses, I. Sealy for help with PCA analyses, the Flow Cytometry Facility at the Babraham Institute, as well as all contributors to the DMDD programme. This work was supported by Wellcome Trust Strategic Award WT100160MA.
Ethics declarations
Competing interests
The authors declare no competing financial interests.
Additional information
Reviewer Information Nature thanks J. Cross, E. Lacy and the other anonymous reviewer(s) for their contribution to the peer review of this work.
Publisher's note: Springer Nature remains neutral with regard to jurisdictional claims in published maps and institutional affiliations.
Extended data figures and tables
Supplementary information
About this article
Cite this article
Perez-Garcia, V., Fineberg, E., Wilson, R. et al. Placentation defects are highly prevalent in embryonic lethal mouse mutants. Nature 555, 463–468 (2018). https://doi.org/10.1038/nature26002
Received:

Accepted:

Published:

Issue Date:

DOI: https://doi.org/10.1038/nature26002
Comments
By submitting a comment you agree to abide by our Terms and Community Guidelines. If you find something abusive or that does not comply with our terms or guidelines please flag it as inappropriate.