Abstract
The initiation of eukaryotic DNA replication occurs in two discrete stages1: first, the minichromosome maintenance (MCM) complex assembles as a head-to-head double hexamer that encircles duplex replication origin DNA during G1 phase; then, 'firing factors' convert each double hexamer into two active Cdc45–MCM–GINS helicases (CMG) during S phase. This second stage requires separation of the two origin DNA strands and remodelling of the double hexamer so that each MCM hexamer encircles a single DNA strand. Here we show that the MCM complex, which hydrolyses ATP during double-hexamer formation2,3, remains stably bound to ADP in the double hexamer. Firing factors trigger ADP release, and subsequent ATP binding promotes stable CMG assembly. CMG assembly is accompanied by initial DNA untwisting and separation of the double hexamer into two discrete but inactive CMG helicases. Mcm10, together with ATP hydrolysis, then triggers further DNA untwisting and helicase activation. After activation, the two CMG helicases translocate in an 'N terminus-first' direction, and in doing so pass each other within the origin; this requires that each helicase is bound entirely to single-stranded DNA. Our experiments elucidate the mechanism of eukaryotic replicative helicase activation, which we propose provides a fail-safe mechanism for bidirectional replisome establishment.
Relevant articles
Open Access articles citing this article.
Changpeng Hu

,

Yue Dai

…

Rong Zhang

Hereditas Open Access 01 December 2022

Corella S. Casas-Delucchi

,

Manuel Daza-Martin

…

Gideon Coster

Nature Communications Open Access 19 July 2022

Jacob S. Lewis

,

Marta H. Gross

…

Alessandro Costa

Nature Open Access 15 June 2022
Access options
Subscribe to Nature+
Get immediate online access to Nature and 55 other Nature journal
Subscribe to Journal
Get full journal access for 1 year
$199.00
only $3.90 per issue
All prices are NET prices.
VAT will be added later in the checkout.
Tax calculation will be finalised during checkout.
Buy article
Get time limited or full article access on ReadCube.
$32.00
All prices are NET prices.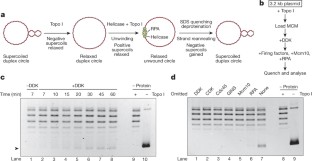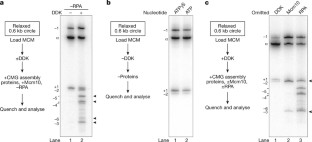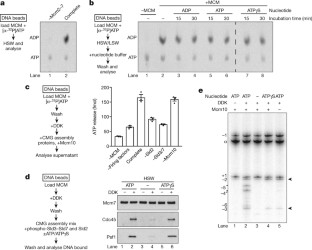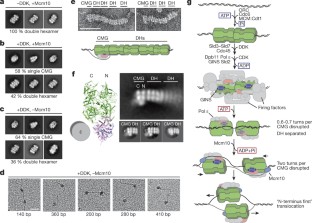 References
Bell, S. P. & Labib, K. Chromosome duplication in Saccharomyces cerevisiae. Genetics 203, 1027–1067 (2016)

Coster, G., Frigola, J., Beuron, F., Morris, E. P. & Diffley, J. F. X. Origin licensing requires ATP binding and hydrolysis by the MCM replicative helicase. Mol. Cell 55, 666–677 (2014)

Kang, S., Warner, M. D. & Bell, S. P. Multiple functions for Mcm2–7 ATPase motifs during replication initiation. Mol. Cell 55, 655–665 (2014)

Ilves, I., Petojevic, T., Pesavento, J. J. & Botchan, M. R. Activation of the Mcm2–7 helicase by association with Cdc45 and GINS proteins. Mol. Cell 37, 247–258 (2010)

Georgescu, R. E. et al. Mechanism of asymmetric polymerase assembly at the eukaryotic replication fork. Nat. Struct. Mol. Biol. 21, 664–670 (2014)

Yeeles, J. T., Deegan, T. D., Janska, A., Early, A. & Diffley, J. F. X. Regulated eukaryotic DNA replication origin firing with purified proteins. Nature 519, 431–435 (2015)

Dean, F. B. & Hurwitz, J. Simian virus 40 large T antigen untwists DNA at the origin of DNA replication. J. Biol. Chem. 266, 5062–5071 (1991)

Lõoke, M., Maloney, M. F. & Bell, S. P. Mcm10 regulates DNA replication elongation by stimulating the CMG replicative helicase. Genes Dev. 31, 291–305 (2017)

Remus, D. et al. Concerted loading of Mcm2–7 double hexamers around DNA during DNA replication origin licensing. Cell 139, 719–730 (2009)

Li, N. et al. Structure of the eukaryotic MCM complex at 3.8 Å. Nature 524, 186–191 (2015)

Noguchi, Y. et al. Cryo-EM structure of Mcm2–7 double hexamer on DNA suggests a lagging-strand DNA extrusion model. Proc. Natl Acad. Sci. USA 114, E9529–E9538 (2017)

Abid Ali, F. et al. Cryo-EM structure of a licensed DNA replication origin. Nat. Commun. 8, 2241 (2017)

McGeoch, A. T., Trakselis, M. A., Laskey, R. A. & Bell, S. D. Organization of the archaeal MCM complex on DNA and implications for the helicase mechanism. Nat. Struct. Mol. Biol. 12, 756–762 (2005)

Costa, A. et al. DNA binding polarity, dimerization, and ATPase ring remodeling in the CMG helicase of the eukaryotic replisome. eLife 3, e03273 (2014)

Froelich, C. A., Kang, S., Epling, L. B., Bell, S. P. & Enemark, E. J. A conserved MCM single-stranded DNA binding element is essential for replication initiation. eLife 3, e01993 (2014)

Georgescu, R. et al. Structure of eukaryotic CMG helicase at a replication fork and implications to replisome architecture and origin initiation. Proc. Natl Acad. Sci. USA 114, E697–E706 (2017)

Sun, J. et al. The architecture of a eukaryotic replisome. Nat. Struct. Mol. Biol. 22, 976–982 (2015)

Zhou, J. C. et al. CMG-Pol ε dynamics suggests a mechanism for the establishment of leading-strand synthesis in the eukaryotic replisome. Proc. Natl Acad. Sci. USA 114, 4141–4146 (2017)

Abid Ali, F. et al. Cryo-EM structures of the eukaryotic replicative helicase bound to a translocation substrate. Nat. Commun. 7, 10708 (2016)

Duderstadt, K. E., Chuang, K. & Berger, J. M. DNA stretching by bacterial initiators promotes replication origin opening. Nature 478, 209–213 (2011)

Douglas, M. E. & Diffley, J. F. X. Recruitment of Mcm10 to sites of replication initiation requires direct binding to the minichromosome maintenance (MCM) complex. J. Biol. Chem. 291, 5879–5888 (2016)

Robertson, P. D. et al. Domain architecture and biochemical characterization of vertebrate Mcm10. J. Biol. Chem. 283, 3338–3348 (2008)

Marahrens, Y. & Stillman, B. A yeast chromosomal origin of DNA replication defined by multiple functional elements. Science 255, 817–823 (1992)

Coster, G. & Diffley, J. F. X. Bidirectional eukaryotic DNA replication is established by quasi-symmetrical helicase loading. Science 357, 314–318 (2017)

Shore, D. & Baldwin, R. L. Energetics of DNA twisting. II. Topoisomer analysis. J. Mol. Biol. 170, 983–1007 (1983)

Zivanovic, Y., Goulet, I. & Prunell, A. Properties of supercoiled DNA in gel electrophoresis. The V-like dependence of mobility on topological constraint. DNA-matrix interactions. J. Mol. Biol. 192, 645–660 (1986)

Hsieh, T. S. & Wang, J. C. Thermodynamic properties of superhelical DNAs. Biochemistry 14, 527–535 (1975)

Tang, G. et al. EMAN2: an extensible image processing suite for electron microscopy. J. Struct. Biol. 157, 38–46 (2007)

Scheres, S. H. RELION: implementation of a Bayesian approach to cryo-EM structure determination. J. Struct. Biol. 180, 519–530 (2012)

Mindell, J. A. & Grigorieff, N. Accurate determination of local defocus and specimen tilt in electron microscopy. J. Struct. Biol. 142, 334–347 (2003)

van Heel, M., Harauz, G ., Orlova, E. V., Schmidt, R. & Schatz, M. A new generation of the IMAGIC image processing system. J. Struct. Biol. 116, 17–24 (1996)
Acknowledgements
We thank K. Labib for anti-Psf1 antibody, G. Kelly (the Francis Crick Institute, Bioinformatics) for help with mathematical modelling, the Francis Crick Institute Fermentation Facility for cell production and L. Collinson, R. Carzaniga (the Francis Crick Institute, Electron Microscopy) and T. Pape (Electron Microscopy Centre, Imperial College) for electron microscopy support. This work was supported by the Francis Crick Institute, which receives its core funding from Cancer Research UK (FC001065 and FC001066), the UK Medical Research Council (FC001065 and FC001066), and the Wellcome Trust (FC001065 and FC001066). This work was also funded by a Wellcome Trust Senior Investigator Award (106252/Z/14/Z) and a European Research Council Advanced Grant (669424-CHROMOREP) to J.F.X.D.
Ethics declarations
Competing interests
The authors declare no competing financial interests.
Additional information
Reviewer Information Nature thanks A. Leschziner and the other anonymous reviewer(s) for their contribution to the peer review of this work.
Publisher's note: Springer Nature remains neutral with regard to jurisdictional claims in published maps and institutional affiliations.
Extended data figures and tables
Supplementary information
This file contains Supplementary Figure 1, source images for all data obtained by electrophoretic separation. (PDF 879 kb)
This video shows a comparison of CMG and a CMG-polymerase epsilon complex with 2D projections of train ends. (MP4 2089 kb)
About this article
Cite this article
Douglas, M., Ali, F., Costa, A. et al. The mechanism of eukaryotic CMG helicase activation. Nature 555, 265–268 (2018). https://doi.org/10.1038/nature25787
Received:

Accepted:

Published:

Issue Date:

DOI: https://doi.org/10.1038/nature25787
Comments
By submitting a comment you agree to abide by our Terms and Community Guidelines. If you find something abusive or that does not comply with our terms or guidelines please flag it as inappropriate.