Abstract
Functional tissue regeneration is required for the restoration of normal organ homeostasis after severe injury. Some organs, such as the intestine, harbour active stem cells throughout homeostasis and regeneration1; more quiescent organs, such as the lung, often contain facultative progenitor cells that are recruited after injury to participate in regeneration2,3. Here we show that a Wnt-responsive alveolar epithelial progenitor (AEP) lineage within the alveolar type 2 cell population acts as a major facultative progenitor cell in the distal lung. AEPs are a stable lineage during alveolar homeostasis but expand rapidly to regenerate a large proportion of the alveolar epithelium after acute lung injury. AEPs exhibit a distinct transcriptome, epigenome and functional phenotype and respond specifically to Wnt and Fgf signalling. In contrast to other proposed lung progenitor cells, human AEPs can be directly isolated by expression of the conserved cell surface marker TM4SF1, and act as functional human alveolar epithelial progenitor cells in 3D organoids. Our results identify the AEP lineage as an evolutionarily conserved alveolar progenitor that represents a new target for human lung regeneration strategies.
Relevant articles
Open Access articles citing this article.
Jianhui Sun

,

Huacai Zhang

…

Ling Zeng

Respiratory Research Open Access 23 September 2023

SeungHye Han

,

Minho Lee

…

Navdeep S. Chandel

Nature Open Access 09 August 2023

Laura Heydemann

,

Małgorzata Ciurkiewicz

…

Federico Armando

Nature Communications Open Access 05 June 2023
Access options
Access Nature and 54 other Nature Portfolio journals
Get Nature+, our best-value online-access subscription
$29.99 / 30 days
cancel any time
Subscribe to this journal
Receive 51 print issues and online access
$199.00 per year
only $3.90 per issue
Rent or buy this article
Prices vary by article type
from$1.95
to$39.95
Prices may be subject to local taxes which are calculated during checkout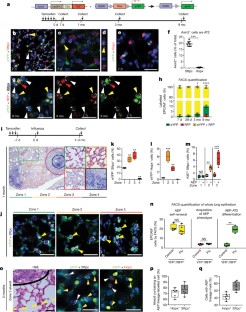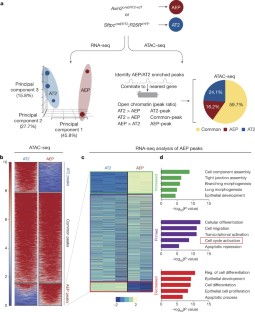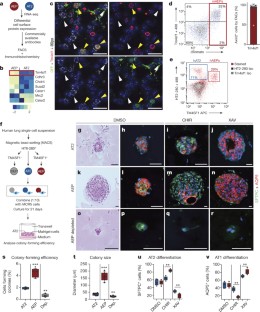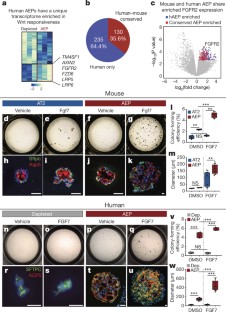 References
Beumer, J. & Clevers, H. Regulation and plasticity of intestinal stem cells during homeostasis and regeneration. Development 143, 3639–3649 (2016)

Stanger, B. Z. Probing hepatocyte heterogeneity. Cell Res. 25, 1181–1182 (2015)

Afelik, S. & Rovira, M. Pancreatic β-cell regeneration: facultative or dedicated progenitors? Mol. Cell. Endocrinol. 445, 85–94 (2017)

Frank, D. B . et al. Emergence of a wave of Wnt signaling that regulates lung alveologenesis by controlling epithelial self-renewal and differentiation. Cell Reports 17, 2312–2325 (2016)

Töpfer, L. et al. Influenza A (H1N1) vs non-H1N1 ARDS: analysis of clinical course. J Crit. Care 29, 340–346 (2014)

Kumar, P. A . et al. Distal airway stem cells yield alveoli in vitro and during lung regeneration following H1N1 influenza infection. Cell 147, 525–538 (2011)

Vaughan, A. E. et al. Lineage-negative progenitors mobilize to regenerate lung epithelium after major injury. Nature 517, 621–625 (2015)

Zuo, W . et al. p63+Krt5+ distal airway stem cells are essential for lung regeneration. Nature 517, 616–620 (2015)

Xi, Y . et al. Local lung hypoxia determines epithelial fate decisions during alveolar regeneration. Nat. Cell Biol. 19, 904–914 (2017)

Ray, S . et al. Rare SOX2+ airway progenitor cells generate KRT5+ cells that repopulate damaged alveolar parenchyma following influenza virus infection. Stem Cell Reports 7, 817–825 (2016)

Barkauskas, C. E . et al. Type 2 alveolar cells are stem cells in adult lung. J. Clin. Invest. 123, 3025–3036 (2013)

Rock, J. R . et al. Multiple stromal populations contribute to pulmonary fibrosis without evidence for epithelial to mesenchymal transition. Proc. Natl Acad. Sci. USA 108, E1475–E1483 (2011)

El-Hashash, A. H . et al. Six1 transcription factor is critical for coordination of epithelial, mesenchymal and vascular morphogenesis in the mammalian lung. Dev. Biol. 353, 242–258 (2011)

Herriges, J. C . et al. FGF-regulated ETV transcription factors control FGF–SHH feedback loop in lung branching. Dev. Cell 35, 322–332 (2015)

Kherrouche, Z . et al. PEA3 transcription factors are downstream effectors of Met signaling involved in migration and invasiveness of Met-addicted tumor cells. Mol. Oncol. 9, 1852–1867 (2015)

Rockich, B. E . et al. Sox9 plays multiple roles in the lung epithelium during branching morphogenesis. Proc. Natl Acad. Sci. USA 110, E4456–E4464 (2013)

Wan, H . et al. Kruppel-like factor 5 is required for perinatal lung morphogenesis and function. Development 135, 2563–2572 (2008)

Bogunovic, M. et al. Origin of the lamina propria dendritic cell network. Immunity. 31, 513–525 (2009)

Wu, L . et al. MAT1-modulated CAK activity regulates cell cycle G1 exit. Mol. Cell. Biol. 21, 260–270 (2001)

Lin, D . et al. Constitutive expression of B-myb can bypass p53-induced Waf1/Cip1-mediated G1 arrest. Proc. Natl Acad. Sci. USA 91, 10079–10083 (1994)

Schmidt-Edelkraut, U ., Daniel, G ., Hoffmann, A. & Spengler, D. Zac1 regulates cell cycle arrest in neuronal progenitors via Tcf4. Mol. Cell. Biol. 34, 1020–1030 (2014)

Marken, J. S ., Schieven, G. L ., Hellström, I ., Hellström, K. E. & Aruffo, A. Cloning and expression of the tumor-associated antigen L6. Proc. Natl Acad. Sci. USA 89, 3503–3507 (1992)

Gao, H . et al. Multi-organ site metastatic reactivation mediated by non-canonical discoidin domain receptor 1 signaling. Cell 166, 47–62 (2016)

Gonzalez, R. F ., Allen, L ., Gonzales, L ., Ballard, P. L. & Dobbs, L. G. HTII-280, a biomarker specific to the apical plasma membrane of human lung alveolar type II cells. J. Histochem. Cytochem. 58, 891–901 (2010)

Barkauskas, C. E . et al. Lung organoids: current uses and future promise. Development 144, 986–997 (2017)

Shu, W . et al. Wnt/β-catenin signaling acts upstream of N-myc, BMP4, and FGF signaling to regulate proximal-distal patterning in the lung. Dev. Biol. 283, 226–239 (2005)

Zhang, X . et al. Receptor specificity of the fibroblast growth factor family. The complete mammalian FGF family. J. Biol. Chem. 281, 15694–15700 (2006)

Yano, T . et al. KGF regulates pulmonary epithelial proliferation and surfactant protein gene expression in adult rat lung. Am. J. Physiol. Lung Cell. Mol. Physiol. 279, L1146–L1158 (2000)

Yano, T ., Deterding, R. R ., Simonet, W. S ., Shannon, J. M. & Mason, R. J. Keratinocyte growth factor reduces lung damage due to acid instillation in rats. Am. J. Respir. Cell Mol. Biol. 15, 433–442 (1996)

Panos, R. J ., Rubin, J. S ., Csaky, K. G ., Aaronson, S. A. & Mason, R. J. Keratinocyte growth factor and hepatocyte growth factor/scatter factor are heparin-binding growth factors for alveolar type II cells in fibroblast-conditioned medium. J. Clin. Invest. 92, 969–977 (1993)

Quantius, J . et al. Influenza virus infects epithelial stem/progenitor cells of the distal lung: impact on Fgfr2b-driven epithelial repair. PLoS Pathog. 12, e1005544 (2016)

Nikolaidis, N. M . et al. Mitogenic stimulation accelerates influenza-induced mortality by increasing susceptibility of alveolar type II cells to infection. Proc. Natl Acad. Sci. USA 114, E6613–E6622 (2017)

Yue, F . et al. A comparative encyclopedia of DNA elements in the mouse genome. Nature 515, 355–364 (2014)

Chapman, H. A. et al. Integrin α6β4 identifies an adult distal lung epithelial population with regenerative potential in mice. J. Clin. Invest. 121, 2855–2862 (2011)

Takeda, N. et al. Hopx expression defines a subset of multipotent hair follicle stem cells and a progenitor population primed to give rise to K6+ niche cells. Development 140, 1655–1664 (2013)

Zacharias, W. J. & Morrisey, E. E. Isolation and culture of human alveolar epithelial progenitor cells. Protoc. Exch. https://doi.org/10.1038/protex.2018.015 (2018)

Peng, T. et al. Hedgehog actively maintains adult lung quiescence and regulates repair and regeneration. Nature 526, 578–582 (2015)

Dobin, A. et al. STAR: ultrafast universal RNA-seq aligner. Bioinformatics 29, 15–21 (2013)

Law, C. W., Chen, Y., Shi, W. & Smyth, G. K. voom: precision weights unlock linear model analysis tools for RNA-seq read counts. Genome Biol. 15, R29 (2014)

Chen, J., Bardes, E. E., Aronow, B. J. & Jegga, A. G. ToppGene Suite for gene list enrichment analysis and candidate gene prioritization. Nucleic Acids Res. 37, W305–W311 (2009)

Buenrostro, J. D., Wu, B., Chang, H. Y. & Greenleaf, W. J. ATAC-seq: a method for assaying chromatin accessibility genome-wide. Curr. Protoc. Mol. Biol. 109, 21.29.21–29.29.9. (2015)

Zhang, Y. et al. Model-based analysis of ChIP-Seq (MACS). Genome Biol. 9, R137 (2008)

Ramírez, F. et al. deepTools2: a next generation web server for deep-sequencing data analysis. Nucleic Acids Res. 44, W160–W16 5 (2016)

Grant, C. E., Bailey, T. L. & Noble, W. S. FIMO: scanning for occurrences of a given motif. Bioinformatics 27, 1017–1018 (2011)

Heinz, S. et al. Simple combinations of lineage-determining transcription factors prime cis-regulatory elements required for macrophage and B cell identities. Mol. Cell 38, 576–589 (2010)
Acknowledgements
This work was supported by grants from the National Institutes of Health (T32-HL007586 to W.J.Z; T32-HL007915, K12-HD043245 to D.B.F., T32-HL007843 to J.A.Z. and HL110942, HL087825, HL132999, HL129478, HL134745 to E.E.M.). We thank the Flow Cytometry Core Laboratory of Children's Hospital of Philadelphia and the CVI Histology Core, Next Generation Sequencing Core and CDB Microscopy Core at the University of Pennsylvania for technical assistance.
Ethics declarations
Competing interests
The authors declare no competing financial interests.
Additional information
Reviewer Information Nature thanks C. Dean and the other anonymous reviewer(s) for their contribution to the peer review of this work.
Publisher's note: Springer Nature remains neutral with regard to jurisdictional claims in published maps and institutional affiliations.
Extended data figures and tables
Supplementary information
Genes differentially expressed in mouse AEPs compared to mouse AT2 cells (XLSX 182 kb)
Genes differentially expressed in human AEPs compared to other human AT2 cells. (XLSX 97 kb)
About this article
Cite this article
Zacharias, W., Frank, D., Zepp, J. et al. Regeneration of the lung alveolus by an evolutionarily conserved epithelial progenitor. Nature 555, 251–255 (2018). https://doi.org/10.1038/nature25786
Received:

Accepted:

Published:

Issue Date:

DOI: https://doi.org/10.1038/nature25786
Comments
By submitting a comment you agree to abide by our Terms and Community Guidelines. If you find something abusive or that does not comply with our terms or guidelines please flag it as inappropriate.