Abstract
Active volcanic hotspots can tap into domains in Earth's deep interior that were formed more than two billion years ago1,2. High-precision data on variability in tungsten isotopes have shown that some of these domains resulted from differentiation events that occurred within the first fifty million years of Earth history3,4. However, it has not proved easy to resolve analogous variability in neodymium isotope compositions that would track regions of Earth's interior whose composition was established by events occurring within roughly the first five hundred million years of Earth history5,6. Here we report 142Nd/144Nd ratios for Réunion Island igneous rocks, some of which are resolvably either higher or lower than the ratios in modern upper-mantle domains. We also find that Réunion 142Nd/144Nd ratios correlate with helium-isotope ratios (3He/4He), suggesting parallel behaviour of these isotopic systems during very early silicate differentiation, perhaps as early as 4.39 billion years ago. The range of 142Nd/144Nd ratios in Réunion basalts is inconsistent with a single-stage differentiation process, and instead requires mixing of a conjugate melt and residue formed in at least one melting event during the Hadean eon, 4.56 billion to 4 billion years ago. Efficient post-Hadean mixing nearly erased the ancient, anomalous 142Nd/144Nd signatures, and produced the relatively homogeneous 143Nd/144Nd composition that is characteristic of Réunion basalts. Our results show that Réunion magmas tap into a particularly ancient, primitive source compared with other volcanic hotspots7,8,9,10, offering insight into the formation and preservation of ancient heterogeneities in Earth's interior.
Access options
Subscribe to Journal
Get full journal access for 1 year
$199.00
only $3.90 per issue
All prices are NET prices.
VAT will be added later in the checkout.
Tax calculation will be finalised during checkout.
Rent or Buy article
Get time limited or full article access on ReadCube.
from$8.99
All prices are NET prices.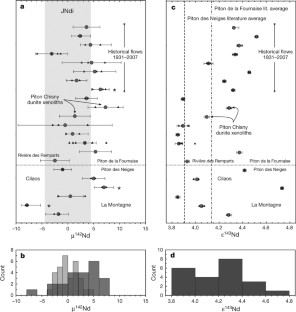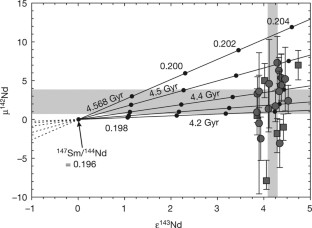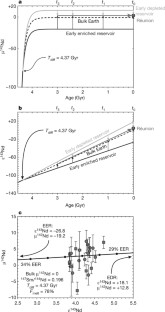 References
1

Cabral, R. A., Jackson, M. G., Rose-Koga, E. F., Koga, K. T., Whitehouse, M. J., Antonelli, M. A., Farquhar, J., Day, J. M. D. & Hauri, E. H. Anomalous sulphur isotopes in plume lavas reveal deep mantle storage of Archaean crust. Nature 496, 490–493 (2013)

2

Delavault, H., Chauvel, C., Thomassot, E., Devey, C. W. & Dazas, B. Sulfur and lead isotopic evidence of relic Archean sediments in the Pitcairn mantle plume. Proc. Natl Acad. Sci. USA 113, 12952–12956 (2017)

3

Mundl, A. et al. Tungsten-182 heterogeneity in modern ocean island basalts. Science 356, 66–69 (2017)

4

Rizo, H. et al. Preservation of Earth-forming events in the tungsten isotopic composition of modern flood basalts. Science 352, 809–812 (2016)

5

Jackson, M. G. & Carlson, R. W. Homogenous superchondritic 142Nd/144Nd in the mid-ocean ridge basalt and ocean island basalt mantle. Geochem. Geophys. Geosyst. 13, (2012)

6

Horan, M. F., Carlson, R. W., Walker, R. J., Jackson, M. & Garçon, M. Tracking Hadean processes in modern basalts. Earth Planet. Sci. Lett. 484, 184–191 (2018)

7

Vlastélic, I., Lewen, E. & Staudacher, T. Th/U and other geochemical evidence for the Réunion plume sampling a less differentiated mantle domain. Earth Planet. Sci. Lett. 248, 379–393 (2006)

8

Bosch, D. et al. Pb, Hf and Nd isotope compositions of the two Réunion volcanoes (Indian Ocean): a tale of two small-scale mantle "blobs"? Earth Planet. Sci. Lett. 265, 748–765 (2008)

9

Schiano, P. et al. Osmium isotopic systematics of historical lavas from Piton de la Fournaise (Réunion Island, Indian Ocean). Contrib. Mineral. Petrol. 164, 805–820 (2012)

10

Peters, B. J., Day, J. M. D. & Taylor, L. A. Early mantle heterogeneities in the Réunion hotspot source inferred from highly siderophile elements in cumulate xenoliths. Earth Planet. Sci. Lett. 448, 150–160 (2016)

11

Mukhopadhyay, S. Early differentiation and volatile accretion recorded in deep-mantle neon and xenon. Nature 486, 101–104 (2012)

12

Friedman, A. M. et al. Alpha decay half lives of 148Gd, 150Gd and 146Sm. Radiochim. Acta 5, (1966)

13

Caro, G., Bourdon, B., Halliday, A. N. & Quitté, G. Super-chondritic Sm/Nd ratios in Mars, the Earth and the Moon. Nature 452, 336–339 (2008)

14

Murphy, D. T., Brandon, A. D., Debaille, V., Burgess, R. & Ballentine, C. In search of a hidden long-term isolated sub-chondritic 142Nd/144Nd reservoir in the deep mantle: implications for the Nd isotope systematics of the Earth. Geochim. Cosmochim. Acta 74, 738–750 (2010)

15

Garnero, E. J. & McNamara, A. K. Structure and dynamics of Earth's lower mantle. Science 320, 626–628 (2008)

16

Wen, L., Silver, P., James, D. & Kuehnel, R. Seismic evidence for a thermo-chemical boundary at the base of Earth's mantle. Earth Planet. Sci. Lett. 189, 141–153 (2001)

17

Mulyukova, E., Steinberger, B., Dabrowski, M. & Sobolev, S. V. Survival of LLSVPs for billions of years in a vigorously convecting mantle: replenishment and destruction of chemical anomaly. J. Geophys. Res. 120, 3824–3847 (2015)

18

Dubrovinsky, L. et al. Iron–silica interaction at extreme conditions and the electrically conducting layer at the base of Earth's mantle. Nature 422, 58–61 (2003)

19

Lee, C. T. A . et al. Upside-down differentiation and generation of a 'primordial' lower mantle. Nature 463, 930–933 (2010)

20

Labrosse, S., Hernlund, J. W. & Coltice, N. A crystallizing dense magma ocean at the base of the Earth's mantle. Nature 450, 866–869 (2007)

21

Corgne, A., Liebske, C., Wood, B. J., Rubie, D. C. & Frost, D. J. Silicate perovskite-melt partitioning of trace elements and geochemical signature of a deep perovskitic reservoir. Geochim. Cosmochim. Acta 69, 485–496 (2005)

22

Chauvel, C., Lewin, E., Carpentier, M., Arndt, N. T. & Marini, J.-C. Role of recycled oceanic basalt and sediment in generating the Hf–Nd mantle array. Nat. Geosci. 1, 64–67 (2008)

23

Blichert-Toft, J., Arndt, N. T., Wilson, A. & Coetzee, G. Hf and Nd isotope systematics of early Archean komatiites from surface sampling and ICDP drilling in the Barberton Greenstone Belt, South Africa. Am. Mineral. 100, 2396–2411 (2015)

24

Rizo, H., Boyet, M., Blichert-Toft, J. & Rosing, M. Combined Nd and Hf isotope evidence for deep-seated source of Isua lavas. Earth Planet. Sci. Lett. 312, 267–279 (2011)

25

Caro, G., Bourdon, B., Wood, B. J. & Corgne, A. Trace-element fractionation in Hadean mantle generated by melt segregation from a magma ocean. Nature 436, 246–249 (2005)

26

Tateno, S., Hirose, K. & Ohishi, Y. Melting experiments and peridotite to lowermost mantle conditions. J. Geophys. Res. Solid Earth 119, 4684–4694 (2014)

27

Fiquet, G. et al. Melting of peridotite to 140 gigapascals. Science 329, 1516–1518 (2010)

28

Funamori, N. & Sato, T. Density contrast between silicate melts and crystals in the deep mantle: an integrated view based on static-compression data. Earth Planet. Sci. Lett. 295, 435–440 (2010)

29

Salters, V. & Longhi, J. Trace element partitioning during the initial stages of melting beneath mid-ocean ridges. Earth Planet. Sci. Lett. 166, 15–30 (1999)

30

O'Neil, J., Carlson, R. W., Francis, D. & Stevenson, R. K. Neodymium-142 evidence for Hadean mafic crust. Science 321, 1828–1831 (2008)

31

Parman, S. W., Kurz, M. D., Hart, S. R. & Grove, T. L. Helium solubility in olivine and implications for high 3He/4He in ocean island basalts. Nature 437, 1140–1143 (2005)

32

Sobolev, A. V., Hofmann, A. W., Sobolev, S. V. & Nikogosian, I. K. An olivine-free mantle source of Hawaiian shield basalts. Nature 434, 590–597 (2005)

33

Füri, E. et al. Helium isotope variations between Réunion Island and the Central Indian Ridge (17°–21°S): new evidence for ridge-hot spot interaction. J. Geophys. Res. 116, B02207 (2011)

34

de Leeuw, G. A. M., Ellam, R. M., Stuart, F. M. & Carlson, R. W. 142Nd/144Nd inferences on the nature and origin of the source of high 3He/4He magmas. Earth Planet. Sci. Lett. 472, 62–68 (2017)

35

Garçon, M., Boyet, M., Carlson, R. W., Horan, M. F., Auclair, D. & Mock, T. D. Factors influencing the precision and accuracy of Nd isotope measurements by thermal ionization mass spectrometery. Chem. Geol. 476, 493–514 (2018)

36

Peters, B. J., Carlson, R. W., Day, J. M. D. & Horan, M. F. Nd isotope data for Réunion Island basalts and cumulate xenoliths. EarthChem https://doi.org/10.1594/IEDA/100740 (2018)

37

Burkhardt, C. et al. A nucleosynthetic origin for the Earth's anomalous 142Nd composition. Nature 537, 394–398 (2016)

38

Render, J., Fischer-Gödde, M., Burkhardt, C. & Kleine, T. The cosmic molybdenum-neodymium isotope correlation and the building material of the Earth. Geochem. Persp. Lett. 3, 170–178 (2017)

39

Hilton, D. R. et al. Helium isotopes at Rungwe volcanic province, Tanzania, and the origin of East African plateau. Geophys. Res. Lett. 38, (2011)

40

O'Neil, J., Rizo, H., Boyet, M., Carlson, R. W. & Rosing, M. T. Geochemistry and Nd isotopic characteristics of Earth's Hadean mantle and primitive crust. Earth Planet. Sci. Lett. 442, 194–205 (2016)

41

Nomura, R. et al. Spin crossover and iron-rich silicate melt in the Earth's deep mantle. Nature 473, 199–202 (2011)

42

Brown, S. M., Elkins-Tanton, L. T. & Walker, R. J. Effects of magma ocean crystallization and overturn on the development of 142Nd and 182W isotopic heterogeneities in the primordial mantle. Earth Planet. Sci. Lett. 408, 319–330 (2014)

43

Labrosse, S ., Hernlund, J. W. & Hirose, K. in The Early Earth: Accretion and Differentiation (eds Badro, J . & Walter, M. ) 123–142 (AGU, 2015)

44

Cipriani, A., Bonatti, E. & Carlson, R. W. Nonchondritic 142Nd in suboceanic mantle peridotites. Geochem. Geophys. Geosyst. 12, Q03006 (2011)
Acknowledgements
B.J.P. is grateful for conversations with fellow postdocs A. Mundl and J. Reimink. Technical assistance with Nd isotope measurements was provided by T. Mock, and data-reduction routines were modified from an original version by M. Garçon. Funding for fieldwork for this study was provided by the National Geographic Society (NGS 8330-07), the Geological Society of America (GSA 10539-14), and a personal donation from R. Rex. Support for laboratory work was provided by the Carnegie Institution for Science.
Ethics declarations
Competing interests
The authors declare no competing financial interests.
Additional information
Reviewer Information Nature thanks B. Bourdon and B. Hanan for their contribution to the peer review of this work.
Publisher's note: Springer Nature remains neutral with regard to jurisdictional claims in published maps and institutional affiliations.
Extended data figures and tables
Supplementary information
This file contains Supplementary Tables 1 and 2. Supplementary Table 1 contains data per-sample Nd isotope results. Supplementary Table 2 contains per-run Nd isotope results. (XLSX 73 kb)
About this article
Cite this article
Peters, B., Carlson, R., Day, J. et al. Hadean silicate differentiation preserved by anomalous 142Nd/144Nd ratios in the Réunion hotspot source. Nature 555, 89–93 (2018). https://doi.org/10.1038/nature25754
Received:

Accepted:

Published:

Issue Date:
Comments
By submitting a comment you agree to abide by our Terms and Community Guidelines. If you find something abusive or that does not comply with our terms or guidelines please flag it as inappropriate.