Abstract
Therapeutic antibodies that block the programmed death-1 (PD-1)–programmed death-ligand 1 (PD-L1) pathway can induce robust and durable responses in patients with various cancers, including metastatic urothelial cancer1,2,3,4,5. However, these responses only occur in a subset of patients. Elucidating the determinants of response and resistance is key to improving outcomes and developing new treatment strategies. Here we examined tumours from a large cohort of patients with metastatic urothelial cancer who were treated with an anti-PD-L1 agent (atezolizumab) and identified major determinants of clinical outcome. Response to treatment was associated with CD8+ T-effector cell phenotype and, to an even greater extent, high neoantigen or tumour mutation burden. Lack of response was associated with a signature of transforming growth factor β (TGFβ) signalling in fibroblasts. This occurred particularly in patients with tumours, which showed exclusion of CD8+ T cells from the tumour parenchyma that were instead found in the fibroblast- and collagen-rich peritumoural stroma; a common phenotype among patients with metastatic urothelial cancer. Using a mouse model that recapitulates this immune-excluded phenotype, we found that therapeutic co-administration of TGFβ-blocking and anti-PD-L1 antibodies reduced TGFβ signalling in stromal cells, facilitated T-cell penetration into the centre of tumours, and provoked vigorous anti-tumour immunity and tumour regression. Integration of these three independent biological features provides the best basis for understanding patient outcome in this setting and suggests that TGFβ shapes the tumour microenvironment to restrain anti-tumour immunity by restricting T-cell infiltration.
Access options
Subscribe to Journal
Get full journal access for 1 year
$199.00
only $3.90 per issue
All prices are NET prices.
VAT will be added later in the checkout.
Rent or Buy article
Get time limited or full article access on ReadCube.
from$8.99
All prices are NET prices.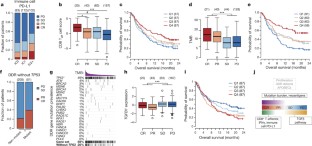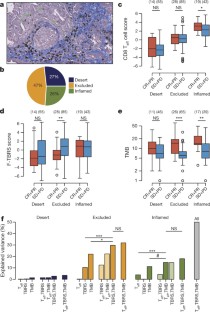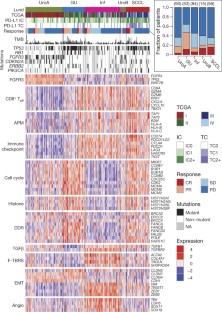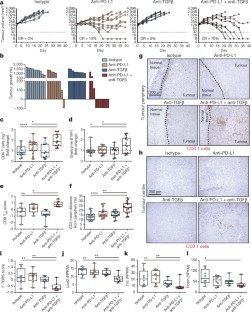 References
1

Herbst, R. S. et al. Predictive correlates of response to the anti-PD-L1 antibody MPDL3280A in cancer patients. Nature 515, 563–567 (2014)

2

Powles, T. et al. MPDL3280A (anti-PD-L1) treatment leads to clinical activity in metastatic bladder cancer. Nature 515, 558–562 (2014)

3

Bellmunt, J. et al. Pembrolizumab as second-line therapy for advanced urothelial carcinoma. N. Engl. J. Med. 376, 1015–1026 (2017)

4

Rosenberg, J. E. et al. Atezolizumab in patients with locally advanced and metastatic urothelial carcinoma who have progressed following treatment with platinum-based chemotherapy: a single-arm, multicentre, phase 2 trial. Lancet 387, 1909–1920 (2016)

5

Balar, A. V. et al. Atezolizumab as first-line treatment in cisplatin-ineligible patients with locally advanced and metastatic urothelial carcinoma: a single-arm, multicentre, phase 2 trial. Lancet 389, 67–76 (2017)

6

Alexandrov, L. B. et al. Signatures of mutational processes in human cancer. Nature 500, 415–421 (2013)

7

Chalmers, Z. R. et al. Analysis of 100,000 human cancer genomes reveals the landscape of tumor mutational burden. Genome Med. 9, 34 (2017)

8

Snyder, A. et al. Genetic basis for clinical response to CTLA-4 blockade in melanoma. N. Engl. J. Med. 371, 2189–2199 (2014)

9

Rizvi, N. A. et al. Cancer immunology. Mutational landscape determines sensitivity to PD-1 blockade in non-small cell lung cancer. Science 348, 124–128 (2015)

10

Van Allen, E. M. et al. Genomic correlates of response to CTLA-4 blockade in metastatic melanoma. Science 350, 207–211 (2015)

11

Chen, D. S. & Mellman, I. Oncology meets immunology: the cancer–immunity cycle. Immunity 39, 1–10 (2013)

12

Cancer Genome Atlas Research Network. Comprehensive molecular characterization of urothelial bladder carcinoma. Nature 507, 315–322 (2014)

13

Burns, M. B., Temiz, N. A. & Harris, R. S. Evidence for APOBEC3B mutagenesis in multiple human cancers. Nat. Genet. 45, 977–983 (2013)

14

Gao, J. et al. Loss of IFN-γ pathway genes in tumor cells as a mechanism of resistance to anti-CTLA-4 therapy. Cell 167, 397–404 (2016)

15

Zaretsky, J. M. et al. Mutations associated with acquired resistance to PD-1 blockade in melanoma. N. Engl. J. Med. 375, 819–829 (2016)

16

Ribas, A. Adaptive immune resistance: how cancer protects from immune attack. Cancer Discov. 5, 915–919 (2015)

17

Benci, J. L. et al. Tumor interferon signaling regulates a multigenic resistance program to immune checkpoint blockade. Cell 167, 1540–1554 (2016)

18

Lin, R.-L. & Zhao, L.-J. Mechanistic basis and clinical relevance of the role of transforming growth factor-β in cancer. Cancer Biol. Med. 12, 385–393 (2015)

19

Massagué, J. TGFβ in cancer. Cell 134, 215–230 (2008)

20

Calon, A. et al. Stromal gene expression defines poor-prognosis subtypes in colorectal cancer. Nat. Genet. 47, 320–329 (2015)

21

Derynck, R. & Zhang, Y. E. SMAD-dependent and SMAD-independent pathways in TGF-β family signalling. Nature 425, 577–584 (2003)

22

Morikawa, M., Derynck, R. & Miyazono, K. TGF-β and the TGF-β family: context-dependent roles in cell and tissue physiology. Cold Spring Harb. Perspect. Biol. 8, a021873 (2016)

23

Flavell, R. A., Sanjabi, S., Wrzesinski, S. H. & Licona-Limón, P. The polarization of immune cells in the tumour environment by TGFb. Nat. Rev. Immunol. 10, 554–567 (2010)

24

Hegde, P. S., Karanikas, V. & Evers, S. The where, the when, and the how of immune monitoring for cancer immunotherapies in the era of checkpoint inhibition. Clin. Cancer Res. 22, 1865–1874 (2016)

25

Tumeh, P. C. et al. PD-1 blockade induces responses by inhibiting adaptive immune resistance. Nature 515, 568–571 (2014)

26

Dobson, A. J. & Barnett, A. G. An Introduction to Generalized Linear Models 3rd edn. (Chapman & Hall/CRC, 2008)

27

Sjödahl, G. et al. A molecular taxonomy for urothelial carcinoma. Clin. Cancer Res. 18, 3377–3386 (2012)

28

Sjödahl, G. et al. Toward a molecular pathologic classification of urothelial carcinoma. Am. J. Pathol. 183, 681–691 (2013)

29

R Core Team. R: a Language and Environment for Statistical Computing http://www.r-project.org (R Foundation for Statistical Computing, Vienna, Austria, 2016)

30

Rusinova, I. et al. Interferome v2.0: an updated database of annotated interferon-regulated genes. Nucleic Acids Res. 41, D1040–D1046 (2013)

31

Spranger, S., Bao, R. & Gajewski, T. F. Melanoma-intrinsic β-catenin signalling prevents anti-tumour immunity. Nature 523, 231–235 (2015)

32

Damrauer, J. S. et al. Intrinsic subtypes of high-grade bladder cancer reflect the hallmarks of breast cancer biology. Proc. Natl Acad. Sci. USA 111, 3110–3115 (2014)

33

Hugo, W. et al. Genomic and transcriptomic features of response to anti-PD-1 therapy in metastatic melanoma. Cell 165, 35–44 (2016)

34

Hedegaard, J. et al. Comprehensive Transcriptional Analysis of Early-Stage Urothelial Carcinoma. Cancer Cell 30, 27–42 (2016)
Acknowledgements
We thank the patients and their families; all of the investigators and their staff involved in IMvigor210 study; C. Ahearn, S. Lau, C. Havnar, Z. Boyd, S. Sampath, D. Wilson, J. Doss and medical writers at Health Interactions. J.E.R. acknowledges support from P30 CA008748. L.F. acknowledges support from NCI 1R01CA194511.
Ethics declarations
Competing interests
D.H. and L.S. are employees of Fios Genomics Ltd., a contract research organisation contracted to provide bioinformatics services to Genentech Inc. M.S.H., Y.L. and T.P. have advisory roles for Roche/Genentech. J.E.R. is a consultant for Roche/Genentech, BMS, Merck, AstraZeneca and EMD-Serono, and Roche/Genentech have provided research funding to his institution. P.E., M.H., L.F. and S.S. declare no competing interests. All other authors are employees and stockholders of Genentech/Roche.
Additional information
Reviewer Information Nature thanks D. McConkey and the other anonymous reviewer(s) for their contribution to the peer review of this work.
Publisher's note: Springer Nature remains neutral with regard to jurisdictional claims in published maps and institutional affiliations.
Extended data figures and tables
Supplementary information
About this article
Cite this article
Mariathasan, S., Turley, S., Nickles, D. et al. TGFβ attenuates tumour response to PD-L1 blockade by contributing to exclusion of T cells. Nature 554, 544–548 (2018). https://doi.org/10.1038/nature25501
Received:

Accepted:

Published:

Issue Date:
Comments
By submitting a comment you agree to abide by our Terms and Community Guidelines. If you find something abusive or that does not comply with our terms or guidelines please flag it as inappropriate.