Abstract
Locomotion is a fundamental motor function common to the animal kingdom. It is implemented episodically and adapted to behavioural needs, including exploration, which requires slow locomotion, and escape behaviour, which necessitates faster speeds. The control of these functions originates in brainstem structures, although the neuronal substrate(s) that support them have not yet been elucidated. Here we show in mice that speed and gait selection are controlled by glutamatergic excitatory neurons (GlutNs) segregated in two distinct midbrain nuclei: the cuneiform nucleus (CnF) and the pedunculopontine nucleus (PPN). GlutNs in both of these regions contribute to the control of slower, alternating-gait locomotion, whereas only GlutNs in the CnF are able to elicit high-speed, synchronous-gait locomotion. Additionally, both the activation dynamics and the input and output connectivity matrices of GlutNs in the PPN and the CnF support explorative and escape locomotion, respectively. Our results identify two regions in the midbrain that act in conjunction to select context-dependent locomotor behaviours.
Relevant articles
Open Access articles citing this article.
Zheng-Dong Zhao

,

Li Zhang

…

Wei L. Shen

Neuroscience Bulletin Open Access 27 January 2023

Satoshi Koba

,

Nao Kumada

…

Tatsuo Watanabe

Nature Communications Open Access 29 August 2022

Débora Masini

&

Ole Kiehn

Nature Communications Open Access 26 January 2022
Access options
Subscribe to Nature+
Get immediate online access to Nature and 55 other Nature journal
Subscribe to Journal
Get full journal access for 1 year
$199.00
only $3.90 per issue
All prices are NET prices.
VAT will be added later in the checkout.
Tax calculation will be finalised during checkout.
Buy article
Get time limited or full article access on ReadCube.
$32.00
All prices are NET prices.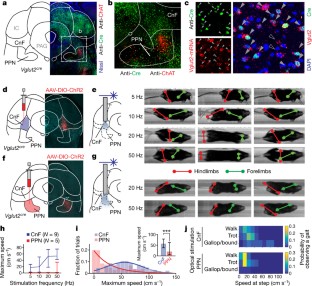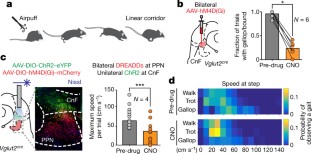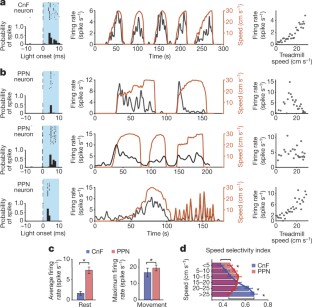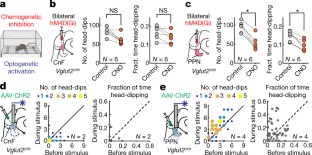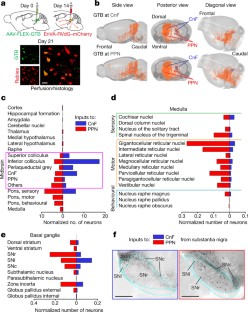 References
Bellardita, C. & Kiehn, O. Phenotypic characterization of speed-associated gait changes in mice reveals modular organization of locomotor networks. Curr. Biol. 25, 1426–1436 (2015)

Grillner, S. The motor infrastructure: from ion channels to neuronal networks. Nat. Rev. Neurosci. 4, 573–586 (2003)

Kiehn, O. Decoding the organization of spinal circuits that control locomotion. Nat. Rev. Neurosci. 17, 224–238 (2016)

Grillner, S. & Jessell, T. M. Measured motion: searching for simplicity in spinal locomotor networks. Curr. Opin. Neurobiol. 19, 572–586 (2009)

Brownstone, R. M. & Wilson, J. M. Strategies for delineating spinal locomotor rhythm-generating networks and the possible role of Hb9 interneurones in rhythmogenesis. Brain Res. Rev. 57, 64–76 (2008)

Goulding, M. Circuits controlling vertebrate locomotion: moving in a new direction. Nat. Rev. Neurosci. 10, 507–518 (2009)

Jordan, L. M., Liu, J., Hedlund, P. B., Akay, T. & Pearson, K. G. Descending command systems for the initiation of locomotion in mammals. Brain Res. Rev. 57, 183–191 (2008)

Dubuc, R. et al. Initiation of locomotion in lampreys. Brain Res. Rev. 57, 172–182 (2008)

Takakusaki, K., Chiba, R., Nozu, T. & Okumura, T. Brainstem control of locomotion and muscle tone with special reference to the role of the mesopontine tegmentum and medullary reticulospinal systems. J. Neural Transm. (Vienna) 123, 695–729 (2016)

Shik, M. L., Severin, F. V. & Orlovsky, G. N. Control of walking and running by means of electrical stimulation of the mesencephalon. Electroencephalogr. Clin. Neurophysiol. 26, 549 (1969)

Garcia-Rill, E., Hyde, J., Kezunovic, N., Urbano, F. J. & Petersen, E. The physiology of the pedunculopontine nucleus: implications for deep brain stimulation. J. Neural Transm. (Vienna) 122, 225–235 (2015)

Ryczko, D. & Dubuc, R. The multifunctional mesencephalic locomotor region. Curr. Pharm. Des. 19, 4448–4470 (2013)

Martinez-Gonzalez, C., Bolam, J. P. & Mena-Segovia, J. Topographical organization of the pedunculopontine nucleus. Front. Neuroanat. 5, 22 (2011)

Roseberry, T. K. et al. Cell-type-specific control of brainstem locomotor circuits by basal ganglia. Cell 164, 526–537 (2016)

Wang, H. L. & Morales, M. Pedunculopontine and laterodorsal tegmental nuclei contain distinct populations of cholinergic, glutamatergic and GABAergic neurons in the rat. Eur. J. Neurosci. 29, 340–358 (2009)

Borgius, L., Restrepo, C. E., Leao, R. N., Saleh, N. & Kiehn, O. A transgenic mouse line for molecular genetic analysis of excitatory glutamatergic neurons. Mol. Cell. Neurosci. 45, 245–257 (2010)

Machado, A. S., Darmohray, D. M., Fayad, J., Marques, H. G. & Carey, M. R. A quantitative framework for whole-body coordination reveals specific deficits in freely walking ataxic mice. eLife 4, e07892 (2015)

Lemieux, M., Josset, N., Roussel, M., Couraud, S. & Bretzner, F. Speed-dependent modulation of the locomotor behavior in adult mice reveals attractor and transitional gaits. Front. Neurosci. 10, 42 (2016)

Roth, B. L. DREADDs for neuroscientists. Neuron 89, 683–694 (2016)

Sternson, S. M. & Roth, B. L. Chemogenetic tools to interrogate brain functions. Annu. Rev. Neurosci. 37, 387–407 (2014)

Kliethermes, C. L. & Crabbe, J. C. Pharmacological and genetic influences on hole-board behaviors in mice. Pharmacol. Biochem. Behav. 85, 57–65 (2006)

File, S. E. & Wardill, A. G. Validity of head-dipping as a measure of exploration in a modified hole-board. Psychopharmacologia 44, 53–59 (1975)

Callaway, E. M. & Luo, L. Monosynaptic circuit tracing with glycoprotein-deleted rabies viruses. J. Neurosci. 35, 8979–8985 (2015)

Wall, N. R., Wickersham, I. R., Cetin, A., De La Parra, M. & Callaway, E. M. Monosynaptic circuit tracing in vivo through Cre-dependent targeting and complementation of modified rabies virus. Proc. Natl Acad. Sci. USA 107, 21848–21853 (2010)

Brandão, M. L., Anseloni, V. Z., Pandóssio, J. E., De Araújo, J. E. & Castilho, V. M. Neurochemical mechanisms of the defensive behavior in the dorsal midbrain. Neurosci. Biobehav. Rev. 23, 863–875 (1999)

Lovick, T. A. The periaqueductal gray-rostral medulla connection in the defence reaction: efferent pathways and descending control mechanisms. Behav. Brain Res. 58, 19–25 (1993)

Liang, H., Paxinos, G. & Watson, C. Spinal projections from the presumptive midbrain locomotor region in the mouse. Brain Struct. Funct. 217, 211–219 (2012)

Ryczko, D. et al. Forebrain dopamine neurons project down to a brainstem region controlling locomotion. Proc. Natl Acad. Sci. USA 110, E3235–E3242 (2013)

Skinner, R. D., Kinjo, N., Ishikawa, Y., Biedermann, J. A. & Garcia-Rill, E. Locomotor projections from the pedunculopontine nucleus to the medioventral medulla. Neuroreport 1, 207–210 (1990)

Costa, R. M. Plastic corticostriatal circuits for action learning: what's dopamine got to do with it? Ann. N. Y. Acad. Sci. 1104, 172–191 (2007)

Grillner, S., Robertson, B. & Stephenson-Jones, M. The evolutionary origin of the vertebrate basal ganglia and its role in action selection. J. Physiol. (Lond.) 591, 5425–5431 (2013)

Friend, D. M. & Kravitz, A. V. Working together: basal ganglia pathways in action selection. Trends Neurosci. 37, 301–303 (2014)

Sinnamon, H. M. Preoptic and hypothalamic neurons and the initiation of locomotion in the anesthetized rat. Prog. Neurobiol. 41, 323–344 (1993)

Graybiel, A. M. & Grafton, S. T. The striatum: where skills and habits meet. Cold Spring Harb. Perspect. Biol. 7, a021691 (2015)

Noga, B. R., Kriellaars, D. J., Brownstone, R. M. & Jordan, L. M. Mechanism for activation of locomotor centers in the spinal cord by stimulation of the mesencephalic locomotor region. J. Neurophysiol. 90, 1464–1478 (2003)

Drew, T., Dubuc, R. & Rossignol, S. Discharge patterns of reticulospinal and other reticular neurons in chronic, unrestrained cats walking on a treadmill. J. Neurophysiol. 55, 375–401 (1986)

Capelli, P., Pivetta, C., Esposito, M. S. & Arber, S. Locomotor speed control circuits in the caudal brainstem. Nature 551, 373–377 (2017)

Franklin, K. B. J. & Paxinos, G. The Mouse Brain in Stereotaxic Coordinates 4th edn (Academic, 2013)

Bouvier, J. et al. Descending command neurons in the brainstem that halt locomotion. Cell 163, 1191–1203 (2015)

Tovote, P. et al. Midbrain circuits for defensive behaviour. Nature 534, 206–212 (2016)

Quiroga, R. Q., Nadasdy, Z. & Ben-Shaul, Y. Unsupervised spike detection and sorting with wavelets and superparamagnetic clustering. Neural Comput. 16, 1661–1687 (2004)
Acknowledgements
This research was supported by European Research Council grant ERC-693038 (O.K.), NINDs NS 090919 (O.K.), The Swedish Medical Research Council (O.K., G.F.), StratNeuro (O.K.) and Novo Nordisk Foundation Laureate Research grant NNF 15OC0014186 (O.K.). We thank P. Löw for assistance with viral work and K. Deisseroth for providing viral ChR2 vectors.
Ethics declarations
Competing interests
The authors declare no competing financial interests.
Additional information
Publisher's note: Springer Nature remains neutral with regard to jurisdictional claims in published maps and institutional affiliations.
Extended data figures and tables
Supplementary information
About this article
Cite this article
Caggiano, V., Leiras, R., Goñi-Erro, H. et al. Midbrain circuits that set locomotor speed and gait selection. Nature 553, 455–460 (2018). https://doi.org/10.1038/nature25448
Received:

Accepted:

Published:

Issue Date:

DOI: https://doi.org/10.1038/nature25448
Comments
By submitting a comment you agree to abide by our Terms and Community Guidelines. If you find something abusive or that does not comply with our terms or guidelines please flag it as inappropriate.