Abstract
Chromosomal translocations that generate in-frame oncogenic gene fusions are notable examples of the success of targeted cancer therapies1,2,3. We have previously described gene fusions of FGFR3-TACC3 (F3–T3) in 3% of human glioblastoma cases4. Subsequent studies have reported similar frequencies of F3–T3 in many other cancers, indicating that F3–T3 is a commonly occuring fusion across all tumour types5,6. F3–T3 fusions are potent oncogenes that confer sensitivity to FGFR inhibitors, but the downstream oncogenic signalling pathways remain unknown2,4,5,6. Here we show that human tumours with F3–T3 fusions cluster within transcriptional subgroups that are characterized by the activation of mitochondrial functions. F3–T3 activates oxidative phosphorylation and mitochondrial biogenesis and induces sensitivity to inhibitors of oxidative metabolism. Phosphorylation of the phosphopeptide PIN4 is an intermediate step in the signalling pathway of the activation of mitochondrial metabolism. The F3–T3–PIN4 axis triggers the biogenesis of peroxisomes and the synthesis of new proteins. The anabolic response converges on the PGC1α coactivator through the production of intracellular reactive oxygen species, which enables mitochondrial respiration and tumour growth. These data illustrate the oncogenic circuit engaged by F3–T3 and show that F3–T3-positive tumours rely on mitochondrial respiration, highlighting this pathway as a therapeutic opportunity for the treatment of tumours with F3–T3 fusions. We also provide insights into the genetic alterations that initiate the chain of metabolic responses that drive mitochondrial metabolism in cancer.
Access options
Subscribe to Journal
Get full journal access for 1 year
$199.00
only $3.90 per issue
All prices are NET prices.
VAT will be added later in the checkout.
Tax calculation will be finalised during checkout.
Rent or Buy article
Get time limited or full article access on ReadCube.
from$8.99
All prices are NET prices.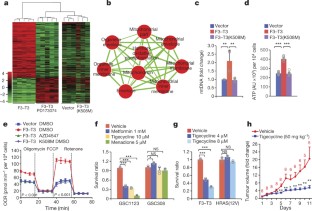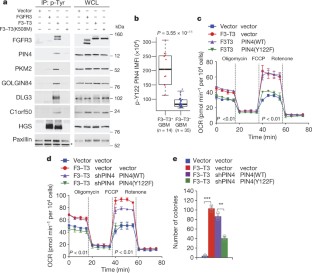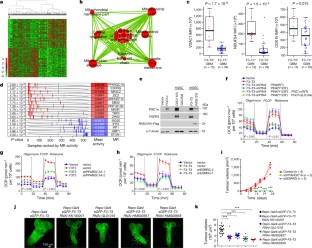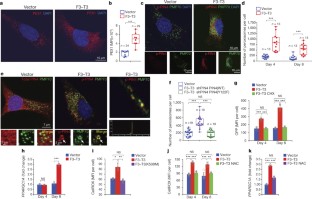 Accession codes
Primary accessions
ArrayExpress
References
1

Ali, M. A. Chronic myeloid leukemia in the era of tyrosine kinase inhibitors: an evolving paradigm of molecularly targeted therapy. Mol. Diagn. Ther. 20, 315–333 (2016)

2

Di Stefano, A. L. et al. Detection, characterization, and inhibition of FGFR–TACC fusions in IDH wild-type glioma. Clin. Cancer Res. 21, 3307–3317 (2015)

3

Gerber, D. E. & Minna, J. D. ALK inhibition for non-small cell lung cancer: from discovery to therapy in record time. Cancer Cell 18, 548–551 (2010)

4

Singh, D. et al. Transforming fusions of FGFR and TACC genes in human glioblastoma. Science 337, 1231–1235 (2012)

5

Costa, R. et al. FGFR3–TACC3 fusion in solid tumors: mini review. Oncotarget 7, 55924–55938 (2016)

6

Lasorella, A., Sanson, M. & Iavarone, A. FGFR–TACC gene fusions in human glioma. Neuro-oncol. 19, 475–483 (2017)

7

Niola, F. et al. Mesenchymal high-grade glioma is maintained by the ID–RAP1 axis. J. Clin. Invest. 123, 405–417 (2013)

8

Škrtić, M. et al. Inhibition of mitochondrial translation as a therapeutic strategy for human acute myeloid leukemia. Cancer Cell 20, 674–688 (2011)

9

Uchida, T., Fujimori, F., Tradler, T., Fischer, G. & Rahfeld, J. U. Identification and characterization of a 14 kDa human protein as a novel parvulin-like peptidyl prolyl cis/trans isomerase. FEBS Lett. 446, 278–282 (1999)

10

Uchida, T. et al. Pin1 and Par14 peptidyl prolyl isomerase inhibitors block cell proliferation. Chem. Biol. 10, 15–24 (2003)

11

Yeh, E. S. & Means, A. R. PIN1, the cell cycle and cancer. Nat. Rev. Cancer 7, 381–388 (2007)

12

Frattini, V. et al. The integrated landscape of driver genomic alterations in glioblastoma. Nat. Genet. 45, 1141–1149 (2013)

13

He, H. & Garcia, E. A. Learning from imbalanced data. IEEE Trans. Knowl. Data Eng. 21, 1263–1284 (2009)

14

Carlsson, G. Topology and data. Bull. Am. Math. Soc. 46, 255–308 (2009)

15

Nicolau, M., Levine, A. J. & Carlsson, G. Topology based data analysis identifies a subgroup of breast cancers with a unique mutational profile and excellent survival. Proc. Natl Acad. Sci. USA 108, 7265–7270 (2011)

16

Carro, M. S. et al. The transcriptional network for mesenchymal transformation of brain tumours. Nature 463, 318–325 (2010)

17

Mall, R. et al. RGBM: regularized gradient boosting machines for the identification of transcriptional regulators of discrete glioma subtypes. Preprint at https://doi.org/10.1101/132670 (2017)

18

Devarakonda, S. et al. Disorder-to-order transition underlies the structural basis for the assembly of a transcriptionally active PGC-1α/ERRγ complex. Proc. Natl Acad. Sci. USA 108, 18678–18683 (2011)

19

Lin, J., Handschin, C. & Spiegelman, B. M. Metabolic control through the PGC-1 family of transcription coactivators. Cell Metab. 1, 361–370 (2005)

20

St-Pierre, J. et al. Suppression of reactive oxygen species and neurodegeneration by the PGC-1 transcriptional coactivators. Cell 127, 397–408 (2006)

21

Xiong, W. C., Okano, H., Patel, N. H., Blendy, J. A. & Montell, C. repo encodes a glial-specific homeo domain protein required in the Drosophila nervous system. Genes Dev. 8, 981–994 (1994)

22

Tiefenböck, S. K., Baltzer, C., Egli, N. A. & Frei, C. The Drosophila PGC-1 homologue Spargel coordinates mitochondrial activity to insulin signalling. EMBO J. 29, 171–183 (2010)

23

Read, R. D. et al. A kinome-wide RNAi screen in Drosophila glia reveals that the RIO kinases mediate cell proliferation and survival through TORC2–Akt signaling in glioblastoma. PLoS Genet. 9, e1003253 (2013)

24

Read, R. D., Cavenee, W. K., Furnari, F. B. & Thomas, J. B. A. A Drosophila model for EGFR–Ras and PI3K-dependent human glioma. PLoS Genet. 5, e1000374 (2009)

25

Smith, J. J. & Aitchison, J. D. Peroxisomes take shape. Nat. Rev. Mol. Cell Biol. 14, 803–817 (2013)

26

Boveris, A., Oshino, N. & Chance, B. The cellular production of hydrogen peroxide. Biochem. J. 128, 617–630 (1972)

27

Han, J. et al. ER-stress-induced transcriptional regulation increases protein synthesis leading to cell death. Nat. Cell Biol. 15, 481–490 (2013)

28

Isserlin, R., Merico, D., Voisin, V. & Bader, G. D. Enrichment Map — a Cytoscape app to visualize and explore OMICs pathway enrichment results. F1000Res. 3, 141 (2014)

29

Smoot, M. E., Ono, K., Ruscheinski, J., Wang, P. L. & Ideker, T. Cytoscape 2.8: new features for data integration and network visualization. Bioinformatics 27, 431–432 (2011)

30

Merico, D., Isserlin, R., Stueker, O., Emili, A. & Bader, G. D. Enrichment map: a network-based method for gene-set enrichment visualization and interpretation. PLoS ONE 5, e13984 (2010)

31

Stransky, N., Cerami, E., Schalm, S., Kim, J. L. & Lengauer, C. The landscape of kinase fusions in cancer. Nat. Commun. 5, 4846 (2014)

32

Yoshihara, K. et al. The landscape and therapeutic relevance of cancer-associated transcript fusions. Oncogene 34, 4845–4854 (2015)

33

Iyer, M. K., Chinnaiyan, A. M. & Maher, C. A. ChimeraScan: a tool for identifying chimeric transcription in sequencing data. Bioinformatics 27, 2903–2904 (2011)

34

Risso, D., Schwartz, K., Sherlock, G. & Dudoit, S. GC-content normalization for RNA-seq data. BMC Bioinformatics 12, 480 (2011)

35

Ceccarelli, M. et al. Molecular profiling reveals biologically discrete subsets and pathways of progression in diffuse glioma. Cell 164, 550–563 (2016)

36

Lum, P. Y. et al. Extracting insights from the shape of complex data using topology. Sci. Rep. 3, 1236 (2013)

37

Roweis, S. T. & Saul, L. K. Nonlinear dimensionality reduction by locally linear embedding. Science 290, 2323–2326 (2000)

38

Nielson, J. L. et al. Topological data analysis for discovery in preclinical spinal cord injury and traumatic brain injury. Nat. Commun. 6, 8581 (2015)

39

Singh, G ., Memoli, F . & Carlsson, G. E. Topological methods for the analysis of high dimensional data sets and 3D object recognition. In SPBG (eds Botsch, M . & Pajarola, R. ) 91–100 (Citeseer, 2007)

40

Rizvi, A. H. et al. Single-cell topological RNA-seq analysis reveals insights into cellular differentiation and development. Nat. Biotechnol. 35, 551–560 (2017)

41

Rolland, D. et al. Global phosphoproteomic profiling reveals distinct signatures in B-cell non-Hodgkin lymphomas. Am. J. Pathol. 184, 1331–1342 (2014)

42

Kessner, D., Chambers, M., Burke, R., Agus, D. & Mallick, P. ProteoWizard: open source software for rapid proteomics tools development. Bioinformatics 24, 2534–2536 (2008)

43

Fenyö, D. & Beavis, R. C. A method for assessing the statistical significance of mass spectrometry-based protein identifications using general scoring schemes. Anal. Chem. 75, 768–774 (2003)

44

MacLean, B., Eng, J. K., Beavis, R. C. & McIntosh, M. General framework for developing and evaluating database scoring algorithms using the TANDEM search engine. Bioinformatics 22, 2830–2832 (2006)

45

Keller, A., Nesvizhskii, A. I., Kolker, E. & Aebersold, R. Empirical statistical model to estimate the accuracy of peptide identifications made by MS/MS and database search. Anal. Chem. 74, 5383–5392 (2002)

46

Nesvizhskii, A. I., Keller, A., Kolker, E. & Aebersold, R. A statistical model for identifying proteins by tandem mass spectrometry. Anal. Chem. 75, 4646–4658 (2003)

47

Pedrioli, P. G. Trans-proteomic pipeline: a pipeline for proteomic analysis. Methods Mol. Biol. 604, 213–238 (2010)

48

Fermin, D., Basrur, V., Yocum, A. K. & Nesvizhskii, A. I. Abacus: a computational tool for extracting and pre-processing spectral count data for label-free quantitative proteomic analysis. Proteomics 11, 1340–1345 (2011)

49

Beausoleil, S. A., Villén, J., Gerber, S. A., Rush, J. & Gygi, S. P. A probability-based approach for high-throughput protein phosphorylation analysis and site localization. Nat. Biotechnol. 24, 1285–1292 (2006)

50

Lee, S. B. et al. An ID2-dependent mechanism for VHL inactivation in cancer. Nature 529, 172–177 (2016)

51

Sonoda, Y. et al. Formation of intracranial tumors by genetically modified human astrocytes defines four pathways critical in the development of human anaplastic astrocytoma. Cancer Res. 61, 4956–4960 (2001)

52

Rutka, J. T. et al. Establishment and characterization of five cell lines derived from human malignant gliomas. Acta Neuropathol. 75, 92–103 (1987)

53

Malina, A. et al. Adapting CRISPR/Cas9 for functional genomics screens. Methods Enzymol. 546, 193–213 (2014)

54

Ran, F. A. et al. Genome engineering using the CRISPR–Cas9 system. Nat. Protoc. 8, 2281–2308 (2013)

55

Zhao, X. et al. The HECT-domain ubiquitin ligase Huwe1 controls neural differentiation and proliferation by destabilizing the N-Myc oncoprotein. Nat. Cell Biol. 10, 643–653 (2008)

56

Livak, K. J. & Schmittgen, T. D. Analysis of relative gene expression data using real-time quantitative PCR and the method. Methods 25, 402–408 (2001)

57

Ajaz, S., Czajka, A. & Malik, A. Accurate measurement of circulating mitochondrial DNA content from human blood samples using real-time quantitative PCR. Methods Mol. Biol. 1264, 117–131 (2015)

58

Vazquez, F. et al. PGC1α expression defines a subset of human melanoma tumors with increased mitochondrial capacity and resistance to oxidative stress. Cancer Cell 23, 287–301 (2013)

59

Subramanian, A. et al. Gene set enrichment analysis: a knowledge-based approach for interpreting genome-wide expression profiles. Proc. Natl Acad. Sci. USA 102, 15545–15550 (2005)

60

Lasorella, A., Rothschild, G., Yokota, Y., Russell, R. G. & Iavarone, A. Id2 mediates tumor initiation, proliferation, and angiogenesis in Rb mutant mice. Mol. Cell. Biol. 25, 3563–3574 (2005)

61

Zhu, S. et al. The bHLH repressor Deadpan regulates the self-renewal and specification of Drosophila larval neural stem cells independently of Notch. PLoS ONE 7, e46724 (2012)
Acknowledgements
We thank C. Scuoppo for donation of the pLCiG2 plasmid and support with the gRNA design, E. Chen for identification of PIN4 immunocomplexes and H. Li for high-content microscopy. This work was supported by NIH R01CA101644, U54CA193313 and R01CA131126 to A.L.; R01CA178546, U54CA193313, R01CA179044, R01CA190891, R01NS061776 and The Chemotherapy Foundation to A.I.; SickKids Garron Family Cancer Centre Pitblado Discovery and Ontario Institute for Cancer Research (OICR) Brain Translational Research Initiative to X.H.; American Brain Tumor Association (ABTA) and a Cancer Biology Taining Grant (T32CA009503) fellowship to V.Fra.; a NRF-2013R1A6A3A03063888 fellowship to S.B.L.; an Italian Association for Cancer Research (AIRC) fellowship to M.V.R.
Ethics declarations
Competing interests
A.I. and A.L. received research funds from AstraZeneca and Tahio Pharmaceutical Co., Ltd. M.S. is an investigator in two clinical trials using anti-FGFR therapies: AZD4547 (NCT02824133, funded by AstraZeneca) and TAS-120 (NCT02052778, funded by Tahio Pharmaceutical Co., Ltd). The remaining authors declare no competing financial interests.
Additional information
Reviewer Information Nature thanks R. Cagan, P. Mischel, M. Ochs and the other anonymous reviewer(s) for their contribution to the peer review of this work.
Publisher's note: Springer Nature remains neutral with regard to jurisdictional claims in published maps and institutional affiliations.
Extended data figures and tables
Supplementary information
This file contains Supplementary Text and Data, full legends for Supplementary Tables 1-9, Supplementary Figure 1 and the flow cytometry gating strategy. (PDF 4384 kb)
This file contains Supplementary Tables 1-9 – see the Supplementary Information document for full descriptions. (ZIP 8808 kb)
About this article
Cite this article
Frattini, V., Pagnotta, S., Tala et al. A metabolic function of FGFR3-TACC3 gene fusions in cancer. Nature 553, 222–227 (2018). https://doi.org/10.1038/nature25171
Received:

Accepted:

Published:

Issue Date:
Comments
By submitting a comment you agree to abide by our Terms and Community Guidelines. If you find something abusive or that does not comply with our terms or guidelines please flag it as inappropriate.