Abstract
Genomic sequencing has driven precision-based oncology therapy; however, the genetic drivers of many malignancies remain unknown or non-targetable, so alternative approaches to the identification of therapeutic leads are necessary. Ependymomas are chemotherapy-resistant brain tumours, which, despite genomic sequencing, lack effective molecular targets. Intracranial ependymomas are segregated on the basis of anatomical location (supratentorial region or posterior fossa) and further divided into distinct molecular subgroups that reflect differences in the age of onset, gender predominance and response to therapy1,2,3. The most common and aggressive subgroup, posterior fossa ependymoma group A (PF-EPN-A), occurs in young children and appears to lack recurrent somatic mutations2. Conversely, posterior fossa ependymoma group B (PF-EPN-B) tumours display frequent large-scale copy number gains and losses but have favourable clinical outcomes1,3. More than 70% of supratentorial ependymomas are defined by highly recurrent gene fusions in the NF-κB subunit gene RELA (ST-EPN-RELA), and a smaller number involve fusion of the gene encoding the transcriptional activator YAP1 (ST-EPN-YAP1)1,3,4. Subependymomas, a distinct histologic variant, can also be found within the supratetorial and posterior fossa compartments, and account for the majority of tumours in the molecular subgroups ST-EPN-SE and PF-EPN-SE. Here we describe mapping of active chromatin landscapes in 42 primary ependymomas in two non-overlapping primary ependymoma cohorts, with the goal of identifying essential super-enhancer-associated genes on which tumour cells depend. Enhancer regions revealed putative oncogenes, molecular targets and pathways; inhibition of these targets with small molecule inhibitors or short hairpin RNA diminished the proliferation of patient-derived neurospheres and increased survival in mouse models of ependymomas. Through profiling of transcriptional enhancers, our study provides a framework for target and drug discovery in other cancers that lack known genetic drivers and are therefore difficult to treat.
Relevant articles
Open Access articles citing this article.
Rachael G. Aubin

,

Emma C. Troisi

…

Pablo G. Camara

Nature Communications Open Access 08 July 2022

Ines Sturmlechner

,

Chance C. Sine

…

Jan M. van Deursen

Nature Communications Open Access 28 June 2022

Jonas E. Adolph

,

Gudrun Fleischhack

…

Stephan Tippelt

Journal of Neuro-Oncology Open Access 16 October 2021
Access options
Subscribe to Nature+
Get immediate online access to the entire Nature family of 50+ journals
Subscribe to Journal
Get full journal access for 1 year
$199.00
only $3.90 per issue
All prices are NET prices.
VAT will be added later in the checkout.
Tax calculation will be finalised during checkout.
Buy article
Get time limited or full article access on ReadCube.
$32.00
All prices are NET prices.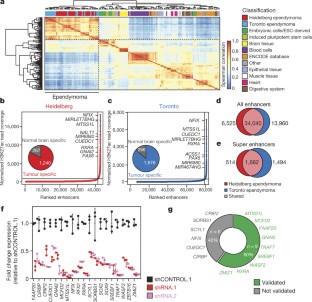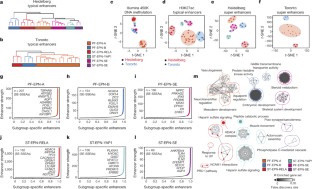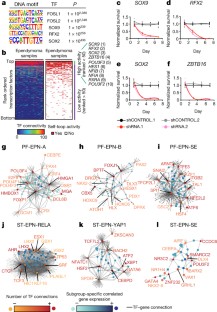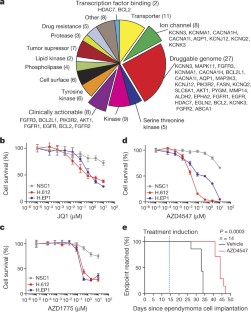 References
Pajtler, K. W. et al. Molecular classification of ependymal tumors across all CNS compartments, histopathological grades, and age groups. Cancer Cell 27, 728–743 (2015)

Mack, S. C. et al. Epigenomic alterations define lethal CIMP-positive ependymomas of infancy. Nature 506, 445–450 (2014)

Witt, H. et al. Delineation of two clinically and molecularly distinct subgroups of posterior fossa ependymoma. Cancer Cell 20, 143–157 (2011)

Parker, M. et al. C11orf95-RELA fusions drive oncogenic NF-κB signalling in ependymoma. Nature 506, 451–455 (2014)

Kundaje, A. et al. Integrative analysis of 111 reference human epigenomes. Nature 518, 317–330 (2015)

Hnisz, D. et al. Super-enhancers in the control of cell identity and disease. Cell 155, 934–947 (2013)

Hnisz, D. et al. Convergence of developmental and oncogenic signaling pathways at transcriptional super-enhancers. Mol. Cell 58, 362–370 (2015)

Lin, C. Y. et al. Active medulloblastoma enhancers reveal subgroup-specific cellular origins. Nature 530, 57–62 (2016)

Lovén, J. et al. Selective inhibition of tumor oncogenes by disruption of super-enhancers. Cell 153, 320–334 (2013)

Taylor, M. D. et al. Radial glia cells are candidate stem cells of ependymoma. Cancer Cell 8, 323–335 (2005)

Johnson, R. A. et al. Cross-species genomics matches driver mutations and cell compartments to model ependymoma. Nature 466, 632–636 (2010)

Mohankumar, K. M. et al. An in vivo screen identifies ependymoma oncogenes and tumor-suppressor genes. Nat. Genet. 47, 878–887 (2015)

Ramsey, S. A. et al. Genome-wide histone acetylation data improve prediction of mammalian transcription factor binding sites. Bioinformatics 26, 2071–2075 (2010)

Saint-André, V. et al. Models of human core transcriptional regulatory circuitries. Genome Res. 26, 385–396 (2016)

Pope, B. D. et al. Topologically associating domains are stable units of replication-timing regulation. Nature 515, 402–405 (2014)

Abedalthagafi, M. S. et al. Decreased FOXJ1 expression and its ciliogenesis programme in aggressive ependymoma and choroid plexus tumours. J. Pathol. 238, 584–597 (2016)

Griffith, M. et al. DGIdb: mining the druggable genome. Nat. Methods 10, 1209–1210 (2013)

Stein, L. D., Knoppers, B. M., Campbell, P., Getz, G. & Korbel, J. O. Data analysis: create a cloud commons. Nature 523, 149–151 (2015)

Dobin, A . et al. STAR: ultrafast universal RNA-seq aligner. Bioinformatics 29, 15–21 (2013)

Okonechnikov, K. et al. InFusion. Advancing discovery of fusion genes and chimeric transcripts from deep RNA-sequencing data. PLOS One 11, e0167417 (2016)

Hovestadt, V. et al. Decoding the regulatory landscape of medulloblastoma using DNA methylation sequencing. Nature 510, 537–541 (2014)

Reimand, J., Kull, M., Peterson, H., Hansen, J. & Vilo, J. g:Profiler–a web-based toolset for functional profiling of gene lists from large-scale experiments. Nucleic Acids Res. 35, W193–W200 (2007)

Lienhard, M. et al. QSEA-modelling of genome-wide DNA methylation from sequencing enrichment experiments. Nucleic Acids Res. 45, e44 (2016)

Matys, V. et al. TRANSFAC and its module TRANSCompel: transcriptional gene regulation in eukaryotes. Nucleic Acids Res. 34, D108–D110 (2006)

Johann, P. D. et al. Atypical teratoid/rhabdoid tumors are comprised of three epigenetic subgroups with distinct enhancer landscapes. Cancer Cell 29, 379–393 (2016)

Heinz, S. et al. Simple combinations of lineage-determining transcription factors prime cis-regulatory elements required for macrophage and B cell identities. Mol. Cell 38, 576–589 (2010)

Buenrostro, J. D., Giresi, P. G., Zaba, L. C., Chang, H. Y. & Greenleaf, W. J. Transposition of native chromatin for fast and sensitive epigenomic profiling of open chromatin, DNA-binding proteins and nucleosome position. Nat. Methods 10, 1213–1218 (2013)

Zhang, X. et al. Identification of focally amplified lineage-specific super-enhancers in human epithelial cancers. Nat. Genet. 48, 176–182 (2016)

Forbes, S. A. et al. COSMIC: somatic cancer genetics at high-resolution. Nucleic Acids Res. 45, D777–D783 (2017)

Subramanian, A. et al. Gene set enrichment analysis: a knowledge-based approach for interpreting genome-wide expression profiles. Proc. Natl Acad. Sci. USA 102, 15545–15550 (2005)
Acknowledgements
This work was supported by an Alex's Lemonade Stand Young Investigator Award (S.C.M.), The CIHR Banting Fellowship (S.C.M.), The Cancer Prevention Research Institute of Texas (S.C.M., RR170023), Sibylle Assmus Award for Neurooncology (K.W.P.), the DKFZ-MOST (Ministry of Science, Technology & Space, Israel) program in cancer research (H.W.), James S. McDonnell Foundation (J.N.R.) and NIH grants: CA154130 (J.N.R.), R01 CA169117 (J.N.R.), R01 CA171652 (J.N.R.), R01 NS087913 (J.N.R.) and R01 NS089272 (J.N.R.). R.C.G. is supported by NIH grants T32GM00725 and F30CA217065. M.D.T. is supported by The Garron Family Chair in Childhood Cancer Research, and grants from the Pediatric Brain Tumour Foundation, Grand Challenge Award from CureSearch for Children's Cancer, the National Institutes of Health (R01CA148699, R01CA159859), The Terry Fox Research Institute and Brainchild. M.D.T. is also supported by a Stand Up To Cancer St. Baldrick's Pediatric Dream Team Translational Research Grant (SU2C-AACR-DT1113). Stand Up To Cancer is a program of the Entertainment Industry Foundation administered by the American Association for Cancer Research. We thank S. Archer for technical writing and editing expertise. In addition, we thank the High-Throughput Sequencing Unit of the DKFZ Genomics and Proteomics Core Facility for technical support and acknowledge technical assistance by M. Mauermann, T. Wedig, A. Wittmann and L. Siebert. Additional support came from the ICGC DE-Mining grant (#01KU1505). We thank The Children's Hospital at Westmead (CHW) Tumour Bank for support of tumour samples (H.W.). We thank D. Schumick (Cleveland Clinic Art Department) and G. Hsu (https://www.hsubiomedicalvisual.com) for their assistance with creative artwork.
Ethics declarations
Competing interests
The authors declare no competing financial interests.
Additional information
Reviewer Information Nature thanks S. Pomeroy, W. Weiss and the other anonymous reviewer(s) for their contribution to the peer review of this work.
Publisher's note: Springer Nature remains neutral with regard to jurisdictional claims in published maps and institutional affiliations.
Extended data figures and tables
Supplementary information
This file contains supplementary tables 1 – 23. (XLSX 1371 kb)
About this article
Cite this article
Mack, S., Pajtler, K., Chavez, L. et al. Therapeutic targeting of ependymoma as informed by oncogenic enhancer profiling. Nature 553, 101–105 (2018). https://doi.org/10.1038/nature25169
Received:

Accepted:

Published:

Issue Date:

DOI: https://doi.org/10.1038/nature25169
Comments
By submitting a comment you agree to abide by our Terms and Community Guidelines. If you find something abusive or that does not comply with our terms or guidelines please flag it as inappropriate.