Abstract
Vesicular carriers transport proteins and lipids from one organelle to another, recognizing specific identifiers for the donor and acceptor membranes. Two important identifiers are phosphoinositides and GTP-bound GTPases, which provide well-defined but mutable labels. Phosphatidylinositol and its phosphorylated derivatives are present on the cytosolic faces of most cellular membranes1,2. Reversible phosphorylation of its headgroup produces seven distinct phosphoinositides. In endocytic traffic, phosphatidylinositol-4,5-biphosphate marks the plasma membrane, and phosphatidylinositol-3-phosphate and phosphatidylinositol-4-phosphate mark distinct endosomal compartments2,3. It is unknown what sequence of changes in lipid content confers on the vesicles their distinct identity at each intermediate step. Here we describe 'coincidence-detecting' sensors that selectively report the phosphoinositide composition of clathrin-associated structures, and the use of these sensors to follow the dynamics of phosphoinositide conversion during endocytosis. The membrane of an assembling coated pit, in equilibrium with the surrounding plasma membrane, contains phosphatidylinositol-4,5-biphosphate and a smaller amount of phosphatidylinositol-4-phosphate. Closure of the vesicle interrupts free exchange with the plasma membrane. A substantial burst of phosphatidylinositol-4-phosphate immediately after budding coincides with a burst of phosphatidylinositol-3-phosphate, distinct from any later encounter with the phosphatidylinositol-3-phosphate pool in early endosomes; phosphatidylinositol-3,4-biphosphate and the GTPase Rab5 then appear and remain as the uncoating vesicles mature into Rab5-positive endocytic intermediates. Our observations show that a cascade of molecular conversions, made possible by the separation of a vesicle from its parent membrane, can label membrane-traffic intermediates and determine their destinations.
Access options
Subscribe to Journal
Get full journal access for 1 year
$199.00
only $3.90 per issue
All prices are NET prices.
VAT will be added later in the checkout.
Rent or Buy article
Get time limited or full article access on ReadCube.
from$8.99
All prices are NET prices.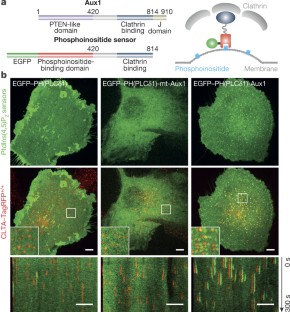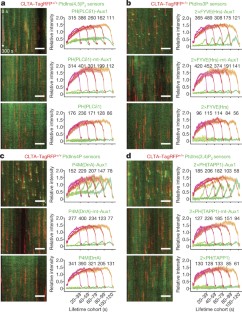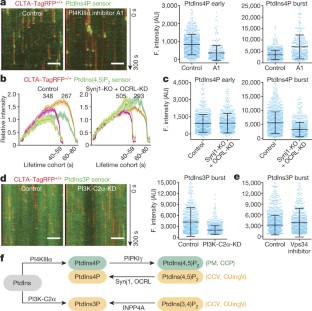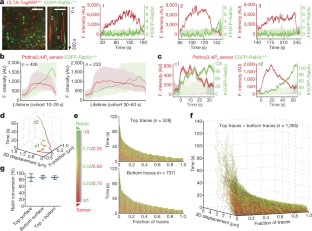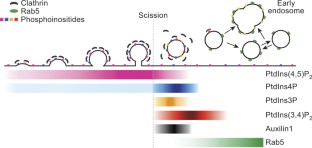 References
1

Vance, J. E. & Steenbergen, R. Metabolism and functions of phosphatidylserine. Prog. Lipid Res. 44, 207–234 (2005)

2

Balla, T. Phosphoinositides: tiny lipids with giant impact on cell regulation. Physiol. Rev. 93, 1019–1137 (2013)

3

Di Paolo, G. & De Camilli, P. Phosphoinositides in cell regulation and membrane dynamics. Nature 443, 651–657 (2006)

4

Massol, R. H., Boll, W., Griffin, A. M. & Kirchhausen, T. A burst of auxilin recruitment determines the onset of clathrin-coated vesicle uncoating. Proc. Natl Acad. Sci. USA 103, 10265–10270 (2006)

5

Mills, I. G. et al. EpsinR: an AP1/clathrin interacting protein involved in vesicle trafficking. J. Cell Biol. 160, 213–222 (2003)

6

Messa, M. et al. Epsin deficiency impairs endocytosis by stalling the actin-dependent invagination of endocytic clathrin-coated pits. eLife 3, e03311 (2014)

7

Lee, D. W., Wu, X., Eisenberg, E. & Greene, L. E. Recruitment dynamics of GAK and auxilin to clathrin-coated pits during endocytosis. J. Cell Sci. 119, 3502–3512 (2006)

8

Guan, R., Dai, H., Harrison, S. C. & Kirchhausen, T. Structure of the PTEN-like region of auxilin, a detector of clathrin-coated vesicle budding. Structure 18, 1191–1198 (2010)

9

Fotin, A. et al. Structure of an auxilin-bound clathrin coat and its implications for the mechanism of uncoating. Nature 432, 649–653 (2004)

10

Aguet, F., Antonescu, C. N., Mettlen, M., Schmid, S. L. & Danuser, G. Advances in analysis of low signal-to-noise images link dynamin and AP2 to the functions of an endocytic checkpoint. Dev. Cell 26, 279–291 (2013)

11

Chen, B. C. et al. Lattice light-sheet microscopy: imaging molecules to embryos at high spatiotemporal resolution. Science 346, 1257998 (2014)

12

Várnai, P. & Balla, T. Visualization of phosphoinositides that bind pleckstrin homology domains: calcium- and agonist-induced dynamic changes and relationship to myo-[3H]inositol-labeled phosphoinositide pools. J. Cell Biol. 143, 501–510 (1998)

13

Temmerman, K. et al. A direct role for phosphatidylinositol-4,5-bisphosphate in unconventional secretion of fibroblast growth factor 2. Traffic 9, 1204–1217 (2008)

14

Idevall-Hagren, O., Dickson, E. J., Hille, B., Toomre, D. K. & De Camilli, P. Optogenetic control of phosphoinositide metabolism. Proc. Natl Acad. Sci. USA 109, E2316–E2323 (2012)

15

Boucrot, E., Saffarian, S., Massol, R., Kirchhausen, T. & Ehrlich, M. Role of lipids and actin in the formation of clathrin-coated pits. Exp. Cell Res. 312, 4036–4048 (2006)

16

Zoncu, R. et al. Loss of endocytic clathrin-coated pits upon acute depletion of phosphatidylinositol 4,5-bisphosphate. Proc. Natl Acad. Sci. USA 104, 3793–3798 (2007)

17

Gillooly, D. J. et al. Localization of phosphatidylinositol 3-phosphate in yeast and mammalian cells. EMBO J. 19, 4577–4588 (2000)

18

Hammond, G. R., Machner, M. P. & Balla, T. A novel probe for phosphatidylinositol 4-phosphate reveals multiple pools beyond the Golgi. J. Cell Biol. 205, 113–126 (2014)

19

Zhu, Y. et al. Structural mechanism of host Rab1 activation by the bifunctional Legionella type IV effector SidM/DrrA. Proc. Natl Acad. Sci. USA 107, 4699–4704 (2010)

20

Posor, Y. et al. Spatiotemporal control of endocytosis by phosphatidylinositol-3,4-bisphosphate. Nature 499, 233–237 (2013)

21

Cocucci, E., Gaudin, R. & Kirchhausen, T. Dynamin recruitment and membrane scission at the neck of a clathrin-coated pit. Mol. Biol. Cell 25, 3595–3609 (2014)

22

Schmid, S. L. & Frolov, V. A. Dynamin: functional design of a membrane fission catalyst. Annu. Rev. Cell Dev. Biol. 27, 79–105 (2011)

23

Oikawa, T., Itoh, T. & Takenawa, T. Sequential signals toward podosome formation in NIH-src cells. J. Cell Biol. 182, 157–169 (2008)

24

De Matteis, M. A., Staiano, L., Emma, F. & Devuyst, O. The 5-phosphatase OCRL in Lowe syndrome and Dent disease 2. Nat. Rev. Nephrol. 13, 455–470 (2017)

25

Cremona, O. et al. Essential role of phosphoinositide metabolism in synaptic vesicle recycling. Cell 99, 179–188 (1999)

26

Villaseñor, R., Kalaidzidis, Y. & Zerial, M. Signal processing by the endosomal system. Curr. Opin. Cell Biol. 39, 53–60 (2016)

27

Chou, Y. Y. et al. Identification and characterization of a novel broad-spectrum virus entry inhibitor. J. Virol. 90, 4494–4510 (2016)

28

Bojjireddy, N. et al. Pharmacological and genetic targeting of the PI4KA enzyme reveals its important role in maintaining plasma membrane phosphatidylinositol 4-phosphate and phosphatidylinositol 4,5-bisphosphate levels. J. Biol. Chem. 289, 6120–6132 (2014)

29

Dowdle, W. E. et al. Selective VPS34 inhibitor blocks autophagy and uncovers a role for NCOA4 in ferritin degradation and iron homeostasis in vivo. Nat. Cell Biol. 16, 1069–1079 (2014)

30

Bago, R. et al. Characterization of VPS34-IN1, a selective inhibitor of Vps34, reveals that the phosphatidylinositol 3-phosphate-binding SGK3 protein kinase is a downstream target of class III phosphoinositide 3-kinase. Biochem. J. 463, 413–427 (2014)

31

Grimm, J. B. et al. A general method to improve fluorophores for live-cell and single-molecule microscopy. Nat. Methods 12, 244–250 (2015)

32

Gozani, O. et al. The PHD finger of the chromatin-associated protein ING2 functions as a nuclear phosphoinositide receptor. Cell 114, 99–111 (2003)

33

Várnai, P., Rother, K. I. & Balla, T. Phosphatidylinositol 3-kinase-dependent membrane association of the Bruton's tyrosine kinase pleckstrin homology domain visualized in single living cells. J. Biol. Chem. 274, 10983–10989 (1999)

34

Yoshioka, K. et al. Endothelial PI3K-C2α, a class II PI3K, has an essential role in angiogenesis and vascular barrier function. Nat. Med. 18, 1560–1569 (2012)

35

Cocucci, E., Aguet, F., Boulant, S. & Kirchhausen, T. The first five seconds in the life of a clathrin-coated pit. Cell 150, 495–507 (2012)

36

Lawe, D. C., Patki, V., Heller-Harrison, R., Lambright, D. & Corvera, S. The FYVE domain of early endosome antigen 1 is required for both phosphatidylinositol 3-phosphate and Rab5 binding. Critical role of this dual interaction for endosomal localization. J. Biol. Chem. 275, 3699–3705 (2000)

37

Forozan, F. et al. Molecular cytogenetic analysis of 11 new breast cancer cell lines. Br. J. Cancer 81, 1328–1334 (1999)

38

Nández, R. et al. A role of OCRL in clathrin-coated pit dynamics and uncoating revealed by studies of Lowe syndrome cells. eLife 3, e02975 (2014)

39

Suchy, S. F. & Nussbaum, R. L. The deficiency of PIP2 5-phosphatase in Lowe syndrome affects actin polymerization. Am. J. Hum. Genet. 71, 1420–1427 (2002)

40

Ran, F. A. et al. Genome engineering using the CRISPR–Cas9 system. Nat. Protocols 8, 2281–2308 (2013)

41

Sanjana, N. E. et al. A transcription activator-like effector toolbox for genome engineering. Nat. Protocols 7, 171–192 (2012)

42

Shalem, O. et al. Genome-scale CRISPR–Cas9 knockout screening in human cells. Science 343, 84–87 (2014)

43

Kasai, R. S. et al. Full characterization of GPCR monomer–dimer dynamic equilibrium by single molecule imaging. J. Cell Biol. 192, 463–480 (2011)

44

Zhang, K., Chowdary, P. D. & Cui, B. Visualizing directional Rab7 and TrkA cotrafficking in axons by pTIRF microscopy. Methods Mol. Biol. 1298, 319–329 (2015)

45

Kadlecova, Z. et al. Regulation of clathrin-mediated endocytosis by hierarchical allosteric activation of AP2. J. Cell Biol. 216, 167–179 (2017)

46

Aguet, F. et al. Membrane dynamics of dividing cells imaged by lattice light-sheet microscopy. Mol. Biol. Cell 27, 3418–3435 (2016)

47

Cohen, J. Statistical Power Analysis for the Behavioral Sciences 2nd edn (L. Erlbaum Associates, 1988)
Acknowledgements
We thank D. Alessi, T. Balla, P. De Camilli, O. Gozani, L. Lavis, H. Stenmark, T. Takenawa and Y. Takuwa for reagents; J. R. Houser for maintaining the TIRF and spinning-disk microscopes; J. England for advice and support; members of our laboratory for help and encouragement; and in particular S. C. Harrison for discussions and editorial help. R.M. was supported by a National Defense Science and Engineering Graduate (NDSEG) Fellowship from the DoD Air Force Office of Scientific Research and E.S. by the National Natural Science Foundation of China (31770900, 31270884, 30900268), the Beijing Natural Science Foundation (5122026, 5092017) and the Youth Innovation Promotion Association of the Chinese Academy of Sciences (2011087). S.U. is a Fellow at the Image and Data Analysis core at Harvard Medical School and thanks H. Elliott and D. Richmond for discussions, and acknowledges the MATLAB code repository received from the Computational Image Analysis Workshop supported by NIH grant GM103792. T.K. acknowledges support from the Janelia Visitor Program and thanks E. Betzig, E. Marino, T. Liu and W. Legant for help and advice in constructing and installing the lattice light-sheet microscope. Construction of the lattice light-sheet microscope was supported by grants from Biogen and Ionis Pharmaceuticals to T.K. The research was supported by NIH grant NIH R01 GM075252 to T.K.
Ethics declarations
Competing interests
The authors declare no competing financial interests.
Additional information
Publisher's note: Springer Nature remains neutral with regard to jurisdictional claims in published maps and institutional affiliations.
Extended data figures and tables
Supplementary information
About this article
Cite this article
He, K., Marsland III, R., Upadhyayula, S. et al. Dynamics of phosphoinositide conversion in clathrin-mediated endocytic traffic. Nature 552, 410–414 (2017). https://doi.org/10.1038/nature25146
Received:

Accepted:

Published:

Issue Date:
Comments
By submitting a comment you agree to abide by our Terms and Community Guidelines. If you find something abusive or that does not comply with our terms or guidelines please flag it as inappropriate.