Abstract
Although 'active' surfactants, which are responsive to individual external stimuli such as temperature1, electric2,3 or magnetic4 fields, light5,6, redox processes6,7 or chemical agents8, are well known, it would be interesting to combine several of these properties within one surfactant species. Such multi-responsive surfactants could provide ways of manipulating individual droplets and possibly assembling them into larger systems of dynamic reactors9,10. Here we describe surfactants based on functionalized nanoparticle dimers that combine all of these and several other characteristics. These surfactants and therefore the droplets that they cover are simultaneously addressable by magnetic, optical and electric fields. As a result, the surfactant-covered droplets can be assembled into various hierarchical structures, including dynamic ones, in which light powers the rapid rotation of the droplets. Such rotating droplets can transfer mechanical torques to their non-nearest neighbours, thus acting like systems of mechanical gears. Furthermore, droplets of different types can be merged by applying electric fields and, owing to interfacial jamming11,12, can form complex, non-spherical, 'patchy' structures with different surface regions covered with different surfactants. In systems of droplets that carry different chemicals, combinations of multiple stimuli can be used to control the orientations of the droplets, inter-droplet transport, mixing of contents and, ultimately, sequences of chemical reactions. Overall, the multi-responsive active surfactants that we describe provide an unprecedented level of flexibility with which liquid droplets can be manipulated, assembled and reacted.
Relevant articles
Open Access articles citing this article.
Enzo Bomal

,

Paul Grandgeorge

…

Holger Frauenrath

Nature Communications Open Access 23 August 2022

Youngsun Kim

,

Hongru Ding

&

Yuebing Zheng

Nature Communications Open Access 29 June 2022

Mohammad Suman Chowdhury

,

Xingcai Zhang

…

Rainer Haag

Nano-Micro Letters Open Access 19 June 2021
Access options
Subscribe to Nature+
Get immediate online access to Nature and 55 other Nature journal
Subscribe to Journal
Get full journal access for 1 year
$199.00
only $3.90 per issue
All prices are NET prices.
VAT will be added later in the checkout.
Tax calculation will be finalised during checkout.
Buy article
Get time limited or full article access on ReadCube.
$32.00
All prices are NET prices.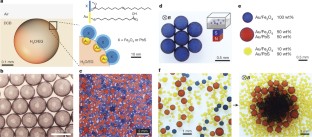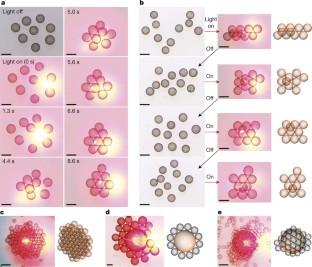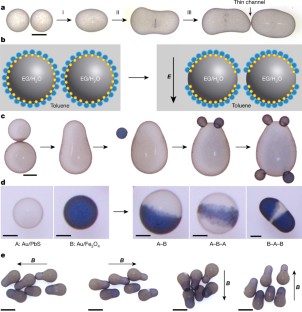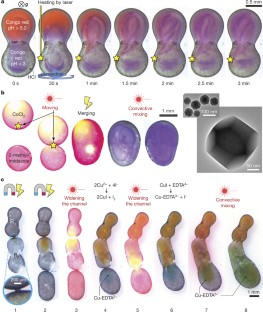 References
Meguro, K., Ueno, M. & Eumi, K. Nonionic Surfactants: Physical Chemistry 927–970 (Marcel Dekker, 1987)

Ha, J. & Yang, S. Effect of nonionic surfactant on the deformation and breakup of a drop in an electric field. J. Colloid Interface Sci. 206, 195–204 (1998)

Prasad, M., Stubbe, F., Beunis, F. & Neyts, K. Different types of charged-inverse micelles in nonpolar media. Langmuir 32, 5796–5801 (2016)

Brown, P. et al. Magnetic control over liquid surface properties with responsive surfactants. Angew. Chem. Int. Ed. 51, 2414–2416 (2012)

Eastoe, J. & Vesperinas, A. Self-assembly of light-sensitive surfactants. Soft Matter 1, 338–347 (2005)

Rosslee, C. & Abbott, N. L. Active control of interfacial properties. Curr. Opin. Colloid Interface Sci. 5, 81–87 (2000)

Gallardo, B. S. et al. Electrochemical principles for active control of liquids on submillimeter scales. Science 283, 57–60 (1999)

Liu, Y., Jessop, P. G., Cunningham, M., Eckert, C. A. & Liotta, C. L. Switchable surfactants. Science 313, 958–960 (2006)

Maglia, G. et al. Droplet networks with incorporated protein diodes show collective properties. Nat. Nanotechnol. 4, 437–440 (2009)

Villar, G., Graham, A. D. & Bayley, H. A tissue-like printed material. Science 340, 48–52 (2013)

Cui, M., Emrick, T. & Russell, T. Stabilizing liquid drops in nonequilibrium shapes by the interfacial jamming of nanoparticles. Science 342, 460–463 (2013)

Subramanian, A. B., Abkarian, M., Mahadevan, L. & Stone, H. A. Colloid science: non-spherical bubbles. Nature 438, 930 (2005)

Wu, B., Zhang, H., Chen, C., Lin, S. & Zheng, N. Interfacial activation of catalytically inert Au (6.7 nm)-Fe3O4 dumbbell nanoparticles for CO oxidation. Nano Res. 2, 975–983 (2009)

Shi, W. et al. A general approach to binary and ternary hybrid nanocrystals. Nano Lett. 6, 875–881 (2006)

Griffin, W. C. Classification of surface-active agents by "HLB". J. Soc. Cosmet. Chem. 1, 311–326 (1949)

Yu, H. et al. Dumbbell-like bifunctional Au−Fe3O4 nanoparticles. Nano Lett. 5, 379–382 (2005)

Vanapalli, S. A. & Coupland, J. N. Emulsions under shear—the formation and properties of partially coalesced lipid structures. Food Hydrocoll. 15, 507–512 (2001)

Shardt, O., Derksen, J. J. & Mitra, S. K. Simulations of droplet coalescence in simple shear flow. Langmuir 29, 6201–6212 (2013)

Nudurupati, S., Janjua, M., Singh, P. & Aubry, N. Effect of parameters on redistribution and removal of particles from drop surfaces. Soft Matter 6, 1157–1169 (2010)

Jiang, S. et al. Janus particle synthesis and assembly. Adv. Mater. 22, 1060–1071 (2010)

Glotzer, S. C. & Solomon, M. J. Anisotropy of building blocks and their assembly into complex structures. Nat. Mater. 6, 557–562 (2007)

Dommersnes, P. et al. Active structuring of colloidal armour on liquid drops. Nat. Commun. 4, 2066 (2013)

Rozynek, Z., Mikkelsen, A., Dommersnes, P. & Fossum, J. O. Electroformation of Janus and patchy capsules. Nat. Commun. 5, 3945 (2014)

Pontani, L. L., Haase, M. F., Raczkowska, I. & Brujic, J. Immiscible lipids control the morphology of patchy emulsions. Soft Matter 9, 7150–7157 (2013)

Gross, A. F., Sherman, E. & Vajo, J. J. Aqueous room temperature synthesis of cobalt and zinc sodalite zeolitic imidizolate frameworks. Dalton Trans. 41, 5458–5460 (2012)

Lach, S., Yoon, S. M. & Grzybowski, B. A. Tactic, reactive and functional droplets outside of equilibrium. Chem. Soc. Rev. 45, 4766–4796 (2016)

Zarzar, L. D. et al. Dynamically reconfigurable complex emulsions via tunable interfacial tensions. Nature 518, 520–524 (2015)

Davies Wykes, M. S. et al. Dynamic self-assembly of microscale rotors and swimmers. Soft Matter 12, 4584–4589 (2016)

Paven, M. et al. Light-driven delivery and release of materials using liquid marbles. Adv. Funct. Mater. 26, 3199–3206 (2016)
Acknowledgements
We acknowledge support from the Institute for Basic Science Korea, project code IBS-R020-D1.
Ethics declarations
Competing interests
The authors declare no competing financial interests.
Additional information
Reviewer Information Nature thanks W. Kunz and the other anonymous reviewer(s) for their contribution to the peer review of this work.
Publisher's note: Springer Nature remains neutral with regard to jurisdictional claims in published maps and institutional affiliations.
Supplementary information
About this article
Cite this article
Yang, Z., Wei, J., Sobolev, Y. et al. Systems of mechanized and reactive droplets powered by multi-responsive surfactants. Nature 553, 313–318 (2018). https://doi.org/10.1038/nature25137
Received:

Accepted:

Published:

Issue Date:

DOI: https://doi.org/10.1038/nature25137
Comments
By submitting a comment you agree to abide by our Terms and Community Guidelines. If you find something abusive or that does not comply with our terms or guidelines please flag it as inappropriate.