Abstract
It has been hypothesized that a condensed nervous system with a medial ventral nerve cord is an ancestral character of Bilateria. The presence of similar dorsoventral molecular patterns along the nerve cords of vertebrates, flies, and an annelid has been interpreted as support for this scenario. Whether these similarities are generally found across the diversity of bilaterian neuroanatomies is unclear, and thus the evolutionary history of the nervous system is still contentious. Here we study representatives of Xenacoelomorpha, Rotifera, Nemertea, Brachiopoda, and Annelida to assess the conservation of the dorsoventral nerve cord patterning. None of the studied species show a conserved dorsoventral molecular regionalization of their nerve cords, not even the annelid Owenia fusiformis, whose trunk neuroanatomy parallels that of vertebrates and flies. Our findings restrict the use of molecular patterns to explain nervous system evolution, and suggest that the similarities in dorsoventral patterning and trunk neuroanatomies evolved independently in Bilateria.
Relevant articles
Open Access articles citing this article.
Biology & Philosophy Open Access 11 September 2022

Biology & Philosophy Open Access 10 September 2022

Biology & Philosophy Open Access 23 June 2022
Access options
Subscribe to Nature+
Get immediate online access to Nature and 55 other Nature journal
Subscribe to Journal
Get full journal access for 1 year
$199.00
only $3.90 per issue
All prices are NET prices.
VAT will be added later in the checkout.
Tax calculation will be finalised during checkout.
Buy article
Get time limited or full article access on ReadCube.
$32.00
All prices are NET prices.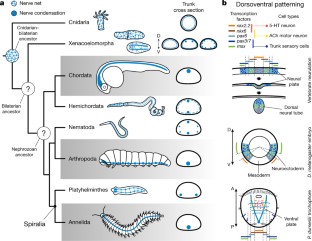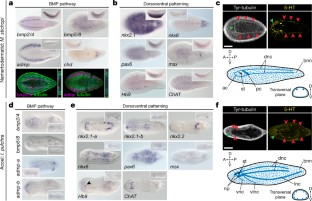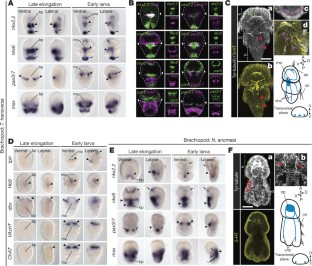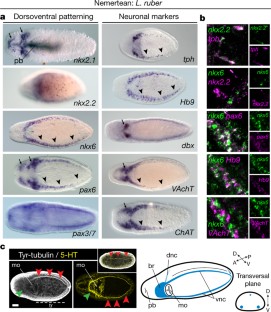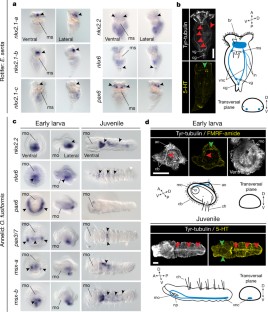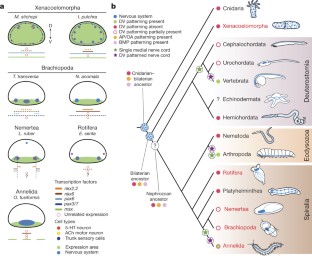 References
Schmidt-Rhaesa, A ., Harzsch, S. & Purschke, G. Structure and Evolution of Invertebrate Nervous Systems (Oxford Univ. Press, 2016)

Arendt, D., Tosches, M. A. & Marlow, H. From nerve net to nerve ring, nerve cord and brain—evolution of the nervous system. Nat. Rev. Neurosci. 17, 61–72 (2016)

Hejnol, A. & Pang, K. Xenacoelomorpha's significance for understanding bilaterian evolution. Curr. Opin. Genet. Dev. 39, 48–54 (2016)

Arendt, D., Denes, A. S., Jékely, G. & Tessmar-Raible, K. The evolution of nervous system centralization. Phil. Trans. R. Soc. B 363, 1523–1528 (2008)

Hejnol, A. & Lowe, C. J. Embracing the comparative approach: how robust phylogenies and broader developmental sampling impacts the understanding of nervous system evolution. Phil. Trans. R. Soc. B 370, 20150045 (2015)

Holland, N. D. Early central nervous system evolution: an era of skin brains? Nat. Rev. Neurosci. 4, 617–627 (2003)

Holland, L. Z. et al. Evolution of bilaterian central nervous systems: a single origin? Evodevo 4, 27 (2013)

Pani, A. M. et al. Ancient deuterostome origins of vertebrate brain signalling centres. Nature 483, 289–294 (2012)

Mizutani, C. M. & Bier, E. EvoD/Vo: the origins of BMP signalling in the neuroectoderm. Nat. Rev. Genet. 9, 663–677 (2008)

Lowe, C. J. et al. Anteroposterior patterning in hemichordates and the origins of the chordate nervous system. Cell 113, 853–865 (2003)

Lowe, C. J. et al. Dorsoventral patterning in hemichordates: insights into early chordate evolution. PLoS Biol. 4, e291 (2006)

Denes, A. S. et al. Molecular architecture of annelid nerve cord supports common origin of nervous system centralization in Bilateria. Cell 129, 277–288 (2007)

Arendt, D. & Nübler-Jung, K. Comparison of early nerve cord development in insects and vertebrates. Development 126, 2309–2325 (1999)

Kaul-Strehlow, S., Urata, M., Praher, D. & Wanninger, A. Neuronal patterning of the tubular collar cord is highly conserved among enteropneusts but dissimilar to the chordate neural tube. Sci. Rep. 7, 7003 (2017)

Okkema, P. G., Ha, E., Haun, C., Chen, W. & Fire, A. The Caenorhabditis elegans NK-2 homeobox gene ceh-22 activates pharyngeal muscle gene expression in combination with pha-1 and is required for normal pharyngeal development. Development 124, 3965–3973 (1997)

Li, Y. et al. Conserved gene regulatory module specifies lateral neural borders across bilaterians. Proc. Natl Acad. Sci. USA 114, E6352–E6360 (2017)

Scimone, M. L., Kravarik, K. M., Lapan, S. W. & Reddien, P. W. Neoblast specialization in regeneration of the planarian Schmidtea mediterranea. Stem Cell Reports 3, 339–352 (2014)

Cannon, J. T. et al. Xenacoelomorpha is the sister group to Nephrozoa. Nature 530, 89–93 (2016)

Ruiz-Trillo, I., Riutort, M., Littlewood, D. T. J., Herniou, E. A. & Baguña, J. Acoel flatworms: earliest extant bilaterian metazoans, not members of Platyhelminthes. Science 283, 1919–1923 (1999)

Srivastava, M., Mazza-Curll, K. L., van Wolfswinkel, J. C. & Reddien, P. W. Whole-body acoel regeneration is controlled by Wnt and Bmp–Admp signaling. Curr. Biol. 24, 1107–1113 (2014)

Hejnol, A. & Martindale, M. Q. Coordinated spatial and temporal expression of Hox genes during embryogenesis in the acoel Convolutriloba longifissura. BMC Biol. 7, 65 (2009)

Moreno, E., De Mulder, K., Salvenmoser, W., Ladurner, P. & Martínez, P. Inferring the ancestral function of the posterior Hox gene within the Bilateria: controlling the maintenance of reproductive structures, the musculature and the nervous system in the acoel flatworm Isodiametra pulchra. Evol. Dev. 12, 258–266 (2010)

De Robertis, E. M. & Sasai, Y. A common plan for dorsoventral patterning in Bilateria. Nature 380, 37–40 (1996)

Layden, M. J., Rentzsch, F. & Röttinger, E. The rise of the starlet sea anemone Nematostella vectensis as a model system to investigate development and regeneration. Wiley Interdiscip. Rev. Dev. Biol. 5, 408–428 (2016)

Raikova, O. I., Meyer-Wachsmuth, I. & Jondelius, U. The plastic nervous system of Nemertodermatida. Org. Divers. Evol. 16, 85–104 (2016)

Raikova, O. I., Reuter, M., Jondelius, U. & Gustafsson, M. K. S. An immunocytochemical and ultrastructural study of the nervous and muscular systems of Xenoturbella westbladi (Bilateria inc. sed.). Zoomorphology 120, 107–118 (2000)

Achatz, J. G. & Martinez, P. The nervous system of Isodiametra pulchra (Acoela) with a discussion on the neuroanatomy of the Xenacoelomorpha and its evolutionary implications. Front. Zool. 9, 27 (2012)

Børve, A. & Hejnol, A. Development and juvenile anatomy of the nemertodermatid Meara stichopi (Bock) Westblad 1949 (Acoelomorpha). Front. Zool. 11, 50 (2014)

Struck, T. H. et al. Platyzoan paraphyly based on phylogenomic data supports a noncoelomate ancestry of Spiralia. Mol. Biol. Evol. 31, 1833–1849 (2014)

Martín-Durán, J. M., Passamaneck, Y. J., Martindale, M. Q. & Hejnol, A. The developmental basis for the recurrent evolution of deuterostomy and protostomy. Nat. Ecol. Evol. 1, 0005 (2016)

Vellutini, B. C. & Hejnol, A. Expression of segment polarity genes in brachiopods supports a non-segmental ancestral role of engrailed for bilaterians. Sci. Rep. 6, 32387 (2016)

Cornell, R. A. & Ohlen, T. V. Vnd/nkx, ind/gsh, and msh/msx: conserved regulators of dorsoventral neural patterning? Curr. Opin. Neurobiol. 10, 63–71 (2000)

Weigert, A. et al. Illuminating the base of the annelid tree using transcriptomics. Mol. Biol. Evol. 31, 1391–1401 (2014)

Vergara, H. M. et al. Whole-organism cellular gene-expression atlas reveals conserved cell types in the ventral nerve cord of Platynereis dumerilii. Proc. Natl Acad. Sci. USA 114, 5878–5885 (2017)

Helm, C., Vöcking, O., Kourtesis, I. & Hausen, H. Owenia fusiformis – a basally branching annelid suitable for studying ancestral features of annelid neural development. BMC Evol. Biol. 16, 129 (2016)

Albuixech-Crespo, B. et al. Molecular regionalization of the developing amphioxus neural tube challenges major partitions of the vertebrate brain. PLoS Biol. 15, e2001573 (2017)

Stolfi, A., Ryan, K., Meinertzhagen, I. A. & Christiaen, L. Migratory neuronal progenitors arise from the neural plate borders in tunicates. Nature 527, 371–374 (2015)

Winterbottom, E. F., Illes, J. C., Faas, L. & Isaacs, H. V. Conserved and novel roles for the Gsh2 transcription factor in primary neurogenesis. Development 137, 2623–2631 (2010)

True, J. R. & Haag, E. S. Developmental system drift and flexibility in evolutionary trajectories. Evol. Dev. 3, 109–119 (2001)

Cheesman, S. E., Layden, M. J., Von Ohlen, T., Doe, C. Q. & Eisen, J. S. Zebrafish and fly Nkx6 proteins have similar CNS expression patterns and regulate motoneuron formation. Development 131, 5221–5232 (2004)

Goridis, C. & Rohrer, H. Specification of catecholaminergic and serotonergic neurons. Nat. Rev. Neurosci. 3, 531–541 (2002)

Peter, I. S. & Davidson, E. H. Evolution of gene regulatory networks controlling body plan development. Cell 144, 970–985 (2011)

De Mulder, K. et al. Characterization of the stem cell system of the acoel Isodiametra pulchra. BMC Dev. Biol. 9, 69 (2009)

Martín-Durán, J. M., Vellutini, B. C. & Hejnol, A. Evolution and development of the adelphophagic, intracapsular Schmidt's larva of the nemertean Lineus ruber. Evodevo 6, 28 (2015)

Freeman, G. Regional specification during embryogenesis in the articulate brachiopod Terebratalia. Dev. Biol. 160, 196–213 (1993)

Freeman, G. Regional specification during embryogenesis in the craniiform brachiopod Crania anomala. Dev. Biol. 227, 219–238 (2000)

Smart, T. I. & Von Dassow, G. Unusual development of the mitraria larva in the polychaete Owenia collaris. Biol. Bull. 217, 253–268 (2009)

Stamatakis, A. RAxML version 8: a tool for phylogenetic analysis and post-analysis of large phylogenies. Bioinformatics 30, 1312–1313 (2014)

Katoh, K. & Standley, D. M. MAFFT multiple sequence alignment software version 7: improvements in performance and usability. Mol. Biol. Evol. 30, 772–780 (2013)

Talavera, G. & Castresana, J. Improvement of phylogenies after removing divergent and ambiguously aligned blocks from protein sequence alignments. Syst. Biol. 56, 564–577 (2007)
Acknowledgements
We thank the staff at the marine stations, current and former members of the Hejnol laboratory, and C. Dunn. The Sars Core Budget, the FP7-PEOPLE-2009-RG, and the European Research Council Community's Framework Program Horizon 2020 to A.H. funded this work. A National Science Foundation International Research Fellowship Program Postdoctoral Fellowship funded K.P. The Carlsberg Foundation funded H.S.L. The Swedish Research Council funded U.J. and J.T.C.
Ethics declarations
Competing interests
The authors declare no competing financial interests.
Additional information
Publisher's note: Springer Nature remains neutral with regard to jurisdictional claims in published maps and institutional affiliations.
Extended data figures and tables
Supplementary information
This file contains supplementary figure 1 - orthology analyses, supplementary table 1 - gene complement in M. stichopi and I. pulchra, supplementary table 2 - referenced summary of the expression of dorsoventral transcription factors in major lineages of Bilateria, and supplementary references. (PDF 15575 kb)
About this article
Cite this article
Martín-Durán, J., Pang, K., Børve, A. et al. Convergent evolution of bilaterian nerve cords. Nature 553, 45–50 (2018). https://doi.org/10.1038/nature25030
Received:

Accepted:

Published:

Issue Date:

DOI: https://doi.org/10.1038/nature25030
Comments
By submitting a comment you agree to abide by our Terms and Community Guidelines. If you find something abusive or that does not comply with our terms or guidelines please flag it as inappropriate.