Abstract
TRPM4 is a calcium-activated, phosphatidylinositol-4,5-bisphosphate (PtdIns(4,5)P2) -modulated, non-selective cation channel that belongs to the family of melastatin-related transient receptor potential (TRPM) channels. Here we present the electron cryo-microscopy structures of the mouse TRPM4 channel with and without ATP. TRPM4 consists of multiple transmembrane and cytosolic domains, which assemble into a three-tiered architecture. The N-terminal nucleotide-binding domain and the C-terminal coiled-coil participate in the tetrameric assembly of the channel; ATP binds at the nucleotide-binding domain and inhibits channel activity. TRPM4 has an exceptionally wide filter but is only permeable to monovalent cations; filter residue Gln973 is essential in defining monovalent selectivity. The S1–S4 domain and the post-S6 TRP domain form the central gating apparatus that probably houses the Ca2+- and PtdIns(4,5)P2-binding sites. These structures provide an essential starting point for elucidating the complex gating mechanisms of TRPM4 and reveal the molecular architecture of the TRPM family.
Relevant articles
Open Access articles citing this article.
Masayuki X. Mori

,

Ryo Okada

…

Ryuji Inoue

Scientific Reports Open Access 24 June 2022

Cheng Zhao

,

Yuan Xie

…

Jiangtao Guo

Nature Communications Open Access 03 June 2022

Eva Schmidt

,

Chamali Narangoda

…

Vladimir Chubanov

Cellular and Molecular Life Sciences Open Access 07 April 2022
Access options
Subscribe to Nature+
Get immediate online access to Nature and 55 other Nature journal
Subscribe to Journal
Get full journal access for 1 year
$199.00
only $3.90 per issue
All prices are NET prices.
VAT will be added later in the checkout.
Tax calculation will be finalised during checkout.
Buy article
Get time limited or full article access on ReadCube.
$32.00
All prices are NET prices.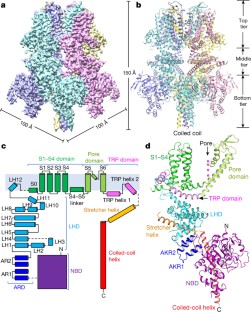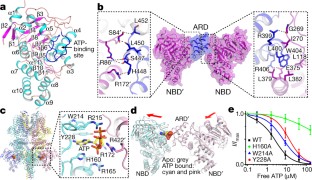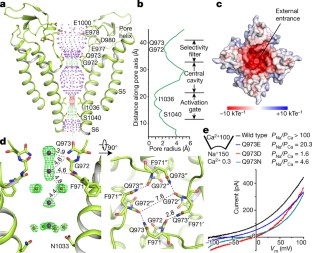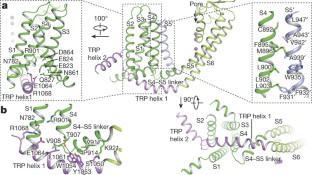 References
Fleig, A. & Penner, R. The TRPM ion channel subfamily: molecular, biophysical and functional features. Trends Pharmacol. Sci. 25, 633–639 (2004)

Ramsey, I. S., Delling, M. & Clapham, D. E. An introduction to TRP channels. Annu. Rev. Physiol. 68, 619–647 (2006)

Venkatachalam, K. & Montell, C. TRP channels. Annu. Rev. Biochem. 76, 387–417 (2007)

Nadler, M. J. et al. LTRPC7 is a Mg·ATP-regulated divalent cation channel required for cell viability. Nature 411, 590–595 (2001)

Perraud, A. L. et al. ADP-ribose gating of the calcium-permeable LTRPC2 channel revealed by Nudix motif homology. Nature 411, 595–599 (2001)

Runnels, L. W., Yue, L. & Clapham, D. E. TRP-PLIK, a bifunctional protein with kinase and ion channel activities. Science 291, 1043–1047 (2001)

Guinamard, R., Demion, M. & Launay, P. Physiological roles of the TRPM4 channel extracted from background currents. Physiology (Bethesda) 25, 155–164 (2010)

Colquhoun, D., Neher, E., Reuter, H. & Stevens, C. F. Inward current channels activated by intracellular Ca in cultured cardiac cells. Nature 294, 752–754 (1981)

Launay, P. et al. TRPM4 is a Ca2+-activated nonselective cation channel mediating cell membrane depolarization. Cell 109, 397–407 (2002)

Nilius, B. et al. Voltage dependence of the Ca2+-activated cation channel TRPM4. J. Biol. Chem. 278, 30813–30820 (2003)

Pérez, C. A. et al. A transient receptor potential channel expressed in taste receptor cells. Nat. Neurosci. 5, 1169–1176 (2002)

Islam, M. S . (ed.) Transient Receptor Potential Channels, 147–171 (Springer Netherlands, 2011)

Zhang, Z., Okawa, H., Wang, Y. & Liman, E. R. Phosphatidylinositol 4,5-bisphosphate rescues TRPM4 channels from desensitization. J. Biol. Chem. 280, 39185–39192 (2005)

Nilius, B. et al. The Ca2+-activated cation channel TRPM4 is regulated by phosphatidylinositol 4,5-biphosphate. EMBO J. 25, 467–478 (2006)

Nilius, B., Prenen, J., Voets, T. & Droogmans, G. Intracellular nucleotides and polyamines inhibit the Ca2+-activated cation channel TRPM4b. Pflugers Arch. 448, 70–75 (2004)

Nilius, B. et al. Regulation of the Ca2+ sensitivity of the nonselective cation channel TRPM4. J. Biol. Chem. 280, 6423–6433 (2005)

Earley, S., Waldron, B. J. & Brayden, J. E. Critical role for transient receptor potential channel TRPM4 in myogenic constriction of cerebral arteries. Circ. Res. 95, 922–929 (2004)

Earley, S., Straub, S. V. & Brayden, J. E. Protein kinase C regulates vascular myogenic tone through activation of TRPM4. Am. J. Physiol. Heart Circ. Physiol. 292, H2613–H2622 (2007)

Del Negro, C. A. et al. Sodium and calcium current-mediated pacemaker neurons and respiratory rhythm generation. J. Neurosci. 25, 446–453 (2005)

Mironov, S. L. Metabotropic glutamate receptors activate dendritic calcium waves and TRPM channels which drive rhythmic respiratory patterns in mice. J. Physiol. (Lond.) 586, 2277–2291 (2008)

Cheng, H. et al. TRPM4 controls insulin secretion in pancreatic beta-cells. Cell Calcium 41, 51–61 (2007)

Launay, P. et al. TRPM4 regulates calcium oscillations after T cell activation. Science 306, 1374–1377 (2004)

Kruse, M. et al. Impaired endocytosis of the ion channel TRPM4 is associated with human progressive familial heart block type I. J. Clin. Invest. 119, 2737–2744 (2009)

Liu, H. et al. Gain-of-function mutations in TRPM4 cause autosomal dominant isolated cardiac conduction disease. Circ Cardiovasc Genet 3, 374–385 (2010)

Stallmeyer, B. et al. Mutational spectrum in the Ca2+-activated cation channel gene TRPM4 in patients with cardiac conductance disturbances. Hum. Mutat. 33, 109–117 (2012)

Liu, H. et al. Molecular genetics and functional anomalies in a series of 248 Brugada cases with 11 mutations in the TRPM4 channel. PLoS ONE 8, e54131 (2013)

Hof, T. et al. TRPM4 non-selective cation channel variants in long QT syndrome. BMC Med. Genet. 18, 31 (2017)

Rosenthal, P. B. & Henderson, R. Optimal determination of particle orientation, absolute hand, and contrast loss in single-particle electron cryomicroscopy. J. Mol. Biol. 333, 721–745 (2003)

Holm, L. & Rosenström, P. Dali server: conservation mapping in 3D. Nucleic Acids Res. 38, W545–W549 (2010)

Kurakawa, T. et al. Direct control of shoot meristem activity by a cytokinin-activating enzyme. Nature 445, 652–655 (2007)

Baugh, L. et al. Increasing the structural coverage of tuberculosis drug targets. Tuberculosis (Edinb.) 95, 142–148 (2015)

Jin, P. et al. Electron cryo-microscopy structure of the mechanotransduction channel NOMPC. Nature 547, 118–122 (2017)

Ullrich, N. D. et al. Comparison of functional properties of the Ca2+-activated cation channels TRPM4 and TRPM5 from mice. Cell Calcium 37, 267–278 (2005)

Demeuse, P., Penner, R. & Fleig, A. TRPM7 channel is regulated by magnesium nucleotides via its kinase domain. J. Gen. Physiol. 127, 421–434 (2006)

Zhang, Z. et al. The TRPM6 kinase domain determines the Mg·ATP sensitivity of TRPM7/M6 heteromeric ion channels. J. Biol. Chem. 289, 5217–5227 (2014)

Nightingale, E. R. Jr. Phenomenological theory of ion solvation. Effective radii of hydrated ions. J. Phys. Chem. 63, 1381–1387 (1959)

Nilius, B. et al. The selectivity filter of the cation channel TRPM4. J. Biol. Chem. 280, 22899–22906 (2005)

Long, S. B., Tao, X., Campbell, E. B. & MacKinnon, R. Atomic structure of a voltage-dependent K+ channel in a lipid membrane-like environment. Nature 450, 376–382 (2007)

Payandeh, J., Scheuer, T., Zheng, N. & Catterall, W. A. The crystal structure of a voltage-gated sodium channel. Nature 475, 353–358 (2011)

Guo, J. et al. Structure of the voltage-gated two-pore channel TPC1 from Arabidopsis thaliana. Nature 531, 196–201 (2016)

Yamaguchi, S., Tanimoto, A., Otsuguro, K., Hibino, H. & Ito, S. Negatively charged amino acids near and in transient receptor potential (TRP) domain of TRPM4 channel are one determinant of its Ca2+ sensitivity. J. Biol. Chem. 289, 35265–35282 (2014)

Liao, M., Cao, E., Julius, D. & Cheng, Y. Structure of the TRPV1 ion channel determined by electron cryo-microscopy. Nature 504, 107–112 (2013)

Paulsen, C. E., Armache, J. P., Gao, Y., Cheng, Y. & Julius, D. Structure of the TRPA1 ion channel suggests regulatory mechanisms. Nature 520, 511–517 (2015)

Gao, Y., Cao, E., Julius, D. & Cheng, Y. TRPV1 structures in nanodiscs reveal mechanisms of ligand and lipid action. Nature 534, 347–351 (2016)

Goehring, A. et al. Screening and large-scale expression of membrane proteins in mammalian cells for structural studies. Nat. Protoc. 9, 2574–2585 (2014)

Denisov, I. G., Grinkova, Y. V., Lazarides, A. A. & Sligar, S. G. Directed self-assembly of monodisperse phospholipid bilayer nanodiscs with controlled size. J. Am. Chem. Soc. 126, 3477–3487 (2004)

Zheng, S. Q. et al. MotionCor2: anisotropic correction of beam-induced motion for improved cryo-electron microscopy. Nat. Methods 14, 331–332 (2017)

Zhang, K. Gctf: Real-time CTF determination and correction. J. Struct. Biol. 193, 1–12 (2016)

Scheres, S. H. RELION: implementation of a Bayesian approach to cryo-EM structure determination. J. Struct. Biol. 180, 519–530 (2012)

Bai, X. C., Rajendra, E., Yang, G., Shi, Y. & Scheres, S. H. Sampling the conformational space of the catalytic subunit of human γ-secretase. eLife 4, e11182 (2015)

Kucukelbir, A., Sigworth, F. J. & Tagare, H. D. Quantifying the local resolution of cryo-EM density maps. Nat. Methods 11, 63–65 (2014)

Emsley, P., Lohkamp, B., Scott, W. G. & Cowtan, K. Features and development of Coot. Acta Crystallogr. D 66, 486–501 (2010)

Adams, P. D. et al. PHENIX: a comprehensive Python-based system for macromolecular structure solution. Acta Crystallogr. D 66, 213–221 (2010)

DiMaio, F., Zhang, J., Chiu, W. & Baker, D. Cryo-EM model validation using independent map reconstructions. Protein Sci. 22, 865–868 (2013)

Amunts, A. et al. Structure of the yeast mitochondrial large ribosomal subunit. Science 343, 1485–1489 (2014)

Chen, V. B. et al. MolProbity: all-atom structure validation for macromolecular crystallography. Acta Crystallogr. D 66, 12–21 (2010)

Smart, O. S., Neduvelil, J. G., Wang, X., Wallace, B. A. & Sansom, M. S. HOLE: a program for the analysis of the pore dimensions of ion channel structural models. J. Mol. Graph. 14, 354–360, 376 (1996)

Schrödinger, L. The PyMOL Molecular Graphics System, Version 1.8 (2015)

Pettersen, E. F. et al. UCSF Chimera—a visualization system for exploratory research and analysis. J. Comput. Chem. 25, 1605–1612 (2004)
Acknowledgements
We thank N. Nguyen for manuscript preparation, J. M. Simard and J. Bryan for providing the TRPM4 clones. Single particle cryo-EM data were collected at the University of Texas Southwestern Medical Center (UTSW) Cryo-Electron Microscopy Facility. We thank D. Nicastro and Z. Chen for support in facility access and data acquisition. Negatively stained sample screening was performed at UTSW Electron Microscopy core. This work was supported in part by the Howard Hughes Medical Institute (Y.J.) and by grants from the National Institutes of Health (GM079179 to Y. J.) and the Welch Foundation (grant I-1578 to Y. J.). X.B. is supported by the Cancer Prevention and Research Initiative of Texas and Virginia Murchison Linthicum Scholar in Medical Research fund.
Ethics declarations
Competing interests
The authors declare no competing financial interests.
Additional information
Reviewer Information Nature thanks R. Penner and the other anonymous reviewer(s) for their contribution to the peer review of this work.
Publisher's note: Springer Nature remains neutral with regard to jurisdictional claims in published maps and institutional affiliations.
Extended data figures and tables
Supplementary information
About this article
Cite this article
Guo, J., She, J., Zeng, W. et al. Structures of the calcium-activated, non-selective cation channel TRPM4. Nature 552, 205–209 (2017). https://doi.org/10.1038/nature24997
Received:

Accepted:

Published:

Issue Date:

DOI: https://doi.org/10.1038/nature24997
Comments
By submitting a comment you agree to abide by our Terms and Community Guidelines. If you find something abusive or that does not comply with our terms or guidelines please flag it as inappropriate.