Abstract
The sustainability of malaria control in Africa is threatened by the rise of insecticide resistance in Anopheles mosquitoes, which transmit the disease1. To gain a deeper understanding of how mosquito populations are evolving, here we sequenced the genomes of 765 specimens of Anopheles gambiae and Anopheles coluzzii sampled from 15 locations across Africa, and identified over 50 million single nucleotide polymorphisms within the accessible genome. These data revealed complex population structure and patterns of gene flow, with evidence of ancient expansions, recent bottlenecks, and local variation in effective population size. Strong signals of recent selection were observed in insecticide-resistance genes, with several sweeps spreading over large geographical distances and between species. The design of new tools for mosquito control using gene-drive systems will need to take account of high levels of genetic diversity in natural mosquito populations.
Relevant articles
Open Access articles citing this article.
Verena Pichler

,

Antoine Sanou

…

Nora J. Besansky

Parasites & Vectors Open Access 27 October 2023

Marius Gonse Zoh

,

Jean-Marc Bonneville

…

Jean-Philippe David

Malaria Journal Open Access 04 September 2023

Eric R. Lucas

,

Sanjay C. Nagi

…

David Weetman

Nature Communications Open Access 16 August 2023
Access options
Access Nature and 54 other Nature Portfolio journals
Get Nature+, our best-value online-access subscription
$29.99 / 30 days
cancel any time
Subscribe to this journal
Receive 51 print issues and online access
$199.00 per year
only $3.90 per issue
Rent or buy this article
Prices vary by article type
from$1.95
to$39.95
Prices may be subject to local taxes which are calculated during checkout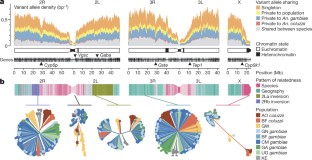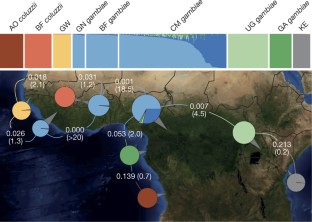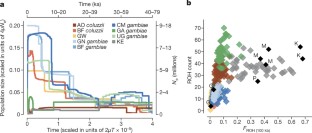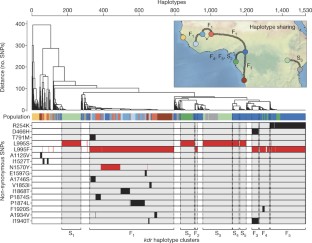 Accession codes
Primary accessions
European Nucleotide Archive
References
Hemingway, J. et al. Averting a malaria disaster: will insecticide resistance derail malaria control? Lancet 387, 1785–1788 (2016)

Bhatt, S. et al. The effect of malaria control on Plasmodium falciparum in Africa between 2000 and 2015. Nature 526, 207–211 (2015)

della Torre, A. et al. Molecular evidence of incipient speciation within Anopheles gambiae s.s. in West Africa. Insect Mol. Biol. 10, 9–18 (2001)

Lawniczak, M. K. N. et al. Widespread divergence between incipient Anopheles gambiae species revealed by whole genome sequences. Science 330, 512–514 (2010)

Tene Fossog, B. et al. Habitat segregation and ecological character displacement in cryptic African malaria mosquitoes. Evol. Appl. 8, 326–346 (2015)

Diabaté, A. et al. Larval development of the molecular forms of Anopheles gambiae (Diptera: Culicidae) in different habitats: a transplantation experiment. J. Med. Entomol. 42, 548–553 (2005)

Gimonneau, G. et al. A behavioral mechanism underlying ecological divergence in the malaria mosquito Anopheles gambiae. Behav. Ecol. 21, 1087–1092 (2010)

Dao, A. et al. Signatures of aestivation and migration in Sahelian malaria mosquito populations. Nature 516, 387–390 (2014)

Leffler, E. M. et al. Revisiting an old riddle: what determines genetic diversity levels within species? PLoS Biol. 10, e1001388 (2012)

Hammond, A. et al. A CRISPR–Cas9 gene drive system targeting female reproduction in the malaria mosquito vector Anopheles gambiae. Nat. Biotechnol. 34, 78–83 (2016)

Lehmann, T. et al. The Rift Valley complex as a barrier to gene flow for Anopheles gambiae in Kenya. J. Hered. 90, 613–621 (1999)

Lehmann, T. et al. Population structure of Anopheles gambiae in Africa. J. Hered. 94, 133–147 (2003)

Slotman, M. A. et al. Evidence for subdivision within the M molecular form of Anopheles gambiae. Mol. Ecol. 16, 639–649 (2007)

Pinto, J. et al. Geographic population structure of the African malaria vector Anopheles gambiae suggests a role for the forest–savannah biome transition as a barrier to gene flow. Evol. Appl. 6, 910–924 (2013)

Cruickshank, T. E. & Hahn, M. W. Reanalysis suggests that genomic islands of speciation are due to reduced diversity, not reduced gene flow. Mol. Ecol. 23, 3133–3157 (2014)

Service, M. W. Mosquito (Diptera: Culicidae) dispersal—the long and short of it. J. Med. Entomol. 34, 579–588 (1997)

Lee, Y. et al. Spatiotemporal dynamics of gene flow and hybrid fitness between the M and S forms of the malaria mosquito, Anopheles gambiae. Proc. Natl Acad. Sci. USA 110, 19854–19859 (2013)

Neafsey, D. E. et al. SNP genotyping defines complex gene-flow boundaries among African malaria vector mosquitoes. Science 330, 514–517 (2010)

Clarkson, C. S. et al. Adaptive introgression between Anopheles sibling species eliminates a major genomic island but not reproductive isolation. Nat. Commun. 5, 4248 (2014)

Norris, L. C. et al. Adaptive introgression in an African malaria mosquito coincident with the increased usage of insecticide-treated bed nets. Proc. Natl Acad. Sci. USA 112, 815–820 (2015)

Vicente, J. L. et al. Massive introgression drives species radiation at the range limit of Anopheles gambiae. Sci. Rep. 7, 46451 (2017)

Nwakanma, D. C. et al. Breakdown in the process of incipient speciation in Anopheles gambiae. Genetics 193, 1221–1231 (2013)

Li, S ., Schlebusch, C. & Jakobsson, M. Genetic variation reveals large-scale population expansion and migration during the expansion of Bantu-speaking peoples. Proc. R. Soc. Lond. B 281, 20141448 (2014)

Noor, A. M., Amin, A. A., Akhwale, W. S. & Snow, R. W. Increasing coverage and decreasing inequity in insecticide-treated bed net use among rural Kenyan children. PLoS Med. 4, e255 (2007)

Mwangangi, J. M. et al. Shifts in malaria vector species composition and transmission dynamics along the Kenyan coast over the past 20 years. Malar. J. 12, 13 (2013)

Davies, T. G. E., Field, L. M., Usherwood, P. N. R. & Williamson, M. S. A comparative study of voltage-gated sodium channels in the Insecta: implications for pyrethroid resistance in Anopheline and other Neopteran species. Insect Mol. Biol. 16, 361–375 (2007)

Mitchell, S. N. et al. Metabolic and target-site mechanisms combine to confer strong DDT resistance in Anopheles gambiae. PLoS ONE 9, e92662 (2014)

Edi, C. V. et al. CYP6 P450 enzymes and ACE-1 duplication produce extreme and multiple insecticide resistance in the malaria mosquito Anopheles gambiae. PLoS Genet. 10, e1004236 (2014)

Jones, C. M. et al. Footprints of positive selection associated with a mutation (N1575Y) in the voltage-gated sodium channel of Anopheles gambiae. Proc. Natl Acad. Sci. USA 109, 6614–6619 (2012)

Ross, R. Inaugural lecture on the possibility of extirpating malaria from certain localities by a new method. BMJ 2, 1–4 (1899)

Sharakhova, M. V. et al. Update of the Anopheles gambiae PEST genome assembly. Genome Biol. 8, R5 (2007)

Li, H. & Durbin, R. Fast and accurate short read alignment with Burrows–Wheeler transform. Bioinformatics 25, 1754–1760 (2009)

DePristo, M. A. et al. A framework for variation discovery and genotyping using next-generation DNA sequencing data. Nat. Genet. 43, 491–498 (2011)

Van der Auwera, G. A. et al. From FastQ data to high confidence variant calls: the Genome Analysis Toolkit best practices pipeline. Curr. Protoc. Bioinformatics 11, 11.10.1–11.10.33 (2013)

Delaneau, O., Howie, B., Cox, A. J., Zagury, J.-F. & Marchini, J. Haplotype estimation using sequencing reads. Am. J. Hum. Genet. 93, 687–696 (2013)

Alexander, D. H., Novembre, J. & Lange, K. Fast model-based estimation of ancestry in unrelated individuals. Genome Res. 19, 1655–1664 (2009)

Patterson, N., Price, A. L. & Reich, D. Population structure and eigenanalysis. PLoS Genet. 2, e190 (2006)

Kopelman, N. M., Mayzel, J., Jakobsson, M., Rosenberg, N. A. & Mayrose, I. Clumpak: a program for identifying clustering modes and packaging population structure inferences across K. Mol. Ecol. Resour. 15, 1179–1191 (2015)

Bhatia, G., Patterson, N., Sankararaman, S. & Price, A. L. Estimating and interpreting FST: the impact of rare variants. Genome Res. 23, 1514–1521 (2013)

Liu, X. & Fu, Y.-X. Exploring population size changes using SNP frequency spectra. Nat. Genet. 47, 555–559 (2015)

Gutenkunst, R. N., Hernandez, R. D., Williamson, S. H. & Bustamante, C. D. Inferring the joint demographic history of multiple populations from multidimensional SNP frequency data. PLoS Genet. 5, e1000695 (2009)

Keightley, P. D., Ness, R. W., Halligan, D. L. & Haddrill, P. R. Estimation of the spontaneous mutation rate per nucleotide site in a Drosophila melanogaster full-sib family. Genetics 196, 313–320 (2014)

Schrider, D. R., Houle, D., Lynch, M. & Hahn, M. W. Rates and genomic consequences of spontaneous mutational events in Drosophila melanogaster. Genetics 194, 937–954 (2013)

Browning, B. L. & Browning, S. R. Detecting identity by descent and estimating genotype error rates in sequence data. Am. J. Hum. Genet. 93, 840–851 (2013)

Browning, S. R. & Browning, B. L. Accurate non-parametric estimation of recent effective population size from segments of identity by descent. Am. J. Hum. Genet. 97, 404–418 (2015)

Garud, N. R., Messer, P. W., Buzbas, E. O. & Petrov, D. A. Recent selective sweeps in North American Drosophila melanogaster show signatures of soft sweeps. PLoS Genet. 11, e1005004 (2015)

Sabeti, P. C. et al. Genome-wide detection and characterization of positive selection in human populations. Nature 449, 913–918 (2007)

Hunter, J. D. Matplotlib: a 2D graphics environment. Comput. Sci. Eng. 9, 90–95 (2007)

Sayre, R. G . et al. A New Map of Standardized Terrestrial Ecosystems of Africa (American Association of Geographers, 2013)

Sharakhova, M. V. et al. Genome mapping and characterization of the Anopheles gambiae heterochromatin. BMC Genomics 11, 459 (2010)
Acknowledgements
The authors would like to thank the staff of the Wellcome Trust Sanger Institute Sample Logistics, Sequencing and Informatics facilities for their contributions. This work was supported by the Wellcome Trust (090770/Z/09/Z; 090532/Z/09/Z; 098051) and Medical Research Council UK and the Department for International Development (DFID) (MR/M006212/1). M.K.N.L. was supported by MRC grant G1100339. S.O.'L. and A.B. were supported by a grant from the Foundation for the National Institutes of Health through the Vector-Based Control of Transmission: Discovery Research (VCTR) program of the Grand Challenges in Global Health initiative of the Bill & Melinda Gates Foundation. D.W., C.S.W., H.D.M. and M.J.D. were supported by Award Numbers U19AI089674 and R01AI082734 from the National Institute of Allergy and Infectious Diseases (NIAID). The content is solely the responsibility of the authors and does not necessarily represent the official views of the NIAID or NIH. T.A. was supported by a Sir Henry Wellcome Postdoctoral Fellowship.
Ethics declarations
Competing interests
The author declare no competing financial interests.
Additional information
Reviewer Information Nature thanks J. Pool and the other anonymous reviewer(s) for their contribution to the peer review of this work.
Publisher's note: Springer Nature remains neutral with regard to jurisdictional claims in published maps and institutional affiliations.
Extended data figures and tables
Supplementary information
About this article
Cite this article
The Anopheles gambiae 1000 Genomes Consortium. Genetic diversity of the African malaria vector Anopheles gambiae. Nature 552, 96–100 (2017). https://doi.org/10.1038/nature24995
Received:

Accepted:

Published:

Issue Date:

DOI: https://doi.org/10.1038/nature24995
Comments
By submitting a comment you agree to abide by our Terms and Community Guidelines. If you find something abusive or that does not comply with our terms or guidelines please flag it as inappropriate.