Abstract
Environmental nutrient levels impact cancer cell metabolism, resulting in context-dependent gene essentiality1,2. Here, using loss-of-function screening based on RNA interference, we show that environmental oxygen levels are a major driver of differential essentiality between in vitro model systems and in vivo tumours. Above the 3–8% oxygen concentration typical of most tissues, we find that cancer cells depend on high levels of the iron–sulfur cluster biosynthetic enzyme NFS1. Mammary or subcutaneous tumours grow despite suppression of NFS1, whereas metastatic or primary lung tumours do not. Consistent with a role in surviving the high oxygen environment of incipient lung tumours, NFS1 lies in a region of genomic amplification present in lung adenocarcinoma and is most highly expressed in well-differentiated adenocarcinomas. NFS1 activity is particularly important for maintaining the iron–sulfur co-factors present in multiple cell-essential proteins upon exposure to oxygen compared to other forms of oxidative damage. Furthermore, insufficient iron–sulfur cluster maintenance robustly activates the iron-starvation response and, in combination with inhibition of glutathione biosynthesis, triggers ferroptosis, a non-apoptotic form of cell death. Suppression of NFS1 cooperates with inhibition of cysteine transport to trigger ferroptosis in vitro and slow tumour growth. Therefore, lung adenocarcinomas select for expression of a pathway that confers resistance to high oxygen tension and protects cells from undergoing ferroptosis in response to oxidative damage.
Relevant articles
Open Access articles citing this article.
Yingxiu Peng

,

Ning Li

…

Yanfeng Xu

Cell Death Discovery Open Access 29 August 2022

Li Yang

,

Li-mian Cao

…

Bo Chu

Cell Death & Disease Open Access 26 July 2022

Zhuolun Sun

,

Tengcheng Li

…

Hua Wang

World Journal of Surgical Oncology Open Access 14 April 2022
Access options
Subscribe to Nature+
Get immediate online access to the entire Nature family of 50+ journals
Subscribe to Journal
Get full journal access for 1 year
$199.00
only $3.90 per issue
All prices are NET prices.
VAT will be added later in the checkout.
Tax calculation will be finalised during checkout.
Buy article
Get time limited or full article access on ReadCube.
$32.00
All prices are NET prices.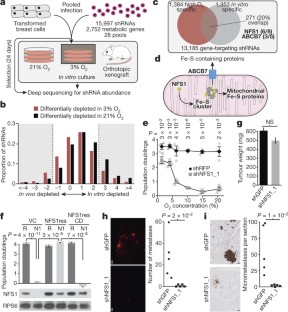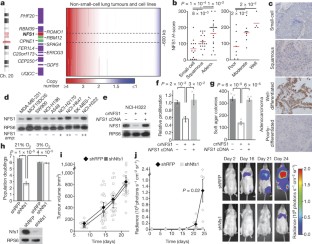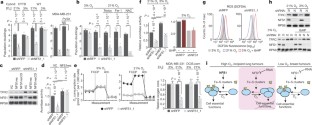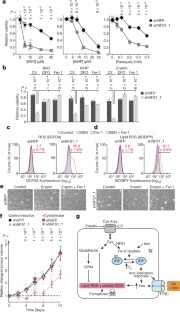 References
Birsoy, K. et al. Metabolic determinants of cancer cell sensitivity to glucose limitation and biguanides. Nature 508, 108–112 (2014)

Davidson, S. M. et al. Environment impacts the metabolic dependencies of Ras-driven non-small cell lung cancer. Cell Metab. 23, 517–528 (2016)

Kamphorst, J. J. et al. Hypoxic and Ras-transformed cells support growth by scavenging unsaturated fatty acids from lysophospholipids. Proc. Natl Acad. Sci. USA 110, 8882–8887 (2013)

Vaupel, P., Kallinowski, F. & Okunieff, P. Blood flow, oxygen and nutrient supply, and metabolic microenvironment of human tumors: a review. Cancer Res. 49, 6449–6465 (1989)

Stehling, O., Wilbrecht, C. & Lill, R. Mitochondrial iron–sulfur protein biogenesis and human disease. Biochimie 100, 61–77 (2014)

Netz, D. J., Mascarenhas, J., Stehling, O., Pierik, A. J. & Lill, R. Maturation of cytosolic and nuclear iron-sulfur proteins. Trends Cell Biol. 24, 303–312 (2014)

Imlay, J. A. Iron–sulfur clusters and the problem with oxygen. Mol. Microbiol. 59, 1073–1082 (2006)

Marchler-Bauer, A. et al. CDD: NCBI's conserved domain database. Nucleic Acids Res. 43, D222–D226 (2015)

Paul, V. D. & Lill, R. Biogenesis of cytosolic and nuclear iron–sulfur proteins and their role in genome stability. Biochim. Biophys. Acta 1853, 1528–1539 (2015)

Marelja, Z., Stöcklein, W., Nimtz, M. & Leimkühler, S. A novel role for human Nfs1 in the cytoplasm: Nfs1 acts as a sulfur donor for MOCS3, a protein involved in molybdenum cofactor biosynthesis. J. Biol. Chem. 283, 25178–25185 (2008)

Vaupel, P., Schlenger, K., Knoop, C. & Höckel, M. Oxygenation of human tumors: evaluation of tissue oxygen distribution in breast cancers by computerized O2 tension measurements. Cancer Res. 51, 3316–3322 (1991)

Zack, T. I. et al. Pan-cancer patterns of somatic copy number alteration. Nat. Genet. 45, 1134–1140 (2013)

De Coo, I. F. et al. A 4-base pair deletion in the mitochondrial cytochrome b gene associated with parkinsonism/MELAS overlap syndrome. Ann. Neurol. 45, 130–133 (1999)

van Loon, A. P., Pesold-Hurt, B. & Schatz, G. A yeast mutant lacking mitochondrial manganese-superoxide dismutase is hypersensitive to oxygen. Proc. Natl Acad. Sci. USA 83, 3820–3824 (1986)

Biliński, T., Krawiec, Z., Liczmański, A. & Litwińska, J. Is hydroxyl radical generated by the Fenton reaction in vivo? Biochem. Biophys. Res. Commun. 130, 533–539 (1985)

Flint, D. H., Emptage, M. H., Finnegan, M. G., Fu, W. & Johnson, M. K. The role and properties of the iron-sulfur cluster in Escherichia coli dihydroxy-acid dehydratase. J. Biol. Chem. 268, 14732–14742 (1993)

Casey, J. L. et al. Iron-responsive elements: regulatory RNA sequences that control mRNA levels and translation. Science 240, 924–928 (1988)

Meyron-Holtz, E. G., Ghosh, M. C. & Rouault, T. A. Mammalian tissue oxygen levels modulate iron-regulatory protein activities in vivo. Science 306, 2087–2090 (2004)

Chandel, N. S. et al. Mitochondrial reactive oxygen species trigger hypoxia-induced transcription. Proc. Natl Acad. Sci. USA 95, 11715–11720 (1998)

Minotti, G. & Aust, S. D. The role of iron in oxygen radical mediated lipid peroxidation. Chem. Biol. Interact. 71, 1–19 (1989)

Yang, W. S. & Stockwell, B. R. Ferroptosis: death by lipid peroxidation. Trends Cell Biol. 26, 165–176 (2016)

Yang, W. S. et al. Regulation of ferroptotic cancer cell death by GPX4. Cell 156, 317–331 (2014)

Dixon, S. J. et al. Ferroptosis: an iron-dependent form of nonapoptotic cell death. Cell 149, 1060–1072 (2012)

Cramer, S. L . et al. Systemic depletion of l-cyst(e)ine with cyst(e)inase increases reactive oxygen species and suppresses tumor growth. Nat. Med. 23, 120–127 (2017)

Harris, I. S. et al. Glutathione and thioredoxin antioxidant pathways synergize to drive cancer initiation and progression. Cancer Cell 27, 211–222 (2015)

Possemato, R. et al. Functional genomics reveal that the serine synthesis pathway is essential in breast cancer. Nature 476, 346–350 (2011)

Carpenter, A. E. et al. CellProfiler: image analysis software for identifying and quantifying cell phenotypes. Genome Biol. 7, R100 (2006)

Beroukhim, R. et al. The landscape of somatic copy-number alteration across human cancers. Nature 463, 899–905 (2010)

Okayama, H. et al. Identification of genes upregulated in ALK-positive and EGFR/KRAS/ALK-negative lung adenocarcinomas. Cancer Res. 72, 100–111 (2012)

Barretina, J. et al. The Cancer Cell Line Encyclopedia enables predictive modelling of anticancer drug sensitivity. Nature 483, 603–607 (2012)

DuPage, M., Dooley, A. L. & Jacks, T. Conditional mouse lung cancer models using adenoviral or lentiviral delivery of Cre recombinase. Nat. Protocols 4, 1064–1072 (2009)

Lee, M. et al. AMP-activated protein kinase activity is critical for hypoxia-inducible factor-1 transcriptional activity and its target gene expression under hypoxic conditions in DU145 cells. J. Biol. Chem. 278, 39653–39661 (2003)

Maxwell, P. H. et al. The tumour suppressor protein VHL targets hypoxia-inducible factors for oxygen-dependent proteolysis. Nature 399, 271–275 (1999)

Wang, T. et al. Identification and characterization of essential genes in the human genome. Science 350, 1096–1101 (2015)
Acknowledgements
We thank members of the laboratories of D.M.S., K.B. and R.P.; G. Georgiou and E. Stone for cyst(e)inase; C. Moraes, and I. F. M. de Coo for wild-type 143B and CYTB 143B cells; P. Thiru for bioinformatic support; C. Loomis, L. Chiriboga, and B. Zeck for histology. Research was supported by a gift from Agios Pharmaceuticals to D.M.S., National Institutes of Health (NIH) (T32GM007308 and T32GM115313 supporting V.O.S.; CA168940 to R.P., CA193660 to K.B., and CA103866, CA129105, and AI07389 to D.M.S.), Starr Cancer Consortium and Broad Institute SPARC to D.M.S., Leukemia and Lymphoma Society Special Fellow Award to K.B., V Foundation to R.P., Pew-Stewart Scholar Grant to R.P., Susan G. Komen for the Cure to R.P. D.M.S. is an investigator of the Howard Hughes Medical Institute. Experimental Pathology Resource Center supported by the NIH (P30CA016087, S10 OD010584-01, and S10 OD018338). Immune Monitoring Core supported by the NIH (S10 OD016304).
Ethics declarations
Competing interests
The authors declare no competing financial interests.
Additional information
Reviewer Information Nature thanks P. Storz and the other anonymous reviewer(s) for their contribution to the peer review of this work.
Publisher's note: Springer Nature remains neutral with regard to jurisdictional claims in published maps and institutional affiliations.
Extended data figures and tables
Supplementary information
About this article
Cite this article
Alvarez, S., Sviderskiy, V., Terzi, E. et al. NFS1 undergoes positive selection in lung tumours and protects cells from ferroptosis. Nature 551, 639–643 (2017). https://doi.org/10.1038/nature24637
Received:

Accepted:

Published:

Issue Date:

DOI: https://doi.org/10.1038/nature24637
Comments
By submitting a comment you agree to abide by our Terms and Community Guidelines. If you find something abusive or that does not comply with our terms or guidelines please flag it as inappropriate.