Abstract
Pancreatic ductal adenocarcinoma is a lethal cancer with fewer than 7% of patients surviving past 5 years. T-cell immunity has been linked to the exceptional outcome of the few long-term survivors1,2, yet the relevant antigens remain unknown. Here we use genetic, immunohistochemical and transcriptional immunoprofiling, computational biophysics, and functional assays to identify T-cell antigens in long-term survivors of pancreatic cancer. Using whole-exome sequencing and in silico neoantigen prediction, we found that tumours with both the highest neoantigen number and the most abundant CD8+ T-cell infiltrates, but neither alone, stratified patients with the longest survival. Investigating the specific neoantigen qualities promoting T-cell activation in long-term survivors, we discovered that these individuals were enriched in neoantigen qualities defined by a fitness model, and neoantigens in the tumour antigen MUC16 (also known as CA125). A neoantigen quality fitness model conferring greater immunogenicity to neoantigens with differential presentation and homology to infectious disease-derived peptides identified long-term survivors in two independent datasets, whereas a neoantigen quantity model ascribing greater immunogenicity to increasing neoantigen number alone did not. We detected intratumoural and lasting circulating T-cell reactivity to both high-quality and MUC16 neoantigens in long-term survivors of pancreatic cancer, including clones with specificity to both high-quality neoantigens and predicted cross-reactive microbial epitopes, consistent with neoantigen molecular mimicry. Notably, we observed selective loss of high-quality and MUC16 neoantigenic clones on metastatic progression, suggesting neoantigen immunoediting. Our results identify neoantigens with unique qualities as T-cell targets in pancreatic ductal adenocarcinoma. More broadly, we identify neoantigen quality as a biomarker for immunogenic tumours that may guide the application of immunotherapies.
Your institute does not have access to this article
Relevant articles
Open Access articles citing this article.
Chengcheng Wang

,

Yuan Chen

…

Yupei Zhao

BMC Cancer Open Access 11 August 2022

Yuting Lu

,

Xiangliang Yuan

…

Qin Li

Journal of Hematology & Oncology Open Access 29 April 2022

Qingzhu Jia

,

Aoyun Wang

…

Haixia Long

Experimental Hematology & Oncology Open Access 23 April 2022
Access options
Subscribe to Nature+
Get immediate online access to the entire Nature family of 50+ journals
Subscribe to Journal
Get full journal access for 1 year
$199.00
only $3.90 per issue
All prices are NET prices.
VAT will be added later in the checkout.
Tax calculation will be finalised during checkout.
Buy article
Get time limited or full article access on ReadCube.
$32.00
All prices are NET prices.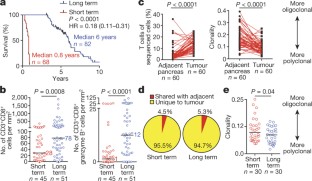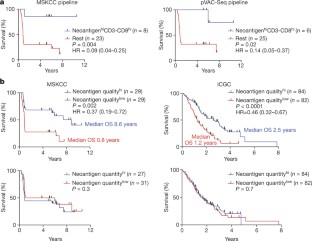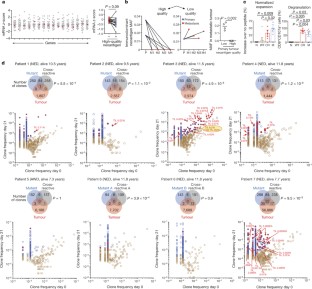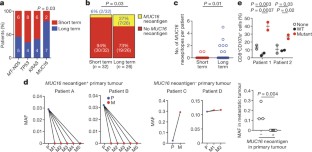 Accession codes
Primary accessions
Gene Expression Omnibus
References
Ino, Y. et al. Immune cell infiltration as an indicator of the immune microenvironment of pancreatic cancer. Br. J. Cancer 108, 914–923 (2013)

Hiraoka, N. et al. Intratumoral tertiary lymphoid organ is a favourable prognosticator in patients with pancreatic cancer. Br. J. Cancer 112, 1782–1790 (2015)

Remark, R. et al. In-depth tissue profiling using multiplexed immunohistochemical consecutive staining on single slide. Sci. Immunol. 1, aaf6925 (2016)

Bindea, G. et al. Spatiotemporal dynamics of intratumoral immune cells reveal the immune landscape in human cancer. Immunity 39, 782–795 (2013)

Gros, A. et al. Prospective identification of neoantigen-specific lymphocytes in the peripheral blood of melanoma patients. Nat. Med. 22, 433–438 (2016)

Rizvi, N. A. et al. Cancer immunology. Mutational landscape determines sensitivity to PD-1 blockade in non-small cell lung cancer. Science 348, 124–128 (2015)

Hundal, J. et al. pVAC-Seq: A genome-guided in silico approach to identifying tumor neoantigens. Genome Med. 8, 11 (2016)

Witkiewicz, A. K. et al. Whole-exome sequencing of pancreatic cancer defines genetic diversity and therapeutic targets. Nat. Commun. 6, 6744 (2015)

Zitvogel, L., Ayyoub, M., Routy, B. & Kroemer, G. Microbiome and anticancer immunosurveillance. Cell 165, 276–287 (2016)

Łuksza, M. & Lässig, M. A predictive fitness model for influenza. Nature 507, 57–61 (2014)

Verdegaal, E. M. E. et al. Neoantigen landscape dynamics during human melanoma–T cell interactions. Nature 536, 91–95 (2016)

Chekmasova, A. A. et al. Successful eradication of established peritoneal ovarian tumors in SCID-Beige mice following adoptive transfer of T cells genetically targeted to the MUC16 antigen. Clin. Cancer Res. 16, 3594–3606 (2010)

Morgado, M. et al. Tumor necrosis factor-α and interferon-γ stimulate MUC16 (CA125) expression in breast, endometrial and ovarian cancers through NFκB. Oncotarget 7, 14871–14884 (2016)

Das, S. et al. Carboxyl-terminal domain of MUC16 imparts tumorigenic and metastatic functions through nuclear translocation of JAK2 to pancreatic cancer cells. Oncotarget 6, 5772–5787 (2015)

Shukla, S. K. et al. MUC16-mediated activation of mTOR and c-Myc reprograms pancreatic cancer metabolism. Oncotarget 6, 19118–19131 (2015)

Muniyan, S. et al. MUC16 contributes to the metastasis of pancreatic ductal adenocarcinoma through focal adhesion mediated signaling mechanism. Genes Cancer 7, 110–124 (2016)

Elhanati, Y., Murugan, A., Callan, C. G., Mora, T. & Walczak, A. M. Quantifying selection in immune receptor repertoires. Proc. Natl Acad. Sci. USA 111, 9875–9880 (2014)

Saito, T. et al. Two FOXP3+CD4+ T cell subpopulations distinctly control the prognosis of colorectal cancers. Nat. Med. 22, 679–684 (2016)

Andersen, R. S. et al. Dissection of T-cell antigen specificity in human melanoma. Cancer Res. 72, 1642–1650 (2012)

Gross, L. Intradermal immunization of C3H mice against a sarcoma that originated in an animal of the same line. Cancer Res. 3, 326–333 (1943)

Bailey, P. et al. Genomic analyses identify molecular subtypes of pancreatic cancer. Nature 531, 47–52 (2016)

Embuscado, E. E. et al. Immortalizing the complexity of cancer metastasis: genetic features of lethal metastatic pancreatic cancer obtained from rapid autopsy. Cancer Biol. Ther. 4, 548–554 (2005)

Haridas, D. et al. Pathobiological implications of MUC16 expression in pancreatic cancer. PLoS One 6, e26839 (2011)

Tumeh, P. C. et al. PD-1 blockade induces responses by inhibiting adaptive immune resistance. Nature 515, 568–571 (2014)

McLaren, W. et al. The Ensembl Variant Effect Predictor. Genome Biol. 17, 122 (2016)

Deshwar, A. G. et al. PhyloWGS: reconstructing subclonal composition and evolution from whole-genome sequencing of tumors. Genome Biol. 16, 35 (2015)

Dharma Rao, T. et al. Novel monoclonal antibodies against the proximal (carboxy-terminal) portions of MUC16. Appl. Immunohistochem. Mol. Morphol. 18, 462–472 (2010)
Acknowledgements
We thank A. Rudensky, A. Snyder-Charan, C. Callan, Y. Elhanati, Z. Sethna, J. Leung, J. Ruan, C. Crabtree, P. Garcia, M. Singh, A. McNeil, D. Haviland, J. Melchor and J. Tsoi for discussions, technical and editorial assistance. This work was supported by National Institutes of Health (NIH) R01DK097087-01 Pancreatic Cancer Action Network-AACR Research Acceleration Network Grant (S.D.L.), P30 CA008748-50S4 administrative supplement (S.D.L., V.P.B.), Suzanne Cohn Simon Pancreatic Cancer Research Fund (S.D.L.), National Cancer Institute K12CA184746-01A1 (V.P.B.), Damon Runyon Clinical Investigator Award (V.P.B.), Stand Up to Cancer, Lustgarden Foundation, and the National Science Foundation (J.D.W., B.D.G.), the V Foundation (V.P.B., J.A.M., J.D.W., B.D.G.), the Phil A. Sharp Innovation Award (B.D.G., J.D.W.), Swim Across America, and the Ludwig Institute for Cancer Research (J.D.W., T.M.), and the Parker Institute for Cancer Immunotherapy (D.K.W., C.I.O.C., J.D.W., T.M.). Services by the Integrated Genomics Core were funded by the National Cancer Institute Cancer Center Support Grant (P30 CA08748), Cycle for Survival, and the Marie-Josée and Henry R. Kravis Center for Molecular Oncology.
Ethics declarations
Competing interests
V.P.B., V.M., N.R., J.D.W. and T.A.C. have received research funding from Bristol-Myers Squibb. N.R. has received honoraria from MedImmune. D.T.F. is a co-founder of Myosotis LLC. S.G. has received research support from Immune Design, Janssen R&D, and Agenus, and serves on advisory boards for Third Rock, Ventures/Neon Therapeutics, B4CC, and Oncomed Pharmaceuticals. M.M., S.G. and R.R. are inventors of a patent regarding 'Tissue profiling using multiplexed immunohistochemical consecutive staining' (patent number pending). T.A.C. is a co-founder of Gritstone Oncology and is also an advisor for Genocea, Cancer Genetics, and Illumina.
Additional information
Reviewer Information Nature thanks E. Verdegaal, R. Vonderheide and the other anonymous reviewer(s) for their contribution to the peer review of this work.
Publisher's note: Springer Nature remains neutral with regard to jurisdictional claims in published maps and institutional affiliations.
Extended data figures and tables
Supplementary information
About this article
Cite this article
Balachandran, V., Łuksza, M., Zhao, J. et al. Identification of unique neoantigen qualities in long-term survivors of pancreatic cancer. Nature 551, 512–516 (2017). https://doi.org/10.1038/nature24462
Received:

Accepted:

Published:

Issue Date:

DOI: https://doi.org/10.1038/nature24462
Comments
By submitting a comment you agree to abide by our Terms and Community Guidelines. If you find something abusive or that does not comply with our terms or guidelines please flag it as inappropriate.