Abstract
Current sequencing-based analyses of faecal microbiota quantify microbial taxa and metabolic pathways as fractions of the sample sequence library generated by each analysis1,2. Although these relative approaches permit detection of disease-associated microbiome variation, they are limited in their ability to reveal the interplay between microbiota and host health3,4. Comparative analyses of relative microbiome data cannot provide information about the extent or directionality of changes in taxa abundance or metabolic potential5. If microbial load varies substantially between samples, relative profiling will hamper attempts to link microbiome features to quantitative data such as physiological parameters or metabolite concentrations5,6. Saliently, relative approaches ignore the possibility that altered overall microbiota abundance itself could be a key identifier of a disease-associated ecosystem configuration7. To enable genuine characterization of host–microbiota interactions, microbiome research must exchange ratios for counts4,8,9. Here we build a workflow for the quantitative microbiome profiling of faecal material, through parallelization of amplicon sequencing and flow cytometric enumeration of microbial cells. We observe up to tenfold differences in the microbial loads of healthy individuals and relate this variation to enterotype differentiation. We show how microbial abundances underpin both microbiota variation between individuals and covariation with host phenotype. Quantitative profiling bypasses compositionality effects in the reconstruction of gut microbiota interaction networks and reveals that the taxonomic trade-off between Bacteroides and Prevotella is an artefact of relative microbiome analyses. Finally, we identify microbial load as a key driver of observed microbiota alterations in a cohort of patients with Crohn's disease10, here associated with a low-cell-count Bacteroides enterotype (as defined through relative profiling)11,12.
Access options
Subscribe to Journal
Get full journal access for 1 year
We are sorry, but there is no personal subscription option available for your country.
Rent or Buy article
Get time limited or full article access on ReadCube.
from$8.99
All prices are NET prices.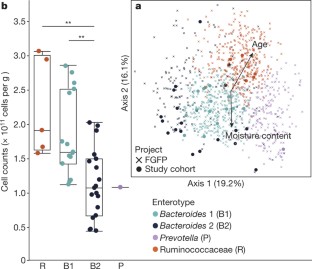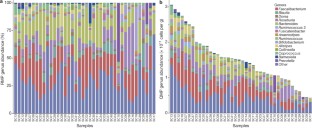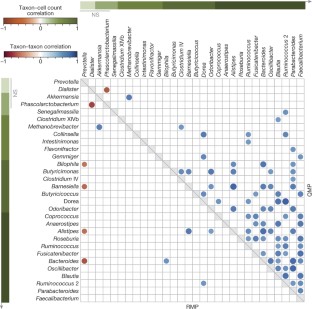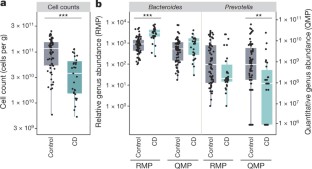 Accession codes
Primary accessions
European Nucleotide Archive
References
1

Zhernakova, A. et al. Population-based metagenomics analysis reveals markers for gut microbiome composition and diversity. Science 352, 565–569 (2016)

2

Falony, G. et al. Population-level analysis of gut microbiome variation. Science 352, 560–564 (2016)

3

Valles-Colomer, M. et al. Meta-omics in inflammatory bowel disease research: applications, challenges, and guidelines. J. Crohn's Colitis 10, 735–746 (2016)

4

Satinsky, B. M., Gifford, S. M., Crump, B. C. & Moran, M. A. Use of internal standards for quantitative metatranscriptome and metagenome analysis. Methods Enzymol. 531, 237–250 (2013)

5

Morton, J. T. et al. Balance trees reveal microbial niche differentiation. mSystems 2, e00162–16 (2017)

6

Gloor, G. B., Wu, J. R., Pawlowsky-Glahn, V. & Egozcue, J. J. It's all relative: analyzing microbiome data as compositions. Ann. Epidemiol. 26, 322–329 (2016)

7

Harmsen, H. J. M., Pouwels, S. D., Funke, A., Bos, N. A. & Dijkstra, G. Crohn's disease patients have more IgG-binding fecal bacteria than controls. Clin. Vaccine Immunol. 19, 515–521 (2012)

8

Props, R. et al. Absolute quantification of microbial taxon abundances. ISME J. 11, 584–587 (2017)

9

Stämmler, F. et al. Adjusting microbiome profiles for differences in microbial load by spike-in bacteria. Microbiome 4, 28 (2016)

10

Sabino, J. et al. Primary sclerosing cholangitis is characterised by intestinal dysbiosis independent from IBD. Gut 65, 1681–1689 (2016)

11

Holmes, I., Harris, K. & Quince, C. Dirichlet multinomial mixtures: generative models for microbial metagenomics. PLoS One 7, e30126 (2012)

12

Arumugam, M. et al. Enterotypes of the human gut microbiome. Nature 473, 174–180 (2011)

13

Lewis, S. J. & Heaton, K. W. Stool form scale as a useful guide to intestinal transit time. Scand. J. Gastroenterol. 32, 920–924 (1997)

14

Vandeputte, D., Falony, G., D'hoe, K., Vieira-Silva, S. & Raes, J. Water activity does not shape the microbiota in the human colon. Gut 66, 1865–1866 (2017)

15

Vandeputte, D. et al. Stool consistency is strongly associated with gut microbiota richness and composition, enterotypes and bacterial growth rates. Gut 65, 57–62 (2016)

16

Tigchelaar, E. F. et al. Gut microbiota composition associated with stool consistency. Gut 65, 540–542 (2016)

17

Fuller, B. J. Cryoprotectants: the essential antifreezes to protect life in the frozen state. Cryo Lett. 25, 375–388 (2004)

18

Hugon, P. et al. Molecular studies neglect apparently gram-negative populations in the human gut microbiota. J. Clin. Microbiol. 51, 3286–3293 (2013)

19

Ben-Amor, K. et al. Genetic diversity of viable, injured, and dead fecal bacteria assessed by fluorescence-activated cell sorting and 16S rRNA gene analysis. Appl. Environ. Microbiol. 71, 4679–4689 (2005)

20

Roager, H. M. et al. Colonic transit time is related to bacterial metabolism and mucosal turnover in the gut. Nat. Microbiol. 1, 16093 (2016)

21

McMurdie, P. J. & Holmes, S. Waste not, want not: why rarefying microbiome data is inadmissible. PLOS Comput. Biol. 10, e1003531 (2014)

22

Goodrich, J. K. et al. Conducting a microbiome study. Cell 158, 250–262 (2014)

23

Magurran, A. E. Measuring Biological Diversity (Blackwell, 2004)

24

Faust, K. & Raes, J. Microbial interactions: from networks to models. Nat. Rev. Microbiol. 10, 538–550 (2012)

25

Lozupone, C. A., Stombaugh, J. I., Gordon, J. I., Jansson, J. K. & Knight, R. Diversity, stability and resilience of the human gut microbiota. Nature 489, 220–230 (2012)

26

Pascal, V. et al. A microbial signature for Crohn's disease. Gut 66, 813–822 (2017)

27

Kozich, J. J., Westcott, S. L., Baxter, N. T., Highlander, S. K. & Schloss, P. D. Development of a dual-index sequencing strategy and curation pipeline for analyzing amplicon sequence data on the MiSeq Illumina sequencing platform. Appl. Environ. Microbiol. 79, 5112–5120 (2013)

28

Prest, E. I., Hammes, F., Kötzsch, S., van Loosdrecht, M. C. M. & Vrouwenvelder, J. S. Monitoring microbiological changes in drinking water systems using a fast and reproducible flow cytometric method. Water Res. 47, 7131–7142 (2013)

29

Ramseier, C. A. et al. Identification of pathogen and host-response markers correlated with periodontal disease. J. Periodontol. 80, 436–446 (2009)

30

Tito, R. Y. et al. Dialister as a microbial marker of disease activity in spondyloarthritis. Arthritis Rheumatol. 69, 114–121 (2017)

31

Girardot, C., Scholtalbers, J., Sauer, S., Su, S. Y. & Furlong, E. E. Je, a versatile suite to handle multiplexed NGS libraries with unique molecular identifiers. BMC Bioinformatics 17, 419 (2016)

32

Magocˇ, T. & Salzberg, S. L. FLASH: fast length adjustment of short reads to improve genome assemblies. Bioinformatics 27, 2957–2963 (2011)

33

Edgar, R. C., Haas, B. J., Clemente, J. C., Quince, C. & Knight, R. UCHIME improves sensitivity and speed of chimera detection. Bioinformatics 27, 2194–2200 (2011)

34

Wang, Q., Garrity, G. M., Tiedje, J. M. & Cole, J. R. Naive Bayesian classifier for rapid assignment of rRNA sequences into the new bacterial taxonomy. Appl. Environ. Microbiol. 73, 5261–5267 (2007)

35

Stoddard, S. F., Smith, B. J., Hein, R., Roller, B. R. K. & Schmidt, T. M. rrnDB: improved tools for interpreting rRNA gene abundance in bacteria and archaea and a new foundation for future development. Nucleic Acids Res. 43, D593–D598 (2015)

36

McMurdie, P. J. & Holmes, S. phyloseq: an R package for reproducible interactive analysis and graphics of microbiome census data. PLoS One 8, e61217 (2013)

37

Oksanen, J. et al. vegan: community ecology package. R package version 2.2–1 https://CRAN.R-project.org/package=vegan (2015)

38

Ogle, D. H. FSA: fisheries stock analysis. R package version 0.8.13 https://cran.r-project.org/package=FSA (2017)

39

Hothorn, T., Hornik, K., van de Wiel, M. A. & Zeileis, A. A Lego system for conditional inference. Am. Stat. 60, 257–263 (2006)

40

Morgan, M. DirichletMultinomial: Dirichlet-multinomial mixture model machine learning for microbiome data. R package version 1.18.0 https://cran.r-project.org/package=dirmult (2017)

41

Wolak, M. ICC: facilitating estimation of the intraclass correlation coefficient. R package version 2.3.0 https://cran.r-project.org/package=ICC (2016)

42

Delignette-Muller, M. L. & Dutang, C. fitdistrplus: an R package for fitting distributions. J. Stat. Softw. 64, 1–34 (2015)

43

Benjamini, Y. & Hochberg, Y. Controlling the false discovery rate: a practical and powerful approach to multiple testing. J. R. Stat. Soc. B 57, 289–300 (1995)

44

Vieira-Silva, S. et al. Species-function relationships shape ecological properties of the human gut microbiome. Nat. Microbiol. 1, 16088 (2016)

45

Smith, C. J. & Osborn, A. M. Advantages and limitations of quantitative PCR (Q-PCR)-based approaches in microbial ecology. FEMS Microbiol. Ecol. 67, 6–20 (2009)

46

Hammes, F. et al. Flow-cytometric total bacterial cell counts as a descriptive microbiological parameter for drinking water treatment processes. Water Res. 42, 269–277 (2008)

47

Habtewold, T., Duchateau, L. & Christophides, G. K. Flow cytometry analysis of the microbiota associated with the midguts of vector mosquitoes. Parasit. Vectors 9, 167 (2016)
Acknowledgements
We thank all study participants, F. Giraldo for enabling sample collection at the PXL Hasselt, L. Rymenans and C. Verspecht for faecal DNA extraction and library preparation, K. Verbeke for facilitating moisture content determinations, and P. Goncalves for advice on simulating microbial data for benchmarking the QMP and RMP approach. The main funding for this study comes from a KU Leuven CREA grant. D.V. is supported by the Agency for Innovation by Science and Technology (IWT). G.K., K.D., M.V.-C., S.V.-S., and J.W. are funded by the Research Foundation Flanders (FWO-Vlaanderen). This work is further supported through funding by VIB, the Rega Institute for Medical Research, KU Leuven, FP7 METACARDIS (HEALTH-F4-2012-305312), and H2020 SYSCID (grant agreement 733100).
Ethics declarations
Competing interests
The authors declare no competing financial interests.
Additional information
Reviewer Information Nature thanks W. M. de Vos and the other anonymous reviewer(s) for their contribution to the peer review of this work.
Publisher's note: Springer Nature remains neutral with regard to jurisdictional claims in published maps and institutional affiliations.
Extended data figures and tables
Supplementary information
This file contains Supplementary Tables 1-11. (XLSX 90 kb)
About this article
Cite this article
Vandeputte, D., Kathagen, G., D'hoe, K. et al. Quantitative microbiome profiling links gut community variation to microbial load. Nature 551, 507–511 (2017). https://doi.org/10.1038/nature24460
Received:

Accepted:

Published:

Issue Date:
Comments
By submitting a comment you agree to abide by our Terms and Community Guidelines. If you find something abusive or that does not comply with our terms or guidelines please flag it as inappropriate.