Abstract
Modifications on mRNA offer the potential of regulating mRNA fate post-transcriptionally. Recent studies suggested the widespread presence of N1-methyladenosine (m1A), which disrupts Watson–Crick base pairing, at internal sites of mRNAs1,2. These studies lacked the resolution of identifying individual modified bases, and did not identify specific sequence motifs undergoing the modification or an enzymatic machinery catalysing them, rendering it challenging to validate and functionally characterize putative sites. Here we develop an approach that allows the transcriptome-wide mapping of m1A at single-nucleotide resolution. Within the cytosol, m1A is present in a low number of mRNAs, typically at low stoichiometries, and almost invariably in tRNA T-loop-like structures, where it is introduced by the TRMT6/TRMT61A complex. We identify a single m1A site in the mitochondrial ND5 mRNA, catalysed by TRMT10C, with methylation levels that are highly tissue specific and tightly developmentally controlled. m1A leads to translational repression, probably through a mechanism involving ribosomal scanning or translation. Our findings suggest that m1A on mRNA, probably because of its disruptive impact on base pairing, leads to translational repression, and is generally avoided by cells, while revealing one case in mitochondria where tight spatiotemporal control over m1A levels was adopted as a potential means of post-transcriptional regulation.
Relevant articles
Open Access articles citing this article.
Yan Zhang

,

Liang Lu

&

Xiaoyu Li

Experimental & Molecular Medicine Open Access 21 October 2022

Lian Cui

,

Rui Ma

…

Yuling Shi

Signal Transduction and Targeted Therapy Open Access 22 September 2022

Guillermo Carbajosa

,

Aminah T. Ali

&

Alan Hodgkinson

BMC Biology Open Access 22 July 2022
Access options
Subscribe to Nature+
Get immediate online access to Nature and 55 other Nature journal
Subscribe to Journal
Get full journal access for 1 year
$199.00
only $3.90 per issue
All prices are NET prices.
VAT will be added later in the checkout.
Tax calculation will be finalised during checkout.
Buy article
Get time limited or full article access on ReadCube.
$32.00
All prices are NET prices.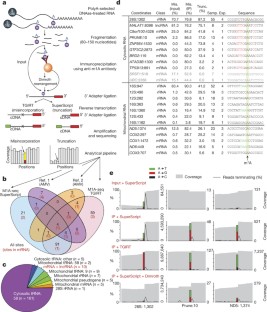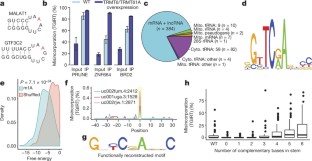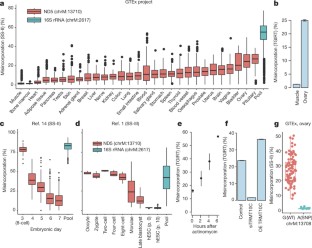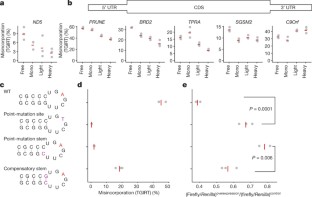 References
Li, X. et al. Transcriptome-wide mapping reveals reversible and dynamic N1-methyladenosine methylome. Nat. Chem. Biol. 12, 311–316 (2016)

Dominissini, D. et al. The dynamic N1-methyladenosine methylome in eukaryotic messenger RNA. Nature 530, 441–446 (2016)

Hauenschild, R. et al. The reverse transcription signature of N-1-methyladenosine in RNA-seq is sequence dependent. Nucleic Acids Res. 43, 9950–9964 (2015)

Jones, J. W. & Robins, R. K. Purine nucleosides. III. Methylation studies of certain naturally occurring purine nucleosides. J. Am. Chem. Soc. 85, 193–201 (1963)

Mohr, S. et al. Thermostable group II intron reverse transcriptase fusion proteins and their use in cDNA synthesis and next-generation RNA sequencing. RNA 19, 958–970 (2013)

Zubradt, M. et al. DMS-MaPseq for genome-wide or targeted RNA structure probing in vivo. Nat. Methods 14, 75–82 (2017)

Wilusz, J. E., Freier, S. M. & Spector, D. L. 3′ end processing of a long nuclear-retained noncoding RNA yields a tRNA-like cytoplasmic RNA. Cell 135, 919–932 (2008)

Hodgkinson, A. et al. High-resolution genomic analysis of human mitochondrial RNA sequence variation. Science 344, 413–415 (2014)

Bar-Yaacov, D. et al. RNA-DNA differences in human mitochondria restore ancestral form of 16S ribosomal RNA. Genome Res. 23, 1789–1796 (2013)

GTEx Consortium. The Genotype-Tissue Expression (GTEx) pilot analysis: multitissue gene regulation in humans. Science 348, 648–660 (2015)

Ozanick, S., Krecic, A., Andersland, J. & Anderson, J. T. The bipartite structure of the tRNA m1A58 methyltransferase from S. cerevisiae is conserved in humans. RNA 11, 1281–1290 (2005)

Jühling, F. et al. tRNAdb 2009: compilation of tRNA sequences and tRNA genes. Nucleic Acids Res. 37, D159–D162 (2009)

Safra, M., Nir, R., Farouq, D. & Schwartz, S. TRUB1 is the predominant pseudouridine synthase acting on mammalian mRNA via a predictable and conserved code. Genome Res. http://dx.doi.org/10.1101/gr.207613.116 (2017)

Petropoulos, S. et al. Single-cell RNA-seq reveals lineage and X chromosome dynamics in human preimplantation embryos. Cell 165, 1012–1026 (2016)

Bar-Yaacov, D. et al. Mitochondrial 16S rRNA is methylated by tRNA methyltransferase TRMT61B in all vertebrates. PLoS Biol. 14, e1002557 (2016)

Yan, L. et al. Single-cell RNA-seq profiling of human preimplantation embryos and embryonic stem cells. Nat. Struct. Mol. Biol. 20, 1131–1139 (2013)

Pikó, L. & Taylor, K. D. Amounts of mitochondrial DNA and abundance of some mitochondrial gene transcripts in early mouse embryos. Dev. Biol. 123, 364–374 (1987)

Vilardo, E. et al. A subcomplex of human mitochondrial RNase P is a bifunctional methyltransferase—extensive moonlighting in mitochondrial tRNA biogenesis. Nucleic Acids Res. 40, 11583–11593 (2012)

Hudson, G. et al. Clinical expression of Leber hereditary optic neuropathy is affected by the mitochondrial DNA-haplogroup background. Am. J. Hum. Genet. 81, 228–233 (2007)

Torroni, A. et al. Haplotype and phylogenetic analyses suggest that one European-specific mtDNA background plays a role in the expression of Leber hereditary optic neuropathy by increasing the penetrance of the primary mutations 11778 and 14484. Am. J. Hum. Genet. 60, 1107–1121 (1997)

Carelli, V. et al. Haplogroup effects and recombination of mitochondrial DNA: novel clues from the analysis of Leber hereditary optic neuropathy pedigrees. Am. J. Hum. Genet. 78, 564–574 (2006)

Brown, M. D., Sun, F. & Wallace, D. C. Clustering of Caucasian Leber hereditary optic neuropathy patients containing the 11778 or 14484 mutations on an mtDNA lineage. Am. J. Hum. Genet. 60, 381–387 (1997)

Schwartz, S. et al. Transcriptome-wide mapping reveals widespread dynamic-regulated pseudouridylation of ncRNA and mRNA. Cell 159, 148–162 (2014)

Carlile, T. M. et al. Pseudouridine profiling reveals regulated mRNA pseudouridylation in yeast and human cells. Nature 515, 143–146 (2014)

Lovejoy, A. F., Riordan, D. P. & Brown, P. O. Transcriptome-wide mapping of pseudouridines: pseudouridine synthases modify specific mRNAs in S. cerevisiae. PLoS ONE 9, e110799 (2014)

Edelheit, S., Schwartz, S., Mumbach, M. R., Wurtzel, O. & Sorek, R. Transcriptome-wide mapping of 5-methylcytidine RNA modifications in bacteria, archaea, and yeast reveals m5C within archaeal mRNAs. PLoS Genet. 9, e1003602 (2013)

Mills, R. M. & Brinster, R. L. Oxygen consumption of preimplantation mouse embryos. Exp. Cell Res. 47, 337–344 (1967)

Ginsberg, L. & Hillman, N. ATP metabolism in cleavage-staged mouse embryos. J. Embryol. Exp. Morphol. 30, 267–282 (1973)

Biggers, J. D. & Borland, R. M. Physiological aspects of growth and development of the preimplantation mammalian embryo. Annu. Rev. Physiol. 38, 95–119 (1976)

Wassarman, P. M. & Josefowicz, W. J. Oocyte development in the mouse: an ultrastructural comparison of oocytes isolated at various stages of growth and meiotic competence. J. Morphol. 156, 209–235 (1978)

Schwartz, S. et al. High-resolution mapping reveals a conserved, widespread, dynamic mRNA methylation program in yeast meiosis. Cell 155, 1409–1421 (2013)

Shishkin, A. A. et al. Simultaneous generation of many RNA-seq libraries in a single reaction. Nat. Methods 12, 323–325 (2015)

Engreitz, J. M. et al. The Xist lncRNA exploits three-dimensional genome architecture to spread across the X chromosome. Science 341, 1237973 (2013)

Machnicka, M. A. et al. MODOMICS: a database of RNA modification pathways--2013 update. Nucleic Acids Res. 41, D262–D267 (2013)

Dobin, A . et al. STAR: ultrafast universal RNA-seq aligner. Bioinformatics 29, 15–21 (2013)

Schwartz, S. et al. Perturbation of m6A writers reveals two distinct classes of mRNA methylation at internal and 5′ sites. Cell Reports 8, 284–296 (2014)

Li, B. & Dewey, C. N. RSEM: accurate transcript quantification from RNA-Seq data with or without a reference genome. BMC Bioinformatics 12, 323 (2011)

Robinson, M. D. & Oshlack, A. A scaling normalization method for differential expression analysis of RNA-seq data. Genome Biol. 11, R25 (2010)

Robinson, M. D., McCarthy, D. J. & Smyth, G. K . edgeR: a Bioconductor package for differential expression analysis of digital gene expression data. Bioinformatics 26, 139–140 (2010)

Gandin, V. et al. Polysome fractionation and analysis of mammalian translatomes on a genome-wide scale. J. Vis. Exp. 87, http://dx.doi.org/10.3791/51455 (2014)

Dominissini, D. et al. Topology of the human and mouse m6A RNA methylomes revealed by m6A-seq. Nature 485, 201–206 (2012)
Acknowledgements
This project was supported by the Israel Science Foundation (543165), the European Research Council under the European Union's Horizon 2020 research and innovation programme (grant agreement number 714023), by the Abisch-Frenkel-Stiftung, by research grants from The Abramson Family Center for Young Scientists, the David and Fela Shapell Family Foundation INCPM Fund for Preclinical Studies, the Estate of David Turner, and the Berlin Family Foundation New Scientist Fund.
Ethics declarations
Competing interests
The authors declare no competing financial interests.
Additional information
Reviewer Information Nature thanks Y. Motorin and the other anonymous reviewer(s) for their contribution to the peer review of this work.
Publisher's note: Springer Nature remains neutral with regard to jurisdictional claims in published maps and institutional affiliations.
Extended data figures and tables
Supplementary information
About this article
Cite this article
Safra, M., Sas-Chen, A., Nir, R. et al. The m1A landscape on cytosolic and mitochondrial mRNA at single-base resolution. Nature 551, 251–255 (2017). https://doi.org/10.1038/nature24456
Received:

Accepted:

Published:

Issue Date:

DOI: https://doi.org/10.1038/nature24456
Comments
By submitting a comment you agree to abide by our Terms and Community Guidelines. If you find something abusive or that does not comply with our terms or guidelines please flag it as inappropriate.