Abstract
The role of adaptive immunity in early cancer development is controversial. Here we show that chronic inflammation and fibrosis in humans and mice with non-alcoholic fatty liver disease is accompanied by accumulation of liver-resident immunoglobulin-A-producing (IgA+) cells. These cells also express programmed death ligand 1 (PD-L1) and interleukin-10, and directly suppress liver cytotoxic CD8+ T lymphocytes, which prevent emergence of hepatocellular carcinoma and express a limited repertoire of T-cell receptors against tumour-associated antigens. Whereas CD8+ T-cell ablation accelerates hepatocellular carcinoma, genetic or pharmacological interference with IgA+ cell generation attenuates liver carcinogenesis and induces cytotoxic T-lymphocyte-mediated regression of established hepatocellular carcinoma. These findings establish the importance of inflammation-induced suppression of cytotoxic CD8+ T-lymphocyte activation as a tumour-promoting mechanism.
Access options
Subscribe to Journal
Get full journal access for 1 year
$199.00
only $3.90 per issue
All prices are NET prices.
VAT will be added later in the checkout.
Rent or Buy article
Get time limited or full article access on ReadCube.
from$8.99
All prices are NET prices.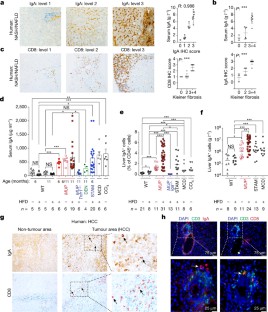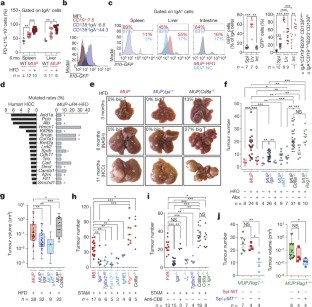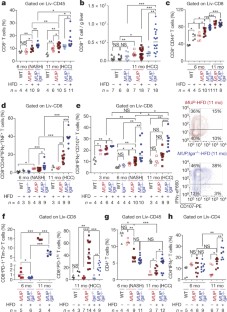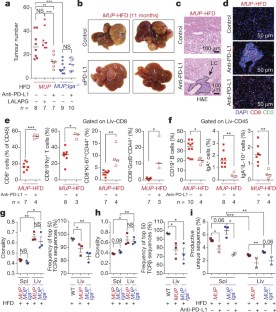 References
1

Sharma, P., Wagner, K., Wolchok, J. D. & Allison, J. P. Novel cancer immunotherapy agents with survival benefit: recent successes and next steps. Nat. Rev. Cancer 11, 805–812 (2011)

2

Rosenberg, S. A. & Restifo, N. P. Adoptive cell transfer as personalized immunotherapy for human cancer. Science 348, 62–68 (2015)

3

Mittal, D., Gubin, M. M., Schreiber, R. D. & Smyth, M. J. New insights into cancer immunoediting and its three component phases — elimination, equilibrium and escape. Curr. Opin. Immunol. 27, 16–25 (2014)

4

Corthay, A. Does the immune system naturally protect against cancer? Front. Immunol. 5, 197 (2014)

5

Singal, A. G. & El-Serag, H. B. Hepatocellular carcinoma from epidemiology to prevention: translating knowledge into practice. Clin. Gastroenterol. Hepatol. 13, 2140–2151 (2015)

6

Luedde, T. & Schwabe, R. F. NF-κB in the liver—linking injury, fibrosis and hepatocellular carcinoma. Nat. Rev. Gastroenterol. Hepatol. 8, 108–118 (2011)

7

Wolf, M. J. et al. Metabolic activation of intrahepatic CD8+ T cells and NKT cells causes nonalcoholic steatohepatitis and liver cancer via cross-talk with hepatocytes. Cancer Cell 26, 549–564 (2014)

8

Nakamoto, Y., Guidotti, L. G., Kuhlen, C. V., Fowler, P. & Chisari, F. V. Immune pathogenesis of hepatocellular carcinoma. J. Exp. Med. 188, 341–350 (1998)

9

Dhanda, A. D. & Collins, P. L. Immune dysfunction in acute alcoholic hepatitis. World J. Gastroenterol. 21, 11904–11913 (2015)

10

Baroni, G. S. et al. Interferon gamma decreases hepatic stellate cell activation and extracellular matrix deposition in rat liver fibrosis. Hepatology 23, 1189–1199 (1996)

11

Flavell, R. A., Sanjabi, S., Wrzesinski, S. H. & Licona-Limón, P. The polarization of immune cells in the tumour environment by TGFβ. Nat. Rev. Immunol. 10, 554–567 (2010)

12

Mauri, C. & Menon, M. The expanding family of regulatory B cells. Int. Immunol. 27, 479–486 (2015)

13

McPherson, S., Henderson, E., Burt, A. D., Day, C. P. & Anstee, Q. M. Serum immunoglobulin levels predict fibrosis in patients with non-alcoholic fatty liver disease. J. Hepatol. 60, 1055–1062 (2014)

14

Shalapour, S. et al. Immunosuppressive plasma cells impede T-cell-dependent immunogenic chemotherapy. Nature 521, 94–98 (2015)

15

Nakagawa, H. et al. ER stress cooperates with hypernutrition to trigger TNF-dependent spontaneous HCC development. Cancer Cell 26, 331–343 (2014)

16

Font-Burgada, J. et al. Hybrid periportal hepatocytes regenerate the injured liver without giving rise to cancer. Cell 162, 766–779 (2015)

17

Park, E. J. et al. Dietary and genetic obesity promote liver inflammation and tumorigenesis by enhancing IL-6 and TNF expression. Cell 140, 197–208 (2010)

18

Malik, A. et al. IL-33 regulates the IgA-microbiota axis to restrain IL-1α-dependent colitis and tumorigenesis. J. Clin. Invest. 126, 4469–4481 (2016)

19

Cerutti, A. The regulation of IgA class switching. Nat. Rev. Immunol. 8, 421–434 (2008)

20

Schulze, K. et al. Exome sequencing of hepatocellular carcinomas identifies new mutational signatures and potential therapeutic targets. Nat. Genet. 47, 505–511 (2015)

21

He, G. et al. Identification of liver cancer progenitors whose malignant progression depends on autocrine IL-6 signaling. Cell 155, 384–396 (2013)

22

Brandtzaeg, P. Secretory IgA: designed for anti-microbial defense. Front. Immunol. 4, 222 (2013)

23

Dapito, D. H. et al. Promotion of hepatocellular carcinoma by the intestinal microbiota and TLR4. Cancer Cell 21, 504–516 (2012)

24

Seki, E. et al. TLR4 enhances TGF-β signaling and hepatic fibrosis. Nat. Med. 13, 1324–1332 (2007)

25

Phan, T. G. et al. B cell receptor-independent stimuli trigger immunoglobulin (Ig) class switch recombination and production of IgG autoantibodies by anergic self-reactive B cells. J. Exp. Med. 197, 845–860 (2003)

26

Ma, C. et al. NAFLD causes selective CD4+ T lymphocyte loss and promotes hepatocarcinogenesis. Nature 531, 253–257 (2016)

27

Good-Jacobson, K. L. et al. PD-1 regulates germinal center B cell survival and the formation and affinity of long-lived plasma cells. Nat. Immunol. 11, 535–542 (2010)

28

Kim, P. S. & Ahmed, R. Features of responding T cells in cancer and chronic infection. Curr. Opin. Immunol. 22, 223–230 (2010)

29

Shalapour, S. & Karin, M. Immunity, inflammation, and cancer: an eternal fight between good and evil. J. Clin. Invest. 125, 3347–3355 (2015)

30

Mellman, I. et al. De-risking immunotherapy: report of a consensus workshop of the Cancer Immunotherapy Consortium of the Cancer Research Institute. Cancer Immunol. Res. 4, 279–288 (2016)

31

Kang, T. W. et al. Senescence surveillance of pre-malignant hepatocytes limits liver cancer development. Nature 479, 547–551 (2011)

32

El-Khoueiry, A. B. et al. Nivolumab in patients with advanced hepatocellular carcinoma (CheckMate 040): an open-label, non-comparative, phase 1/2 dose escalation and expansion trial. Lancet 389, 2492–2502 (2017)

33

Madan, R. et al. Nonredundant roles for B cell-derived IL-10 in immune counter-regulation. J. Immunol. 183, 2312–2320 (2009)

34

Kitamura, D., Roes, J., Kühn, R. & Rajewsky, K. A B cell-deficient mouse by targeted disruption of the membrane exon of the immunoglobulin μ chain gene. Nature 350, 423–426 (1991)

35

Harriman, G. R. et al. Targeted deletion of the IgA constant region in mice leads to IgA deficiency with alterations in expression of other Ig isotypes. J. Immunol. 162, 2521–2529 (1999)

36

Koh, D. R. et al. Less mortality but more relapses in experimental allergic encephalomyelitis in CD8-/- mice. Science 256, 1210–1213 (1992)

37

Mombaerts, P. et al. RAG-1-deficient mice have no mature B and T lymphocytes. Cell 68, 869–877 (1992)

38

Chen, J. et al. Immunoglobulin gene rearrangement in B cell deficient mice generated by targeted deletion of the JH locus. Int. Immunol. 5, 647–656 (1993)

39

Silveira, P. A. et al. The preferential ability of B lymphocytes to act as diabetogenic APC in NOD mice depends on expression of self-antigen-specific immunoglobulin receptors. Eur. J. Immunol. 32, 3657–3666 (2002)

40

Shimada, S. et al. Generation of polymeric immunoglobulin receptor-deficient mouse with marked reduction of secretory IgA. J. Immunol. 163, 5367–5373 (1999)

41

Forrester, E. et al. Effect of conditional knockout of the type II TGF-beta receptor gene in mammary epithelia on mammary gland development and polyomavirus middle T antigen induced tumor formation and metastasis. Cancer Res. 65, 2296–2302 (2005)

42

Phan, T. G., Gardam, S., Basten, A. & Brink, R. Altered migration, recruitment, and somatic hypermutation in the early response of marginal zone B cells to T cell-dependent antigen. J. Immunol. 174, 4567–4578 (2005)

43

Hogquist, K. A. et al. T cell receptor antagonist peptides induce positive selection. Cell 76, 17–27 (1994)

44

Fujii, M. et al. A murine model for non-alcoholic steatohepatitis showing evidence of association between diabetes and hepatocellular carcinoma. Med. Mol. Morphol. 46, 141–152 (2013)

45

Kleiner, D. E. & Makhlouf, H. R. Histology of nonalcoholic fatty liver disease and nonalcoholic steatohepatitis in adults and children. Clin. Liver Dis. 20, 293–312 (2016)

46

He, G. et al. Hepatocyte IKKβ/NFκB inhibits tumor promotion and progression by preventing oxidative stress-driven STAT3 activation. Cancer Cell 17, 286–297 (2010)

47

Meng, F., et al. Interleukin-17 signaling in inflammatory, Kupffer cells, and hepatic stellate cells exacerbates liver fibrosis in mice. Gastroenterology 143, 765–776 e761-763 (2012)

48

Yoshida, R. et al. A new method for quantitative analysis of the mouse T-cell receptor V region repertoires: comparison of repertoires among strains. Immunogenetics 52, 35–45 (2000)

49

Dobin, A. et al. STAR: ultrafast universal RNA-seq aligner. Bioinformatics 29, 15–21 (2013)

50

Heinz, S. et al. Simple combinations of lineage-determining transcription factors prime cis-regulatory elements required for macrophage and B cell identities. Mol. Cell 38, 576–589 (2010)

51

Love, M. I., Huber, W. & Anders, S. Moderated estimation of fold change and dispersion for RNA-seq data with DESeq2. Genome Biol. 15, 550 (2014)

52

de Hoon, M. J., Imoto, S., Nolan, J. & Miyano, S. Open source clustering software. Bioinformatics 20, 1453–1454 (2004)

53

Saldanha, A. J. Java Treeview–extensible visualization of microarray data. Bioinformatics 20, 3246–3248 (2004)

54

Tripathi, S . et al. Meta- and orthogonal integration of influenza "OMICs" data defines a role for ubr4 in virus budding. Cell Host Microbe 18, 723–735 (2015)

55

Mootha, V. K. et al. PGC-1α-responsive genes involved in oxidative phosphorylation are coordinately downregulated in human diabetes. Nat. Genet. 34, 267–273 (2003)

56

Subramanian, A. et al. Gene set enrichment analysis: a knowledge-based approach for interpreting genome-wide expression profiles. Proc. Natl Acad. Sci. USA 102, 15545–15550 (2005)

57

Totoki, Y. et al. Trans-ancestry mutational landscape of hepatocellular carcinoma genomes. Nat. Genet. 46, 1267–1273 (2014)

58

Li, H. & Durbin, R. Fast and accurate short read alignment with Burrows-Wheeler transform. Bioinformatics 25, 1754–1760 (2009)

59

Van der Auwera, G.A., et al. From FastQ data to high confidence variant calls: the Genome Analysis Toolkit best practices pipeline. Curr. Protoc. Bioinform. 43, 11.10.1–33 (2013)

60

McKenna, A. et al. The Genome Analysis Toolkit: a MapReduce framework for analyzing next-generation DNA sequencing data. Genome Res. 20, 1297–1303 (2010)

61

Keane, T. M. et al. Mouse genomic variation and its effect on phenotypes and gene regulation. Nature 477, 289–294 (2011)

62

Cingolani, P. et al. A program for annotating and predicting the effects of single nucleotide polymorphisms, SnpEff: SNPs in the genome of Drosophila melanogaster strain w1118; iso-2; iso-3. Fly 6, 80–92 (2012)

63

Thorvaldsdóttir, H., Robinson, J. T. & Mesirov, J. P. Integrative Genomics Viewer (IGV): high-performance genomics data visualization and exploration. Brief. Bioinform. 14, 178–192 (2013)

64

Teufel, A., et al. Comparison of gene expression patterns between mouse models of nonalcoholic fatty liver disease and liver tissues from patients. Gastroenterology 151, 513–525 (2016)

65

Röst, H. L. et al. OpenMS: a flexible open-source software platform for mass spectrometry data analysis. Nat. Methods 13, 741–748 (2016)

66

Xia, J. & Wishart, D.S . Using MetaboAnalyst 3.0 for comprehensive metabolomics data analysis. Curr. Protoc. Bioinform. 55, 14.10.11–14.10.91 (2016)

67

Caporaso, J. G. et al. Ultra-high-throughput microbial community analysis on the Illumina HiSeq and MiSeq platforms. ISME J. 6, 1621–1624 (2012)

68

Caporaso, J. G. et al. QIIME allows analysis of high-throughput community sequencing data. Nat. Methods 7, 335–336 (2010)

69

Ammon, A. et al. Deblur rapidly resolves single-nucleotide community sequence patterns. mSystems 2, e00191–16 (2017)

70

Mirarab, S., Nguyen, N. & Warnow, T. SEPP: SATé-enabled phylogenetic placement. Pac. Symp. Biocomput. 17, 247–258 (2012)

71

McDonald, D. et al. An improved Greengenes taxonomy with explicit ranks for ecological and evolutionary analyses of bacteria and archaea. ISME J. 6, 610–618 (2012)

72

McDonald, D. et al. The Biological Observation Matrix (BIOM) format or: how I learned to stop worrying and love the ome-ome. Gigascience 1, 7 (2012)

73

Faith, D. P. Conservation evaluation and phylogenetic diversity. Biol. Conserv. 61, 1–10 (1992)

74

Lozupone, C. & Knight, R. UniFrac: a new phylogenetic method for comparing microbial communities. Appl. Environ. Microbiol. 71, 8228–8235 (2005)

75

Vázquez-Baeza, Y., Pirrung, M., Gonzalez, A. & Knight, R. EMPeror: a tool for visualizing high-throughput microbial community data. Gigascience 2, 16 (2013)

76

Mandal, S. et al. Analysis of composition of microbiomes: a novel method for studying microbial composition. Microb. Ecol. Health Dis. 26, 27663 (2015)
Acknowledgements
We thank S. Choi, B. H. Dang, K. Nguyen, I. Mellman, G. Ackermann, H. Reeves, R. Quinn, G. Di Caro, G. Karin, and J. Haybaeck for help and advice. The research was supported by the National Institutes of Health (NIH), National Institute of Environmental Health Sciences Superfund Research Program, Horizon-2020-Framework Program of the European Union (Q.M.A.), Newcastle NIHR Biomedical Research Centre, CMI seed grant, Irvington Cancer Research Institute (S.S., Z.Z.), Prostate Cancer Foundation Young Investigator Award (S.S.), Southern California Research Center for ALPD and Cirrhosis grant (S.S., I.N.B.), Prevent Cancer Foundation Board of Directors Research Award (Z.Z.), and American Liver Foundation liver scholar award (D.D.). M.K. holds the Ben and Wanda Hildyard Chair. NIH funding was as follows: CA127923, CA118165, AI043477, and U01AA022614 to M.K.; P41GM103484-07 and GMS10RR029121 to P.C.D.; P42ES010337 to M.K., R.M.E., and R.L.; DK106419 to R.L.; and EPoS-634413 to Q.M.A.
Ethics declarations
Competing interests
The authors declare no competing financial interests.
Additional information
Reviewer Information Nature thanks A. Biragyn, M. Bodogai, G. Gores and the other anonymous reviewer(s) for their contribution to the peer review of this work.
Publisher's note: Springer Nature remains neutral with regard to jurisdictional claims in published maps and institutional affiliations.
Extended data figures and tables
Supplementary information
This file contains Supplementary Tables 1-3. (PDF 112 kb)
About this article
Cite this article
Shalapour, S., Lin, XJ., Bastian, I. et al. Inflammation-induced IgA+ cells dismantle anti-liver cancer immunity. Nature 551, 340–345 (2017). https://doi.org/10.1038/nature24302
Received:

Accepted:

Published:

Issue Date:
Comments
By submitting a comment you agree to abide by our Terms and Community Guidelines. If you find something abusive or that does not comply with our terms or guidelines please flag it as inappropriate.