Abstract
Pathogens have to balance transmission with persistence. For Plasmodium falciparum, the most widespread and virulent malaria parasite, persistence within its human host requires continuous asexual replication within red blood cells, while its mosquito-borne transmission depends on intra-erythrocytic differentiation into non-replicating sexual stages called gametocytes1. Commitment to either fate is determined during the preceding cell cycle that begins with invasion by a single, asexually committed merozoite and ends, 48 hours later, with a schizont releasing newly formed merozoites, all committed to either continued asexual replication or differentiation into gametocytes2,3. Sexual commitment requires the transcriptional activation of ap2-g (PF3D7_1222600)4,5, the master regulator of sexual development, from an epigenetically silenced state during asexual replication6,7. AP2-G expression during this 'commitment cycle' prepares gene expression in nascent merozoites to initiate sexual development through a hitherto unknown mechanism2,4. To maintain a persistent infection, the expression of ap2-g is limited to a sub-population of parasites (1–30%, depending on genetic background and growth conditions). As sexually committed schizonts comprise only a sub-population and are morphologically indistinguishable from their asexually committed counterparts, defining their characteristic gene expression has been difficult using traditional, bulk transcriptome profiling8. Here we use highly parallel, single-cell RNA sequencing9 of malaria cultures undergoing sexual commitment to determine the transcriptional changes induced by AP2-G within this sub-population. By analysing more than 18,000 single parasite transcriptomes from a conditional AP2-G knockdown line and NF54 wild-type parasites at multiple stages of development, we show that sexually committed, AP2-G+ mature schizonts specifically upregulate additional regulators of gene expression, including other AP2 transcription factors, histone-modifying enzymes, and regulators of nucleosome positioning. These epigenetic regulators may act to facilitate the expression and/or repression of genes that are necessary for the initiation of gametocyte development in the subsequent cell cycle.
Access options
Subscribe to Journal
Get full journal access for 1 year
$199.00
only $3.90 per issue
All prices are NET prices.
VAT will be added later in the checkout.
Tax calculation will be finalised during checkout.
Rent or Buy article
Get time limited or full article access on ReadCube.
from$8.99
All prices are NET prices.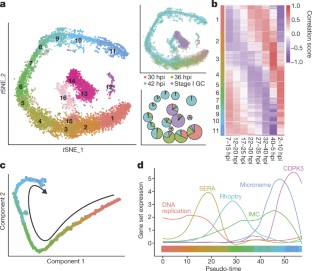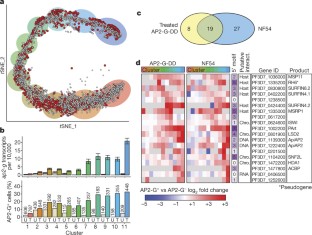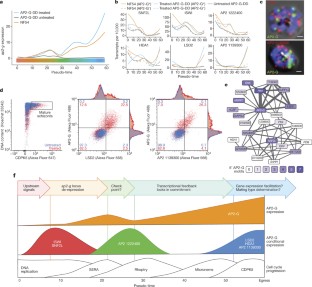 Accession codes
Primary accessions
Sequence Read Archive
References
1

Cowman, A. F., Healer, J., Marapana, D. & Marsh, K. Malaria: biology and disease. Cell 167, 610–624 (2016)

2

Silvestrini, F., Alano, P. & Williams, J. L. Commitment to the production of male and female gametocytes in the human malaria parasite Plasmodium falciparum. Parasitology 121, 465–471 (2000)

3

Bruce, M. C., Alano, P., Duthie, S. & Carter, R. Commitment of the malaria parasite Plasmodium falciparum to sexual and asexual development. Parasitology 100, 191–200 (1990)

4

Kafsack, B. F. C. et al. A transcriptional switch underlies commitment to sexual development in malaria parasites. Nature 507, 248–252 (2014)

5

Sinha, A. et al. A cascade of DNA-binding proteins for sexual commitment and development in Plasmodium. Nature 507, 253–257 (2014)

6

Brancucci, N. M. B. et al. Heterochromatin protein 1 secures survival and transmission of malaria parasites. Cell Host Microbe 16, 165–176 (2014)

7

Coleman, B. I. et al. A Plasmodium falciparum histone deacetylase regulates antigenic variation and gametocyte conversion. Cell Host Microbe 16, 177–186 (2014)

8

Pellé, K. G. et al. Shared elements of host-targeting pathways among apicomplexan parasites of differing lifestyles. Cell. Microbiol. 17, 1618–1639 (2015)

9

Macosko, E. Z. et al. Highly parallel genome-wide expression profiling of individual cells using nanoliter droplets. Cell 161, 1202–1214 (2015)

10

Sims, J. S. et al. Patterns of gene-specific and total transcriptional activity during the Plasmodium falciparum intraerythrocytic developmental cycle. Eukaryot. Cell 8, 327–338 (2009)

11

Fivelman, Q. L. et al. Improved synchronous production of Plasmodium falciparum gametocytes in vitro. Mol. Biochem. Parasitol. 154, 119–123 (2007)

12

Satija, R., Farrell, J. A., Gennert, D., Schier, A. F. & Regev, A. Spatial reconstruction of single-cell gene expression data. Nat. Biotechnol. 33, 495–502 (2015)

13

Kensche, P. R. et al. The nucleosome landscape of Plasmodium falciparum reveals chromatin architecture and dynamics of regulatory sequences. Nucleic Acids Res. 44, 2110–2124 (2016)

14

Qiu, X. et al. Single-cell mRNA quantification and differential analysis with Census. Nat. Methods 14, 309–315 (2017)

15

Dvorin, J. D. et al. A plant-like kinase in Plasmodium falciparum regulates parasite egress from erythrocytes. Science 328, 910–912 (2010)

16

Bozdech, Z. et al. The transcriptome of the intraerythrocytic developmental cycle of Plasmodium falciparum. PLoS Biol. 1, e5 (2003)

17

Claessens, A., Affara, M., Assefa, S. A., Kwiatkowski, D. P. & Conway, D. J. Culture adaptation of malaria parasites selects for convergent loss-of-function mutants. Sci. Rep. 7, 41303 (2017)

18

Narlikar, G. J., Sundaramoorthy, R. & Owen-Hughes, T. Mechanisms and functions of ATP-dependent chromatin-remodeling enzymes. Cell 154, 490–503 (2013)

19

Volz, J. et al. Potential epigenetic regulatory proteins localise to distinct nuclear sub-compartments in Plasmodium falciparum. Int. J. Parasitol. 40, 109–121 (2010)

20

Park, B. O., Ahrends, R. & Teruel, M. N. Consecutive positive feedback loops create a bistable switch that controls preadipocyte-to-adipocyte conversion. Cell Rep. 2, 976–990 (2012)

21

Laurent, M. & Kellershohn, N. Multistability: a major means of differentiation and evolution in biological systems. Trends Biochem. Sci. 24, 418–422 (1999)

22

Chickarmane, V., Troein, C., Nuber, U. A., Sauro, H. M. & Peterson, C. Transcriptional dynamics of the embryonic stem cell switch. PLoS Comput. Biol. 2, e123 (2006)

23

Bhattacharya, S. et al. A bistable switch underlying B-cell differentiation and its disruption by the environmental contaminant 2,3,7,8-tetrachlorodibenzo-p-dioxin. Toxicol. Sci. 115, 51–65 (2010)

24

Guizetti, J. & Scherf, A. Silence, activate, poise and switch! Mechanisms of antigenic variation in Plasmodium falciparum. Cell. Microbiol. 15, 718–726 (2013)

25

Hott, A. et al. Artemisinin-resistant Plasmodium falciparum parasites exhibit altered patterns of development in infected erythrocytes. Antimicrob. Agents Chemother. 59, 3156–3167 (2015)

26

Dzikowski, R., Frank, M. & Deitsch, K. Mutually exclusive expression of virulence genes by malaria parasites is regulated independently of antigen production. PLoS Pathog. 2, e22 (2006)

27

Moll, K., Ljungström, I., Perlmann, H. & Scherf, A. (eds) Methods in Malaria Research 5th edn (MR4/ATCC, 2008)

28

Armstrong, C. M. & Goldberg, D. E. An FKBP destabilization domain modulates protein levels in Plasmodium falciparum. Nat. Methods 4, 1007–1009 (2007)

29

Livak, K. J & Schmittgen, T. D. Analysis of relative gene expression data using real-time quantitative PCR and the 2−ΔΔCt method. Methods 25, 402–408 (2001)

30

Martin, R. E., Henry, R. I., Abbey, J. L., Clements, J. D. & Kirk, K. The 'permeome' of the malaria parasite: an overview of the membrane transport proteins of Plasmodium falciparum. Genome Biol. 6, R26 (2005)

31

Maaten, L. V. D. & Hinton, G. Visualizing data using t-SNE. J. Mach. Learn. Res. 9, 2579–2605 (2008)

32

Csardi, G. & Nepusz, T. The igraph software package for complex network research. InterJournal http://www.interjournal.org/manuscript_abstract.php?361100992 (2006)

33

Lopes, C. T. et al. Cytoscape Web: an interactive web-based network browser. Bioinformatics 26, 2347–2348 (2010)

34

Roth, F. P., Hughes, J. D., Estep, P. W. & Church, G. M. Finding DNA regulatory motifs within unaligned noncoding sequences clustered by whole-genome mRNA quantitation. Nat. Biotechnol. 16, 939–945 (1998)

35

Campbell, T. L., De Silva, E. K., Olszewski, K. L., Elemento, O. & Llinás, M. Identification and genome-wide prediction of DNA binding specificities for the ApiAP2 family of regulators from the malaria parasite. PLoS Pathog. 6, e1001165 (2010)
Acknowledgements
We would like to thank the WCM Genomics and Flow Cytometry core facilities, and G. Suppa for technical assistance. This work was supported by WCM internal startup funds (B.F.C.K.) and the NSF CAREER award (DBI-10549646, to O.E.), LLS SCOR (7006-13 and 7012016, O.E.), Hirschl Trust Award (O.E.), Starr Cancer Consortium (I6-A618, to O.E.) and NIH 1R01CA194547 (O.E.). A.P. and C.N. were supported by WCM graduate fellowships.
Ethics declarations
Competing interests
The authors declare no competing financial interests.
Additional information
Publisher's note: Springer Nature remains neutral with regard to jurisdictional claims in published maps and institutional affiliations.
Extended data figures and tables
Supplementary information
About this article
Cite this article
Poran, A., Nötzel, C., Aly, O. et al. Single-cell RNA sequencing reveals a signature of sexual commitment in malaria parasites. Nature 551, 95–99 (2017). https://doi.org/10.1038/nature24280
Received:

Accepted:

Published:

Issue Date:
Comments
By submitting a comment you agree to abide by our Terms and Community Guidelines. If you find something abusive or that does not comply with our terms or guidelines please flag it as inappropriate.