Abstract
Nutrient limitation of oceanic primary production exerts a fundamental control on marine food webs and the flux of carbon into the deep ocean1. The extensive boundaries of the oligotrophic sub-tropical gyres collectively define the most extreme transition in ocean productivity, but little is known about nutrient limitation in these zones1,2,3,4. Here we present the results of full-factorial nutrient amendment experiments conducted at the eastern boundary of the South Atlantic gyre. We find extensive regions in which the addition of nitrogen or iron individually resulted in no significant phytoplankton growth over 48 hours. However, the addition of both nitrogen and iron increased concentrations of chlorophyll a by up to approximately 40-fold, led to diatom proliferation, and reduced community diversity. Once nitrogen–iron co-limitation had been alleviated, the addition of cobalt or cobalt-containing vitamin B12 could further enhance chlorophyll a yields by up to threefold. Our results suggest that nitrogen–iron co-limitation is pervasive in the ocean, with other micronutrients also approaching co-deficiency. Such multi-nutrient limitations potentially increase phytoplankton community diversity.
Relevant articles
Open Access articles citing this article.
Fengjie Liu

,

Martha Gledhill

…

Yuri Korchev

The ISME Journal Open Access 07 July 2022

Tanya Marshall

,

Julie Granger

…

Sarah E. Fawcett

Communications Earth & Environment Open Access 30 June 2022

Gerrit Wienhausen

,

Leon Dlugosch

…

Meinhard Simon

The ISME Journal Open Access 18 May 2022
Access options
Subscribe to Nature+
Get immediate online access to the entire Nature family of 50+ journals
Subscribe to Journal
Get full journal access for 1 year
$199.00
only $3.90 per issue
All prices are NET prices.
VAT will be added later in the checkout.
Tax calculation will be finalised during checkout.
Buy article
Get time limited or full article access on ReadCube.
$32.00
All prices are NET prices.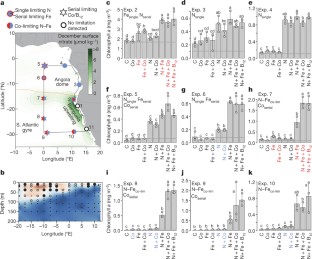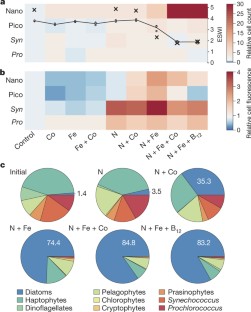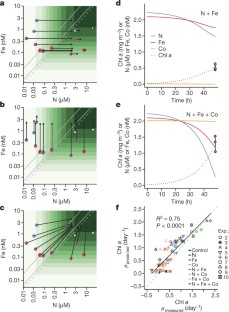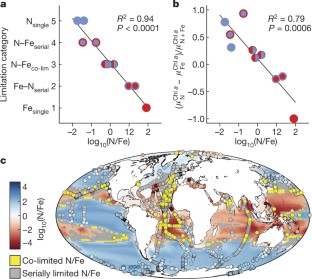 References
Moore, C. M. et al. Processes and patterns of oceanic nutrient limitation. Nat. Geosci. 6, 701–710 (2013)

Morel, F. M. M ., Milligan, A. J. & Saito, M. A. in The Oceans and Marine Geochemistry: Treatise on Geochemistry (ed. Elderfield, H. ) Ch. 5 (Pergamon, 2006)

Behrenfeld, M. J. et al. Controls on tropical Pacific Ocean productivity revealed through nutrient stress diagnostics. Nature 442, 1025–1028 (2006)

Saito, M. A. et al. Multiple nutrient stresses at intersecting Pacific Ocean biomes detected by protein biomarkers. Science 345, 1173–1177 (2014)

Saito, M. A., Rocap, G. & Moffett, J. W. Production of cobalt binding ligands in a Synechococcus feature at the Costa Rica upwelling dome. Limnol. Oceanogr. 50, 279–290 (2005)

Bertrand, E. M. et al. Vitamin B12 and iron colimitation of phytoplankton growth in the Ross Sea. Limnol. Oceanogr. 52, 1079–1093 (2007)

Arrigo, K. R. Marine microorganisms and global nutrient cycles. Nature 437, 349–355 (2005)

Saito, M. A., Goepfert, T. J. & Ritt, J. T. Some thoughts on the concept of colimitation: three definitions and the importance of bioavailability. Limnol. Oceanogr. 53, 276–290 (2008)

Harpole, W. S. et al. Nutrient co-limitation of primary producer communities. Ecol. Lett. 14, 852–862 (2011)

Sperfeld, E., Raubenheimer, D. & Wacker, A. Bridging factorial and gradient concepts of resource co-limitation: towards a general framework applied to consumers. Ecol. Lett. 19, 201–215 (2016)

Tilman, D. Resource Competition and Community Structure (Princeton Univ. Press, 1982)

Schade, J. D. et al. A conceptual framework for ecosystem stoichiometry: balancing resource supply and demand. Oikos 109, 40–51 (2005)

Danger, M., Daufresne, T., Lucas, F., Pissard, S. & Lacroix, G. Does Liebig's law of the minimum scale up from species to communities? Oikos 117, 1741–1751 (2008)

Noble, A. E. et al. Basin-scale inputs of cobalt, iron, and manganese from the Benguela–Angola front to the South Atlantic Ocean. Limnol. Oceanogr. 57, 989–1010 (2012)

Moore, C. M. et al. Relative influence of nitrogen and phosphorus availability on phytoplankton physiology and productivity in the oligotrophic sub-tropical North Atlantic Ocean. Limnol. Oceanogr. 53, 291–305 (2008)

Behrenfeld, M. J. & Milligan, A. J. Photophysiological expressions of iron stress in phytoplankton. Annu. Rev. Mar. Sci. 5, 217–246 (2013)

Mann, E. L. & Chisholm, S. W. Iron limits the cell division rate of Prochlorococcus in the eastern equatorial Pacific. Limnol. Oceanogr. 45, 1067–1076 (2000)

Landry, M. R. et al. Biological response to iron fertilization in the eastern equatorial Pacific (IronEx II). I. Microplankton community abundances and biomass. Mar. Ecol. Prog. Ser. 201, 27–42 (2000)

Harpole, W. S. et al. Addition of multiple limiting resources reduces grassland diversity. Nature 537, 93–96 (2016)

Interlandi, S. J. & Kilham, S. S. Limiting resources and the regulation of diversity in phytoplankton communities. Ecology 82, 1270–1282 (2001)

Li, W. K. W. Macroecological patterns of phytoplankton in the northwestern North Atlantic Ocean. Nature 419, 154–157 (2002)

Edwards, K. F., Klausmeier, C. A. & Litchman, E. Evidence for a three-way trade-off between nitrogen and phosphorus competitive abilities and cell size in phytoplankton. Ecology 92, 2085–2095 (2011)

Boyd, P. W. et al. Mesoscale iron enrichment experiments 1993–2005: synthesis and future directions. Science 315, 612–617 (2007)

Saito, M. A., Sigman, D. M. & Morel, F. M. M. The bioinorganic chemistry of the ancient ocean: the co-evolution of cyanobacterial metal requirements and biogeochemical cycles at the Archean–Proterozoic boundary? Inorg. Chim. Acta 356, 308–318 (2003)

Martinez, S., Yang, X., Bennett, B. & Holz, R. C. A cobalt-containing eukaryotic nitrile hydratase. Biochim. Biophys. Acta. 1865, 107–112 (2017)

Croft, M. T., Lawrence, A. D., Raux-Deery, E., Warren, M. J. & Smith, A. G. Algae acquire vitamin B12 through a symbiotic relationship with bacteria. Nature 438, 90–93 (2005)

Bertrand, E. M. et al. Methionine synthase interreplacement in diatom cultures and communities: implications for the persistence of B12 use by eukaryotic phytoplankton. Limnol. Oceanogr. 58, 1431–1450 (2013)

Ward, B. A., Dutkiewicz, S., Moore, C. M. & Follows, M. J. Iron, phosphorus, and nitrogen supply ratios define the biogeography of nitrogen fixation. Limnol. Oceanogr. 58, 2059–2075 (2013)

Tagliabue, A. et al. How well do global ocean biogeochemistry models simulate dissolved iron distributions? Glob. Biogeochem. Cycles 30, 149–174 (2016)

Göthlich, L. & Oschlies, A. Phytoplankton niche generation by interspecific stoichiometric variation. Glob. Biogeochem. Cycles 26, GB2010 (2012)
Acknowledgements
We thank the captain, crew, and principal scientist (M. Frank) of the RV Meteor M121 cruise; J. Pampín Baro, J. C. Yong and C. Schlosser for cruise support; and K. Nachtigall, T. Klüver, C. Utermann and P. Streu for technical laboratory assistance. This work was funded by a Marie Skłodowska-Curie Postdoctoral European Fellowship awarded to T.J.B. (OceanLiNES; project ID 658035). Additional financial aid to T.J.B. and E.P.A. from the European Commission is acknowledged (OCEAN-CERTAIN; project ID 603773). The cruise was funded by the Deutsche Forschungsgemeinschaft (DFG). A.T. was supported by funding from the European Research Council (project ID 724289). Funding to T.J.B. and C.M.M. for participation in the 2016 US GEOTRACES/OCB synthesis workshop is acknowledged.
Ethics declarations
Competing interests
The authors declare no competing financial interests.
Additional information
Reviewer Information Nature thanks M. Behrenfeld, T. M. Conway and the other anonymous reviewer(s) for their contribution to the peer review of this work.
Publisher's note: Springer Nature remains neutral with regard to jurisdictional claims in published maps and institutional affiliations.
Extended data figures and tables
Supplementary information
This file contains Supplementary Tables 1-4, a Supplementary Discussion, Supplementary Methods and Supplementary References. (PDF 888 kb)
About this article
Cite this article
Browning, T., Achterberg, E., Rapp, I. et al. Nutrient co-limitation at the boundary of an oceanic gyre. Nature 551, 242–246 (2017). https://doi.org/10.1038/nature24063
Received:

Accepted:

Published:

Issue Date:

DOI: https://doi.org/10.1038/nature24063
Comments
By submitting a comment you agree to abide by our Terms and Community Guidelines. If you find something abusive or that does not comply with our terms or guidelines please flag it as inappropriate.