Abstract
Targeted BRAF inhibition (BRAFi) and combined BRAF and MEK inhibition (BRAFi and MEKi) therapies have markedly improved the clinical outcomes of patients with metastatic melanoma. Unfortunately, the efficacy of these treatments is often countered by the acquisition of drug resistance1,2,3,4,5,6. Here we investigated the molecular mechanisms that underlie acquired resistance to BRAFi and to the combined therapy. Consistent with previous studies, we show that resistance to BRAFi is mediated by ERK pathway reactivation. Resistance to the combined therapy, however, is mediated by mechanisms independent of reactivation of ERK in many resistant cell lines and clinical samples. p21-activated kinases (PAKs) become activated in cells with acquired drug resistance and have a pivotal role in mediating resistance. Our screening, using a reverse-phase protein array, revealed distinct mechanisms by which PAKs mediate resistance to BRAFi and the combined therapy. In BRAFi-resistant cells, PAKs phosphorylate CRAF and MEK to reactivate ERK. In cells that are resistant to the combined therapy, PAKs regulate JNK and β-catenin phosphorylation and mTOR pathway activation, and inhibit apoptosis, thereby bypassing ERK. Together, our results provide insights into the molecular mechanisms underlying acquired drug resistance to current targeted therapies, and may help to direct novel drug development efforts to overcome acquired drug resistance.
Your institute does not have access to this article
Relevant articles
Open Access articles citing this article.
Greta Del Mistro

,

Shamala Riemann

…

Dagmar Kulms

Cell Death & Disease Open Access 12 January 2022

Beike Wang

,

Wei Zhang

…

Wei Guo

Oncogene Open Access 24 July 2021

Marta Di Martile

,

Stefania Garzoli

…

Donatella Del Bufalo

Cell Death Discovery Open Access 31 May 2021
Access options
Subscribe to Nature+
Get immediate online access to the entire Nature family of 50+ journals
Subscribe to Journal
Get full journal access for 1 year
$199.00
only $3.90 per issue
All prices are NET prices.
VAT will be added later in the checkout.
Tax calculation will be finalised during checkout.
Buy article
Get time limited or full article access on ReadCube.
$32.00
All prices are NET prices.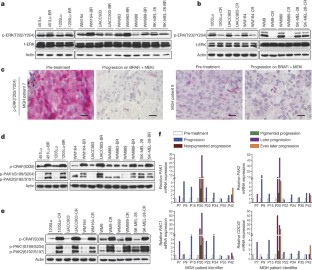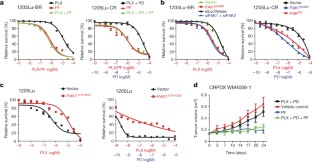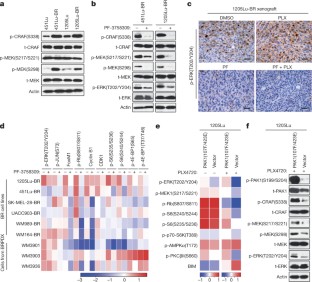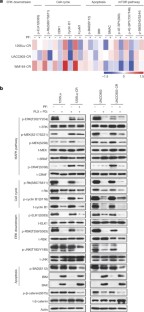 References
Chapman, P. B. et al. Improved survival with vemurafenib in melanoma with BRAF V600E mutation. N. Engl. J. Med. 364, 2507–2516 (2011)

Shi, H. et al. Acquired resistance and clonal evolution in melanoma during BRAF inhibitor therapy. Cancer Discov. 4, 80–93 (2014)

Boussemart, L. et al. eIF4F is a nexus of resistance to anti-BRAF and anti-MEK cancer therapies. Nature 513, 105–109 (2014)

Larkin, J. et al. Combined vemurafenib and cobimetinib in BRAF-mutated melanoma. N. Engl. J. Med. 371, 1867–1876 (2014)

Long, G. V. et al. Increased MAPK reactivation in early resistance to dabrafenib/trametinib combination therapy of BRAF-mutant metastatic melanoma. Nat. Commun. 5, 5694 (2014)

Long, G. V. et al. Combined BRAF and MEK inhibition versus BRAF inhibition alone in melanoma. N. Engl. J. Med. 371, 1877–1888 (2014)

Nazarian, R. et al. Melanomas acquire resistance to B-RAF(V600E) inhibition by RTK or N-RAS upregulation. Nature 468, 973–977 (2010)

Johannessen, C. M. et al. A melanocyte lineage program confers resistance to MAP kinase pathway inhibition. Nature 504, 138–142 (2013)

Villanueva, J. et al. Acquired resistance to BRAF inhibitors mediated by a RAF kinase switch in melanoma can be overcome by cotargeting MEK and IGF-1R/PI3K. Cancer Cell 18, 683–695 (2010)

Anastas, J. N. et al. WNT5A enhances resistance of melanoma cells to targeted BRAF inhibitors. J. Clin. Invest. 124, 2877–2890 (2014)

Tentori, L., Lacal, P. M. & Graziani, G. Challenging resistance mechanisms to therapies for metastatic melanoma. Trends Pharmacol. Sci. 34, 656–666 (2013)

Wagle, N. et al. MAP kinase pathway alterations in BRAF-mutant melanoma patients with acquired resistance to combined RAF/MEK inhibition. Cancer Discov. 4, 61–68 (2014)

Moriceau, G. et al. Tunable-combinatorial mechanisms of acquired resistance limit the efficacy of BRAF/MEK cotargeting but result in melanoma drug addiction. Cancer Cell 27, 240–256 (2015)

Van Allen, E. M. et al. The genetic landscape of clinical resistance to RAF inhibition in metastatic melanoma. Cancer Discov. 4, 94–109 (2014)

King, A. J. et al. The protein kinase Pak3 positively regulates Raf-1 activity through phosphorylation of serine 338. Nature 396, 180–183 (1998)

Tran, N. H. & Frost, J. A. Phosphorylation of Raf-1 by p21-activated kinase 1 and Src regulates Raf-1 autoinhibition. J. Biol. Chem. 278, 11221–11226 (2003)

Radu, M., Semenova, G., Kosoff, R. & Chernoff, J. PAK signalling during the development and progression of cancer. Nat. Rev. Cancer 14, 13–25 (2014)

Hugo, W. et al. Non-genomic and immune evolution of melanoma acquiring MAPKi Resistance. Cell 162, 1271–1285 (2015)

Ong, C. C. et al. P21-activated kinase 1 (PAK1) as a therapeutic target in BRAF wild-type melanoma. J. Natl Cancer Inst. 105, 606–607 (2013)

Murray, B. W. et al. Small-molecule p21-activated kinase inhibitor PF-3758309 is a potent inhibitor of oncogenic signaling and tumor growth. Proc. Natl Acad. Sci. USA 107, 9446–9451 (2010)

Cavigelli, M., Dolfi, F., Claret, F. X. & Karin, M. Induction of c-fos expression through JNK-mediated TCF/Elk-1 phosphorylation. EMBO J. 14, 5957–5964 (1995)

Bagrodia, S., Dérijard, B., Davis, R. J. & Cerione, R. A. Cdc42 and PAK-mediated signaling leads to Jun kinase and p38 mitogen-activated protein kinase activation. J. Biol. Chem. 270, 27995–27998 (1995)

Alavi, A., Hood, J. D., Frausto, R., Stupack, D. G. & Cheresh, D. A. Role of Raf in vascular protection from distinct apoptotic stimuli. Science 301, 94–96 (2003)

Higuchi, M., Onishi, K., Kikuchi, C. & Gotoh, Y. Scaffolding function of PAK in the PDK1–Akt pathway. Nat. Cell Biol. 10, 1356–1364 (2008)

Zhang, G. et al. Targeting mitochondrial biogenesis to overcome drug resistance to MAPK inhibitors. J. Clin. Invest. 126, 1834–1856 (2016)

Coniglio, S. J., Zavarella, S. & Symons, M. H. Pak1 and Pak2 mediate tumor cell invasion through distinct signaling mechanisms. Mol. Cell. Biol. 28, 4162–4172 (2008)

Arias-Romero, L. E., Villamar-Cruz, O., Huang, M., Hoeflich, K. P. & Chernoff, J. Pak1 kinase links ErbB2 to β-catenin in transformation of breast epithelial cells. Cancer Res. 73, 3671–3682 (2013)

You, H. et al. JNK regulates compliance-induced adherens junctions formation in epithelial cells and tissues. J. Cell Sci. 126, 2718–2729 (2013)

Ji, H., Wang, J., Fang, B., Fang, X. & Lu, Z. α-Catenin inhibits glioma cell migration, invasion, and proliferation by suppression of β-catenin transactivation. J. Neurooncol. 103, 445–451 (2011)

Tibes, R. et al. Reverse phase protein array: validation of a novel proteomic technology and utility for analysis of primary leukemia specimens and hematopoietic stem cells. Mol. Cancer Ther. 5, 2512–2521 (2006)

Krepler, C. et al. Personalized preclinical trials in BRAF inhibitor-resistant patient-derived xenograft models identify second-line combination therapies. Clin. Cancer Res. 22, 1592–1602 (2016)

Barbie, D. A. et al. Systematic RNA interference reveals that oncogenic KRAS-driven cancers require TBK1. Nature 462, 108–112 (2009)

Hänzelmann, S., Castelo, R. & Guinney, J. GSVA: gene set variation analysis for microarray and RNA-seq data. BMC Bioinformatics 14, 7 (2013)
Acknowledgements
We thank Pfizer, Inc. for providing PF-3758309, and Plexxikon, Inc. for providing PLX4720 and PD0325901. This work is supported by NIH grants R01-GM085146, U54-CA193417 and CA174523 pilot grant to W.G., CA114046, CA25874 and CA174523 to X.X., the Dr. Miriam and Sheldon G. Adelson Medical Research Foundation and NCI CA025874, CA114046 and CA174523 to M.H, and CA142928 to J.C.
Ethics declarations
Competing interests
The authors declare no competing financial interests.
Additional information
Reviewer Information Nature thanks A. A. Qutub, C. Wells and the other anonymous reviewer(s) for their contribution to the peer review of this work.
Publisher's note: Springer Nature remains neutral with regard to jurisdictional claims in published maps and institutional affiliations.
Extended data figures and tables
Supplementary information
About this article
Cite this article
Lu, H., Liu, S., Zhang, G. et al. PAK signalling drives acquired drug resistance to MAPK inhibitors in BRAF-mutant melanomas. Nature 550, 133–136 (2017). https://doi.org/10.1038/nature24040
Received:

Accepted:

Published:

Issue Date:

DOI: https://doi.org/10.1038/nature24040
Comments
By submitting a comment you agree to abide by our Terms and Community Guidelines. If you find something abusive or that does not comply with our terms or guidelines please flag it as inappropriate.