Abstract
Identification of neural circuit changes that contribute to behavioural plasticity has routinely been conducted on candidate circuits that were preselected on the basis of previous results. Here we present an unbiased method for identifying experience-triggered circuit-level changes in neuronal ensembles in mice. Using rabies virus monosynaptic tracing, we mapped cocaine-induced global changes in inputs onto neurons in the ventral tegmental area. Cocaine increased rabies-labelled inputs from the globus pallidus externus (GPe), a basal ganglia nucleus not previously known to participate in behavioural plasticity triggered by drugs of abuse. We demonstrated that cocaine increased GPe neuron activity, which accounted for the increase in GPe labelling. Inhibition of GPe activity revealed that it contributes to two forms of cocaine-triggered behavioural plasticity, at least in part by disinhibiting dopamine neurons in the ventral tegmental area. These results suggest that rabies-based unbiased screening of changes in input populations can identify previously unappreciated circuit elements that critically support behavioural adaptations.
Relevant articles
Open Access articles citing this article.
Federico Rocchi

,

Carola Canella

…

Alessandro Gozzi

Nature Communications Open Access 25 February 2022

Qingtao Sun

,

Jianping Zhang

…

Qingming Luo

Nature Communications Open Access 22 February 2022

Guangjian Qi

,

Pei Zhang

…

Bo Tian

Nature Communications Open Access 31 January 2022
Access options
Subscribe to Nature+
Get immediate online access to the entire Nature family of 50+ journals
Subscribe to Journal
Get full journal access for 1 year
$199.00
only $3.90 per issue
All prices are NET prices.
VAT will be added later in the checkout.
Tax calculation will be finalised during checkout.
Buy article
Get time limited or full article access on ReadCube.
$32.00
All prices are NET prices.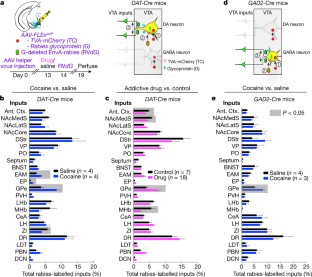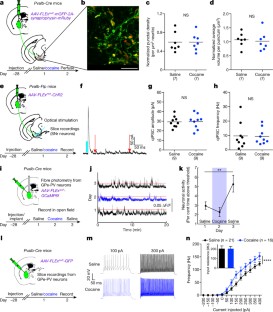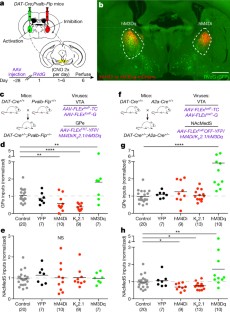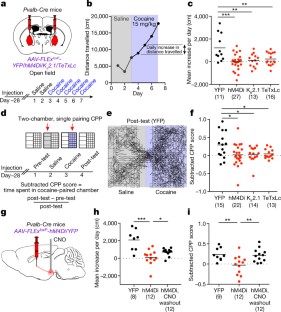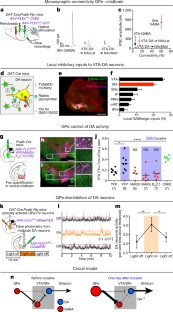 References
Boyden, E. S., Zhang, F., Bamberg, E., Nagel, G. & Deisseroth, K. Millisecond-timescale, genetically targeted optical control of neural activity. Nat. Neurosci. 8, 1263–1268 (2005)

Armbruster, B. N., Li, X., Pausch, M. H., Herlitze, S. & Roth, B. L. Evolving the lock to fit the key to create a family of G protein-coupled receptors potently activated by an inert ligand. Proc. Natl Acad. Sci. USA 104, 5163–5168 (2007)

Lin, D. et al. Functional identification of an aggression locus in the mouse hypothalamus. Nature 470, 221–226 (2011)

Ye, L. et al. Wiring and molecular features of prefrontal ensembles representing distinct experiences. Cell 165, 1776–1788 (2016)

Watabe-Uchida, M., Zhu, L., Ogawa, S. K., Vamanrao, A. & Uchida, N. Whole-brain mapping of direct inputs to midbrain dopamine neurons. Neuron 74, 858–873 (2012)

Weissbourd, B. et al. Presynaptic partners of dorsal raphe serotonergic and GABAergic neurons. Neuron 83, 645–662 (2014)

Beier, K. T. et al. Circuit architecture of VTA dopamine neurons revealed by systematic input-output mapping. Cell 162, 622–634 (2015)

Schwarz, L. A. et al. Viral-genetic tracing of the input-output organization of a central noradrenaline circuit. Nature 524, 88–92 (2015)

Lerner, T. N. et al. Intact-brain analyses reveal distinct information carried by SNc dopamine subcircuits. Cell 162, 635–647 (2015)

Lammel, S. et al. Input-specific control of reward and aversion in the ventral tegmental area. Nature 491, 212–217 (2012)

Kalivas, P. W. & Volkow, N. D. The neural basis of addiction: a pathology of motivation and choice. Am. J. Psychiatry 162, 1403–1413 (2005)

Nestler, E. J. & Carlezon, W. A. Jr. The mesolimbic dopamine reward circuit in depression. Biol. Psychiatry 59, 1151–1159 (2006)

Albin, R. L., Young, A. B. & Penney, J. B. The functional anatomy of basal ganglia disorders. Trends Neurosci. 12, 366–375 (1989)

Yin, H. H. & Knowlton, B. J. The role of the basal ganglia in habit formation. Nat. Rev. Neurosci. 7, 464–476 (2006)

Hammond, C., Bergman, H. & Brown, P. Pathological synchronization in Parkinson's disease: networks, models and treatments. Trends Neurosci. 30, 357–364 (2007)

Lüscher, C. & Malenka, R. C. Drug-evoked synaptic plasticity in addiction: from molecular changes to circuit remodeling. Neuron 69, 650–663 (2011)

Wickersham, I. R. et al. Monosynaptic restriction of transsynaptic tracing from single, genetically targeted neurons. Neuron 53, 639–647 (2007)

Smith, Y. & Bolam, J. P. The output neurones and the dopaminergic neurones of the substantia nigra receive a GABA-containing input from the globus pallidus in the rat. J. Comp. Neurol. 296, 47–64 (1990)

Zhou, F.-M. & Lee, C. R. Intrinsic and integrative properties of substantia nigra pars reticulata neurons. Neuroscience 198, 69–94 (2011)

Oliet, S. H. R., Malenka, R. C. & Nicoll, R. A. Bidirectional control of quantal size by synaptic activity in the hippocampus. Science 271, 1294–1297 (1996)

Raab-Graham, K. F., Radeke, C. M. & Vandenberg, C. A. Molecular cloning and expression of a human heart inward rectifier potassium channel. Neuroreport 5, 2501–2505 (1994)

Schiavo, G. et al. Tetanus and botulinum-B neurotoxins block neurotransmitter release by proteolytic cleavage of synaptobrevin. Nature 359, 832–835 (1992)

Stachniak, T. J., Ghosh, A. & Sternson, S. M. Chemogenetic synaptic silencing of neural circuits localizes a hypothalamus→midbrain pathway for feeding behavior. Neuron 82, 797–808 (2014)

Lammel, S., Ion, D. I., Roeper, J. & Malenka, R. C. Projection-specific modulation of dopamine neuron synapses by aversive and rewarding stimuli. Neuron 70, 855–862 (2011)

Miyamichi, K. et al. Dissecting local circuits: parvalbumin interneurons underlie broad feedback control of olfactory bulb output. Neuron 80, 1232–1245 (2013)

Rajasethupathy, P. et al. Projections from neocortex mediate top-down control of memory retrieval. Nature 526, 653–659 (2015)

Gittis, A. H. et al. New roles for the external globus pallidus in basal ganglia circuits and behavior. J. Neurosci. 34, 15178–15183 (2014)

Pierce, R. C. & Kumaresan, V. The mesolimbic dopamine system: the final common pathway for the reinforcing effect of drugs of abuse? Neurosci. Biobehav. Rev. 30, 215–238 (2006)

Stepien, A. E., Tripodi, M. & Arber, S. Monosynaptic rabies virus reveals premotor network organization and synaptic specificity of cholinergic partition cells. Neuron 68, 456–472 (2010)

Miyamichi, K. et al. Cortical representations of olfactory input by trans-synaptic tracing. Nature 472, 191–196 (2011)

Yonehara, K. et al. Spatially asymmetric reorganization of inhibition establishes a motion-sensitive circuit. Nature 469, 407–410 (2011)

Wall, N. R ., De La Parra, M ., Callaway, E. M. & Kreitzer, A. C. Differential innervation of direct- and indirect-pathway striatal projection neurons. Neuron 79, 347–360 (2013)

Franklin, K. B. J. & Paxinos, G. The Mouse Brain in Stereotaxic Coordinates 4th edn (Academic, 2012)

Bäckman, C. M. et al. Characterization of a mouse strain expressing Cre recombinase from the 3′ untranslated region of the dopamine transporter locus. Genesis 44, 383–390 (2006)

Taniguchi, H. et al. A resource of Cre driver lines for genetic targeting of GABAergic neurons in cerebral cortex. Neuron 71, 995–1013 (2011)

Hippenmeyer, S. et al. A developmental switch in the response of DRG neurons to ETS transcription factor signaling. PLoS Biol. 3, e159 (2005)

Madisen, L. et al. Transgenic mice for intersectional targeting of neural sensors and effectors with high specificity and performance. Neuron 85, 942–958 (2015)

Rothwell, P. E. et al. Autism-associated neuroligin-3 mutations commonly impair striatal circuits to boost repetitive behaviors. Cell 158, 198–212 (2014)

Shuen, J. A., Chen, M., Gloss, B. & Calakos, N. Drd1a-tdTomato BAC transgenic mice for simultaneous visualization of medium spiny neurons in the direct and indirect pathways of the basal ganglia. J. Neurosci. 28, 2681–2685 (2008)

Krashes, M. J. et al. Rapid, reversible activation of AgRP neurons drives feeding behavior in mice. J. Clin. Invest. 121, 1424–1428 (2011)

Xue, M., Atallah, B. V. & Scanziani, M. Equalizing excitation-inhibition ratios across visual cortical neurons. Nature 511, 596–600 (2014)

Mosca, T. J. & Luo, L. Synaptic organization of the Drosophila antennal lobe and its regulation by the Teneurins. eLife 3, e03726 (2014)

Gunaydin, L. A. et al. Natural neural projection dynamics underlying social behavior. Cell 157, 1535–1551 (2014)

Petreanu, L., Mao, T., Sternson, S. M. & Svoboda, K. The subcellular organization of neocortical excitatory connections. Nature 457, 1142–1145 (2009)

Park, J. S. et al. Synthetic control of mammalian-cell motility by engineering chemotaxis to an orthogonal bioinert chemical signal. Proc. Natl Acad. Sci. USA 111, 5896–5901 (2014)
Acknowledgements
This study was supported by grants from the Howard Hughes Medical Institute (Hughes Collaborative Innovation Award), National Institutes of Health (R01-NS50835, PO1 DA008227, TR01-MH099647, F32-DA038913, K99-DC013059 and K99-DA041445), and the Stanford Neurosciences Institute.
Ethics declarations
Competing interests
R.C.M. and K.D. are on the scientific advisory board of Circuit Therapeutics, Inc., a biotech dedicated to development of novel therapeutics for brain disorders. All other authors declare no competing financial interests.
Additional information
Reviewer Information Nature thanks P. Kenny, M. Wolf and the other anonymous reviewer(s) for their contribution to the peer review of this work.
Publisher's note: Springer Nature remains neutral with regard to jurisdictional claims in published maps and institutional affiliations.
Extended data figures and tables
Supplementary information
About this article
Cite this article
Beier, K., Kim, C., Hoerbelt, P. et al. Rabies screen reveals GPe control of cocaine-triggered plasticity. Nature 549, 345–350 (2017). https://doi.org/10.1038/nature23888
Received:

Accepted:

Published:

Issue Date:

DOI: https://doi.org/10.1038/nature23888
Comments
By submitting a comment you agree to abide by our Terms and Community Guidelines. If you find something abusive or that does not comply with our terms or guidelines please flag it as inappropriate.