Abstract
The melanocortin-1 receptor (MC1R), a G-protein-coupled receptor, has a crucial role in human and mouse pigmentation1,2,3,4,5,6,7,8. Activation of MC1R in melanocytes by α-melanocyte-stimulating hormone (α-MSH)9 stimulates cAMP signalling and melanin production and enhances DNA repair after ultraviolet irradiation10,11,12,13,14,15,16. Individuals carrying MC1R variants, especially those associated with red hair colour, fair skin and poor tanning ability (denoted as RHC variants), are associated with higher risk of melanoma5,17,18,19,20. However, how MC1R activity is modulated by ultraviolet irradiation, why individuals with red hair are more prone to developing melanoma, and whether the activity of RHC variants might be restored for therapeutic benefit are unknown. Here we demonstrate a potential MC1R-targeted intervention strategy in mice to rescue loss-of-function MC1R in MC1R RHC variants for therapeutic benefit by activating MC1R protein palmitoylation. MC1R palmitoylation, primarily mediated by the protein-acyl transferase ZDHHC13, is essential for activating MC1R signalling, which triggers increased pigmentation, ultraviolet-B-induced G1-like cell cycle arrest and control of senescence and melanomagenesis in vitro and in vivo. Using C57BL/6J-Mc1re/eJ mice, in which endogenous MC1R is prematurely terminated, expressing Mc1r RHC variants, we show that pharmacological activation of palmitoylation rescues the defects of Mc1r RHC variants and prevents melanomagenesis. The results highlight a central role for MC1R palmitoylation in pigmentation and protection against melanoma.
Relevant articles
Open Access articles citing this article.
Shuang Shang

,

Jing Liu

&

Fang Hua

Signal Transduction and Targeted Therapy Open Access 29 December 2022

Weinan Guo

,

Huina Wang

&

Chunying Li

Signal Transduction and Targeted Therapy Open Access 20 December 2021

Xin Li

,

Weiwei Mao

…

Xiao Miao

Cell Death Discovery Open Access 18 May 2021
Access options
Subscribe to Nature+
Get immediate online access to Nature and 55 other Nature journal
Subscribe to Journal
Get full journal access for 1 year
$199.00
only $3.90 per issue
All prices are NET prices.
VAT will be added later in the checkout.
Tax calculation will be finalised during checkout.
Buy article
Get time limited or full article access on ReadCube.
$32.00
All prices are NET prices.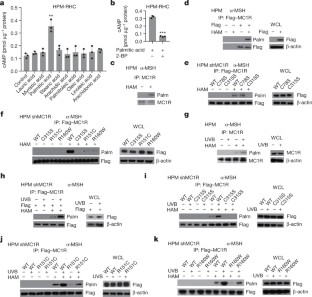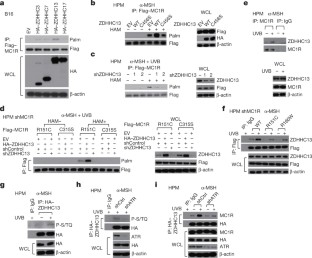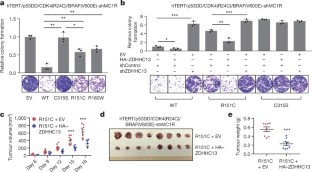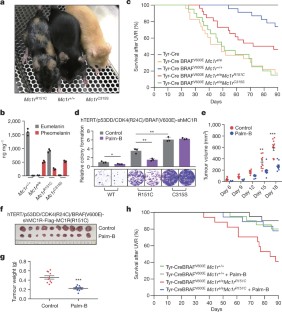 References
Jackson, I. J., Budd, P. S., Keighren, M. & McKie, L. Humanized MC1R transgenic mice reveal human specific receptor function. Hum. Mol. Genet. 16, 2341–2348 (2007)

D'Orazio, J. A. et al. Topical drug rescue strategy and skin protection based on the role of Mc1r in UV-induced tanning. Nature 443, 340–344 (2006)

Healy, E. et al. Functional variation of MC1R alleles from red-haired individuals. Hum. Mol. Genet. 10, 2397–2402 (2001)

Palmer, J. S. et al. Melanocortin-1 receptor polymorphisms and risk of melanoma: is the association explained solely by pigmentation phenotype? Am. J. Hum. Genet. 66, 176–186 (2000)

Raimondi, S. et al. MC1R variants, melanoma and red hair color phenotype: a meta-analysis. Int. J. Cancer 122, 2753–2760 (2008)

Goldstein, A. M. et al. Association of MC1R variants and risk of melanoma in melanoma-prone families with CDKN2A mutations. Cancer Epidemiol. Biomarkers Prev. 14, 2208–2212 (2005)

Landi, M. T. et al. MC1R, ASIP, and DNA repair in sporadic and familial melanoma in a Mediterranean population. J. Natl. Cancer Inst. 97, 998–1007 (2005)

Harding, R. M. et al. Evidence for variable selective pressures at MC1R. Am. J. Hum. Genet. 66, 1351–1361 (2000)

García-Borrón, J. C., Sánchez-Laorden, B. L. & Jiménez-Cervantes, C. Melanocortin-1 receptor structure and functional regulation. Pigment Cell Res. 18, 393–410 (2005)

Abdel-Malek, Z. A. et al. α-MSH tripeptide analogs activate the melanocortin 1 receptor and reduce UV-induced DNA damage in human melanocytes. Pigment Cell Melanoma Res. 22, 635–644 (2009)

Böhm, M. et al. α-melanocyte-stimulating hormone protects from ultraviolet radiation-induced apoptosis and DNA damage. J. Biol. Chem. 280, 5795–5802 (2005)

Kadekaro, A. L. et al. α-melanocortin and endothelin-1 activate antiapoptotic pathways and reduce DNA damage in human melanocytes. Cancer Res. 65, 4292–4299 (2005)

Abdel-Malek, Z. A., Knittel, J., Kadekaro, A. L., Swope, V. B. & Starner, R. The melanocortin 1 receptor and the UV response of human melanocytes—a shift in paradigm. Photochem. Photobiol. 84, 501–508 (2008)

Dong, L. et al. α-melanocytes-stimulating hormone, a potential activator of XPA DNA repair. Cancer Res. 70, 3547–3556 (2010)

Robles-Espinoza, C. D. et al. Germline MC1R status influences somatic mutation burden in melanoma. Nat. Commun. 7, 12064 (2016)

Premi, S. et al. Photochemistry. Chemiexcitation of melanin derivatives induces DNA photoproducts long after UV exposure. Science 347, 842–847 (2015)

Kanetsky, P. A. et al. Does MC1R genotype convey information about melanoma risk beyond risk phenotypes? Cancer 116, 2416–2428 (2010)

Williams, P. F., Olsen, C. M., Hayward, N. K. & Whiteman, D. C. Melanocortin-1 receptor and risk of cutaneous melanoma: a meta-analysis and estimates of population burden. Int. J. Cancer 129, 1730–1740 (2011)

Olsen, C. M., Carroll, H. J. & Whiteman, D. C. Estimating the attributable fraction for melanoma: a meta-analysis of pigmentary characteristics and freckling. Int. J. Cancer 127, 2430–2445 (2010)

Cust, A. E. et al. MC1R genotypes and risk of melanoma before age 40 years: a population-based case-control-family study. Int. J. Cancer 131, E269–E281 (2012)

Xue, Y., Chen, H., Jin, C., Sun, Z. & Yao, X. NBA-Palm: prediction of palmitoylation site implemented in Naive Bayes algorithm. BMC Bioinformatics https://dx.doi.org/10.1186/1471-2105-7-458 (2006)

Fukata, M., Fukata, Y., Adesnik, H., Nicoll, R. A. & Bredt, D. S. Identification of PSD-95 palmitoylating enzymes. Neuron 44, 987–996 (2004)

Hilton, B. A. et al. ATR plays a direct antiapoptotic role at mitochondria, which is regulated by prolyl isomerase Pin1. Mol. Cell 60, 35–46 (2015)

Cimprich, K. A. & Cortez, D. ATR: an essential regulator of genome integrity. Nat. Rev. Mol. Cell Biol. 9, 616–627 (2008)

Cao, J. et al. MC1R is a potent regulator of PTEN after UV exposure in melanocytes. Mol. Cell 51, 409–422 (2013)

Garraway, L. A. et al. Integrative genomic analyses identify MITF as a lineage survival oncogene amplified in malignant melanoma. Nature 436, 117–122 (2005)

Dankort, D. et al. Braf(V600E) cooperates with Pten loss to induce metastatic melanoma. Nat. Genet. 41, 544–552 (2009)

Lin, D. T. & Conibear, E. ABHD17 proteins are novel protein depalmitoylases that regulate N-Ras palmitate turnover and subcellular localization. eLife 4, e11306 (2015)

Dekker, F. J. et al. Small-molecule inhibition of APT1 affects Ras localization and signaling. Nat. Chem. Biol. 6, 449–456 (2010)

Cui, R . et al. Central role of p53 in the suntan response and pathologic hyperpigmentation. Cell 128, 853–864 (2007)

Diffey, B. L., Jansén, C. T., Urbach, F. & Wulf, H. C. The standard erythema dose: a new photobiological concept. Photodermatol. Photoimmunol. Photomed. 13, 64–66 (1997)

Horikawa, T., Norris, D. A., Zekman, T. & Morelli, J. G. Effective elimination of fibroblasts in cultures of melanocytes by lowering calcium concentration in TPA depleted medium following geneticin treatment. Pigment Cell Res. 9, 58–62 (1996)

Dunham, W. R., Klein, S. B., Rhodes, L. M. & Marcelo, C. L. Oleic acid and linoleic acid are the major determinants of changes in keratinocyte plasma membrane viscosity. J. Invest. Dermatol. 107, 332–335 (1996)

Jiang, G. & Sancar, A. Recruitment of DNA damage checkpoint proteins to damage in transcribed and nontranscribed sequences. Mol. Cell. Biol. 26, 39–49 (2006)

Wakamatsu, K. & Ito, S. Advanced chemical methods in melanin determination. Pigment Cell Res. 15, 174–183 (2002)
Acknowledgements
We thank X. Yao, H. Xie and G. Wei for careful reading and suggestions. This work was supported by the National Institutes of Health (R.C.: R01CA137098, R01CA193913 and R01CA196896), Department of Defense (R.C., CA140020), Melanoma Research Foundation Establish Investigator Award (R.C.), Hong Kong and Macao Young Scientists of the National Natural Science Foundation of China (R.C., 81428025), National Natural Science Foundation of China (X.G., 81630106), and the Ludwig Institute for Cancer Research (C.R.G.). R.C. is an American Cancer Society Research Scholar.
Ethics declarations
Competing interests
The authors declare no competing financial interests.
Additional information
Reviewer Information Nature thanks G. Merlino and the other anonymous reviewer(s) for their contribution to the peer review of this work.
Publisher's note: Springer Nature remains neutral with regard to jurisdictional claims in published maps and institutional affiliations.
Extended data figures and tables
Supplementary information
This file contains the uncropped gels. (PDF 1066 kb)
About this article
Cite this article
Chen, S., Zhu, B., Yin, C. et al. Palmitoylation-dependent activation of MC1R prevents melanomagenesis. Nature 549, 399–403 (2017). https://doi.org/10.1038/nature23887
Received:

Accepted:

Published:

Issue Date:

DOI: https://doi.org/10.1038/nature23887
Comments
By submitting a comment you agree to abide by our Terms and Community Guidelines. If you find something abusive or that does not comply with our terms or guidelines please flag it as inappropriate.