Abstract
Studies on the distribution and evolution of organisms on oceanic islands have advanced towards a dynamic perspective1, where terrestrial endemicity results from island geographical aspects and geological history2 intertwined with sea-level fluctuations3,4. Diversification on these islands may follow neutral models5, decreasing over time as niches are filled6, or disequilibrium states7 and progression rules8, where richness and endemism rise with the age of the archipelago owing to the splitting of ancestral lineages (cladogenesis). However, marine organisms have received comparatively little scientific attention. Therefore, island and seamount evolutionary processes in the aquatic environment remain unclear9. Here we analyse the evolutionary history of reef fishes that are endemic to a volcanic ridge of seamounts and islands to understand their relations to island evolution and sea-level fluctuations. We also test how this evolutionary history fits island biogeography theory. We found that most endemic species have evolved recently (Pleistocene epoch), during a period of recurrent sea-level changes and intermittent connectivity caused by repeated aerial exposure of seamounts, a finding that is consistent with an ephemeral ecological speciation process10. Similar to findings for terrestrial biodiversity7, our data suggest that the marine speciation rate on islands is negatively correlated with immigration rate. However, because marine species disperse better than terrestrial species, most niches are filled by immigration: speciation increases with the random accumulation of species with low dispersal ability, with few opportunities for in situ cladogenesis and adaptive radiation. Moreover, we confirm that sea-level fluctuations and seamount location play a critical role in marine evolution, mainly by intermittently providing stepping stones for island colonization.
Relevant articles
Open Access articles citing this article.
Julia Tovar Verba

,

Carlos E. L. Ferreira

…

Adam Stow

Coral Reefs Open Access 16 November 2022

Coral Reefs Open Access 15 October 2021

Fahmi

,

Ian R. Tibbetts

…

Christine L. Dudgeon

BMC Ecology and Evolution Open Access 16 June 2021
Access options
Access Nature and 54 other Nature Portfolio journals
Get Nature+, our best-value online-access subscription
$29.99 per month
cancel any time
Subscribe to this journal
Receive 51 print issues and online access
$199.00 per year
only $3.90 per issue
Rent or buy this article
Get just this article for as long as you need it
$39.95
Prices may be subject to local taxes which are calculated during checkout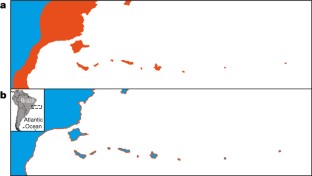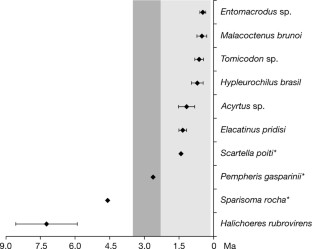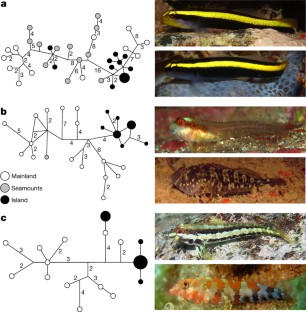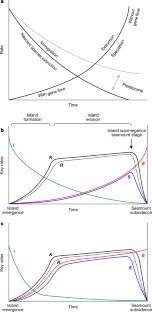 References
Fernández-Palacios, J. M. Island biogeography: shaped by sea-level shifts. Nature 532, 42–43 (2016)

Whittaker, R. J., Triantis, K. A. & Ladle, R. J. A general dynamic theory of oceanic island biogeography. J. Biogeogr. 35, 977–994 (2008)

Weigelt, P., Steinbauer, M. J., Cabral, J. S. & Kreft, H. Late Quaternary climate change shapes island biodiversity. Nature 532, 99–102 (2016)

Fernández-Palacios, J. M. et al. Towards a glacial-sensitive model of island biogeography. Glob. Ecol. Biogeogr. 25, 817–830 (2016)

Rosindell, J., Hubbell, S. P. & Etienne, R. S. The unified neutral theory of biodiversity and biogeography at age ten. Trends Ecol. Evol. 26, 340–348 (2011)

Kopp, M. Speciation and the neutral theory of biodiversity: modes of speciation affect patterns of biodiversity in neutral communities. BioEssays 32, 564–570 (2010)

Heaney, L. R. Dynamic disequilibrium: a long-term, large-scale perspective on the equilibrium model of island biogeography. Glob. Ecol. Biogeogr. 9, 59–74 (2000)

Shaw, K. L. & Gillespie, R. G. Comparative phylogeography of oceanic archipelagos: hotspots for inferences of evolutionary process. Proc. Natl Acad. Sci. USA 113, 7986–7993 (2016)

Dawson, M. N. Island and island-like marine environments. Glob. Ecol. Biogeogr. 25, 831–846 (2016)

Cutter, A. D. & Gray, J. C. Ephemeral ecological speciation and the latitudinal biodiversity gradient. Evolution 70, 2171–2185 (2016)

Losos, J. B. & Ricklefs, R. E. Adaptation and diversification on islands. Nature 457, 830–836 (2009)

MacArthur, R. H. & Wilson, E. O. The Theory of Island Biogeography (Princeton Univ. Press, 1967)

Hubbell, S. P. (ed.) in The Unified Neutral Theory of Biodiversity and Biogeography (Princeton Univ. Press, 2001)

Sandin, S. A., Vermeij, M. J. A. & Hurlbert, A. H. Island biogeography of Caribbean coral reef fish. Glob. Ecol. Biogeogr. 17, 770–777 (2008)

Hachich, N. F. et al. Island biogeography: patterns of marine shallow-water organisms in the Atlantic Ocean. J. Biogeogr. 42, 1871–1882 (2015)

Ludt, W. B. & Rocha, L. A. Shifting seas: the impacts of Pleistocene sea-level fluctuations on the evolution of tropical marine taxa. J. Biogeogr. 42, 25–38 (2015)

Macieira, R. M., Simon, T., Pimentel, C. R. & Joyeux, J.-C. Isolation and speciation of tidepool fishes as a consequence of Quaternary sea-level fluctuations. Environ. Biol. Fishes 98, 385–393 (2015)

Rosindell, J. & Phillimore, A. B. A unified model of island biogeography sheds light on the zone of radiation. Ecol. Lett. 14, 552–560 (2011)

Borregaard, M. K. et al. Oceanic island biogeography through the lens of the general dynamic model: assessment and prospect. Biol. Rev. Camb. Philos. Soc. 92, 830–853 (2017)

Luiz, O. J. et al. Adult and larval traits as determinants of geographic range size among tropical reef fishes. Proc. Natl Acad. Sci. USA 110, 16498–16502 (2013)

Motoki, A., Motoki, K. F. & Melo, D. P. Caracterização da morfologia submarina da cadeia Vitória–Trindade e áreas adjacentes, ES, com base na batimetria predita do topo versão 14.1. Rev. Bras. Geomorfol. 13, 151–170 (2012)

Bowen, B. W., Rocha, L. A., Toonen, R. J. & Karl, S. A. The origins of tropical marine biodiversity. Trends Ecol. Evol. 28, 359–366 (2013)

Floeter, S. R. et al. Atlantic reef fish biogeography and evolution. J. Biogeogr. 35, 22–47 (2008)

Gaither, M. R. & Rocha, L. A. Origins of species richness in the Indo–Malay–Philippine biodiversity hotspot: evidence for the centre of overlap hypothesis. J. Biogeogr. 40, 1638–1648 (2013)

Gaither, M. R. et al. Genomic signatures of geographic isolation and natural selection in coral reef fishes. Mol. Ecol. 24, 1543–1557 (2015)

Pinheiro, H. T. et al. Fish biodiversity of the Vitória–Trindade Seamount Chain, southwestern Atlantic: an updated database. PLoS ONE 10, e0118180 (2015)

Weigt, L. A. et al. Using DNA barcoding to assess Caribbean reef fish biodiversity: expanding taxonomic and geographic coverage. PLoS ONE 7, e41059 (2012)

Rocha, L. A., Pinheiro, H. T. & Gasparini, J. L. Description of Halichoeres rubrovirens, a new species of wrasse (Labridae: Perciformes) from the Trindade and Martin Vaz Island group, southeastern Brazil, with a preliminary mtDNA molecular phylogeny of New World Halichoeres. Zootaxa 2422, 22–30 (2010)

Robertson, D. R., Karg, F., Leao de Moura, R., Victor, B. C. & Bernardi, G. Mechanisms of speciation and faunal enrichment in Atlantic parrotfishes. Mol. Phylogenet. Evol. 40, 795–807 (2006)

Swofford, D. L. PAUP*. Phylogenetic Analysis Using Parsimony (*and other methods) v.4.0a136 (2003)

Lessios, H. A. The great American schism: divergence of marine organisms after the rise of the Central American Isthmus. Annu. Rev. Ecol. Evol. Syst. 39, 63–91 (2008)

Tajima, F. Evolutionary relationship of DNA sequences in finite populations. Genetics 105, 437–460 (1983)

Fu, Y.-X. Statistical tests of neutrality of mutations against population growth, hitchhiking and background selection. Genetics 147, 915–925 (1997)

Rozas, J., Sánchez-DelBarrio, J. C., Messeguer, X. & Rozas, R. DnaSP, DNA polymorphism analyses by the coalescent and other methods. Bioinformatics 19, 2496–2497 (2003)

Bernardi, G. & Lape, J. Tempo and mode of speciation in the Baja California disjunct fish species Anisotremus davidsonii. Mol. Ecol. 14, 4085–4096 (2005)
Acknowledgements
We thank our colleagues that contributed to the studies on the VTC: E. Mazzei, J. B. Teixeira, L. B. Xavier, C. R. Pimentel, R. L. Moura, G. M. Amado-Filho, A. Carvalho-Filho, A. C. Braga, P. A. S. Costa, B. P. Ferreira, C. E. L. Ferreira, S. R. Floeter, R. B. Francini-Filho, A. S. Martins, G. Olavo, I. Sazima; J. B. Teixeira and S. Lacoste for helping with illustrations of Figs 1 and 4, respectively. CNPq (grant 470725/2009-5, 557043/2009-3 and 405426/2012-7) and Fundação O Boticário (grant 0938_20121) provided funding for the research. We are grateful for the support of donors who endorsed the California Academy of Sciences' Hope for Reefs initiative and helped to make this publication possible. H.T.P. received a doctoral fellowship from CNPq (Ciência sem Fronteiras; GDE 202475/ 2011-5) and support from the EEB/UCSC department; T.S. and R.M.M. were recipients of CAPES (http://capes.gov.br) fellowships.
Ethics declarations
Competing interests
The authors declare no competing financial interests.
Additional information
Reviewer Information Nature thanks J.-M. Fernandez-Palacios and K. Triantis for their contribution to the peer review of this work.
Publisher's note: Springer Nature remains neutral with regard to jurisdictional claims in published maps and institutional affiliations.
Extended data figures and tables
Supplementary information
About this article
Cite this article
Pinheiro, H., Bernardi, G., Simon, T. et al. Island biogeography of marine organisms. Nature 549, 82–85 (2017). https://doi.org/10.1038/nature23680
Received:

Accepted:

Published:

Issue Date:

DOI: https://doi.org/10.1038/nature23680
Comments
By submitting a comment you agree to abide by our Terms and Community Guidelines. If you find something abusive or that does not comply with our terms or guidelines please flag it as inappropriate.