Abstract
ATP-dependent chromatin remodellers regulate access to genetic information by controlling nucleosome positions in vivo1. However, the mechanism by which remodellers discriminate between different nucleosome substrates is poorly understood. Many chromatin remodelling proteins possess conserved protein domains that interact with nucleosomal features2. Here we used a quantitative high-throughput approach, based on the use of a DNA-barcoded mononucleosome library, to profile the biochemical activity of human ISWI family remodellers in response to a diverse set of nucleosome modifications. We show that accessory (non-ATPase) subunits of ISWI remodellers can distinguish between differentially modified nucleosomes, directing remodelling activity towards specific nucleosome substrates according to their modification state. Unexpectedly, we show that the nucleosome acidic patch3 is necessary for maximum activity of all ISWI remodellers evaluated. This dependence also extends to CHD and SWI/SNF family remodellers, suggesting that the acidic patch may be generally required for chromatin remodelling. Critically, remodelling activity can be regulated by modifications neighbouring the acidic patch, signifying that it may act as a tunable interaction hotspot for ATP-dependent chromatin remodellers and, by extension, many other chromatin effectors that engage this region of the nucleosome surface4,5,6,7,8,9.
Relevant articles
Open Access articles citing this article.
Yichen Zhong

,

Hakimeh Moghaddas Sani

…

Joel P. Mackay

Nature Communications Open Access 06 December 2022

Godwin Sokpor

,

Huu Phuc Nguyen

&

Tran Tuoc

Signal Transduction and Targeted Therapy Open Access 06 October 2021

Li Wang

,

Kangjing Chen

&

Zhucheng Chen

Nature Communications Open Access 01 July 2021
Access options
Subscribe to Nature+
Get immediate online access to Nature and 55 other Nature journal
Subscribe to Journal
Get full journal access for 1 year
$199.00
only $3.90 per issue
All prices are NET prices.
VAT will be added later in the checkout.
Tax calculation will be finalised during checkout.
Buy article
Get time limited or full article access on ReadCube.
$32.00
All prices are NET prices.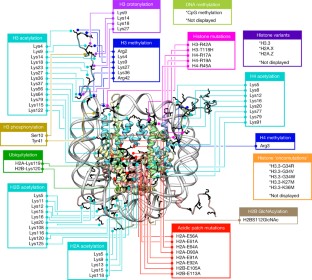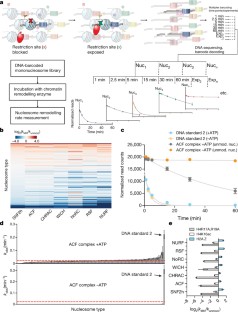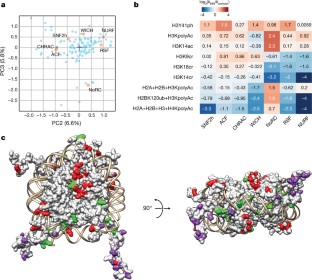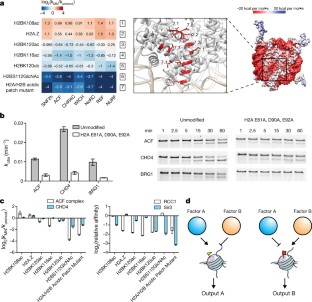 References
Jiang, C. & Pugh, B. F. Nucleosome positioning and gene regulation: advances through genomics. Nat. Rev. Genet. 10, 161–172 (2009)

Clapier, C. R. & Cairns, B. R. The biology of chromatin remodeling complexes. Annu. Rev. Biochem. 78, 273–304 (2009)

Luger, K., Mäder, A. W., Richmond, R. K., Sargent, D. F. & Richmond, T. J. Crystal structure of the nucleosome core particle at 2.8 Å resolution. Nature 389, 251–260 (1997)

Morgan, M. T. et al. Structural basis for histone H2B deubiquitination by the SAGA DUB module. Science 351, 725–728 (2016)

Makde, R. D., England, J. R., Yennawar, H. P. & Tan, S. Structure of RCC1 chromatin factor bound to the nucleosome core particle. Nature 467, 562–566 (2010)

Armache, K. J., Garlick, J. D., Canzio, D., Narlikar, G. J. & Kingston, R. E. Structural basis of silencing: Sir3 BAH domain in complex with a nucleosome at 3.0 Å resolution. Science 334, 977–982 (2011)

McGinty, R. K., Henrici, R. C. & Tan, S. Crystal structure of the PRC1 ubiquitylation module bound to the nucleosome. Nature 514, 591–596 (2014)

Barbera, A. J. et al. The nucleosomal surface as a docking station for Kaposi's sarcoma herpesvirus LANA. Science 311, 856–861 (2006)

Kato, H. et al. A conserved mechanism for centromeric nucleosome recognition by centromere protein CENP-C. Science 340, 1110–1113 (2013)

Tan, M. et al. Identification of 67 histone marks and histone lysine crotonylation as a new type of histone modification. Cell 146, 1016–1028 (2011)

Ferreira, H., Flaus, A. & Owen-Hughes, T. Histone modifications influence the action of Snf2 family remodelling enzymes by different mechanisms. J. Mol. Biol. 374, 563–579 (2007)

Neumann, H. et al. A method for genetically installing site-specific acetylation in recombinant histones defines the effects of H3 K56 acetylation. Mol. Cell 36, 153–163 (2009)

North, J. A. et al. Phosphorylation of histone H3(T118) alters nucleosome dynamics and remodeling. Nucleic Acids Res. 39, 6465–6474 (2011)

Chatterjee, N. et al. Histone H3 tail acetylation modulates ATP-dependent remodeling through multiple mechanisms. Nucleic Acids Res. 39, 8378–8391 (2011)

Shogren-Knaak, M. et al. Histone H4-K16 acetylation controls chromatin structure and protein interactions. Science 311, 844–847 (2006)

Chatterjee, N. et al. Histone acetylation near the nucleosome dyad axis enhances nucleosome disassembly by RSC and SWI/SNF. Mol. Cell. Biol. 35, 4083–4092 (2015)

Goldman, J. A., Garlick, J. D. & Kingston, R. E. Chromatin remodeling by imitation switch (ISWI) class ATP-dependent remodelers is stimulated by histone variant H2A.Z. J. Biol. Chem. 285, 4645–4651 (2010)

Nguyen, U. T. et al. Accelerated chromatin biochemistry using DNA-barcoded nucleosome libraries. Nat. Methods 11, 834–840 (2014)

He, X., Fan, H. Y., Narlikar, G. J. & Kingston, R. E. Human ACF1 alters the remodeling strategy of SNF2h. J. Biol. Chem. 281, 28636–28647 (2006)

Clapier, C. R., Nightingale, K. P. & Becker, P. B. A critical epitope for substrate recognition by the nucleosome remodeling ATPase ISWI. Nucleic Acids Res. 30, 649–655 (2002)

Tropberger, P. & Schneider, R. Scratching the (lateral) surface of chromatin regulation by histone modifications. Nat. Struct. Mol. Biol. 20, 657–661 (2013)

Tallant, C. et al. Molecular basis of histone tail recognition by human TIP5 PHD finger and bromodomain of the chromatin remodeling complex NoRC. Structure 23, 80–92 (2015)

Filippakopoulos, P. et al. Histone recognition and large-scale structural analysis of the human bromodomain family. Cell 149, 214–231 (2012)

Ruthenburg, A. J. et al. Recognition of a mononucleosomal histone modification pattern by BPTF via multivalent interactions. Cell 145, 692–706 (2011)

Müller, M. M. & Muir, T. W. Histones: at the crossroads of peptide and protein chemistry. Chem. Rev. 115, 2296–2349 (2015)

Taverna, S. D., Li, H., Ruthenburg, A. J., Allis, C. D. & Patel, D. J. How chromatin-binding modules interpret histone modifications: lessons from professional pocket pickers. Nat. Struct. Mol. Biol. 14, 1025–1040 (2007)

McGinty, R. K. & Tan, S. Nucleosome structure and function. Chem. Rev. 115, 2255–2273 (2015)

Fujiki, R. et al. GlcNAcylation of histone H2B facilitates its monoubiquitination. Nature 480, 557–560 (2011)

Clapier, C. R. & Cairns, B. R. Regulation of ISWI involves inhibitory modules antagonized by nucleosomal epitopes. Nature 492, 280–284 (2012)

Zhao, S. et al. Mutational landscape of uterine and ovarian carcinosarcomas implicates histone genes in epithelial-mesenchymal transition. Proc. Natl Acad. Sci. USA 113, 12238–12243 (2016)

Casadio, F. et al. H3R42me2a is a histone modification with positive transcriptional effects. Proc. Natl Acad. Sci. USA 110, 14894–14899 (2013)

McGinty, R. K. et al. Structure-activity analysis of semisynthetic nucleosomes: mechanistic insights into the stimulation of Dot1L by ubiquitylated histone H2B. ACS Chem. Biol. 4, 958–968 (2009)

Biron, E., Chatterjee, J. & Kessler, H. Optimized selective N-methylation of peptides on solid support. J. Pept. Sci. 12, 213–219 (2006)

Brown, Z. Z. et al. Strategy for "detoxification" of a cancer-derived histone mutant based on mapping its interaction with the methyltransferase PRC2. J. Am. Chem. Soc. 136, 13498–13501 (2014)

Hackeng, T. M., Griffin, J. H. & Dawson, P. E. Protein synthesis by native chemical ligation: expanded scope by using straightforward methodology. Proc. Natl Acad. Sci. USA 96, 10068–10073 (1999)

Li, X. Q., Kawakami, T. & Aimoto, S. Direct preparation of peptide thioesters using an Fmoc solid-phase method. Tetrahedr. Lett. 39, 8669–8672 (1998)

Mitchell, S. A., Pratt, M. R., Hruby, V. J. & Polt, R. Solid-phase synthesis of O-linked glycopeptide analogues of enkephalin. J. Org. Chem. 66, 2327–2342 (2001)

Thompson, R. E. et al. Trifluoroethanethiol: an additive for efficient one-pot peptide ligation-desulfurization chemistry. J. Am. Chem. Soc. 136, 8161–8164 (2014)

Li, Y. et al. Molecular coupling of histone crotonylation and active transcription by AF9 YEATS domain. Mol. Cell 62, 181–193 (2016)

Xiong, X. et al. Selective recognition of histone crotonylation by double PHD fingers of MOZ and DPF2. Nat. Chem. Biol. 12, 1111–1118 (2016)

Batjargal, S., Walters, C. R. & Petersson, E. J. Inteins as traceless purification tags for unnatural amino acid proteins. J. Am. Chem. Soc. 137, 1734–1737 (2015)

Barak, O., Lazzaro, M. A., Cooch, N. S., Picketts, D. J. & Shiekhattar, R. A tissue-specific, naturally occurring human SNF2L variant inactivates chromatin remodeling. J. Biol. Chem. 279, 45130–45138 (2004)

Phelan, M. L., Sif, S., Narlikar, G. J. & Kingston, R. E. Reconstitution of a core chromatin remodeling complex from SWI/SNF subunits. Mol. Cell 3, 247–253 (1999)

Dyer, P. N. et al. Reconstitution of nucleosome core particles from recombinant histones and DNA. Methods Enzymol. 375, 23–44 (2004)

Flaus, A. & Richmond, T. J. Positioning and stability of nucleosomes on MMTV 3′LTR sequences. J. Mol. Biol. 275, 427–441 (1998)
Acknowledgements
We thank current and former members of the Muir laboratory for discussions and comments; W. Wang and J. Wiggins from the Princeton Sequencing Core Facility; C. Hannon and S. Blythe for writing a custom R script for managing sequencing data; and L. Guerra and L. Beh for advice with data analysis. The SNF2h, ACF1, WSTF, CHRAC-15, and CHRAC-17 coding sequences were a gift from R. Kingston; the RSF1 coding sequence was a gift from D. Reinberg; the BPTF coding sequence was a gift from C. D. Allis; F.W. was funded by a postdoctoral fellowship from the German Research Foundation (DFG); T.P. was funded by a postdoctoral fellowship from the US National Institutes of Health (GM112365); and this research was supported by the US National Institutes of Health grants P01 CA196539, R37 GM086868 and R01 GM107047.
Ethics declarations
Competing interests
The authors declare no competing financial interests.
Additional information
Reviewer Information Nature thanks B. Cairns, F. Pugh and the other anonymous reviewer(s) for their contribution to the peer review of this work.
Publisher's note: Springer Nature remains neutral with regard to jurisdictional claims in published maps and institutional affiliations.
Extended data figures and tables
Supplementary information
About this article
Cite this article
Dann, G., Liszczak, G., Bagert, J. et al. ISWI chromatin remodellers sense nucleosome modifications to determine substrate preference. Nature 548, 607–611 (2017). https://doi.org/10.1038/nature23671
Received:

Accepted:

Published:

Issue Date:

DOI: https://doi.org/10.1038/nature23671
Comments
By submitting a comment you agree to abide by our Terms and Community Guidelines. If you find something abusive or that does not comply with our terms or guidelines please flag it as inappropriate.