Abstract
Regulatory T cells (Treg cells) have a pivotal role in the establishment and maintenance of immunological self-tolerance and homeostasis1,2. Transcriptional programming of regulatory mechanisms facilitates the functional activation of Treg cells in the prevention of diverse types of inflammatory responses3,4. It remains unclear how Treg cells orchestrate their homeostasis and interplay with environmental signals. Here we show that liver kinase B1 (LKB1) programs the metabolic and functional fitness of Treg cells in the control of immune tolerance and homeostasis. Mice with a Treg-specific deletion of LKB1 developed a fatal inflammatory disease characterized by excessive TH2-type-dominant responses. LKB1 deficiency disrupted Treg cell survival and mitochondrial fitness and metabolism, but also induced aberrant expression of immune regulatory molecules including the negative co-receptor PD-1 and the TNF receptor superfamily proteins GITR and OX40. Unexpectedly, LKB1 function in Treg cells was independent of conventional AMPK signalling or the mTORC1–HIF-1α axis, but contributed to the activation of β-catenin signalling for the control of PD-1 and TNF receptor proteins. Blockade of PD-1 activity reinvigorated the ability of LKB1-deficient Treg cells to suppress TH2 responses and the interplay with dendritic cells primed by thymic stromal lymphopoietin. Thus, Treg cells use LKB1 signalling to coordinate their metabolic and immunological homeostasis and to prevent apoptotic and functional exhaustion, thereby orchestrating the balance between immunity and tolerance.
This is a preview of subscription content
Access options
Subscribe to Journal
Get full journal access for 1 year
$199.00
only $3.90 per issue
All prices are NET prices.
VAT will be added later in the checkout.
Tax calculation will be finalised during checkout.
Rent or Buy article
Get time limited or full article access on ReadCube.
from$8.99
All prices are NET prices.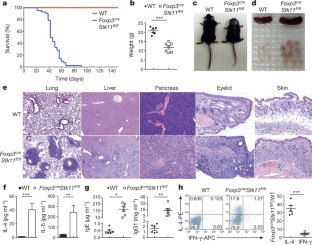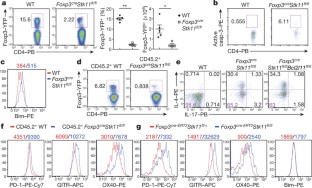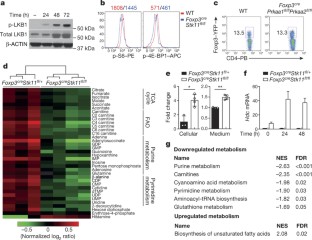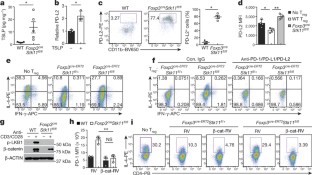 Accession codes
Primary accessions
Gene Expression Omnibus
References
1

Liston, A. & Gray, D. H. Homeostatic control of regulatory T cell diversity. Nat. Rev. Immunol. 14, 154–165 (2014)

2

Sakaguchi, S., Yamaguchi, T., Nomura, T. & Ono, M. Regulatory T cells and immune tolerance. Cell 133, 775–787 (2008)

3

van der Veeken, J., Arvey, A. & Rudensky, A. Transcriptional control of regulatory T-cell differentiation. Cold Spring Harb. Symp. Quant. Biol. 78, 215–222 (2013)

4

Panduro, M., Benoist, C. & Mathis, D. Tissue Tregs. Annu. Rev. Immunol. 34, 609–633 (2016)

5

Shackelford, D. B. & Shaw, R. J. The LKB1–AMPK pathway: metabolism and growth control in tumour suppression. Nat. Rev. Cancer 9, 563–575 (2009)

6

Rubtsov, Y. P. et al. Regulatory T cell-derived interleukin-10 limits inflammation at environmental interfaces. Immunity 28, 546–558 (2008)

7

Reber, L. L., Sibilano, R., Mukai, K. & Galli, S. J. Potential effector and immunoregulatory functions of mast cells in mucosal immunity. Mucosal Immunol. 8, 444–463 (2015)

8

Shimizu, J., Yamazaki, S., Takahashi, T., Ishida, Y. & Sakaguchi, S. Stimulation of CD25+CD4+ regulatory T cells through GITR breaks immunological self-tolerance. Nat. Immunol. 3, 135–142 (2002)

9

Vu, M. D. et al. OX40 costimulation turns off Foxp3+ Tregs. Blood 110, 2501–2510 (2007)

10

Sage, P. T., Francisco, L. M., Carman, C. V. & Sharpe, A. H. The receptor PD-1 controls follicular regulatory T cells in the lymph nodes and blood. Nat. Immunol. 14, 152–161 (2013)

11

Mahmud, S. A. et al. Costimulation via the tumor-necrosis factor receptor superfamily couples TCR signal strength to the thymic differentiation of regulatory T cells. Nat. Immunol. 15, 473–481 (2014)

12

Valzasina, B. et al. Triggering of OX40 (CD134) on CD4+CD25+ T cells blocks their inhibitory activity: a novel regulatory role for OX40 and its comparison with GITR. Blood 105, 2845–2851 (2005)

13

Franceschini, D. et al. PD-L1 negatively regulates CD4+CD25+Foxp3+ Tregs by limiting STAT-5 phosphorylation in patients chronically infected with HCV. J. Clin. Invest. 119, 551–564 (2009)

14

Rubtsov, Y. P. et al. Stability of the regulatory T cell lineage in vivo. Science 329, 1667–1671 (2010)

15

Levine, A. G., Arvey, A., Jin, W. & Rudensky, A. Y. Continuous requirement for the TCR in regulatory T cell function. Nat. Immunol. 15, 1070–1078 (2014)

16

Vahl, J. C. et al. Continuous T cell receptor signals maintain a functional regulatory T cell pool. Immunity 41, 722–736 (2014)

17

MacIver, N. J. et al. The liver kinase B1 is a central regulator of T cell development, activation, and metabolism. J. Immunol. 187, 4187–4198 (2011)

18

Faubert, B. et al. Loss of the tumor suppressor LKB1 promotes metabolic reprogramming of cancer cells via HIF-1α. Proc. Natl Acad. Sci. USA 111, 2554–2559 (2014)

19

Tamaka, K., Seike, M., Hagiwara, T., Sato, A. & Ohtsu, H. Histamine suppresses regulatory T cells mediated by TGF-β in murine chronic allergic contact dermatitis. Exp. Dermatol. 24, 280–284 (2015)

20

Gao, Y. et al. Control of T helper 2 responses by transcription factor IRF4-dependent dendritic cells. Immunity 39, 722–732 (2013)

21

Zhou, B. et al. Thymic stromal lymphopoietin as a key initiator of allergic airway inflammation in mice. Nat. Immunol. 6, 1047–1053 (2005)

22

Okazaki, T., Chikuma, S., Iwai, Y., Fagarasan, S. & Honjo, T. A rheostat for immune responses: the unique properties of PD-1 and their advantages for clinical application. Nat. Immunol. 14, 1212–1218 (2013)

23

Chae, W. J. et al. The Wnt antagonist Dickkopf-1 promotes pathological type 2 cell-mediated inflammation. Immunity 44, 246–258 (2016)

24

Ding, Y., Shen, S., Lino, A. C., Curotto de Lafaille, M. A. & Lafaille, J. J. β-catenin stabilization extends regulatory T cell survival and induces anergy in nonregulatory T cells. Nat. Med. 14, 162–169 (2008)

25

Ulges, A. et al. Protein kinase CK2 enables regulatory T cells to suppress excessive TH2 responses in vivo. Nat. Immunol. 16, 267–275 (2015)

26

Pearce, E. L. & Pearce, E. J. Metabolic pathways in immune cell activation and quiescence. Immunity 38, 633–643 (2013)

27

Wherry, E. J. et al. Molecular signature of CD8+ T cell exhaustion during chronic viral infection. Immunity 27, 670–684 (2007)

28

Patsoukis, N. et al. PD-1 alters T-cell metabolic reprogramming by inhibiting glycolysis and promoting lipolysis and fatty acid oxidation. Nat. Commun. 6, 6692 (2015)

29

Bengsch, B. et al. Bioenergetic insufficiencies due to metabolic alterations regulated by the inhibitory receptor PD-1 are an early driver of CD8+ T cell exhaustion. Immunity 45, 358–373 (2016)

30

Chang, C. H. et al. Metabolic competition in the tumor microenvironment is a driver of cancer progression. Cell 162, 1229–1241 (2015)

31

Ito, T. et al. TSLP-activated dendritic cells induce an inflammatory T helper type 2 cell response through OX40 ligand. J. Exp. Med. 202, 1213–1223 (2005)

32

Rosenbluh, J. et al. β-catenin-driven cancers require a YAP1 transcriptional complex for survival and tumorigenesis. Cell 151, 1457–1473 (2012)

33

Liu, G., Yang, K., Burns, S., Shrestha, S. & Chi, H. The S1P1–mTOR axis directs the reciprocal differentiation of TH1 and Treg cells. Nat. Immunol. 11, 1047–1056 (2010)

34

Zeng, H. et al. mTORC1 couples immune signals and metabolic programming to establish Treg-cell function. Nature 499, 485–490 (2013)

35

Williams, A. L. et al. Sequence variants in SLC16A11 are a common risk factor for type 2 diabetes in Mexico. Nature 506, 97–101 (2014)

36

Shrestha, S. et al. Treg cells require the phosphatase PTEN to restrain TH1 and TFH cell responses. Nat. Immunol. 16, 178–187 (2015)

37

Schuijers, J., Mokry, M., Hatzis, P., Cuppen, E. & Clevers, H. Wnt-induced transcriptional activation is exclusively mediated by TCF/LEF. EMBO J. 33, 146–156 (2014)

38

Zheng, Y. ChIP-on-chip for FoxP3. Methods Mol. Biol. 707, 71–82 (2011)
Acknowledgements
The authors acknowledge A. Rudensky for Foxp3YFP-cre and Foxp3cre-ERT2 mice, Y. Wang for editing of the manuscript, Y. Dhungana and Y. Li for advice on bioinformatics analyses, and St Jude Immunology FACS core facility for cell sorting. This work was supported by NIH AI105887, AI101407, CA176624 and NS064599, and American Asthma Foundation (to H.C.).
Ethics declarations
Competing interests
The authors declare no competing financial interests.
Additional information
Reviewer Information Nature thanks L. Turka and the other anonymous reviewer(s) for their contribution to the peer review of this work.
Publisher's note: Springer Nature remains neutral with regard to jurisdictional claims in published maps and institutional affiliations.
Extended data figures and tables
Supplementary information
This file contains Supplementary Figure 1, the uncropped gels with size marker indications.
About this article
Cite this article
Yang, K., Blanco, D., Neale, G. et al. Homeostatic control of metabolic and functional fitness of Treg cells by LKB1 signalling. Nature 548, 602–606 (2017). https://doi.org/10.1038/nature23665
Received:

Accepted:

Published:

Issue Date:
Comments
By submitting a comment you agree to abide by our Terms and Community Guidelines. If you find something abusive or that does not comply with our terms or guidelines please flag it as inappropriate.