Abstract
'Cataclysmic variables' are binary star systems in which one star of the pair is a white dwarf, and which often generate bright and energetic stellar outbursts. Classical novae are one type of outburst: when the white dwarf accretes enough matter from its companion, the resulting hydrogen-rich atmospheric envelope can host a runaway thermonuclear reaction that generates a rapid brightening1,2,3,4. Achieving peak luminosities of up to one million times that of the Sun5, all classical novae are recurrent, on timescales of months6 to millennia7. During the century before and after an eruption, the 'novalike' binary systems that give rise to classical novae exhibit high rates of mass transfer to their white dwarfs8. Another type of outburst is the dwarf nova: these occur in binaries that have stellar masses and periods indistinguishable from those of novalikes9 but much lower mass-transfer rates10, when accretion-disk instabilities11 drop matter onto the white dwarfs. The co-existence at the same orbital period of novalike binaries and dwarf novae—which are identical but for their widely varying accretion rates—has been a longstanding puzzle9. Here we report the recovery of the binary star underlying the classical nova eruption of 11 March AD 1437 (refs 12, 13), and independently confirm its age by proper-motion dating. We show that, almost 500 years after a classical-nova event, the system exhibited dwarf-nova eruptions. The three other oldest recovered classical novae14,15,16 display nova shells, but lack firm post-eruption ages17,18, and are also dwarf novae at present. We conclude that many old novae become dwarf novae for part of the millennia between successive nova eruptions19,20.
Your institute does not have access to this article
Access options
Subscribe to Nature+
Get immediate online access to the entire Nature family of 50+ journals
Subscribe to Journal
Get full journal access for 1 year
$199.00
only $3.90 per issue
All prices are NET prices.
VAT will be added later in the checkout.
Tax calculation will be finalised during checkout.
Buy article
Get time limited or full article access on ReadCube.
$32.00
All prices are NET prices.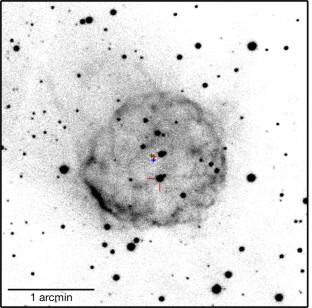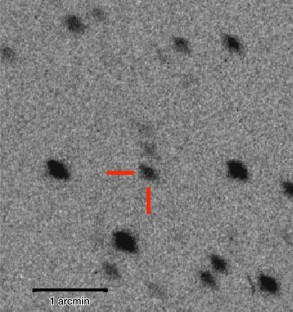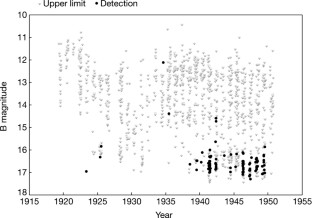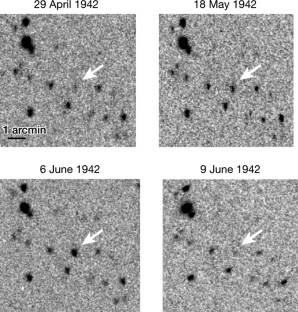 References
Starrfield, S., Truran, J. W., Sparks, W. M. & Kutter, G. S. CNO abundances and hydrodynamic models of the nova outburst. Astrophys. J. 176, 169–176 (1972)

Prialnik, D., Shara, M. M. & Shaviv, G. The evolution of a slow nova model with a Z = 0.03 envelope from pre-explosion to extinction. Astron. Astrophys. 62, 339–348 (1978)

Kraft, R. P. Binary stars among cataclysmic variables. III. Ten old novae. Astrophys. J. 139, 457–475 (1964)

Bath, G. T. & Shaviv, G. The space density, recurrence rate and classification of novae. Mon. Not. R. Astron. Soc. 183, 515–522 (1978)

Warner, B. Cataclysmic Variable Stars (Cambridge Astrophys. Series 28, Cambridge, 1995)

Darnley, M. J. et al. A remarkable recurrent nova in M31: the optical observations. Astron. Astrophys. 563, L9–L12 (2014)

Yaron, O., Prialnik, D., Shara, M. M. & Kovetz, A. An extended grid of nova models. II. The parameter space of nova outbursts. Astrophys. J. 623, 398–410 (2005)

Collazzi, A. C. et al. The behavior of novae light curves before eruption. Astron. J. 138, 1846–1873 (2009)

Knigge, C., Baraffe, I. & Patterson, J. The evolution of cataclysmic variables as revealed by their donor stars. Astrophys. J. Suppl. Ser. 194, 28–85 (2011)

Krzemi'nski, W. & Smak, J. Eruptive binaries. III. The recurrent nova WZ Sagittae. Acta Astron. 21, 133–184 (1971)

Osaki, Y. An accretion model for the outbursts of U Geminorum stars. Publ. Astron. Soc. Jpn. 26, 429–436 (1974)

Shara, M. M ., Potter, M ., Moffat, A. F. J ., Bode, M. & Stephenson, F. R. in Physics of Classical Novae: Lecture Notes in Classical Physics Vol. 369 (eds Cassatella, A . & Viotti, R. ) 57–58 (Springer, 1990)

Black, D. T. R ., Bode, M. F ., Stephenson, F. R ., Abbott, T. & Page, K. L. Search for the Remnant of the Nova of 1437. In RS Ophiuchi (2006) and the Recurrent Nova Phenomenon: Astron. Soc. Pacific Conference Proceedings Vol. 401 (eds Evans, A ., Bode, M. F ., O'Brien, T. J . & Darnley, M. J. ) 351–354 (Astron. Soc. Pacific, 2008)

Shara, M. M. et al. An ancient nova shell around the dwarf nova Z Camelopardalis. Nature 446, 159–162 (2007)

Shara, M. M. et al. AT Cnc: a second dwarf nova with a classical nova shell. Astrophys. J. 758, 121–125 (2012)

Miszalski, B. et al. Discovery of an eclipsing dwarf nova in the ancient nova shell Te 11. Mon. Not. R. Astron. Soc. 456, 633–640 (2016)

Shara, M. M. et al. The inter-eruption timescale of classical novae from expansion of the Z Camelopardalis shell. Astrophys. J. 756, 107–112 (2012)

Shara, M. M., Drissen, L., Martin, T., Alarie, A. & Stephenson, F. R. When does an old nova become a dwarf nova? Kinematics and age of the nova shell of the dwarf nova AT Cancri. Mon. Not. R. Astron. Soc. 465, 739–745 (2017)

Vogt, N. The structure and outburst mechanisms of dwarf novae and their evolutionary status among cataclysmic variables. Astron. Gesell. 57, 79–118 (1982)

Shara, M. M., Livio, M., Moffat, A. F. J. & Orio, M. Do novae hibernate during most of the millenia between eruptions? Links between dwarf and classical novae, and implications for the space densities and evolution of cataclysmic binaries. Astrophys. J. 311, 163–171 (1986)

Clark, D. H. & Stephenson, F. R. The Galactic Supernovae 1st edn (Pergamon, 1977)

Masetti, N. et al. Unveiling the nature of INTEGRAL objects through optical spectroscopy. X. A new multi-year, multi-observatory campaign. Astron. Astrophys. 556, A120–A141 (2013)

Grindlay, J. et al. Preserving astronomy's photographic legacy: current state and the future of North American astronomical plates. Astron. Soc. Pac. Conf. Ser. 410, 101–110 (2009)

Duerbeck, H. W. The interaction of nova shells with the interstellar medium. Astrophys. Space Sci. 131, 461–466 (1987)

Kiang, T. The past orbit of Halley's comet. Mem. R. Astron. Soc 76, 27–66 (1972)

Fang, H. L. & Ho, P. Y. The Astronomical Chapters of the Jinshu (Mouton & Co., 1966)

Schaefer, B. E. & Pagnotta, A. An absence of ex-companion stars in the type Ia supernova remnant SNR 0509-67.5. Nature 481, 164–166 (2012)

Coppejans, R. et al. Characterizing and commissioning the Sutherland high-speed optical cameras (SHOC). Publ. Astron. Soc. Pacif. 125, 976–988 (2013)

Henden, A. A., Levine, S. E., Terrell, D., Smith, T. C. & Welch, D. Data release 3 of the AAVSO all-sky photometric survey (APASS). J. Am. Assoc. Var. Star Obs. 40, 430–430 (2012)

Stellingwerf, R. F. Period determination using phase dispersion minimization. Astrophys. J. 224, 953–960 (1978)

Lenz, P. & Breger, M. Period04 user guide. Comm. Asteroseismol. 146, 53–136 (2005)

Garmire, G. P., Bautz, M. W., Ford, P. G., Nousek, J. A. & Ricker, G. R. Jr Advanced CCD imaging spectrometer (ACIS) instrument on the Chandra X-ray Observatory. Proc. SPIE 4851, 28–44 (2003)

Fruscione, A., McDowell, J. C., Allen, G. E. & Houck, J. C. CIAO: Chandra's data analysis system. Proc. SPIE 6270, 62701V (2006)

Burgh, E. B. et al. Prime focus imaging spectrograph for the Southern African Large Telescope: optical design. Proc. SPIE 4841, 1463–1471 (2003)

Kobulnicky, H. A. et al. Prime focus imaging spectrograph for the Southern African large telescope: operational modes. Proc. SPIE 4841, 1634–1644 (2003)

Buckley, D. A. H., Swart, G. P. & Meiring, J. G. Completion and commissioning of the Southern African Large Telescope. Proc. SPIE 6267, 62670–62677 (2006)

O'Donoghue, D. et al. First science with the Southern African Large Telescope: peering at the accreting polar caps of the eclipsing polar SDSS J015543.40+002807.2. Mon. Not. R. Astron. Soc. 372, 151–162 (2006)

Crawford, S. M. et al. PySALT: the SALT science pipeline. Proc. SPIE. 7737, 25–36 (2010)

Kalberla, P. M. W. & Haud, U. GASS: the Parkes galactic all-sky survey. III. Astron. Astrophys. 578, A78 (2015)

Beuermann, K. & Reinsch, K. High-resolution spectroscopy of the intermediate polar EX Hydrae. I. Kinematic study and Roche tomography. Astron. Astrophys. 480, 199–212 (2008)

Kniazev, A. Y., Pustilnik, S. A. & Zucker, D. B. Spectroscopy of two PN candidates in IC10. Mon. Not. R. Astron. Soc. 384, 1045–1052 (2008)

Osterbrock, D. E. Astrophysics of Gaseous Nebulae and Active Galactic Nuclei (Univ. Science Books, 1989)

Frew, D. J., Bojicic, I. S. & Parker, Q. A. A catalogue of integrated Hα fluxes for 1258 galactic planetary nebulae. Mon. Not. R. Astron. Soc. 431, 2–26 (2013)
Acknowledgements
J.M., K.I., K.D. and M.M.S. acknowledge support by the Polish Narodowe Centrum Nauki (grant DEC-2013/10/M/ST9/00086). M.M.S. acknowledges the late P. Newman and the Newman's Own Foundation, whose support made the participation of the American Museum of Natural History (AMNH) in the South African Large Telescope (SALT) possible. A.F.J.M. thanks the National Sciences and Engineering Research Council of Canada and the Fonds de Recherche Nature et Technologies (Quebec) for financial support. A.P. acknowledges support from the AMNH's Kathryn W. Davis Postdoctoral Scholar program, which is supported in part by the New York State Education Department and by the National Science Foundation (NSF) under grant numbers DRL-1119444 and DUE-1340006. M.M.S. acknowledges the hospitality of the Institute of Astronomy at the University of Cambridge. Some of the observations reported here were obtained with the SALT under programme 2016-1-SCI-044, and with the South African Astronomical Observatory's 1.9-metre and 1.0-metre telescopes. Polish participation in SALT is funded by grant no. MNiSW DIR/WK/2016/07. We thank the Harvard–Smithsonian Center for Astrophysics team for making DASCH data available to the astronomical community. The DASCH project at Harvard is partially supported from NSF grants AST-0407380, AST-0909073 and AST-1313370. The Image Reduction and Analysis Facility (IRAF) is distributed by the National Optical Astronomy Observatories, which is operated by the Association of Universities for Research in Astronomy under a cooperative agreement with the NSF. This research has made use of data obtained from the Chandra Data Archive and software provided by the Chandra X-ray Center in application packages CIAO, ChIPS and Sherpa. All authors thank the referees for thoughtful and constructive suggestions.
Ethics declarations
Competing interests
The authors declare no competing financial interests.
Additional information
Reviewer Information Nature thanks C. Knigge and S. Shore for their contribution to the peer review of this work.
Publisher's note: Springer Nature remains neutral with regard to jurisdictional claims in published maps and institutional affiliations.
Extended data figures and tables
About this article
Cite this article
Shara, M., Iłkiewicz, K., Mikołajewska, J. et al. Proper-motion age dating of the progeny of Nova Scorpii AD 1437. Nature 548, 558–560 (2017). https://doi.org/10.1038/nature23644
Received:

Accepted:

Published:

Issue Date:

DOI: https://doi.org/10.1038/nature23644
Further reading
Yael Hillman
Michael M. Shara
Attay Kovetz

Nature Astronomy (2020)

Massimo Della Valle
Luca Izzo

The Astronomy and Astrophysics Review (2020)

Nature (2017)
Comments
By submitting a comment you agree to abide by our Terms and Community Guidelines. If you find something abusive or that does not comply with our terms or guidelines please flag it as inappropriate.